This silky no-bake Japanese purin is made with a creamy, melt in the mouth custard poured over a layer of rich homemade caramel. Best of all, it's easy to make and uses easily accessible ingredients!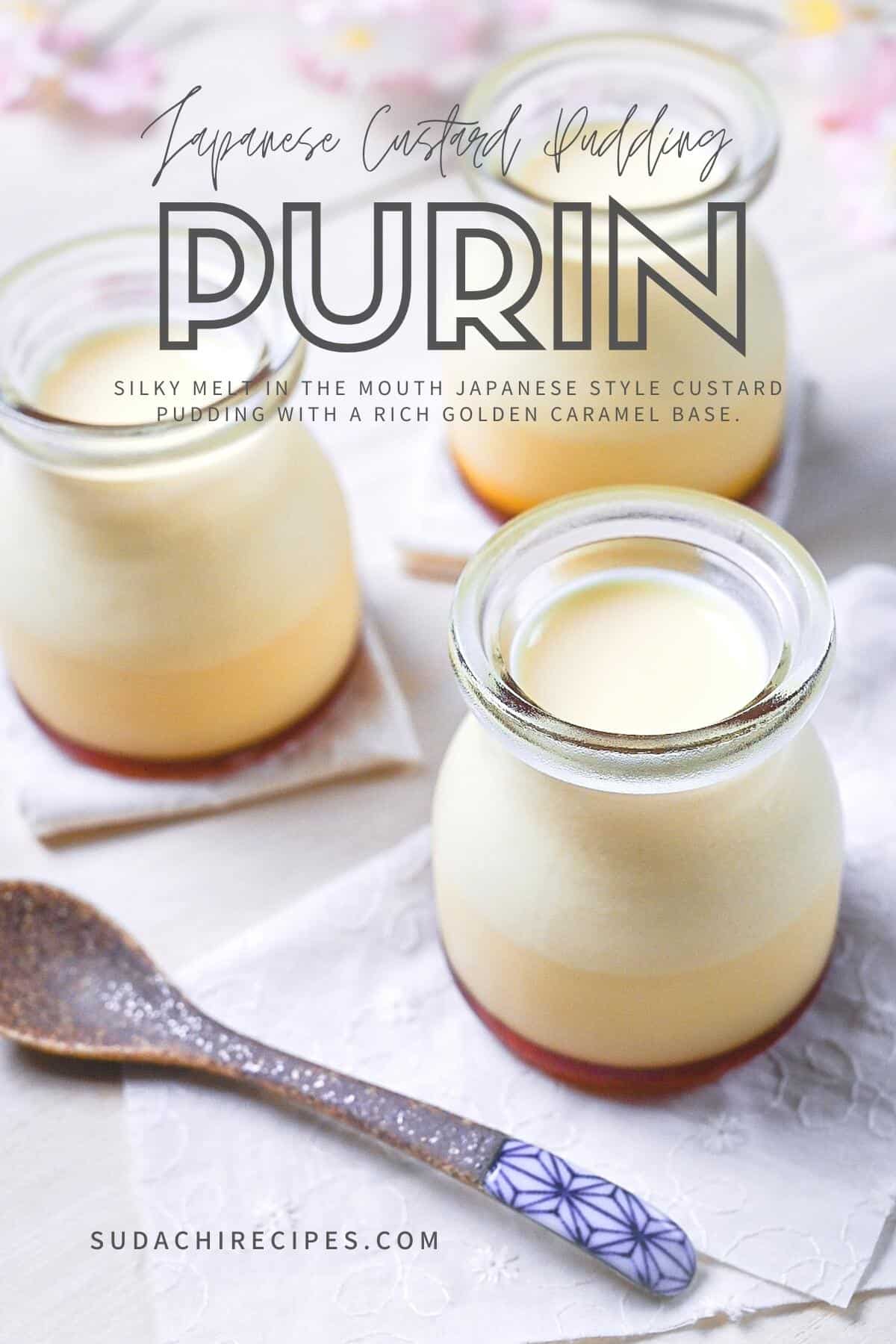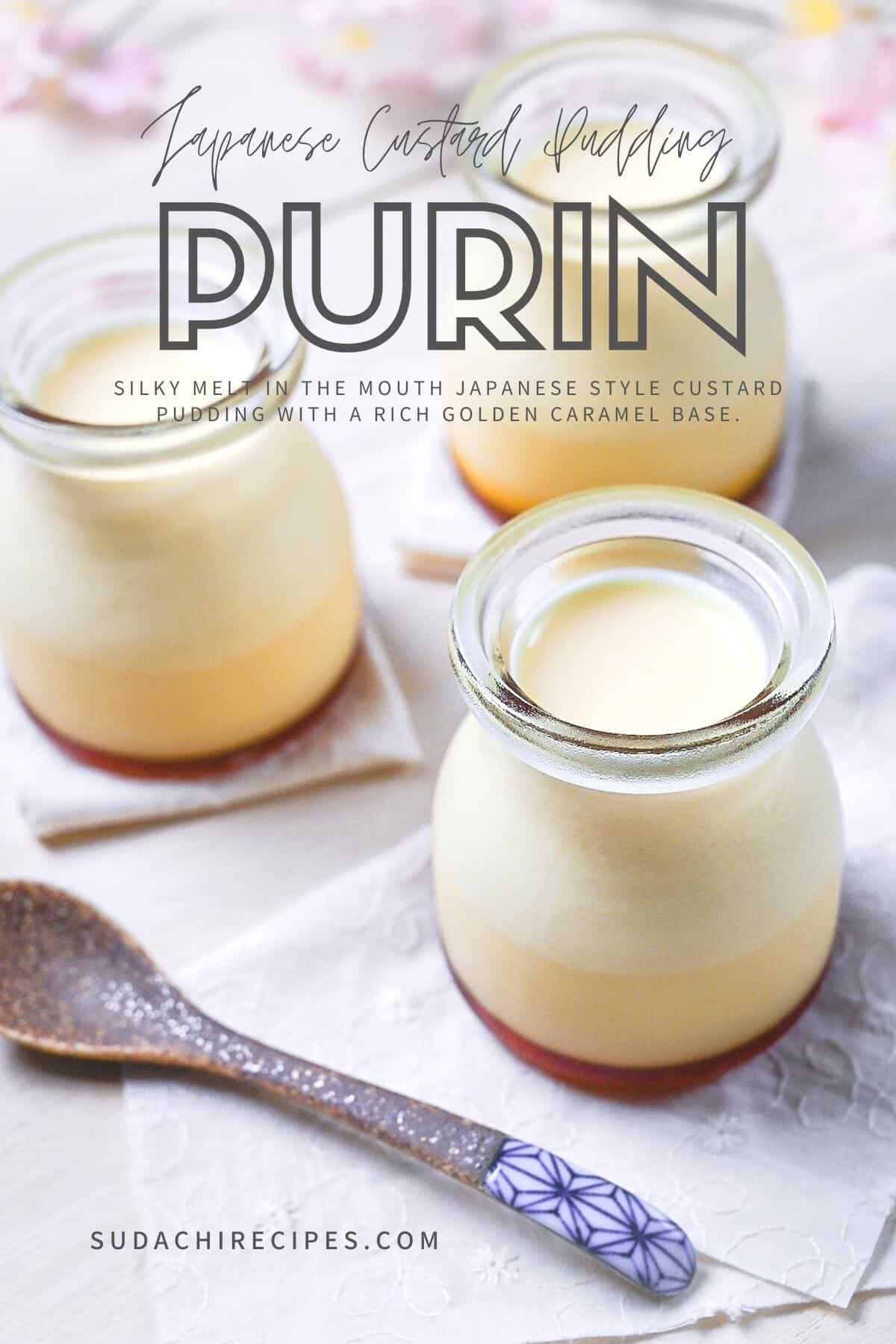 Disclaimer: This post contains Amazon affiliate links. Sudachi Recipes earn a small percentage from qualifying purchases at no extra cost to you. See disclaimer for more info.
Jump to:
What is "Purin"?
Purin is a popular Japanese dessert made with a sweet custard-jelly served with a thin layer of delicious caramel. There are many different variations of custard pudding all over the world and it goes by many different names such as flan, creme caramel, custard pudding or caramel custard. In Japan, we simply call it "purin".
This dessert is popular with kids and adults and is one of Japan's most well loved sweet treats. You can find it in any convenience store or supermarket and there are many kinds to choose from!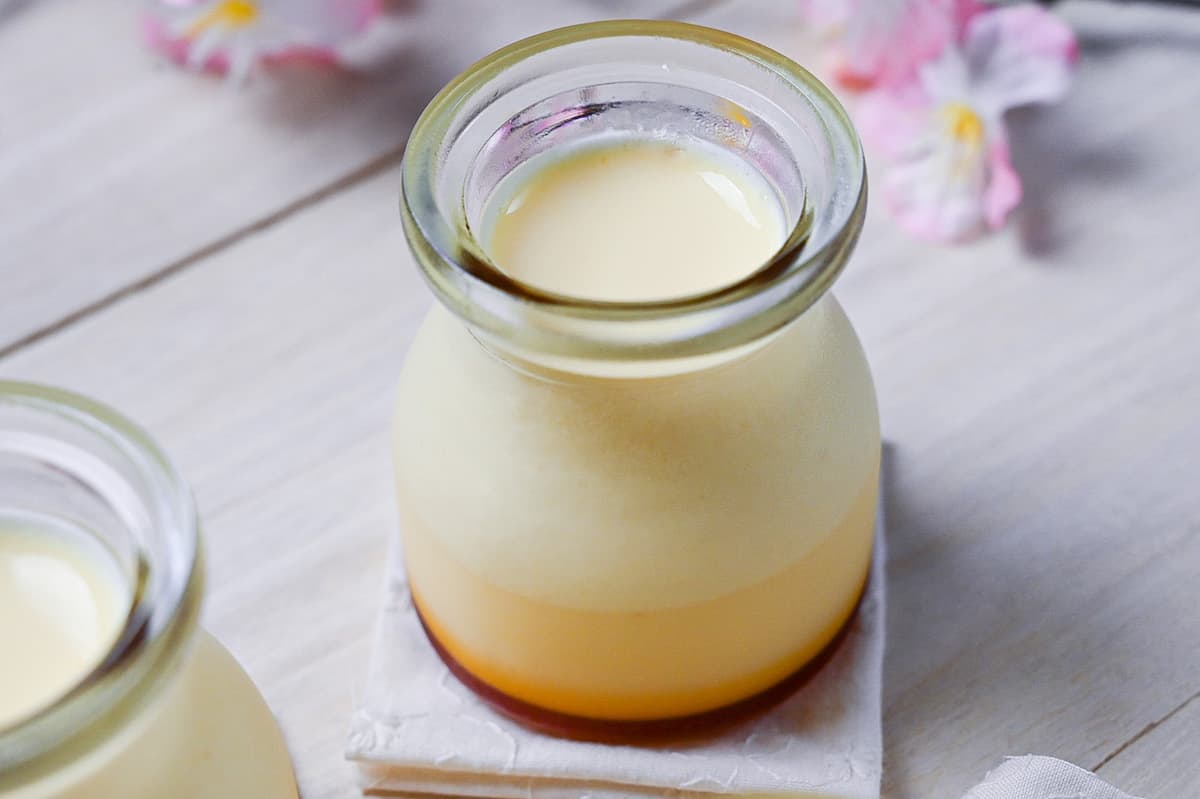 History of Purin
It is said that pudding was introduced to Japan in the late Edo period (1603-1868) and early Meiji period (1868-1912). The name "purin" (プリン) comes from the English word "pudding" which was mentioned in a document from around 1872.
Purin gradually appeared on restaurant dessert menus and its popularity spread across Japan. In fact, it became so popular, that by the 60's it had also become a common dessert to eat at home, either homemade or ready-made from supermarkets. Later on, not only steamed puddings but also baked puddings and puddings set with gelatine were introduced, expanding the variety of pudding textures.
To this day, purin is one of the most common desserts to eat in Japan!
Different Types of Purin
There are many ways to make, cook and flavour purin. Here are the main types of purin available in Japan:
Purin (プリン) Standard purin made with eggs, milk and caramel then set with gelatine. Some recipes contain heavy cream to make it thicker, richer and more decadent.
Mushi Purin (蒸しプリン) Steamed purin with a slightly firmer texture than regular purin.
Yaki purin (焼きプリン) Purin made by baking in the oven.
Katame Purin (固めプリン) A firm type of purin often turned out onto a serving dish with the caramel sitting on top.
Nameraka Purin (なめらかプリン) Soft purin served in a container usually with the caramel sitting at the bottom.
My recipe is for nameraka purin, which is my personal favourite. The texture is soft, silky and only just set which means it needs to be served in a container since it's too soft to hold its shape on its own. Nameraka purin is so soft that it melts in your mouth, it's seriously good!
Japanese Pudding Cups
One of the most iconic features of Japanese style purin, is the cups that they are served in. They're almost like miniature milk bottles.
If you live in Japan, it's easy to find these purin cups in 100 yen stores (Japanese version of a dollar store) but if you live outside of Japan, you can also order them from Amazon like these ones here.
I recommend using glass jars rather than plastic because in my recipe, I pour hot caramel into the container.
This recipe makes about 550-600ml of purin mixture, I recommend using 6 x 100ml purin cups (3.5 fluid oz) for the best caramel to custard ratio, but alternatively you can also make 4 x 150ml (5.5 fluid oz) containers.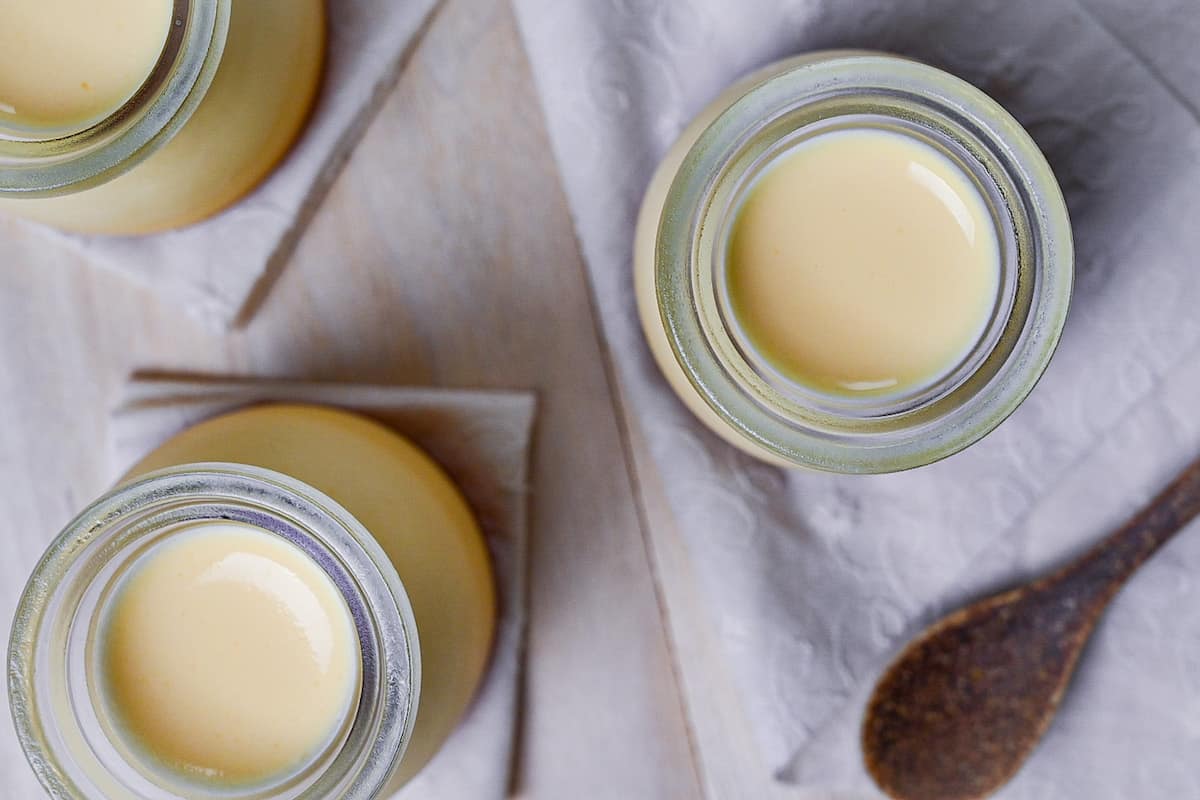 Other popular purin flavours in Japan
Purin in Japan has a wide variety of flavours! Some of them are available all year around, others appear depending on the season. For example, pumpkin and chestnut are often found in Autumn whereas mango and coconut are more likely to be found in summer. Here are a few other purin flavours you can find:
Matcha
Pumpkin
Chestnut
Sweet potato
Black sesame
Chocolate
Mango
Coconut
All of these interesting flavours just go to show how much Japanese people love purin! You can experiment with the flavours by switching out the vanilla essence for a different essence, extract or powder!
Japanese Purin Ingredients
In this recipe I use the following ingredients:
Granulated sugar - to make the caramel and sweeten the custard.
Pasteurised eggs - since the eggs aren't fully cooked in this recipe, I recommend using pasteurised eggs that are safe to eat raw (all eggs in Japan are treated and eaten raw regularly). For more information about egg safety, see the American egg board website.
Whole milk - the best for making custard!
Double cream (38% fat or more) - to make the taste richer and creamier.
Vanilla essence - a classic flavour for custard! (If using vanilla extract, use half!)
Powdered gelatine - to set the custard.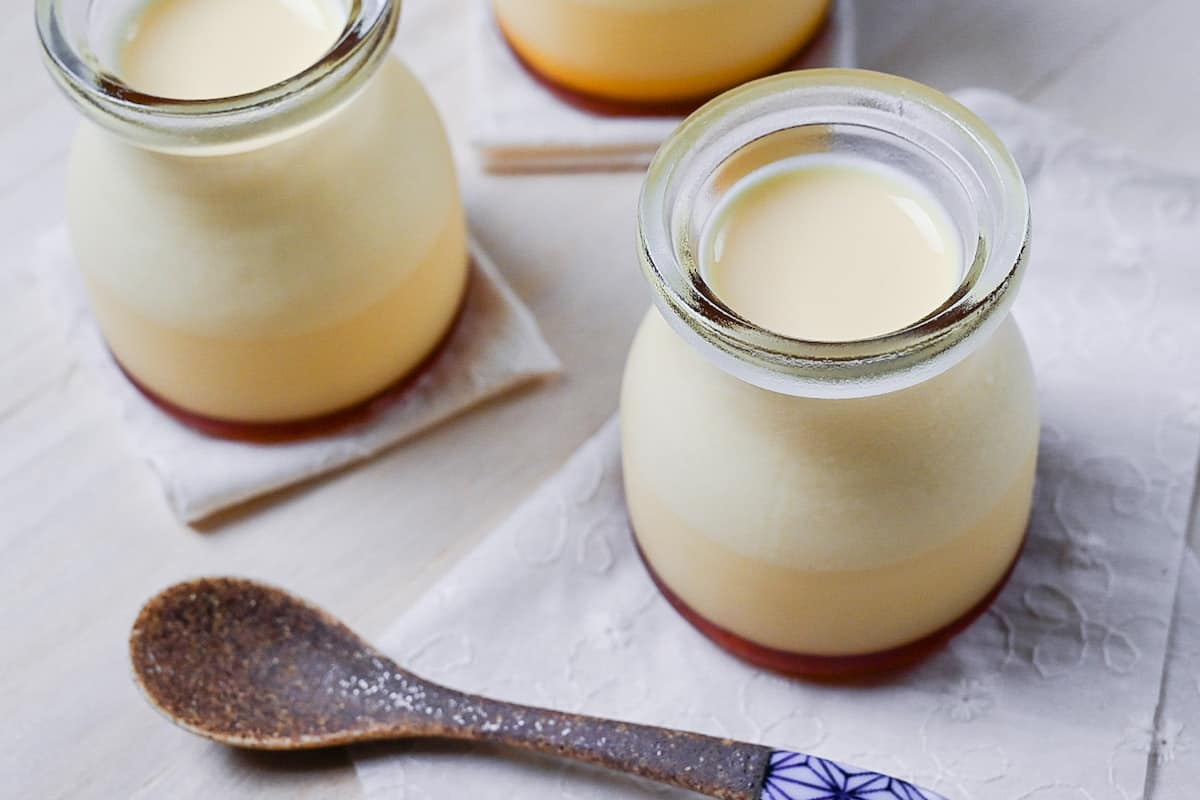 Instructions on how to make the best Japanese Purin
For me, the best purin has to be creamy, soft and melt in the mouth! Here are my step by step instructions on how to make the ultimate Japanese purin from scratch at home including a few tips I use to ensure success every time. (See the printable recipe card at the bottom of the page for ingredient quantities.)
Soak the gelatine
The first step is to pour the milk, sugar and gelatine powder into a microwavable jug for easy pouring later.
You will need to wait 5-10 minutes for the gelatine granules to "bloom". I use this waiting time to make the caramel.
Tip: Sprinkling the gelatine powder over the milk (rather than pouring the milk over a heap of gelatine powder) will help prevent clumps of gelatine sticking together!
Homemade Caramel
The next and probably most difficult part of this recipe is making the caramel.
My top tips for fail free caramel are:
Use a silver pan (not black) so you can easily see when the caramel changes colour
Heat on medium/medium-low so that it doesn't brown too quickly and burn
Do not stir (this can cause crystallisation), instead, tilt and swirl the pan from time to time to prevent burning.
Add the water one third at a time (this cools the caramel and prevents burning).
Stand back and wear oven gloves when you add the water as it might sizzle and splash.
Pour the caramel into the containers while it's still hot
Start by mixing the sugar and a third of the water to a cold sauce pan.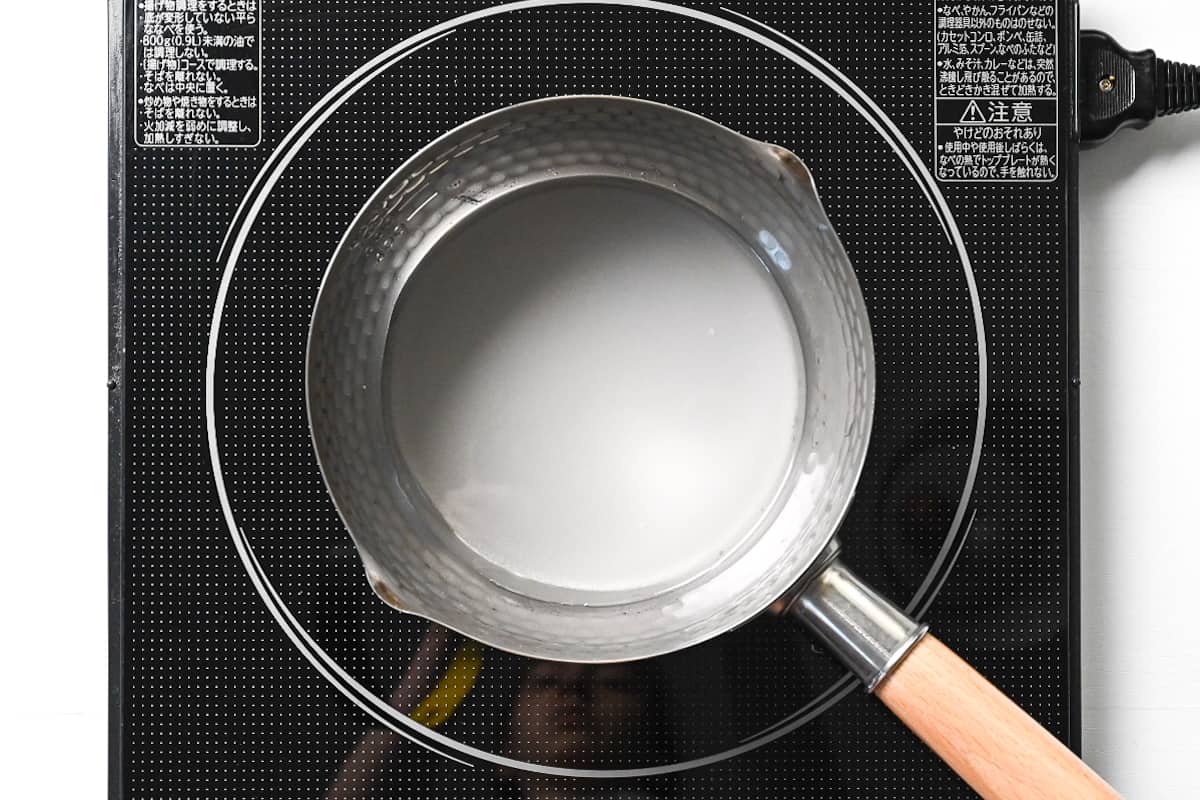 Once it's mixed, place it on the stove and heat on medium/medium low. It might change colour quickly in some areas due to heat spots on your stove or pan, so swirl it gently or tilt the pan to cook it evenly. Do not stir it once it's bubbling as this can cause the caramel to crystallise.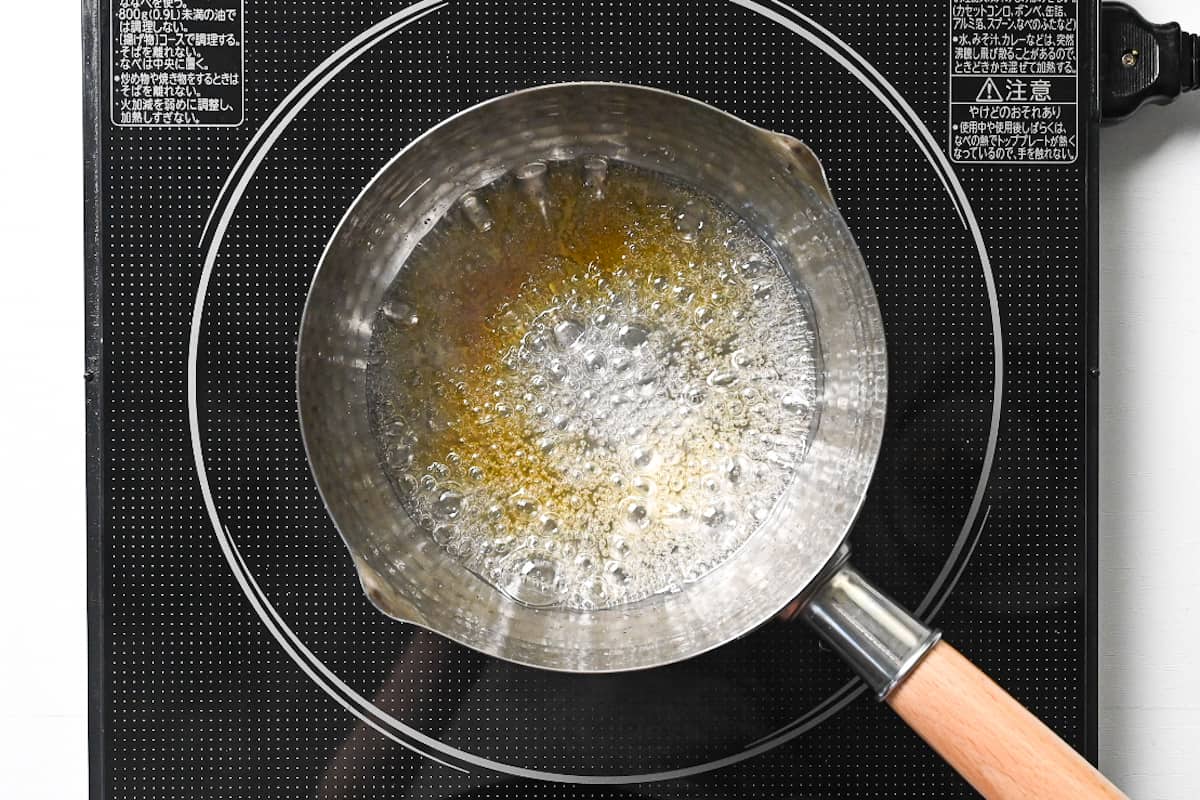 When the sugar and water starts to become a little golden, add another third of the cold water. (Be careful of the caramel splashing and sizzling, I recommend standing back and wearing oven mitts to protect your hands.)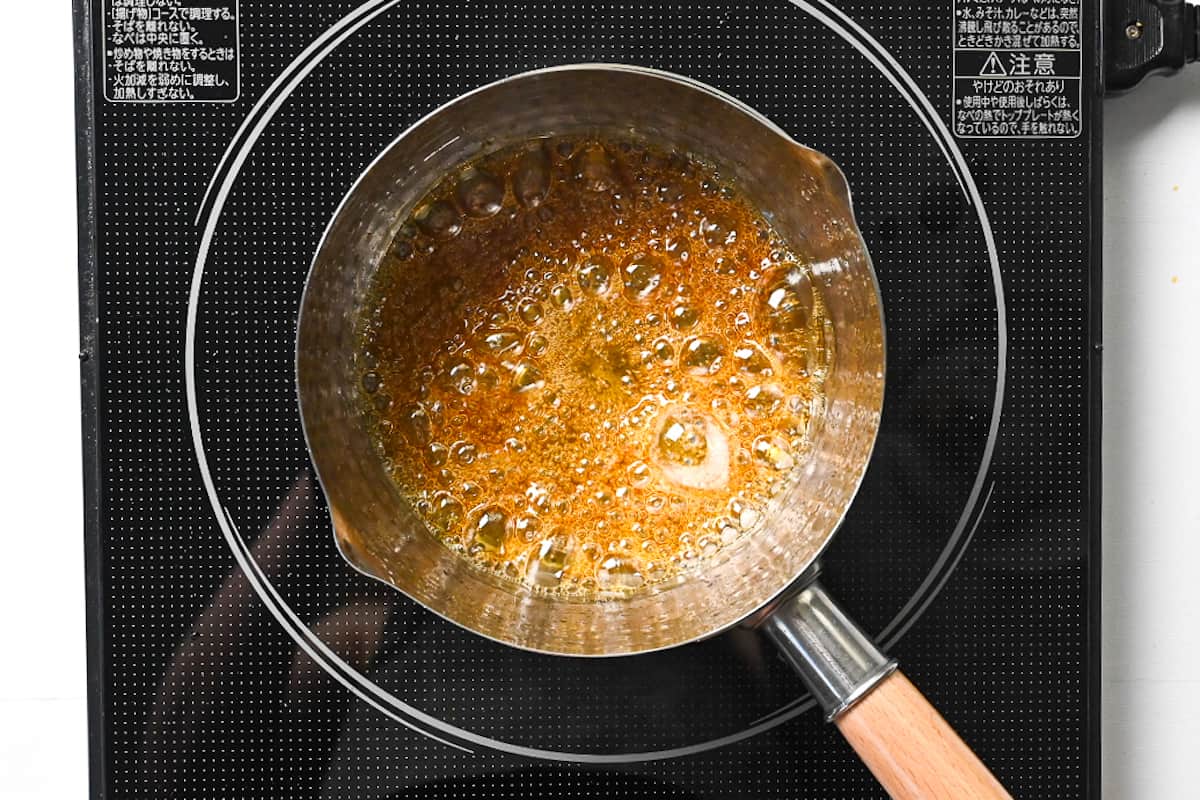 Continue to swirl or tilt the pan when necessary, and add the last third of water once the caramel turns amber.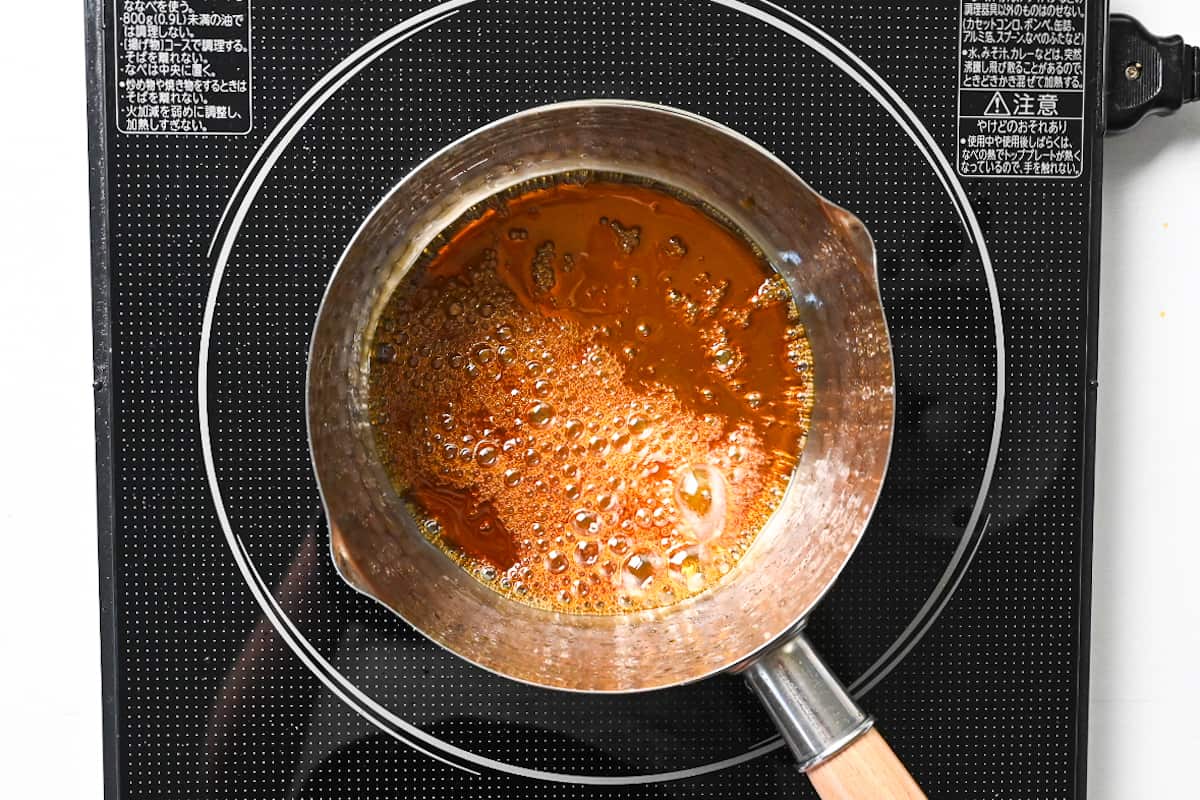 Remove the pan from the heat and swirl it around to help cool it down slightly. Then pour it into your heatproof purin containers and set aside for later.
Once they've cooled, feel free to store them in the fridge to help set the caramel further.
Melt the gelatine
Once the gelatine has "bloomed", it's ready to be melted. To avoid watering down the purin, I like to melt the gelatine directly in the milk. This means you have to be careful not to overheat the milk, otherwise it might scold and create an unpleasant taste. At the same time, you need to heat it enough so that the gelatine powder melts.
Milk is best heated to around 60-70℃ (Approx 140-160°F). It's also important to note that gelatine starts to lose its setting properties if heated above 75℃.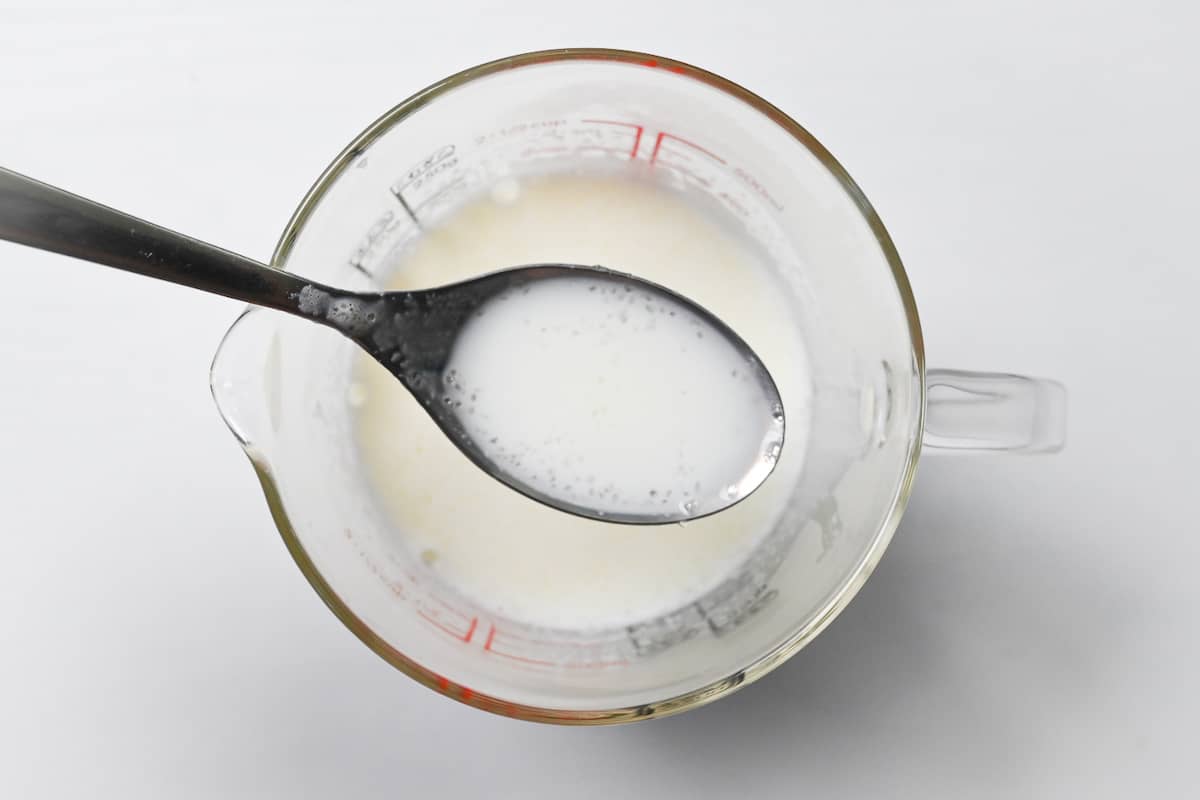 Start by microwaving the milk for 2 minutes at 600W. Mix it and then keep heating in 20-30 second intervals, mixing thoroughly each time. This should stop the milk from getting too hot, and allows you to check to see if the gelatine is melted properly.
Alternatively, you can heat the milk in a saucepan on a medium-low heat until the gelatine has melted. Just be careful not to let it boil and remove it from the heat if small bubbles start to form around the edge.
Heat the milk in intervals
After microwaving the milk for 2 minutes, heat in 20-30 second intervals stirring each time. This will help prevent scolding the milk. Alternatively, heat it in a saucepan for more control.
Mix the eggs and cream
Crack the eggs into a heatproof bowl and whisk until the yolks and whites are combined.
Next, add the heavy cream and vanilla essence and whisk again.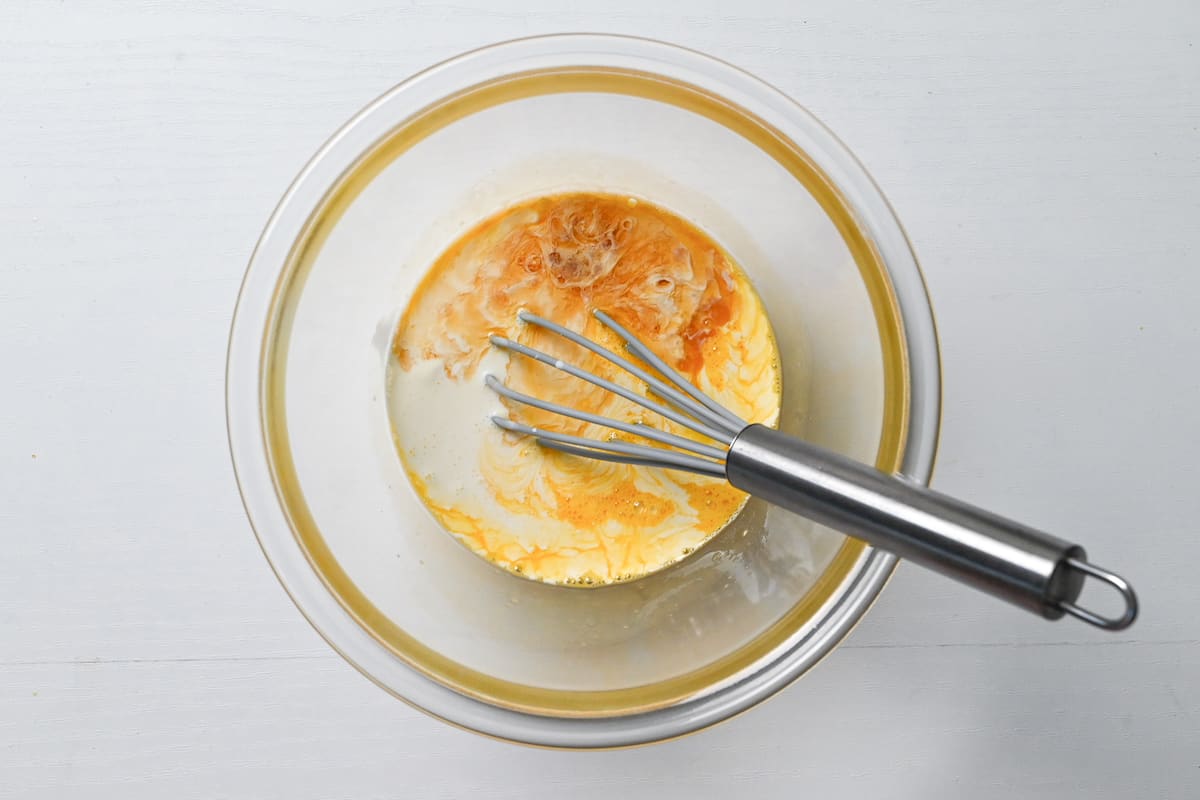 Temper the eggs
Once the eggs are whisked with the cream, add the hot milk. If you pour it in all at once, the eggs might cook and become scrambled. To avoid this, temper the eggs by adding a little bit of hot milk at a time. In the beginning, less is better, add it as gradually as possible while gently whisking.
Add the hot milk gradually
Prevent scrambled eggs by adding the hot milk little by little.
Strain the mixture
Once you've mixed everything, pour through a fine mesh sieve, This will catch any lumps of gelatine powder or egg that you might have missed, making your custard extra smooth and silky.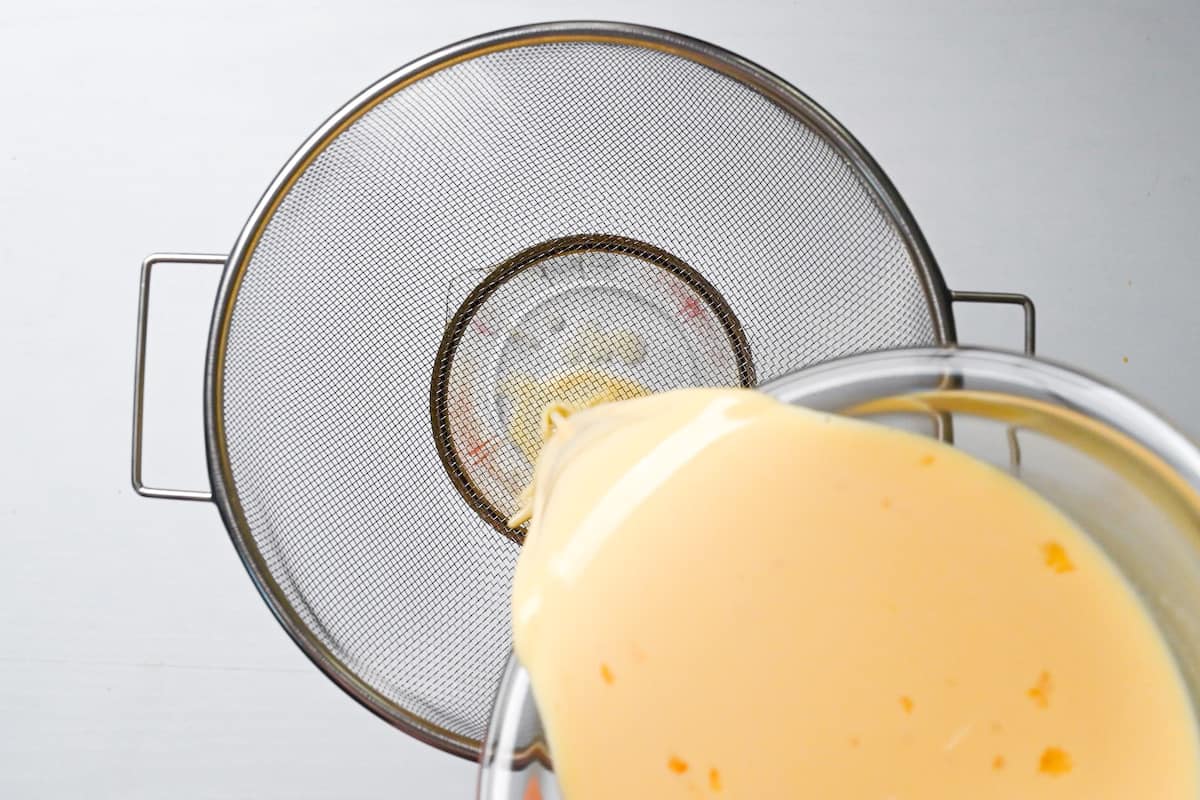 For the smoothest, silkiest purin, be sure to pour it through a sieve before pouring it into your containers!
Pour the mixture into the purin cups
Finally, pour the mixture into the purin cups over the caramel. Leave a little bit of space at the top to prevent spills.
If your purin cups came with lids then place them on top, if not, seal the top with plastic wrap. Place them in the fridge and allow to chill until set.
Set and enjoy
Purin generally takes about 3-4 hours to set enough to eat. If possible, refrigerate over night for the best texture and flavour.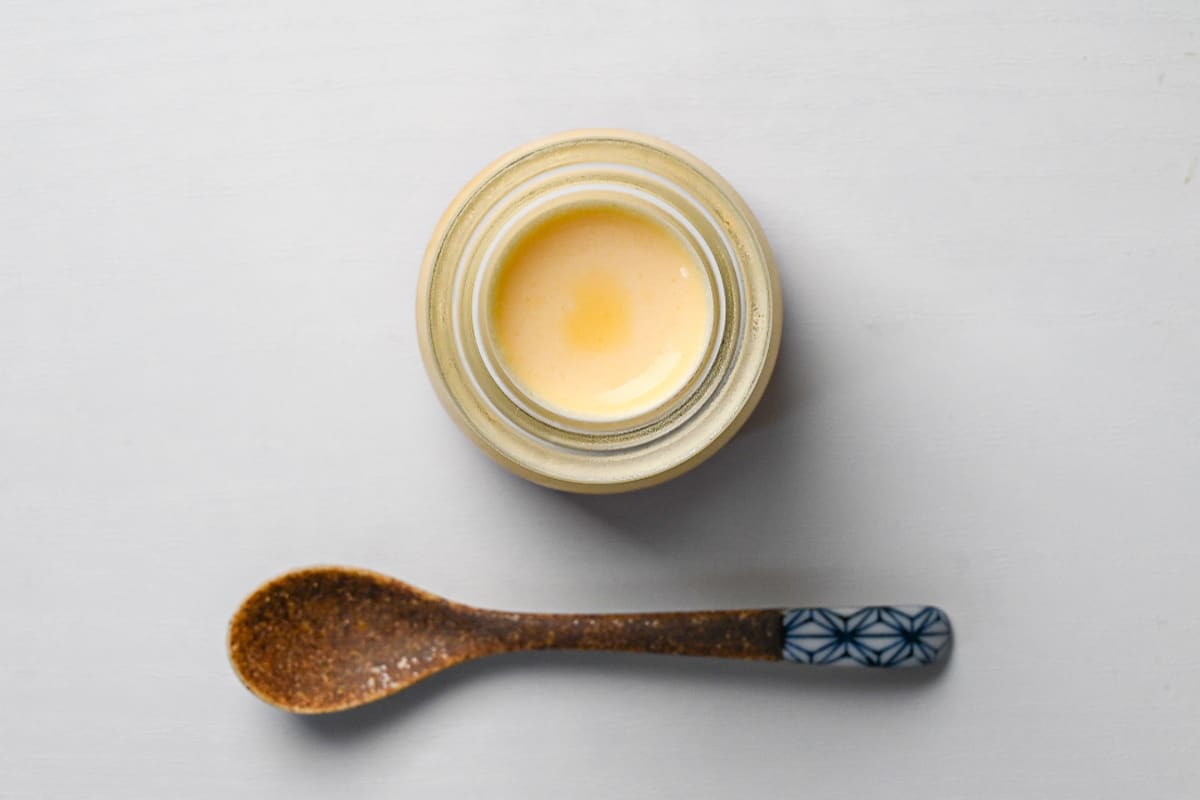 Enjoy this extra silky and creamy Japanese purin!
Storage
Purin can be kept in a sealed container in the refrigerator for 2-3 days.
Freezing is not recommended.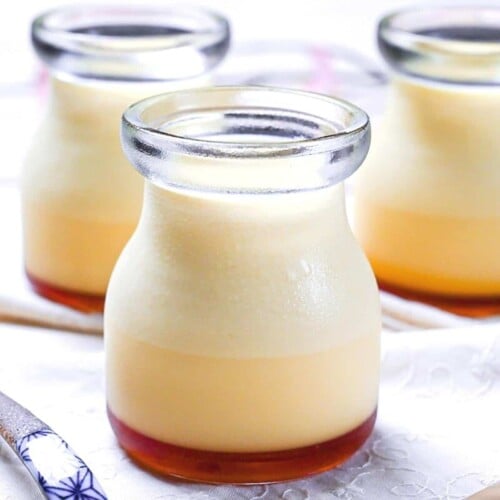 Nameraka Purin (Silky Japanese Custard Pudding)
How to make silky and creamy Japanese custard purin set over a layer of rich homemade caramel. (Makes 6 x 100ml containers or 4 x 150ml containers)
Ingredients
For the caramel
50

g

white sugar

60

ml

water
For the custard
300

ml

whole milk

50

g

white sugar

7

g

gelatin powder

3

pasteurized egg

100

ml

heavy cream

½

tsp

vanilla essence

-

or half the amount of vanilla extract
Instructions
First, pour

300 ml whole milk

into microwavable container and stir in

50 g white sugar

and

7 g gelatin powder

. Mix and leave the gelatin to bloom for 5-10 minutes. While you wait, make the caramel.
Make the caramel
Start by measuring out

60 ml water

. Add one-third of the water to a cold saucepan along with

50 g white sugar

. Mix them together before you turn on the heat.

Turn on the heat on a medium/medium-low setting and bring to a bubbling state. Do not mix, but feel free to tilt the pan from time to time if the sugar is starting to color unevenly.

When the sugar and water starts to become a little golden, add another third of the cold water. (Be careful of the caramel splashing and sizzling, I recommend standing back and wearing oven gloves to protect your hands.)

Continue to heat the caramel and tilt the pan from time to time to ensure even colouring. Once it starts to turn an amber colour, add the last third of water.

Take it off the heat and swirl the caramel around by tilting the pan in a circular motion. This will get some air into the caramel and allow it to cool down a bit.

Pour the caramel into 4-6 heatproof containers and set aside for later. (Once cool, place in the refrigerator to set it further.)
Make the custard
Microwave the jug of milk, sugar and gelatine from step 1 for 2 minutes at 600W.

If any grains of gelatine are remaining, continue to heat in the microwave in 20-30 second increments, mixing each time until the gelatine is completely melted. (Be careful not to scold the milk.) Leave to cool slightly.

Crack

3 pasteurized egg

into a heatproof mixing bowl and whisk until the yolks and whites are combined.

Add

100 ml heavy cream

and

½ tsp vanilla essence

and whisk again.

Pour a small amount of the hot milk mixture into the egg mixture and mix to temper the eggs. Add the rest of the milk gradually while whisking gently.

Rinse out the jug and place a strainer over the top. Pour the custard mixture through the sieve to remove any stubborn lumps of gelatine or egg.

Pour the custard into the containers, leaving a small space at the top to prevent spills.

Cover with lids or plastic wrap and chill in the refrigerator for 3 hours minimum, preferably over night.

Serve and enjoy!
Video
Notes
Store in the refrigerator and consume in 2-3 days.
FAQ
What is Japanese pudding called?
Japanese pudding is called u0022purinu0022 (プリン).
What is Japanese purin?
Japanese purin is a popular dessert made with set custard topped with caramel. It's essentially a Japanese take on the dessert known as creme caramel, flan or baked custard.
Why is it called purin?
While there's no firm theory on why the dish adopted this name, the word u0022purinu0022 (プリン) comes from the English word u0022puddingu0022.
Are purin and flan the same?
Purin and flan are both desserts made with set custard topped with caramel. They contain similar ingredients, however flan is more commonly baked to set the eggs whereas Japanese purin is more commonly set with gelatine. Baked purin in Japan is known as u0022yaki purinu0022. There is also a steamed variation known as u0022mushi purinu0022.
What is the difference between Japanese purin and Mexican flan?
Mexican flan is often made with condensed milk and baked, whereas Japanese purin is more commonly made with milk, heavy cream and set with gelatine.
How long can I store purin in the refrigerator?
The storage time for purin depends on the recipe. Since my purin recipe contains uncooked eggs, I recommend consuming within 2 days. Baked or steamed purin will last longer.
Can you freeze purin?
While it is possible to freeze purin, I personally don't recommend it for this recipe.