Disclaimer: This post may contain affiliate links. Sudachi Recipes is part of the amazon associates programme and earns a small percentage from qualifying purchases at no extra cost to you. See disclaimer for more info.
What is Yokan?
Yokan (ようかん) is a traditional Japanese dessert made with sugar, red bean paste and a setting agent such as kanten or agar agar, which helps create it's jelly-like texture. It is often served in a block shape, cut into slices and served with green tea.
Yokan was originally based on a Chinese jelly dessert that was made using gelatin, however Zen Buddhism forbade the killing of animals in Japan and instead, yokan was made by steaming red beans and flour.
An ingredient called "kanten" (寒天) was discovered in Japan hundreds of years ago and it changed yokan into the sweet treat we know today! Now yokan is a popular dessert and gift in Japan, coming in all different shapes, sizes and flavours.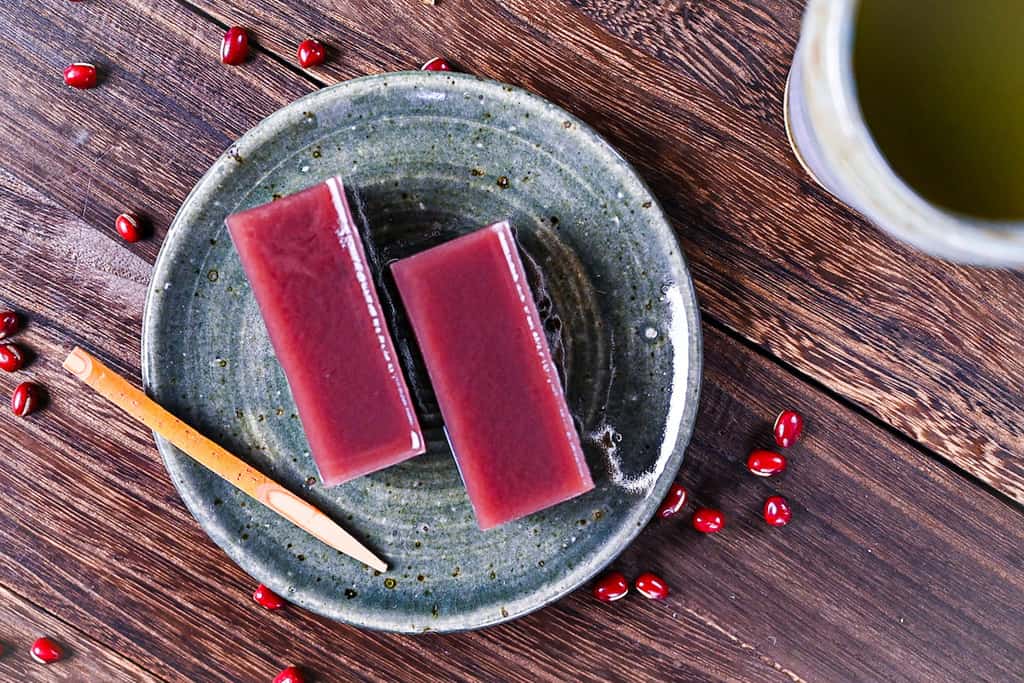 Different Types of Yokan
In terms of texture, there are two main kinds of yokan.
Neri yokan (練ようかん) very firm and contains more kanten, a little heavy. Also known simply as "yokan".
Mizu yokan (水ようかん) softer texture with higher water content, lighter and served chilled.
Both neri yokan and mizu yokan are most commonly made with red bean paste, and the main difference is the kanten to water ratio. More water or less kanten creates a soft, delicate jelly-like texture whereas less water or more kanten will produce a firm and stable texture.
Yokan can also be made with white bean paste (shiroan), which is made from navy or haricot beans and has a lighter flavor than red bean paste. Due to it's delicate flavor and pale color, yokan made with white bean paste can be mixed with other flavors such as:
Matcha
Cherry Blossom
Sweet Potato
It is also common to add boiled chestnuts to mizu yokan, feel free to add them if you like!
Ingredients
Mizu yokan is made with just water and 4 simple ingredients!
Kanten – this is the plant-based setting agent used to make many Japanese jelly-type desserts (more on this below). I use powdered kanten for ease. If you use sticks or threads, you may need to adjust the amount and cooking method.
Koshian – This is a type of smooth red bean paste (anko) made with adzuki beans and sugar. It's important to use the smooth type since mizu yokan should have a silky texture without any whole beans or skins.
Sugar – A small amount of sugar is added to improve the sweetness of the yokan. I used white caster sugar, but you can use your preferred sugar here if you want to add a little customization.
Salt – A touch of salt helps highlight the sweetness, bring out the flavor of the adzuki beans and balance the overall flavor. Regular sea salt works fine!
What is kanten?
So I've mentioned kanten a number of times already, but what is it? Well, kanten is a jelling agent made from one type of red algae called gelidiales. It is said that it was discovered in Japan in the 1600's when an innkeeper discarded some seaweed soup, only to find that it had turned to a jelly by the morning. Since then, kanten has become a popular ingredient for making jelly desserts, and thickening soups and jams.
Kanten comes in different forms including sticks, threads or powder. Powdered kanten is the easiest to find and use. It needs to be boiled to activate its setting properties and only a small amount is needed.
Generally it's recommended to use 4g of kanten powder for 500ml of liquid in order to make kanten jelly, although this can vary depending on brand so make sure to check the packaging. Kanten jelly is very firm so in order to make mizu yokan, I use half the amount of kanten and increase the water slightly. This is necessary to achieve a soft, melt in the mouth texture. You can purchase kanten powder here on Amazon.
Is Agar Agar the Same as Kanten?
While kanten is made from one type of seaweed, agar agar comes from a mixture of different varieties of red algae and the ingredients vary from brand to brand. It was actually invented to mimic the texture of gelatin, being soft and glossy, rather than firm like kanten jelly.
In Japan, there are so many types of agar so it might require a little trial and error before you can achieve the perfect texture for mizu yokan. You will need to check the packaging for how much liquid you should add and it's also possible that the cooking instructions are different to kanten too.
In other words, kanten and agar powder are different products and cannot be used interchangeably. While you can use agar to make mizu yokan, my recipe specifically uses kanten so please keep this in mind.
Equipment
All you'll need to make mizu yokan is a saucepan and a mold. Let me tell you a little about Japanese style mold called "nagashikan" and alternative options for if you don't own one.
Nagashikan
In Japan, there is a square or rectangular tin called "nagashikan" (流し缶) which is especially for making kanten jelly and yokan. It has a removable base and little tabs at the top to help you pull your dessert out smoothly. Using a nagashikan will ensure that your yokan is perfectly shaped and you can purchase them here on Amazon (affiliate link) but if you don't plan to use it often, it's not essential. See below for alternatives.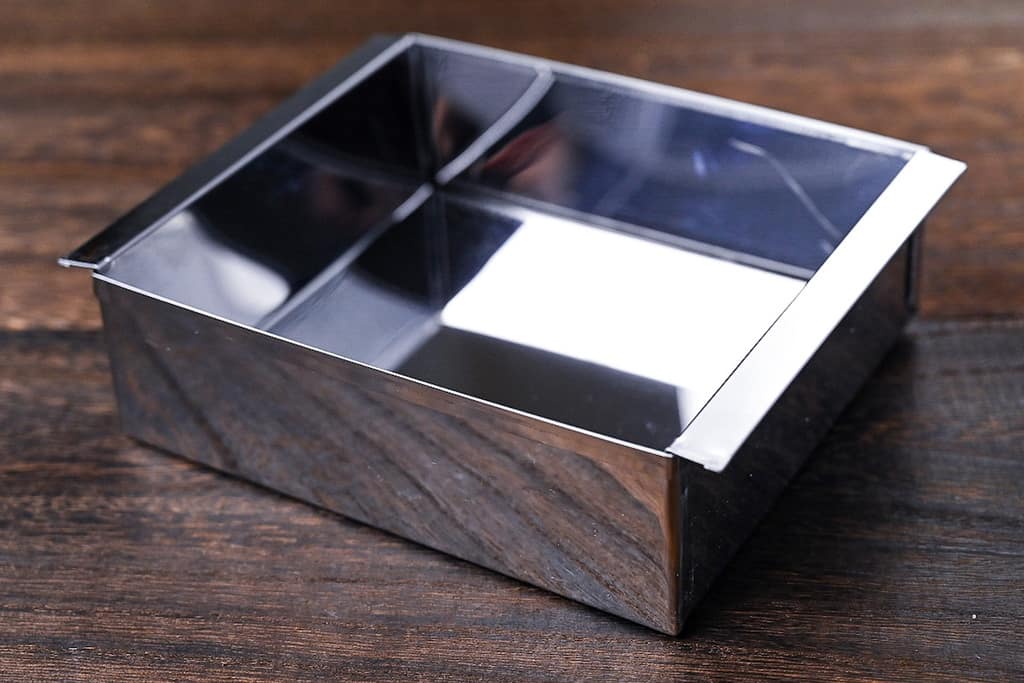 Alternatives to Using Nagashikan
Nagashikan can be difficult to find outside of Japan so here are a few options that you can use instead.
Keep in mind that your container should be heatproof since the mixture will be added while it's still hot.
A small brownie pan with removable base is the closest alternative. Line the edges with baking parchment to ensure easy removal.
A square cake pan or loaf pan would also work, but I recommend lining them with baking parchment for easier removal.
A heatproof storage container works in a pinch, although it might have grooves or rounded edges compared to the other options.
Jelly molds are perfect for making yokan with unique shapes and especially convenient if you want to half the recipe or make a small batch. I particularly like using round ice cube mold to make a dome-shaped mizu yokan, just make sure that it is heatproof.
A takoyaki pan could be used to make mini dome-shaped mizu yokan!
Heatproof serving cups are a great option if you don't want to worry about removing the yokan from the molds.
Steps
Mix the kanten powder and sugar together in a cold saucepan.
Add the water and whisk.
Place the pan on the stove and bring to boil over medium heat. Stir continuously with a silicone spatula to ensure a layer of jelly doesn't form at the bottom of the pan. Once boiling, set a timer for 2 minutes.
Reduce the heat to low and add the red bean paste one-quarter at a time. Make sure the red bean paste is fully incorporated before adding the next quarter.
Once the red bean paste is evenly distributed, add a pinch of salt and mix. Remove the pan from the heat and mix for 1 minute to release the heat.
Pour the mixture into a heatproof container of your choice (I used a Japanese jelly mold called "nagashikan"). Leave to cool to room temperature, this will take about 20 minutes depending on the season.
Once cool to touch, cover and place it in the refrigerator to chill for at least 30 minutes.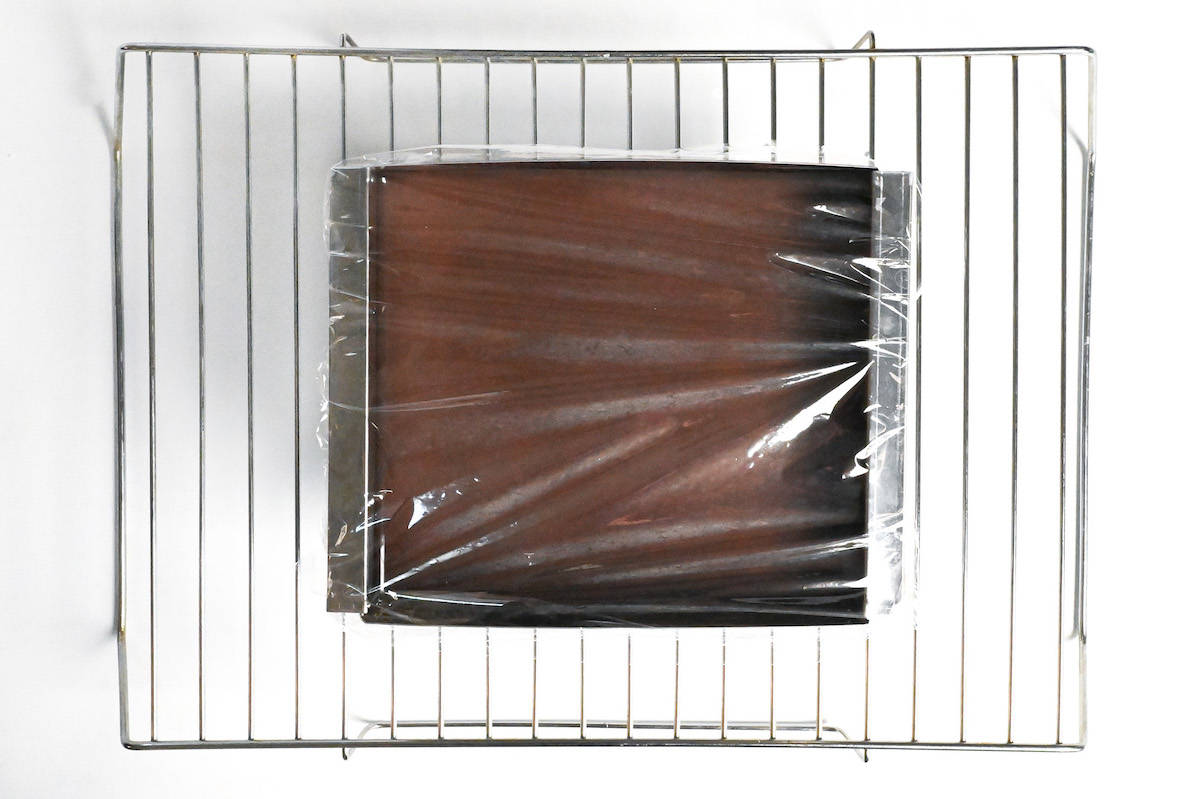 Remove the yokan from the mold and cut into slices (optional).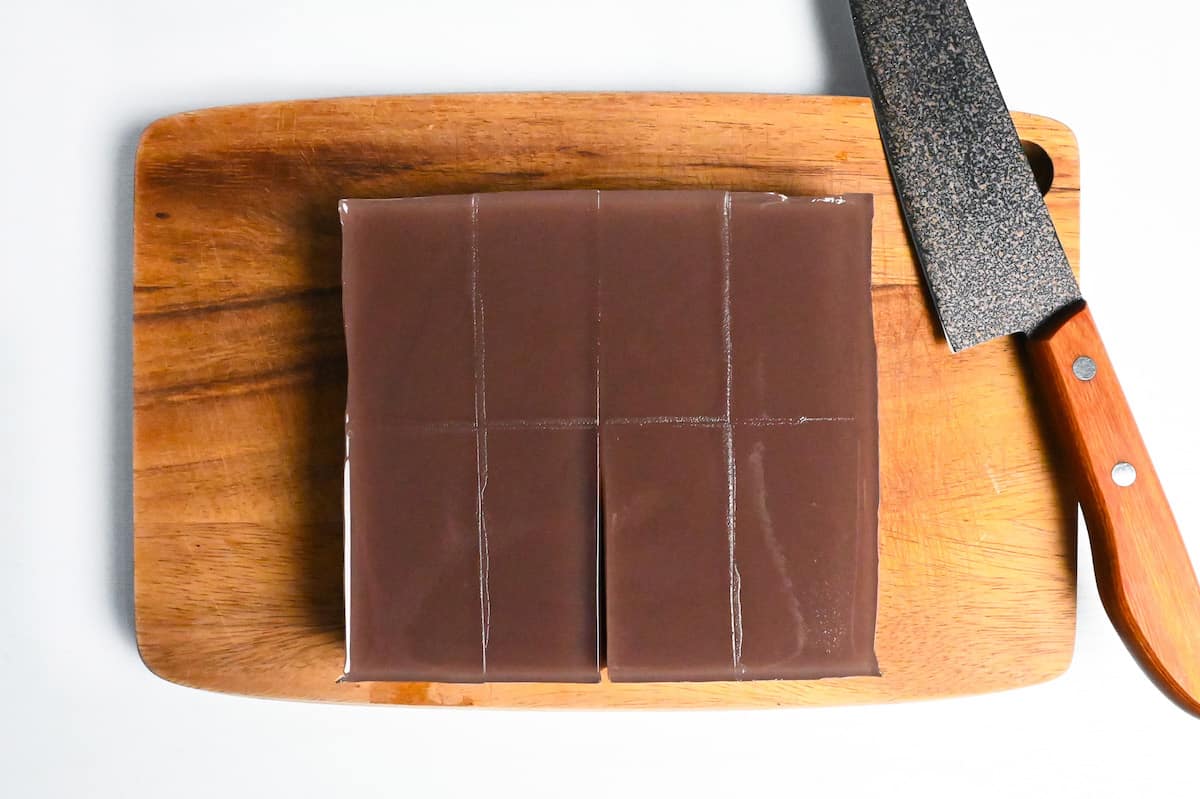 Enjoy!
Storage
Due to it's high water content, mizu yokan should be kept refrigerated and consumed within 2-3 days maximum.
Mizu yokan should not be frozen.
Room temperature – A few hours.
Refrigerated – 2-3 days.
Frozen – Not recommended.
More Wagashi Recipes
If you love Japanese style sweets, why not try out some of my other wagashi recipes?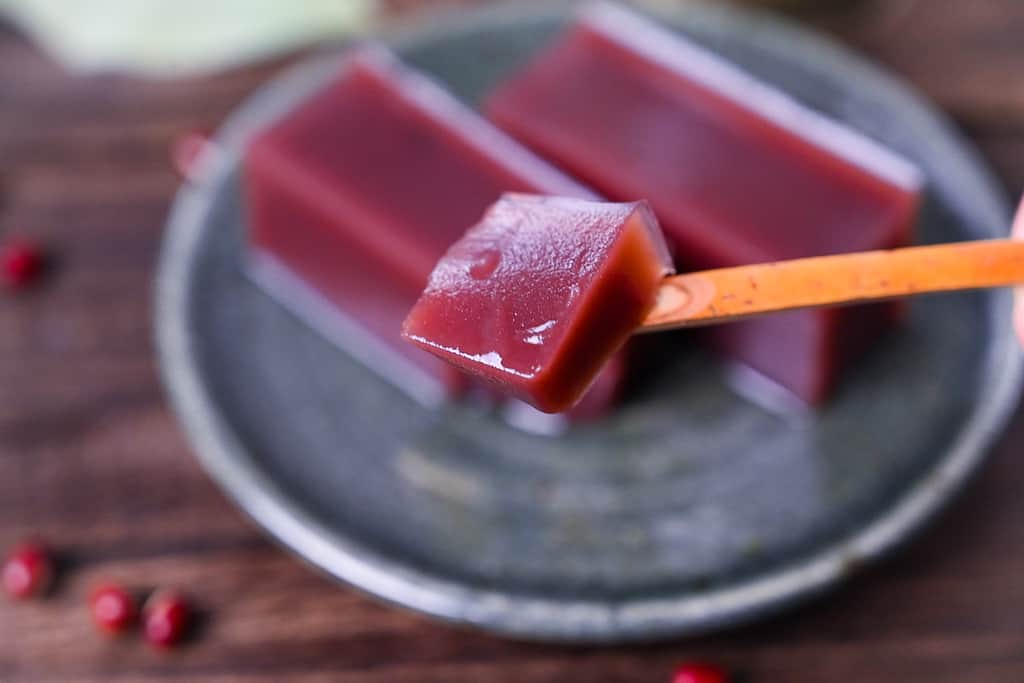 I hope you enjoy this silky mizu yokan recipe! If you try it out, I'd really appreciate it if you could spare a moment to let me know what you thought by giving a review and star rating in the comments below. It's also helpful to share any adjustments you made to the recipe with our other readers. Thank you!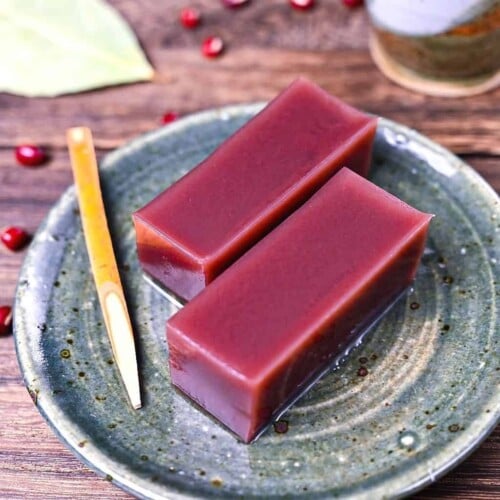 Mizu Yokan (Japanese Red Bean Jelly)
---
Mizu Yokan is a Japanese jelly dessert made with only 3 main ingredients: red bean paste, sugar and a plant-based gelatin-like substance called kanten, which is suitable for vegetarians! This traditional Japanese sweet melts in the mouth and goes perfectly with green tea!
---
---
---
---
Ingredients
2

g

kanten powder

(1 stick usually contains 4g)

15

g

granulated sugar

500

ml

water

400

g

smooth red bean paste

(koshian)

1

pinch

salt
Instructions
Add

2 g kanten powder

and

15 g granulated sugar

to a cold saucepan and mix them together.

Add

500 ml water

to the pan and whisk.

Place the sauce pan on the stove and bring to boil over medium heat while stirring continuously. Use a silicone spatula to scrape the bottom of the pot. Once it's boiling, set a timer for 2 minutes and keep stirring until the time is up.

After two minutes, reduce the heat to low and add

400 g smooth red bean paste

one-quarter at a time while mixing constantly. Make sure the mixture is smooth with no lumps before adding the next quarter.

Once the koshian has melted and incorporated into the mixture, add

1 pinch salt

and turn off the heat. Continue to mix for 1 minute to help release the heat.

Pour the mixture into molds or a Japanese "nagashikan" tray and leave to cool to room temperature (approx 20 mins).

Once cool, cover and transfer to the refrigerator. Chill for 30 mins or until fully set.

Carefully remove the mizu yokan from the mold and cut into equal pieces.

Serve and enjoy!
Notes
I used a 13.5x15cm nagashikan for this recipe. A brownie pan or jelly molds also work fine.
If you're using "agar agar" (not specifically kanten) then you'll need to change the amount of agar agar accordingly. Check the post above or packaging for more information.
Store in the fridge and consume within 2-3 days.