Tsukimi dango is a chewy rice dumpling displayed and eaten during the Japanese mid-autumn festival when the moon is at its most beautiful. In my recipe I will show you the easy way to make this festive sweet with just 2 ingredients!
Disclaimer: This post contains Amazon affiliate links. Sudachi Recipes earn a small percentage from qualifying purchases at no extra cost to you. See disclaimer for more info.
Jump to:
What is dango?
Dango is a traditional Japanese sweet dumpling made with glutinous rice flour. The taste is quite simple and they aren't overly sweet, but they are well loved for their chewy "mochi mochi" texture. There are many types of dango which are typically enjoyed during festivals and events, but they're so popular that you can buy them in Japanese supermarkets all year round.
Some examples of types of dango are:
Mitarashi dango (みたらし団子) plain dango on a skewer, chargrilled and coated in a sweet and savory sauce.
Hanami dango (花見団子) pink, white and green dango on a skewer, typically eaten during cherry blossom season.
Anko dango (あんこ団子) plain dango on a skewer topped with red bean paste.
Tsukimi dango (月見団子) plain dango formed into a pyramid and eaten during the moon viewing festival.
Goma dango (ごま団子) Chinese style deep fried dango filled with red bean paste and coated in sesame seeds.
Shiratama dango (白玉団子) small dango served with Japanese desserts such as anmitsu (kanten jelly, fruits and red bean paste) or kakigori (shaved ice).
In this post I will teach you an easy way to make Tsukimi (moon viewing) dango and the right way to display it!
What is "Tsukimi"?
Tsukimi (月見) is the Japanese version of the mid-autumn festival and the word "Tsukimi" can be translated into English as "moon viewing". The exact date of the festival has changed throughout history but in modern times its typically held on the 15th day of the 8th lunar month according to the traditional Japanese calendar which was based on the phases of the moon.
Traditionally, the new moon would mark the first day of each month and the 15th coincides with the full moon, this is why it is also known as "Jugoya" (十五夜) or "the 15th night". It typically falls some time between mid-September to early October on the Gregorian calendar, specifically on the full moon closest to the Autumn equinox.
Seasonal produce such as taro, sweet potatoes and chestnuts are displayed as an offering to the moon, praying for a plentiful harvest and Japanese pampas grass (susuki) is often set next to them to ward off evil spirits. Many shrines and temples hold Tsukimi performances and events which locals can attend.
It is also common to eat "Tsukimi ryori" (dishes made especially for the moon viewing festival) such as Tsukimi udon, Tsukimi dango and Tsukimi soba. There is even a seasonal McDonald's "Tsukimi burger" that is so popular that other fast food restaurants have started copying it! These dishes usually contain an egg which represents the moon.
The origin of Tsukimi
The tradition of moon viewing is believed to have been introduced to Japan by China during the Heian period (794-1185AD). The event spread among Japanese nobles who would have boat parties where they would recite poetry and feast while enjoying the reflection of the full moon on the water.
It wasn't until the Edo period (1603-1868) that the moon viewing festivities spread to the common people. Because the the festival occurred around the time to harvest crops, it became an event not only to appreciate the beauty of the moon, but a time to show gratitude for an abundant harvest and pray for the following year.
Tsukimi dango
One of the most iconic dishes of Tsukimi is the Tsukimi dango. Rice culture in Japan dates back thousands of years with rice cakes and dumplings often appearing during traditional Japanese holidays and events. As Tsukimi is a time to express gratitude for the year's harvest, it's only natural that dango made from rice flour would become an important symbol of this festival. Not only that, but the round shape also looks like the full moon!
Tsukimi dango is made up of 15 rice dumplings to represent the 15 nights. Traditionally they are stacked in a pyramid shape on top of a small wooden Shinto offering stand called a "sanbo" (三方) and displayed in a place with a good view of the moon. This said, sanbo is not so common in Japanese homes so it's fine to use a decorative plate or tray.
To stack them properly, make a 3x3 square for the base, topped with 2x2. Finally place the last two on top. The dango on the top are sometimes coloured yellow to represent the harvest moon.
Rabbits on the moon
While the mid-Autumn festival originated from China, Tsukimi involves many aspects of Japanese traditions and culture. One tradition that has carried on to this day is the idea of rabbits pounding rice cakes on the moon. It might sound random but it originates from an ancient story that comes from Buddhism and Japanese folklore.
The story goes that a monkey, fox and rabbit were sitting around a fire when they were approached by a frail old man who was begging for food. The monkey gathered fruits and the fox caught fish, however the rabbit couldn't find anything to offer and threw himself onto the fire, giving himself as an offering. The beggar turned out to be a God called "Taishakuten". Taishakuten was moved by the rabbit's kindness, so he brought him back to life and sent him to live on the moon. Many Japanese people say that the shadow on the moon is shaped like a rabbit pounding rice cakes.
Because of this, rabbits are often decorated on moon related items and without a doubt, associated with the Tsukimi festival!
What is dango made of?
Dango is traditionally made from a mixture of glutinous rice flour called shiratamako or mochiko and Japanese rice flour called joshinko.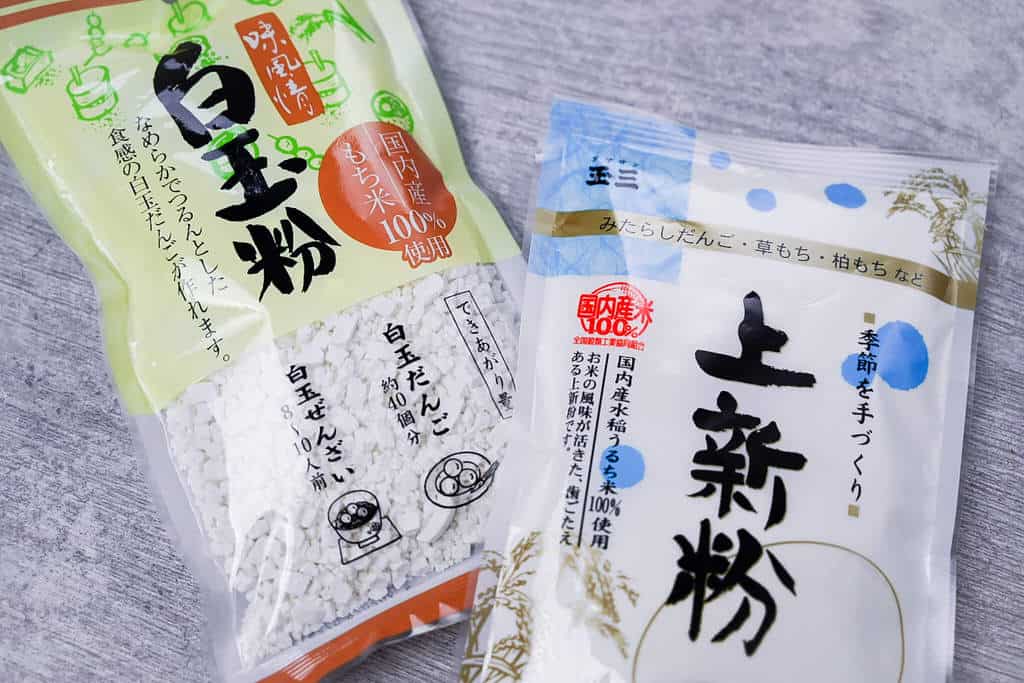 However, joshinko can be especially difficult to find outside of Japanese, so for my recipe I use these two ingredients:
Shiratamako (glutinous rice flour)
Silken tofu
Let's go over them in more detail!
Shiratamako vs mochiko (glutinous rice flour)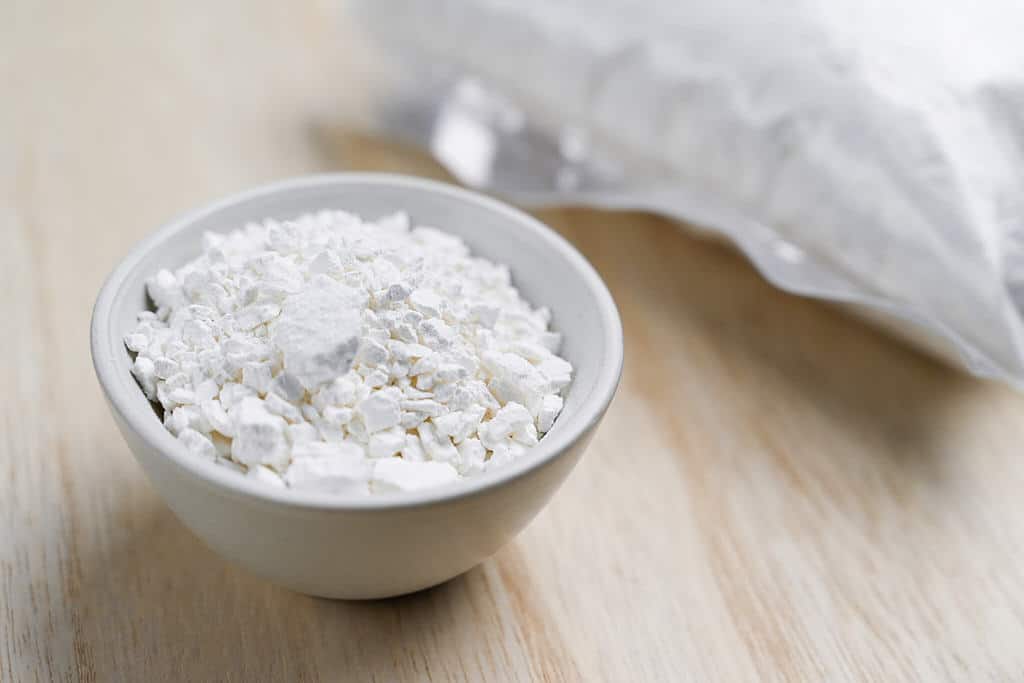 Both Shiratamako and mochiko are kinds of glutinous rice flour made from a sweet rice called "mochikome". They are sometimes called "sweet rice flour" in English. The raw texture of shiratamako is large coarse white granules. On the other hand, mochiko is finely milled and looks more like flour or starch.
While either can be used for this recipe, I do prefer to use shiratamako when possible because it yields a softer result, however is it considerably more expensive than mochiko so feel free to use mochiko to reduce the cost!
You can buy shiratamako and mochiko on Amazon US.
Silken tofu
Joshinko can be difficult to find outside of Japan, so my favourite way to make dango is mixing glutinous rice flour with silken tofu. It's not traditional, but silken tofu makes the texture extremely soft yet chewy, it's seriously good! I also use silken tofu in my mitarashi dango and hanami dango recipes, I can't get enough of it!
Dangoko (dango flour)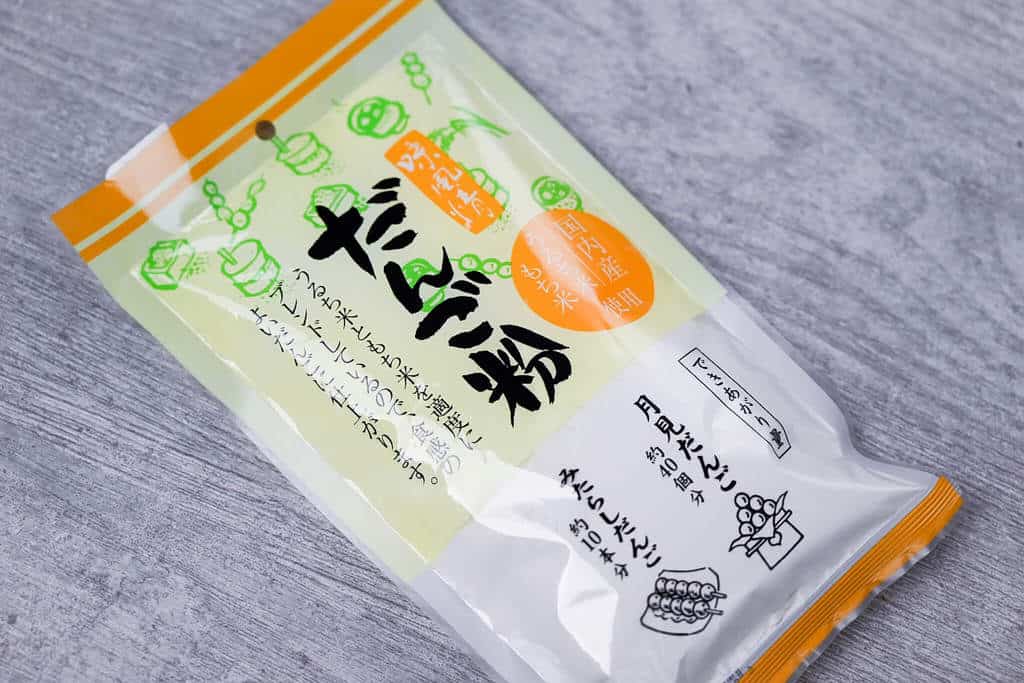 There is also a type of rice flour mixture called "dangoko" (or dango flour). This is especially for making dango and contains glutinous rice flour and Japanese rice flour already mixed together. Keep in mind that the ratio varies from brand to brand and so the textures vary too. Most packets of dangoko also include a simple dango recipe on the back.
Instructions
Making Tsukimi dango is fun and easy, it can be enjoyed by the whole family! Here are my tips for making Tsukimi dango.
Whisk the dry flour
Because shiratamako is made of coarse granules, it can't be sifted. Instead, I whisk it while it's dry for 1 minute. It helps break up any large lumps and adds a bit of air which makes it easier to incorporate into the tofu, yielding a smoother result. If you're using mochiko you can use a sifter.
Knead with your hands
Knead the silken tofu into the glutinous rice flour by hand, not only will it help the ingredients mix together more thoroughly, but you will also have a better idea of when it's complete.
I aim for a play dough-like texture, there shouldn't be any cracks but it also shouldn't be a wet dough.
Add the tofu gradually to avoid making the mixture too wet. If you find the mixture is a bit too dry, add ½ tsp more silken tofu (or water) at a time and keep kneading until it forms a smooth ball.
Measure and roll
To make all the dango uniform, I measure out each ball using a digital scale. Each ball should be approximately 15g.
Simply roll them in the palm of your hand and place them on a plate until it's time to cook.
Boil
Bring a pot of water to a rolling boil and carefully place the dango in so that they don't lose their shape. Be sure to stir them from time to time to stop them from sticking to the bottom of the pan. Allow them to boil until they start to float (about 5-7 minutes). Once they start floating, set a timer for two minutes!
Cool in ice cold water
While they're boiling, prepare a bowl of ice cold water. Once the dango are cooked, transfer the dango to the ice water to holt the cooking process and cool them down.
Dry and arrange
Once cool, I recommend placing the dango on a piece of kitchen paper and allowing them to air dry a little. If you try to stack them while they are still wet, they will slide and the pyramid of dango will fall down.
Once they've dried enough, arrange the dango so that there are 9 at the base (3x3), 4 in the middle (2x2) and 2 at the top (1x2) like below.
How to eat Tsukimi dango
Tsukimi dango are plain and are best eaten with something sweet, that's why I recommend eating them with either of the following:
Mitarashi sauce - a sweet soy sauce glaze, I've included the recipe in the recipe card.
Koshian - smooth red bean paste
Tsubuan - chunky red bean paste (check out my tsubuan recipe here)
Storage
Tsukimi dango are best eaten on the day that they're made, however if you want to make them in advance they freeze well. You can freeze them for up to one month in an airtight freezable container or ziplock bag, simply defrost at room temperature for 30 mins to 1 hour before eating.
Enjoy this simple recipe under the beautiful full moon!
Tsukimi Dango (Moon Gazing Dumplings)
How to make moon viewing rice dumplings, Tsukimi Dango. (Serves 3)
Ingredients
Tsukimi Dango
100

g

glutinous rice flour

- shiratamako or mochiko

125

g

silken tofu

-

+ 5g incase the mixture is too dry

1

pinch

turmeric or yellow food colouring

mitarashi sauce

-

recipe below or smooth red bean paste (optional)
Mitarashi sauce (optional)
1

tbsp

caster sugar

½

tbsp

mirin

½

tbsp

soy sauce

½

tsp

cornstarch

1½

tbsp

cold water
Instructions
Bring a pot of water to a rolling boil over a medium heat.

Whisk the

100 g glutinous rice flour

in a bowl. (If you use mochiko you can sift it instead.)

Add

125 g silken tofu

to the bowl and knead it with your hands.

Knead until it reaches a play dough texture. It should be smooth with no cracks. If it feels a little dry, add more silken tofu 1 tsp at a time. (If you don't have any more tofu then add ½ tsp water at a time instead.)

Measure out 14 balls, approx 14-15g each.

Optional step: Add

1 pinch turmeric or yellow food colouring

to the last piece of dough and knead until the color is even. 

You should have 15 balls in total.

Gently add the dango to the pot of boiling water and stir from time to time to stop them from sticking to the bottom.

Once they start to float (approx 5-7 minutes later) set a timer for 2 minutes. During these two minutes, prepare a bowl of ice cold water.

After 2 minutes of floating, transfer the dango to a bowl of ice cold water and leave to cool for 5 minutes.

Line a plate with kitchen paper and place the dango on the paper, leave them to air dry for about 30 minutes.

Make the base of the pyramid by lining up 9 balls in a 3x3 formation.

For the next layer, add 4 balls in a 2x2 formation.

The top layer has two. If you make a yellow one, it should be on the top at the front of the display.
Mitarashi sauce (optional)
Mix the

1 tbsp caster sugar

,

½ tbsp mirin

,

½ tbsp soy sauce

,

½ tsp cornstarch

and

1½ tbsp cold water

in a small saucepan

Place the saucepan on the stove and heat on low. Stir continuously until thick and glossy.
Notes
Best eaten on the day.
If you're making them in advance, freeze them on a tray spaced apart for about 1 hour and then transfer to an airtight container or ziplock bag. Defrost at room temperature for 30 minutes to 1 hour before eating.
FAQ
What is dango?
Dango is a traditional Japanese sweet rice dumpling.
What is dango made of?
It's usually made of a mixture of Japanese rice flour (joshinko) and glutinous rice flour (mochiko or shiratamako). However in my recipe I replace the rice flour with silken tofu.
What is "Tsukimi"?
Tsukimi is the Japanese moon viewing festival held some time between mid-Sptember and early October.
What do Japanese do on Tsukimi?
Traditionally people would make displays of seasonal produce, pampas grass and Tsukimi dango in a place with a good view of the moon. These days most people simply celebrate by eating "Tsukimi ryori" (moon viewing dishes) such as dango, Tsukimi udon or McDonald's Tsukimi burger. Some shrines and temples hold events and performances too.
What is Tsukimi in food? (Tsukimi ryori)
Tsukimi dishes usually represent the moon in some way. The tsukimi dango is the most iconic, but dishes with egg are also popular in things like Tsukimi udon, Tsukimi soba and Tsukimi burger (just to name a few).