Hanami Dango is a traditional Japanese rice dumpling typically enjoyed during the cherry blossom season. With an addictive, chewy texture and mildly sweet flavour, this iconic snack is the perfect way to celebrate the start of spring! Create your own hanami at home with this simple recipe!
Disclaimer: This post contains Amazon affiliate links. Sudachi Recipes earn a small percentage from qualifying purchases at no extra cost to you. See disclaimer for more info.
Jump to:
DANGO
WHAT IS "DANGO"?
Dango are a type of sweet rice dumpling, usually served on a skewer. The dumplings are made from glutenous rice flour. Just like many Japanese desserts and snacks, they aren't overly sweet but they have a lovely "mochi mochi" chewy texture.
Dango are well loved in Japan and have gained popularity all over the world through anime and manga. If you can't buy dango in your home country don't fear, they're actually very easy to make if you get the right ingredients!
KINDS OF DANGO
There are a number of different kinds of dango and some of them are eaten at special times of the year. Here are a few of the most popular kinds of dango.
Mitarashi Dango (みたらし団子) Simple plain rice dumplings that have been lightly charred and coated in a sweet soy glaze, then served on a skewer.
Hanami Dango (花見団子) Sweetened tri-colored rice dumplings (pink, white and green) served on a skewer and associated with cherry blossom viewing and spring.
Anko Dango (餡子団子) Rice dumplings served on a skewer and covered in red bean paste.
Goma Dango (ごま団子) Chinese style deep fried rice dumpling covered in sesame seeds and filled with red bean paste.
Shiratama Dango (白玉団子) Small rice dumplings usually served in desserts such as anmitsu (traditional dessert made of agar agar jelly, red bean and fruits) or kakigori (shaved ice).
Tsukimi Dango (月見団子) A pyramid of 15 rice dumplings displayed during the Autumn full moon.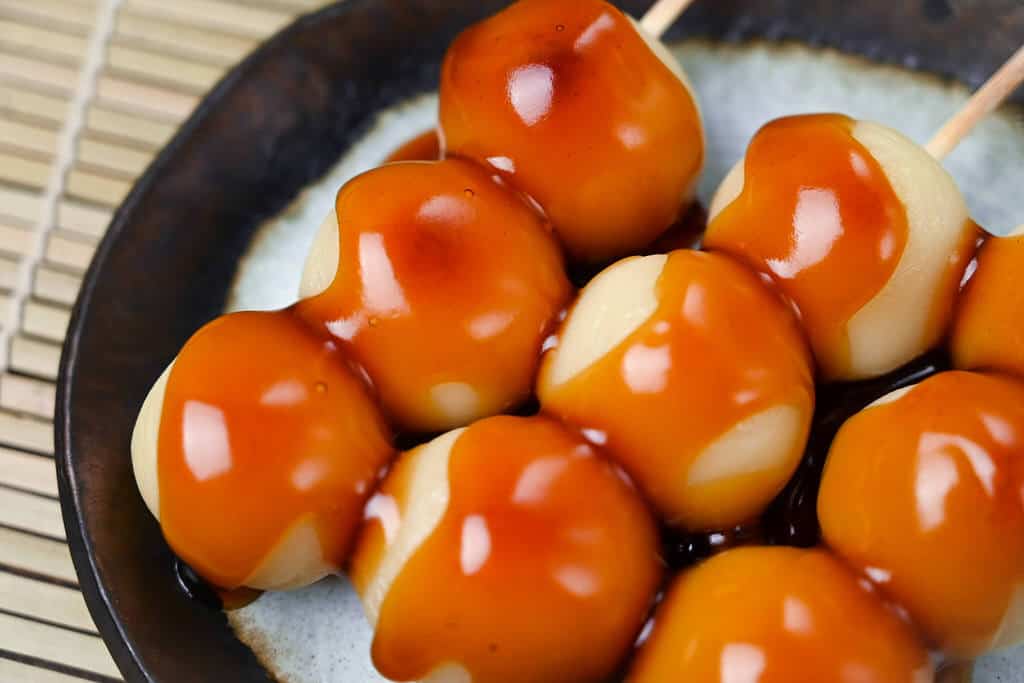 Hanami Dango
Today's recipe is for "hanami dango", also known as "sanshoku dango" (三色団子) or tri-coloured dango. It can be easily recognised by its iconic colours of pink, white and green. It definitely stands out compared to other dango, but did you know that these colors aren't a random coincidence?
There are a few theories about the meanings of each colour.
Pink, White, Green - Representing the Seasons
Most stories go with the theory that each colour represents the seasons in some way. For example, pink represents cherry blossoms blooming in spring, white is winter's snow and green is the summer leaves.
For some reason autumn isn't included. There's a play on words in Japanese "Aki ga nai" 秋がない which means "no autumn" and "(tabe)akinai" (食べ)飽きない which means never get bored of eating. In other words, hanami dango doesn't have autumn because you never get bored of eating it! It's kinda hard to explain...
Some people say hanami dango represents spring alone. Again, pink is the cherry blossoms, white is the "shirozake" (white sake) often drank during "Hinamatsuri" (girl's day) and green is the Japanese mugwort called "yomogi" that grows in spring.
The Order of Colours
Another theory says that each colour represents a stage in the blooming process of cherry blossoms. Pink is like the cherry blossom bud, white represents the full bloom and green represents the leaves that show after the cherry blossoms have fallen. This theory also explains the order of the colours, pink is always at the top, white in the middle and green at the bottom.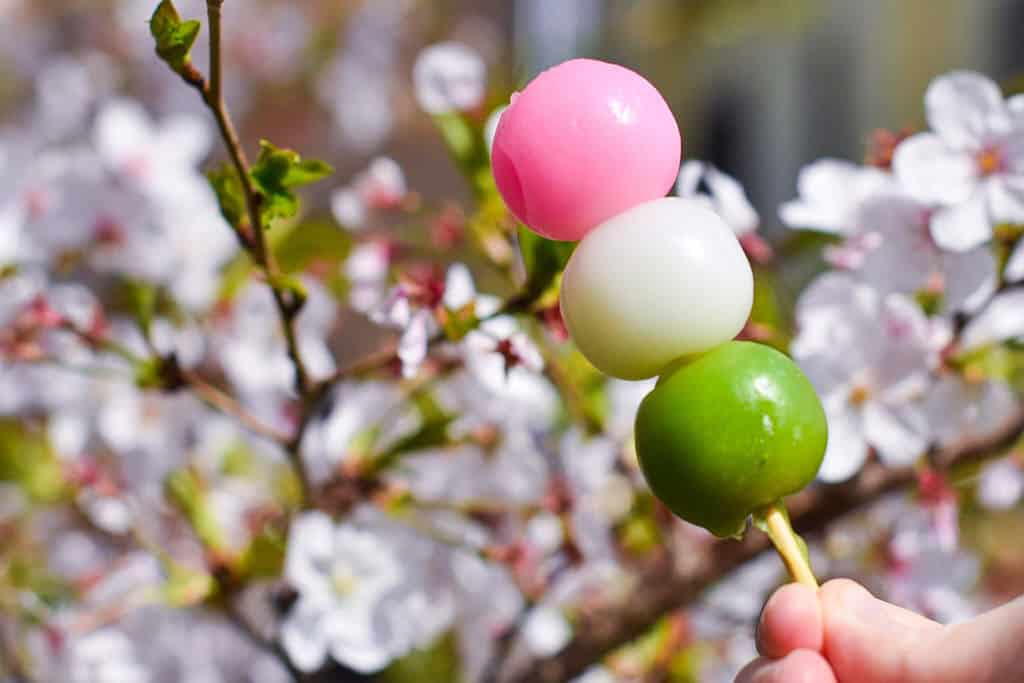 Hanami
Whatever the theory, it's a fact that hanami dango are particularly enjoyed in the spring, more specifically, during cherry blossom season.
The word "hanami" (花見) means "flower viewing" and around March and April is when people love to have picnics and gather under the beautiful cherry blossoms in full bloom. There are usually food stands lined up along the trees so you can walk and eat delicious Japanese street food, it's a great experience!
My city (Okazaki in Aichi prefecture) is home to one of the most beautiful cherry blossom spots in Japan, here's a picture I took there a few days ago!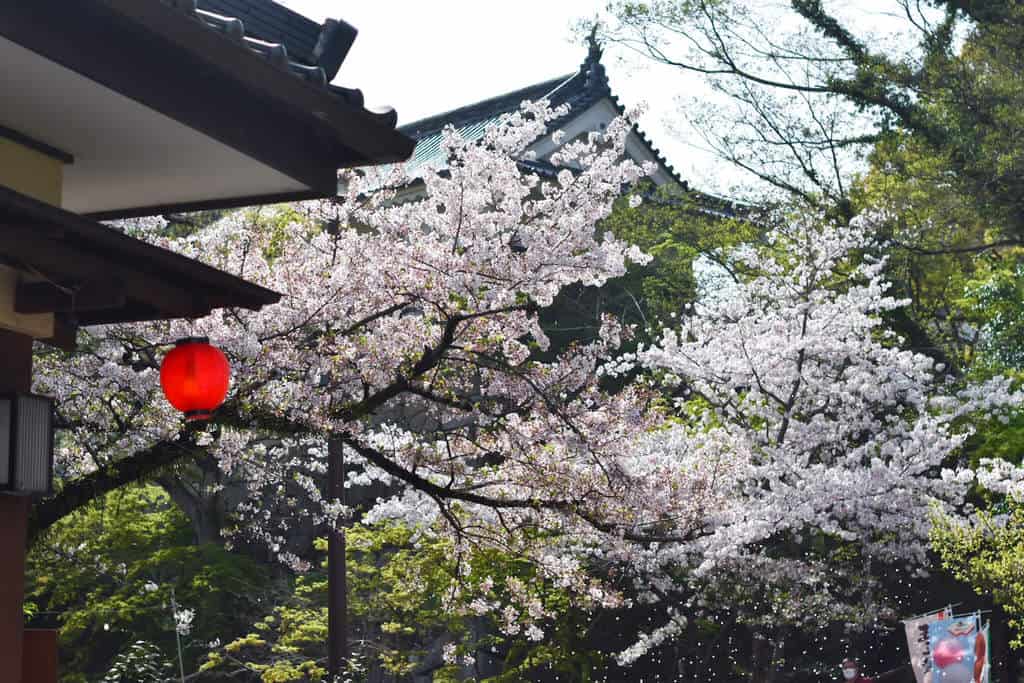 What does Hanami Dango taste like?
When you see three different colours, you'd assume that each colour holds a different flavour, right? Well actually, that's not necessarily true when it comes to hanami dango. The different colours are more for decoration.
The taste of dango is just a simple, slightly sweetened rice dumpling. In fact, the white and pink parts are usually flavoured only with sugar. It might sound a bit boring, but dango is enjoyed more for the chewy, mochi texture.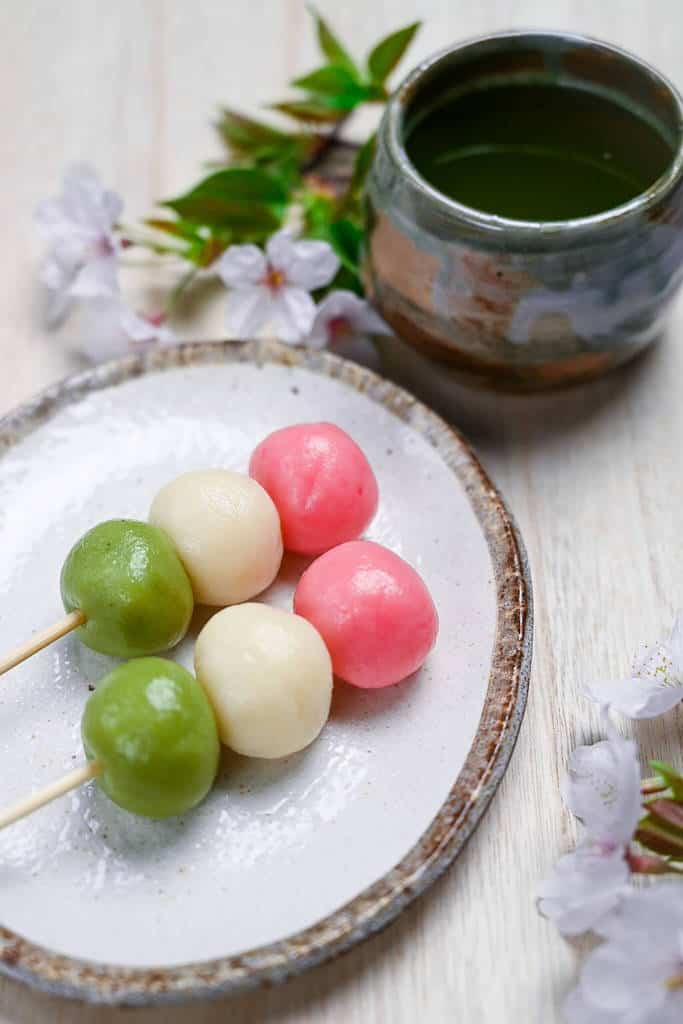 Traditionally, the pink part would be coloured with red shiso leaves and the green part would be coloured using Japanese mugwort called "yomogi". Yomogi has a kinda earthy and herby taste and a hint of that flavour comes through in the green part. Yomogi was also used to ward off bad spirits and is still used in hanami dango these days. It's kinda hard to find outside Japan so I'll be using matcha in my recipe, it tastes nicer too in my opinion.
Not many people use red shiso leaves to color the dango anymore. Pink is usually created with simple food colouring, but if you don't like using artificial colouring in your food, it's okay to use powdered strawberry or something instead.
Ingredients for Dango
Rice flours
There are a few different flours that can be used for making dango, all of them are types of Japanese rice flours.
Shiratamako - Coarse granules of glutinous rice flour
Mochiko - Finely milled glutinous rice flour
Joshinko - Finely milled rice flour (not glutinous)
Dangoko - A mixture of rice flour and glutinous rice flour especially for making dango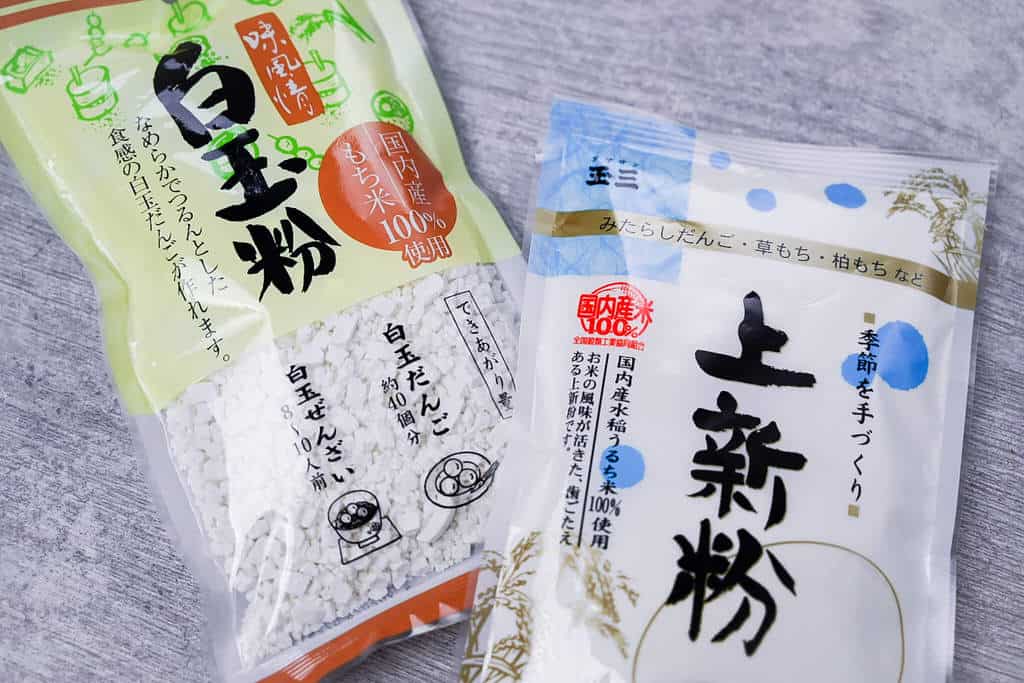 Dango is usually made using a combination of shiratamako and joshinko. (You can buy shiratamako and joshinko on Amazon.)
Shiratamako has a good taste and texture, then joshinko makes the result more stretchy and chewy. You can make hanami dango with shiratamako alone, but the result won't be as chewy. (I find the sugar in hanami dango makes them a bit hard to so adding joshinko helps improve the texture.)
You can also use mochiko and joshinko together but the texture will be a bit different, a bit more firm. Many people use mochiko instead of shiratamako because the result is quite similar and mochiko is cheaper. (Find mochiko on Amazon here.)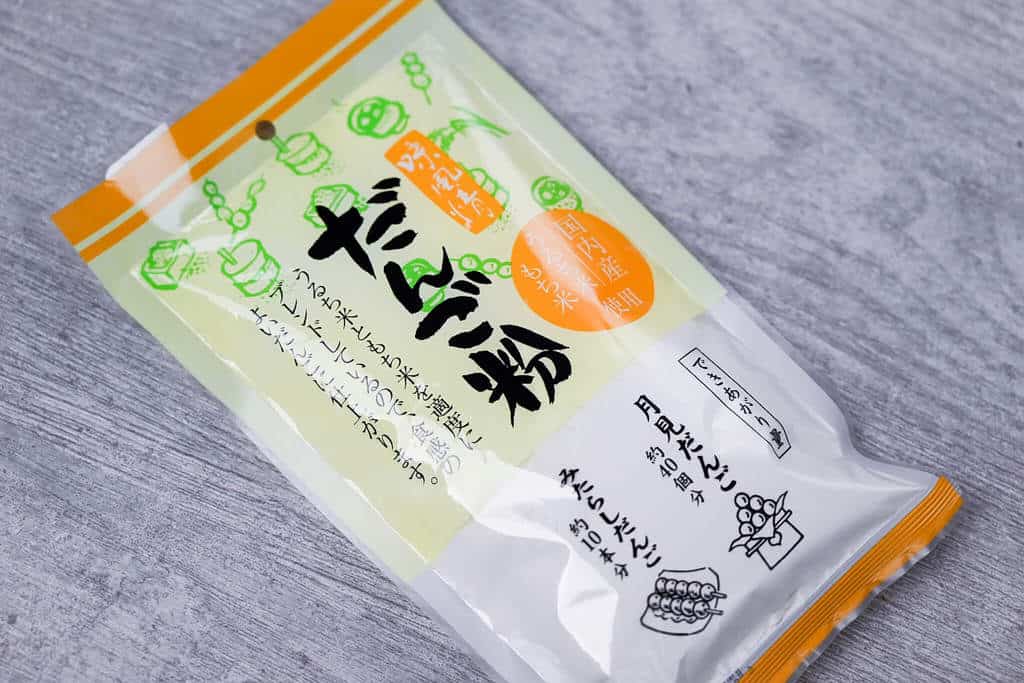 As you can expect, dangoko is a mix of flours especially for making dango and there are usually instructions on the back that tell you what to do. The dangoko I bought is made from "uruchigome" and mochiko. Uruchigome is a type of rice flour that is not glutinous and is pretty similar to joshinko. Dangoko is usually mixed with water and can be microwaved, steamed, boiled etc depending on the brand. I tried it with tofu and the texture wasn't good so I don't recommend using dangoko for this recipe.
Where to buy dango ingredients
Even if you have a local Asian supermarket, Japanese glutinous rice flours can be hard to find. You can use the pictures above to ask a worker what you're looking for, but I'd say buying online is easiest. If you live in the U.K, I know they sell shiratamako in Japan Centre.
Here are the links to buy shiratamako, joshinko or mochiko on Amazon. (Affiliate links)
Silken Tofu
If you've checked out my recipe for Mitarashi Dango, you won't be surprised that I'm mixing shiratamako and joshinko with silken tofu in this recipe! I really like the texture it produces and I can use the tofu for other dishes so there's no waste.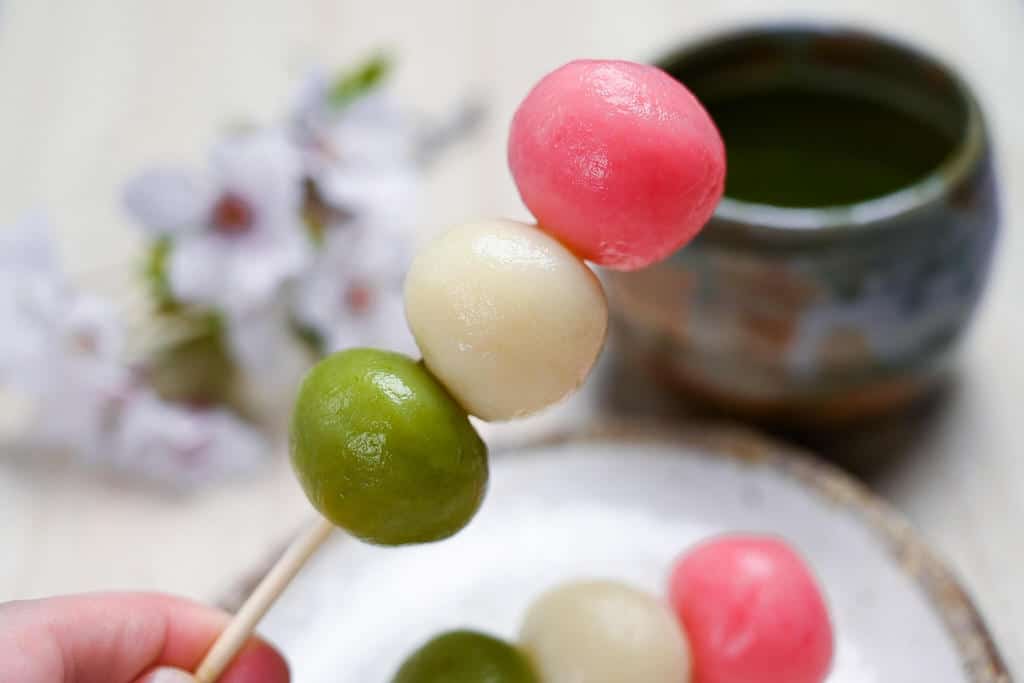 Anyway, enough talking! Let's get started!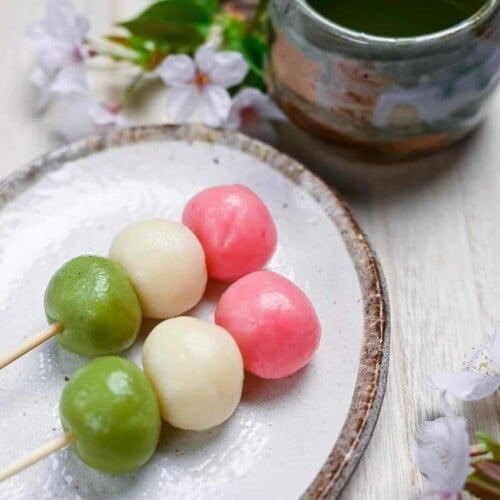 Hanami Dango with Tofu (花見団子)
How to make beautiful tri-color sweet rice dumplings "Hanami Dango".
Ingredients
Instructions
Take

6 bamboo skewers

and place them in a glass of water to soak. (This makes the dango easier to slide on later on.)

Add 100 g glutinous rice flour, 20 g rice flour and

45 g granulated sugar

to a bowl and mix until well incorporated.

Add

120 g silken tofu

to the bowl one third at a time, mixing between each addition.

Mix using a rubber spatula until the texture resembles scrambled eggs.

Knead into a smooth dough, the texture should feel a bit like play dough. If it's dry or cracks, add a small amount of water or extra tofu (about 1 tsp at a time).

Start heating water in a pot and bring it to the boil.

Divide the dough into 3 parts. Leave one plain, add

¼ tsp matcha powder

to one and,

1 drop pink food coloring

and

1 drop cherry blossom extract

to the other. Knead until the color/flavor is evenly distributed throughout the dough. (Wash your hands between kneading each color.)

Divide the dough into 15g pieces and roll them into balls.

Once the water is boiling you can add the dango balls. Boil each color separately to prevent colours from running, starting with white first. Once they're added to the pot, give them a gentle mix to stop them from sticking to the bottom.

Boil them until they start to float to the top (approximately 5-7 minutes) and then set a timer for 2 minutes. 

While the dango is boiling, prepare a bowl of ice-cold water. Once the timer is up, transfer the dango to the bowl to halt the cooking process and cool them quickly. 

Repeat the process with the pink and then the green dango. Once cooked, they should all be in the bowl of ice water. (Add more ice if necessary).

Once the dango balls are cooled down, push them onto the skewers. Start with green, then white and lastly pink. Your dango should have green at the bottom and pink at the top. 

Enjoy!
Notes
If you don't want to use pink/red food colouring for your dango, you can use crushed dry strawberries or 1-2 drops beetroot juice.
Note: If you use mochiko instead of shiratamako, the texture is slightly firmer/less chewy.
Best eaten the same day.
If you want to eat it the next day, wrap it in baking parchment and store in an air tight container at room temperature. (Don't store in the fridge as they will go hard.)
Can be frozen for up to one month. Thaw for 30 mins to 1 hour at room temperature and enjoy!