These beautiful swirled butter cookies are naturally flavoured and coloured with matcha green tea powder, it's the perfect festive cookie recipe with a Japanese twist. Not only are they fun to make and decorate, but they would also make a wonderful gift!
Disclaimer: This post contains Amazon and Dokodemo affiliate links. Sudachi Recipes earn a small percentage from qualifying purchases at no extra cost to you. See disclaimer for more info.
Jump to:
What are matcha butter cookies?
Matcha butter cookies are delicious buttery cookies flavoured with Japanese matcha green tea powder. The taste is rich and luxurious, and the colour is naturally bright green making it effortlessly festive and perfect for Christmas.
Because of the amount of butter and sugar in these cookies, the texture is lightly crisp and crumbly a little like a shortbread. However, by adding egg yolks and milk it becomes a pipe-able mixture that can be made into beautiful defined shapes.
I mainly use this recipe to make Christmas tree cookies, however you can experiment with other shapes such as wreaths or holly leaves.
While Japanese people don't celebrate Christmas in the traditional sense, if you visit Japan around December you will find an abundance of Christmas themed snacks and desserts. This cookie recipe is the perfect way to add a little Japanese flair to your holiday baking this year!
Ingredients to make matcha Christmas cookies
In this recipe I use the following ingredients:
Unsalted butter
Granulated sugar
Egg yolk
Vanilla essence
Whole milk
Plain flour
Matcha green tea powder (affiliate link)
Salt
Chocolate, powdered sugar etc (for decorating)
Let's go over a few ingredients in more detail.
What is Matcha?
Matcha is a type of green tea made by grinding young green tea leaves into a fine, bright green powder. There are different kinds of matcha, mainly high grade for drinking and lower grade for baking. Look for matcha powder that is bright green in colour, dull faded matcha neither tastes nor looks good!
Because matcha has gained popularity outside of Japan in recent years, it has become more accessible. You can probably even find it in well stocked supermarkets in the tea or health foods aisles. If not you can check specialist tea stores or Asian supermarkets, it's easy to order online as well. (I found a good brand here on Dokodemo who ship worldwide from Japan.)
Because of matcha's bright green colour, it's great for Christmas recipes! You can add colour to your baking naturally without using food coloring, and it tastes great too. Win win!
Unsalted butter
Even though I add a small amount of salt to this recipe, I choose to bake with unsalted butter in order to have more control over the salt content. The butter should be very soft but not melted so be sure to give it plenty of time to soften before you start the recipe.
Granulated sugar
The type of sugar you use affects the texture of cookies. In this recipe I use granulated sugar in order to make it slightly crispy, this also helps it maintain its shape in the oven and make it less likely to spread.
Instructions how to make Matcha Christmas Cookies
Here is my step by step guide on how to make matcha Christmas cookies with process pictures. For the ingredient quantities and simplified, printable instructions, see the recipe card at the bottom of the page.
Cream the butter and sugar
The first step is to mix the butter and sugar together until pale and creamy. To do this easily, the butter should be room temperature or slightly warmer so that it's easy to combine with the sugar.
You shouldn't use melted butter otherwise it won't cream properly and when you add the flour, it will absorb too quickly and can make the cookies dense and uneven. They're also more likely to spread in the oven if you use melted butter.
For best results, butter should be left out for approximately one hour before you start.
Add egg yolk and vanilla essence
Whisk in the egg yolk and vanilla essence until combined. The egg yolk adds moisture and helps bind the cookies, and vanilla adds an extra element of sweetness that compliments the matcha. In Japan, it's a lot cheaper and easier to get hold of vanilla essence, but if you're using vanilla extract, use half the amount.
Mix the dry ingredients in a separate bowl
For an even result, I recommend combining the flour, matcha and salt in a separate bowl.
Sift into the wet ingredients
Sift the dry ingredients into the wet ingredients to ensure there are no lumps of matcha and then knead them together using a spatula.
If the dough is very stiff and difficult to mix, add a small amount of whole milk (about ½ tsp at a time) until it's slightly softer and pipe-able. It should still be quite firm and hold together.
Transfer the dough to a piping bag
For this recipe you will need a piping bag and a star nozzle. Place the bag in a tall glass and drop the nozzle in. Add the dough (if you're doubling or tripling the recipe, I recommend adding ½ or ⅓ at a time), cut the end and push the dough down. Twist up the top and you're ready to pipe!
Piping the dough
Line a baking sheet with baking paper and pipe your designs, leaving about 2cm of space between each cookie. If the dough is still too stiff to pipe, try running the piping bag under warm water for a minute to help soften it further.
I recommend drawing your designs on a piece of paper and placing it underneath the baking paper so that you can trace it. I start from the top of the trunk, make a "U" shape and then pipe from left to right to make the tree branches.
If you like, you can download my free printable Christmas tree template here!
If you're decorating with sugar sprinkles or decorations that don't melt, you can do this before baking too.
For best results, chill in the fridge for 20-30 minutes before baking!
Preheat the oven and bake
While your cookies are resting in the fridge, preheat your oven to 170°C (340°F).
Once they've been chilling for 30 minutes, place them in the oven on the middle shelf and bake for 12-15 minutes.
I recommend baking multiple trays in batches to ensure even cooking, but if you increase the recipe and want to use multiple shelves, you can swap them every 5 minutes to ensure they're all evenly cooked.
Cool and decorate
Allow to cool for about 20-30 minutes and then decorate as you like! I like to dip the tree trunks in chocolate and dust with powdered sugar for a simple approach, but my wife decorated them this time and she really went to town.
You can use things like royal icing, different colours of chocolate, sprinkles etc! Why not be extra, it's Christmas after all!
Storing
I recommend storing your matcha Christmas cookies in an airtight container at room temperature and eating within a week. They can also be stored in the freezer in a ziplock bag or similar for up to 2 months.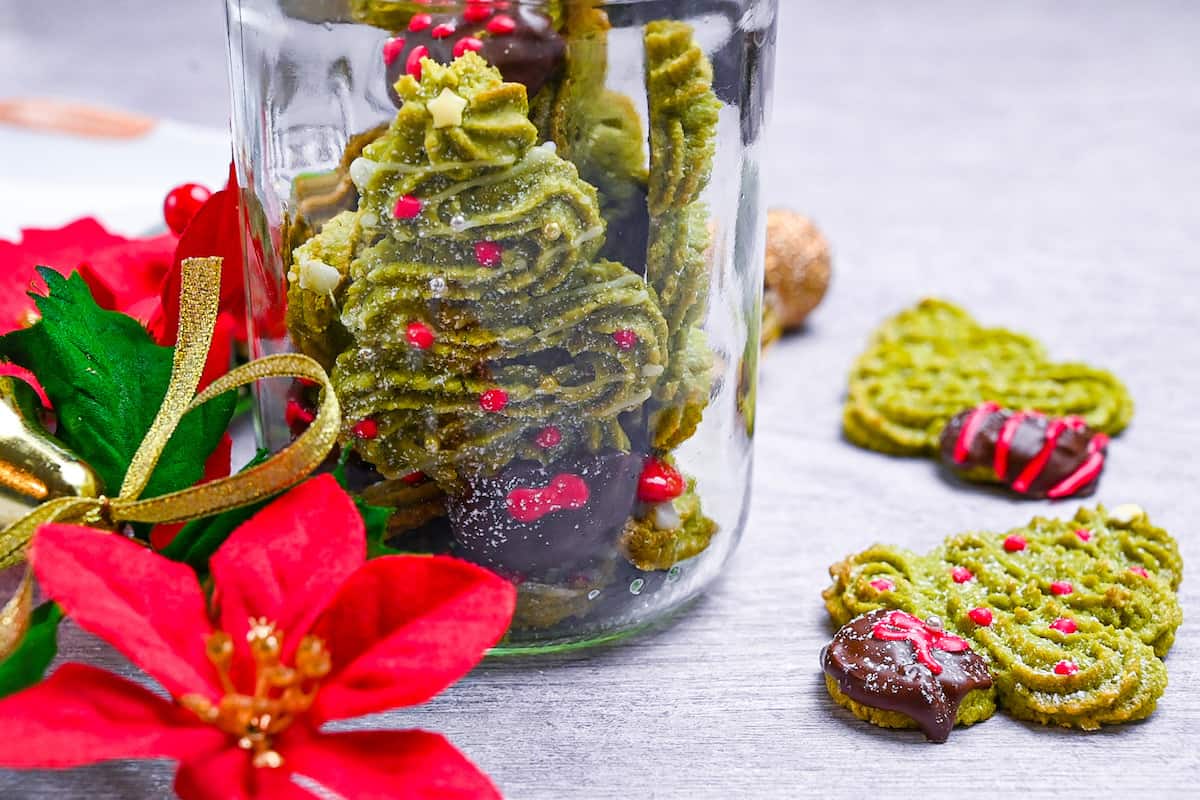 Free Printable Template
In case you missed it in the post, you can download my free printable Christmas tree cookie template here!
I hope you enjoy this festive cookie recipe with a Japanese twist. And if you have any other design ideas, be sure to share them with us in the comments below or show us on Instagram!
Print
Matcha Christmas Tree Cookies
---
Author:

Yuto Omura

Total Time:

1 hour 15 minutes

Yield:

14-18 Cookies
Description
How to make festive, buttery Matcha Christmas Tree Cookies! (Makes approximately 15 cookies depending on size.)
---
100g

unsalted butter (softened/room temperature)

50g

granulated sugar

1

egg yolk

½ tsp

vanilla essence (or

¼

vanilla extract)

120g

plain flour

2 tsp

matcha powder

1

pinch salt

1

-

2

tsp whole milk
Optional ingredients for decorating
50g

milk chocolate melted (for the trunks)
Sugar/chocolate stars 
Powdered sugar for icing or dusting
---
Instructions
Mix the softened butter and granulated sugar in a bowl until pale and creamy.
Add the egg yolk and vanilla, then mix until well incorporated.
In a separate bowl, mix the flour, matcha powder and salt until evenly distributed.
Sift the dry ingredients into the wet ingredients and knead them together using a spatula.
To make the dough easier to pipe, add 1-2 tsp of whole milk. If it still seems too stiff then add a little more milk, ½ tsp at a time.
Transfer the mixture into a strong piping bag with a star nozzle.
Line two baking sheets with baking paper and place the tree template underneath. You can download my template or you can draw your own on a separate piece of paper.
Pipe the dough onto the baking paper, leave 2cm between each cookie. (If the mixture is too stiff, run the piping bag under warm water to soften it further.)
Chill in the fridge for 20-30 minutes before baking.
Preheat your oven to 170°C (340°F). 
Bake the cookies on the middle shelf for 12-15 minutes. (See note.)
Once baked, let them cool for a 5 minutes and then transfer to a wire rack to allow them to cool completely.
Decorating
Decoration is up to you, but I used chocolate to coat the tree trunks. I melted 50g of milk chocolate and used a spoon to cover the tree trunk.
To stick decorations to the surface, use 1 tbsp of powdered sugar with a tiny drizzle of milk or lemon juice and mix until combined, it should have a thick consistency. (If it's too runny, add more powdered sugar.)
Sprinkle the cookies with powdered sugar for a snowy effect.
Store in an airtight container and consume within a week.
Notes
If the pastry is too hard to pipe add a little more milk or if it's already in the piping bag, run it under warm water to soften it.
If you're doubling or tripling the recipe, add half or quarter of the mixture to the piping bag at a time to avoid it splitting.
If you can't fit all the cookies on one shelf, bake in batches or rotate/switch the trays every 5 minutes to ensure they're evenly baked.
Take the cookies out of the oven as soon as they start to brown around the edges, this cookie shouldn't be browned all over.
Make sure the cookies are completely cooled before decorating.
Prep Time:

30 minutes

Chilling Time:

30 minutes

Cook Time:

15 minutes

Category:

Sweets

Method:

Baking

Cuisine:

Japanese
Keywords: matcha butter cookies, How to make matcha cookies, Matcha cookie recipe, Matcha Christmas recipe, Matcha Christmas cookies, Christmas tree cookies, How to make christmas tree cookies, Cookie template, christmas tree cookie template, christmas cookie recipe, matcha recipes, matcha sweets, Japanese Christmas recipe