Shio onigiri is a basic rice ball made with sticky Japanese rice, salt and crispy nori. Despite its simplicity, it's filling, tasty and satisfying. It only requires 3 ingredients and is great for beginners!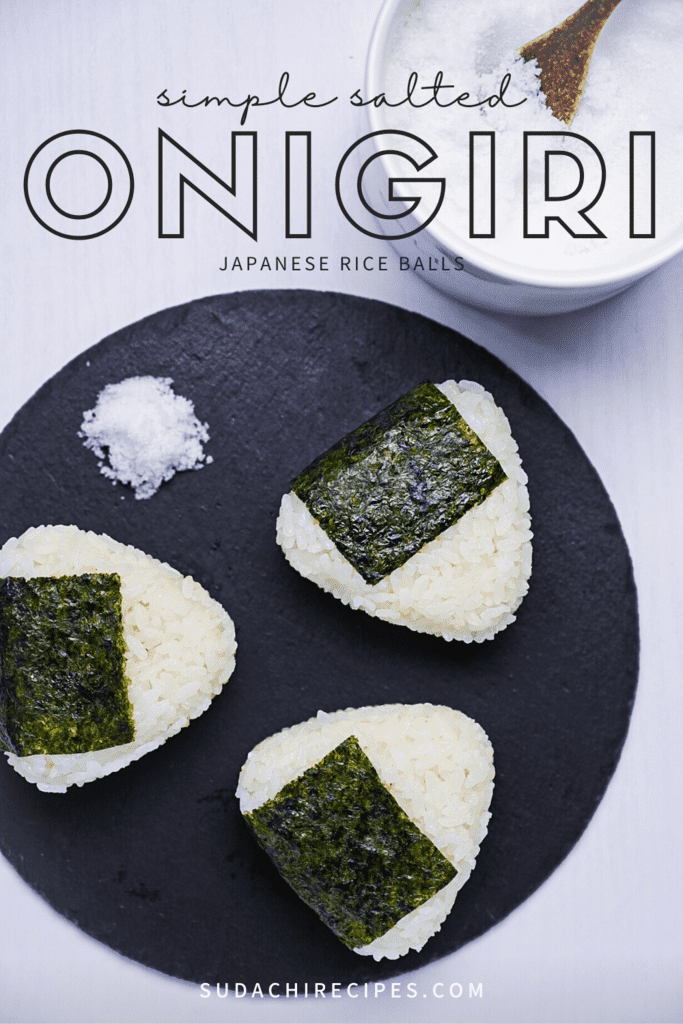 Disclaimer: This post contains Amazon affiliate links. Sudachi Recipes earn a small percentage from qualifying purchases at no extra cost to you. See disclaimer for more info.
Onigiri
Every country has its own go-to lunch box dish right? Something portable, convenient and filling… In Japan, it's safe to say that the most lunch box-y food is "onigiri", but what exactly is onigiri?
Onigiri (おにぎり) is literally cooked rice shaped into a triangle (although sometimes it can be a sphere or cylinder too). It's also sometimes called nigiri/nigiri meshi (にぎりめし) which means "hand-pressed rice" or musbi/omusubi (おむすび). In English it's known simply as a "rice ball".
Onigiri is extremely popular and if you ever come to Japan, you'll see a huge selection of different flavours lined up on the shelves of supermarkets, convenience stores and bento (lunchbox) shops.
You've probably seen it in Japanese TV dramas, films and anime too.
Just like sandwiches or wraps, the beauty of onigiri is the fact that you can put anything inside. The sky is the limit!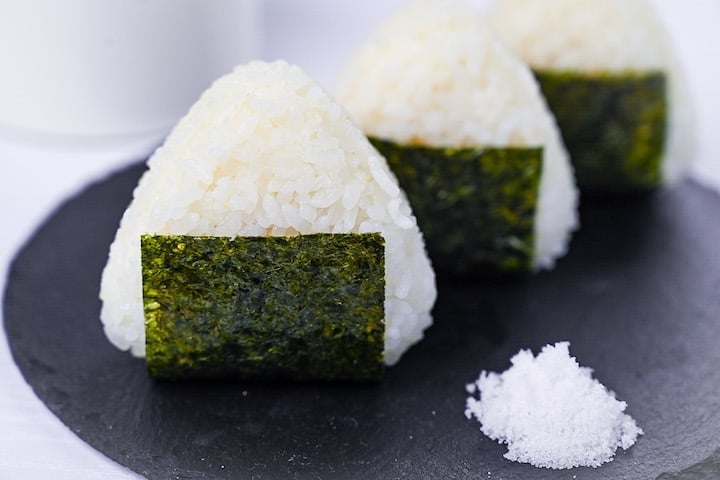 Origin and history of Onigiri
This might be hard to believe, but onigiri is one of the most ancient foods in Japan. Evidence of "onigiri-like" carbonised clumps of rice have been found in ruins that date all the way back to the Yayoi period, which is between 300-250BC!
Because of this long history, it's impossible to say how onigiri started. However it's believed that it was originally made with glutinous rice and over time, pickles and salty fillings were added.
Onigiri is very portable. That's why in medieval times onigiri rice were often used for military supply food.
To this day, it's still one of the most popular lunch box foods.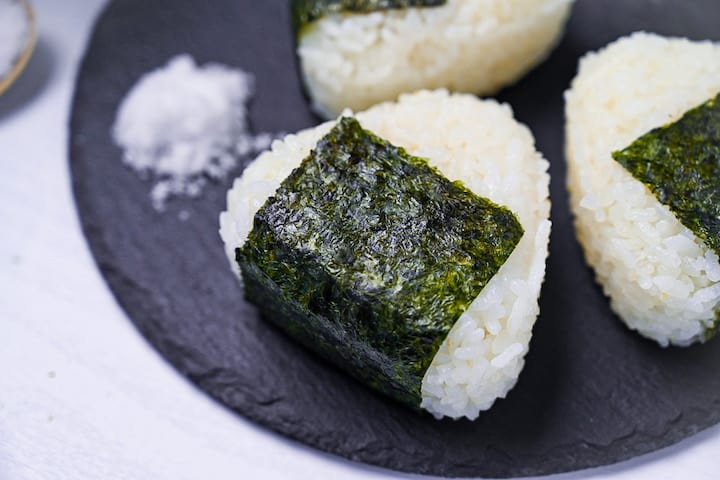 Shio Onigiri
Shio onigiri is the most basic of all the rice ball varieties.
All you need is:
Rice
Salt
Nori seaweed (のり)
You might think it's too plain but it is still one of the most made onigiri to this date, especially for a family lunch box. It's surprisingly satisfying, a little bit like enjoying a simple slice of buttered toast from time to time. Sometimes simple is best!
It's also the easiest onigiri to make and shape, which makes it perfect for beginners! Check out the video below to see how to shape an onigiri.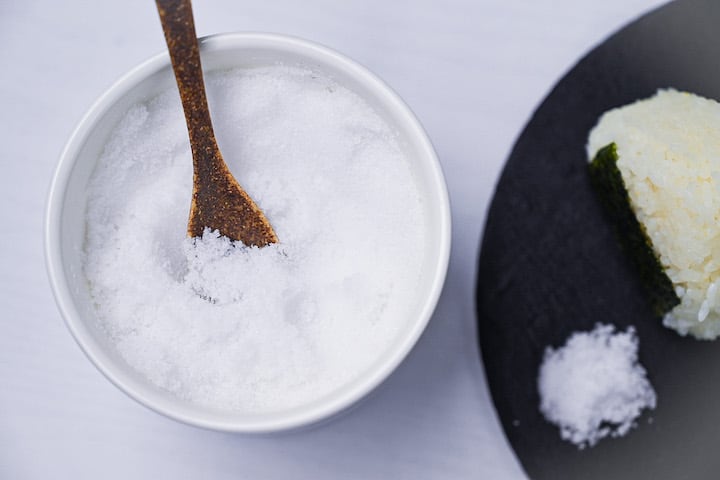 What kind of rice can be used to make onigiri?
The type of rice is very important for making onigiri and it is nearly always made with Japanese short grain white rice.
Japanese rice has a sticky texture so it's easy to press into shape or eat with chopsticks. Using other kinds of rice won't work because it will fall apart.
Some people mix the rice with cooked grains or other kinds of rice, but Japanese short grain white rice should be the base for structural integrity.
The best way to cook Japanese rice is to use a rice cooker, if you plan to cook Japanese rice often then it's a pretty essential kitchen item. It's also convenient because you can set a timer the night before and then make fresh onigiri in the morning!
If you don't have a rice cooker, check out my post "How to cook perfect Japanese rice on the stove".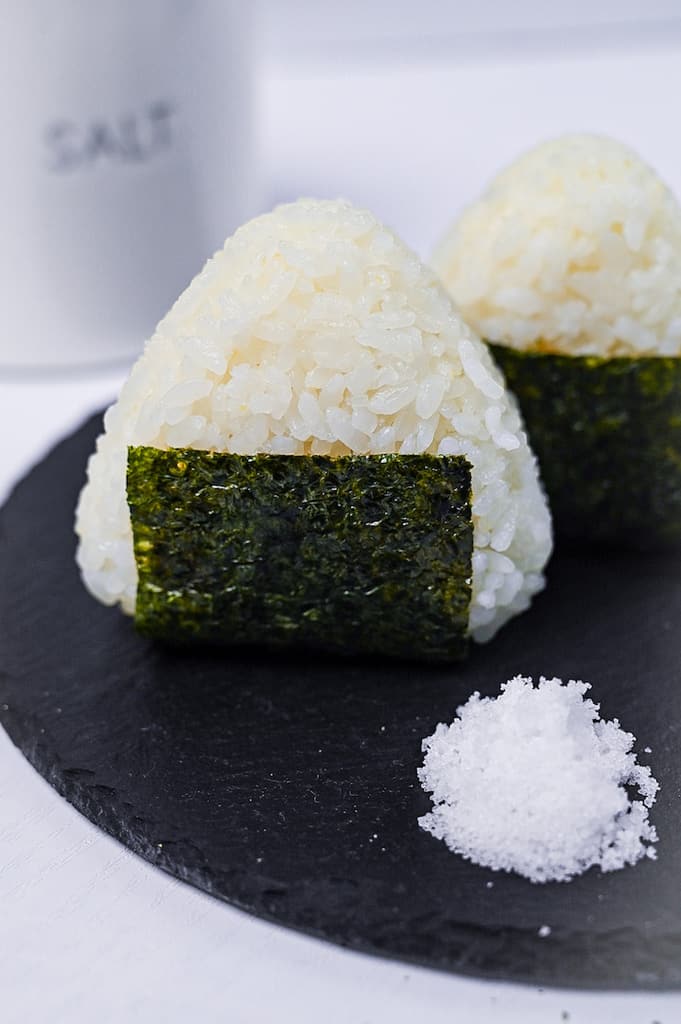 How to shape an onigiri
There are three main ways to shape onigiri:
When shaping onigiri by hand, you will need to wet your hands with ice cold water and rub them with salt. Some people like to use plastic wrap because it's more hygienic and stops the rice from sticking to your hands. Using a mold takes some of the fun out of making onigiri, but it's great for making them quickly and all the same size.
Whichever method you choose, you can check out my post "3 ways to shape the perfect onigiri" for more detailed instructions.
In this recipe I will simply use my hands.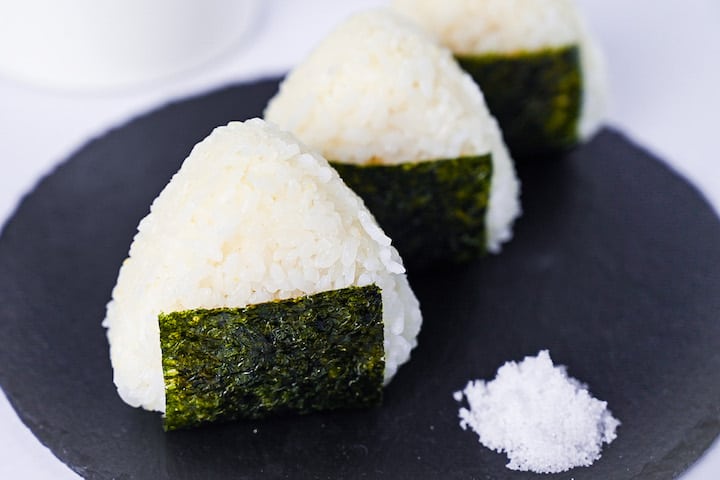 Popular Onigiri Fillings
Once you master making a simple shio onigiri, you can then move onto different fillings!
The most popular onigiri fillings in Japan are:
Seasoned cod roe (辛子明太子)

Hard cod roe (たらこ)

Salted plum (梅)
Seasoned rice (炊き込みご飯)
Takana (高菜 Red mustard leaf)
(CanCam.jp 2020)
Click the links above to check out my onigiri filling recipes!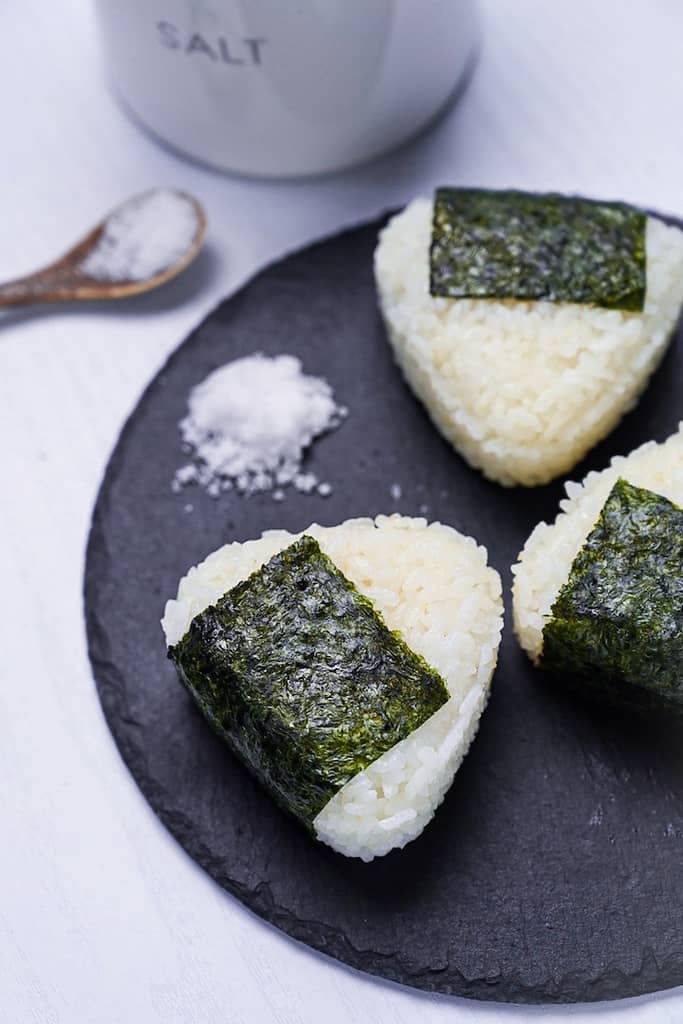 Storing onigiri
Onigiri is always best made fresh and eaten on the day. This is why I recommend using a rice cooker to make rice, you can make the filling the night before and set a timer for the rice so it's ready in the morning without any fuss.
However, if you have leftover onigiri or you don't have time in the mornings, I recommend wrapping your onigiri in plastic wrap without the nori, and storing it in the freezer until it's time to eat. You can microwave your onigiri (depending on the filling) and wrap the nori just before eating to give it that freshly-made feeling.
Some people keep it in the fridge, but the rice tends to go hard and the nori becomes soft so I don't recommend it.
FAQ
What is onigiri?
Onigiri is a rice ball shaped into a triangle and then wrapped with nori. You can add fillings or mix ingredients into the rice.
What rice is used for onigiri?
It's best to use Japanese short grain rice as it has a sticky texture that will allow onigiri to hold its shape.
Do you eat onigiri with chopsticks?
Nope! You eat it with your hands. We wrap the nori to stop the rice sticking to our hands but you can also just hold it in the plastic wrap if you don't like nori.
Is onigiri the same as sushi?
Onigiri and sushi are different things. Onigiri is made with salted rice and usually the fillings are mixed in or wrapped in the middle. Sushi is made with vinegared rice and the ingredients are placed on top or rolled inside.
Is onigiri eaten hot or cold?
Onigiri can be eaten hot or cold. The u0022hotu0022 one is actually just warm and freshly made and the cold one has been stored in the fridge or in a lunchbox with an ice pack. There's no rule about whether it should be hot or cold, it depends on preference.
Can onigiri be made in advance?
While the answer is yes, when onigiri is stored in the fridge, the rice becomes hard and the nori becomes soft. I personally like to freeze onigiri (without nori) and then microwave it before eating. I add the nori just before eating so that it has some crunch.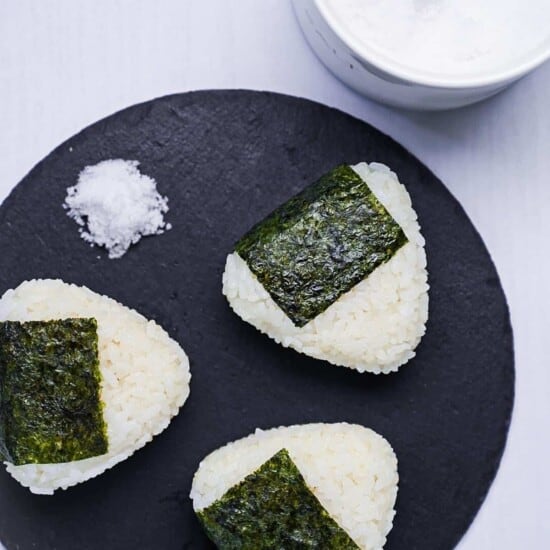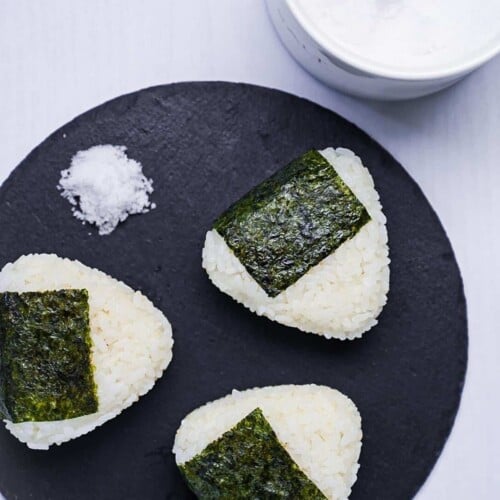 Simple Shio Onigiri (Salted Japanese Rice Ball)
---
How to make the most standard Japanese Salt Onigiri Rice Ball (塩おにぎり).  Doesn't include hwo to cook rice.
---
---
---
---
Ingredients
½

tbsp

salt

3

sheets

sushi nori seaweed(s)

nori, cut into strips

1

bowl

ice cold water
Instructions
Set up a bowl of ice water,

1/2 tbsp salt

and

700 g cooked Japanese short-grain rice

.

Wash your hands thoroughly and then submerge them into the bowl of icy cold water for about 15-20 seconds. This will stop the rice sticking to your hands.

Rub 1-2 pinches of salt over the palms your hands. This not only adds the flavour to the rice ball, but also helps preserve the rice.

Take a handful of warm cooked rice and pressing the edges while turning to form a triangle shape. My technique is "press and turn" until the onigiri becomes a firm triangle shape. (Don't handle the rice for too long, quicker is better.)

Repeat until you've used up your rice (you should be able to make 5-6 rice balls) and then wrap each onigiri with nori.

Eat straight away or put in your lunch box with an ice pack. Best eaten the same day.

Enjoy!
Notes
If you don't like the idea of handling the rice too much with your bare hands, you can also put the rice into plastic wrap, just don't forget to add salt to the plastic wrap before shaping.
If you want to make them for tomorrow's lunch you can wrap them in plastic wrap and store them in the freezer without the nori. Microwave and then wrap with nori before eating/placing in lunchbox. 
Practice makes perfect but if you're having trouble with shaping, watch my video for a step by step guide!