Disclaimer: This post contains Amazon affiliate links. Sudachi earns a small percentage from qualifying purchases at no extra cost to you. See disclaimer for more info.
What is Ponzu Dressing?
Ponzu sauce (ポン酢 or ポン酢醤油) is a beautiful blend of citrus juices such as yuzu, lemon, or lime that is harmoniously combined with soy sauce. This mixture is then delicately seasoned with dashi stock, sugar, or mirin to create a unique balance of flavors.
With that in mind, ponzu dressing is an exceptional salad dressing that embodies a perfect fusion of acidity and sweetness. The distinct characteristics of ponzu sauce make it an ideal dressing component.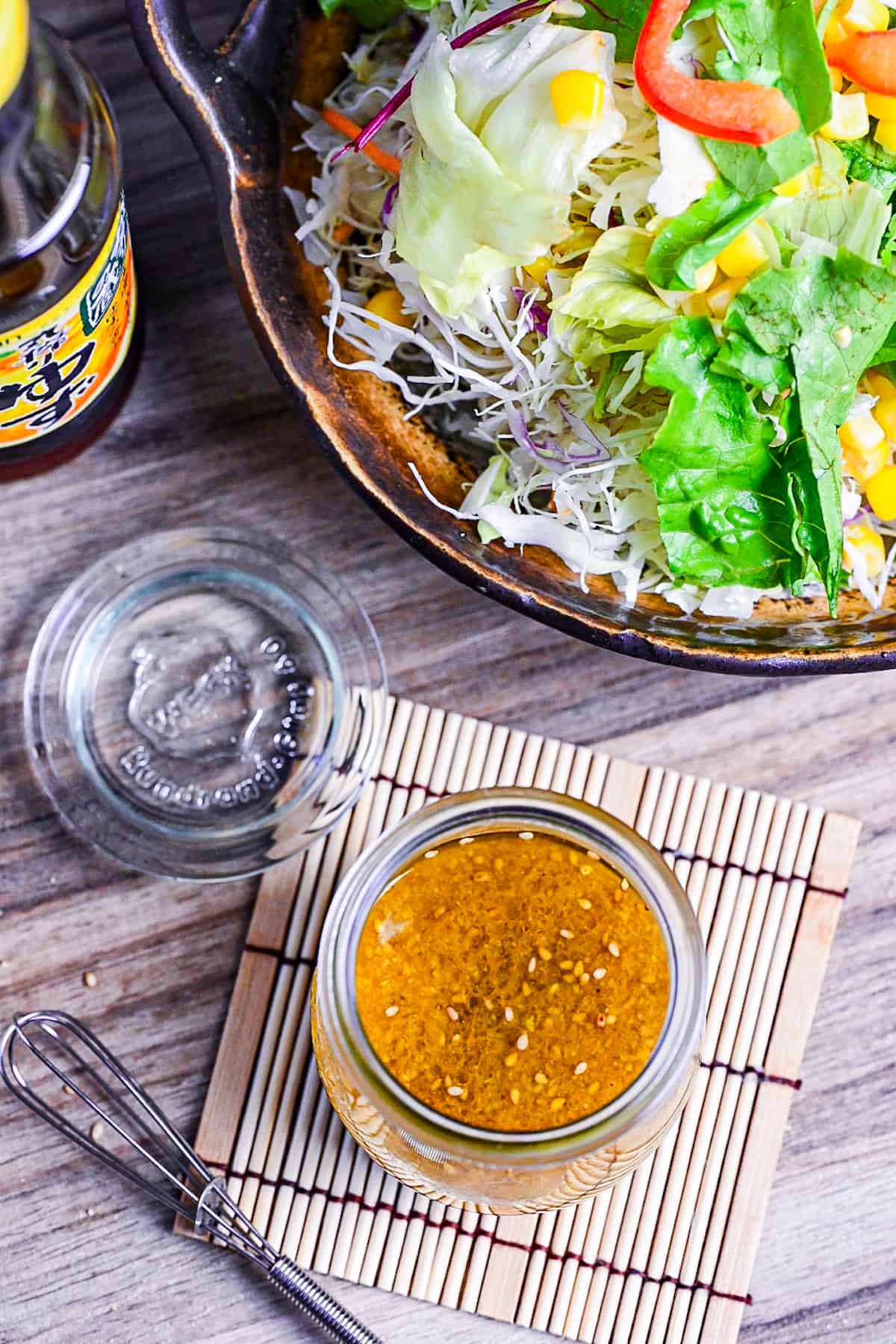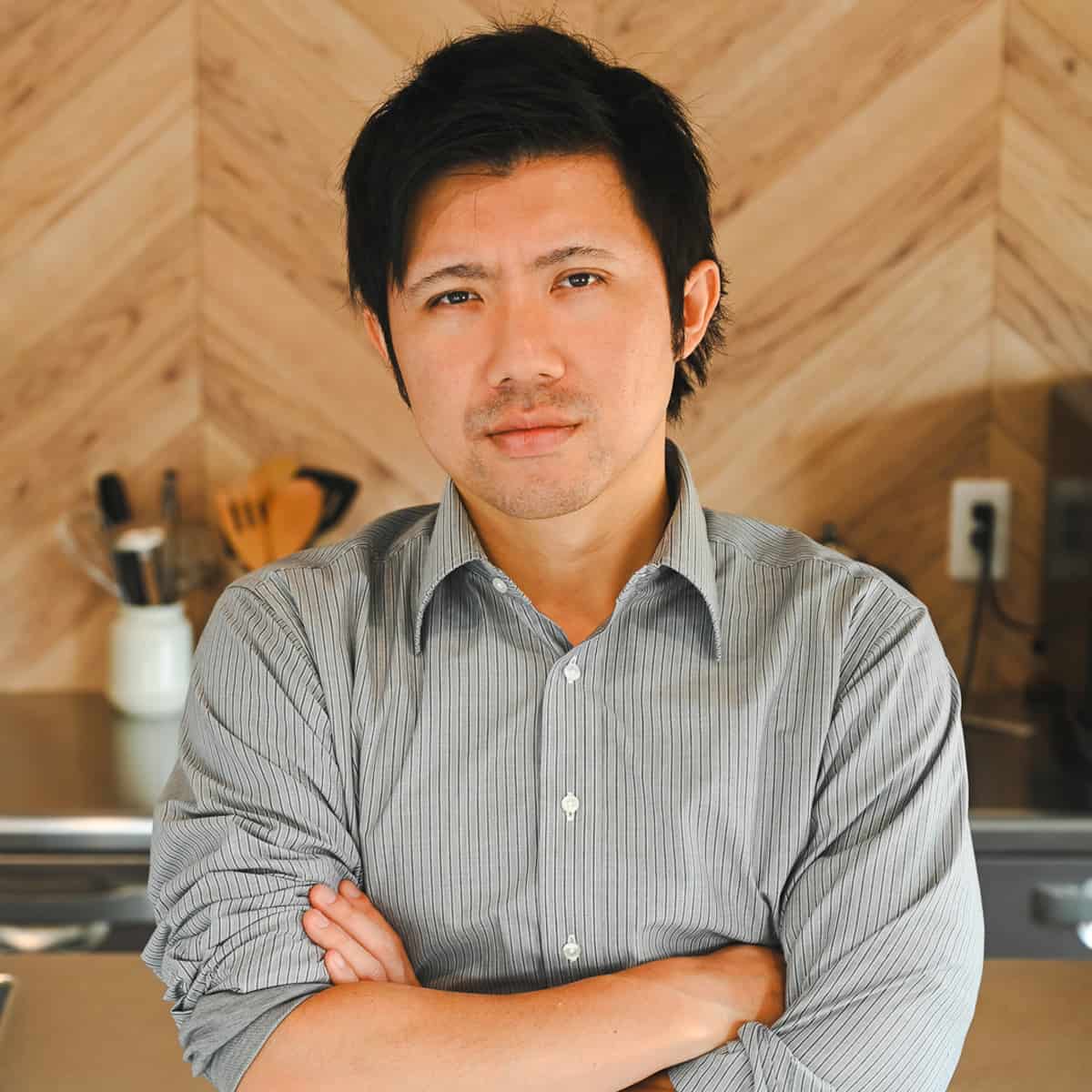 How I Developed This Recipe
---
In my journey to create this Ponzu Dressing, I first pondered what could harmoniously blend with the zesty tang of Ponzu. After several attempts and experiments, I found the ideal companions: wasabi and ground sesame seeds.
You might raise an eyebrow at the thought of wasabi mingling with ponzu, but the true delight lies in how the sharpness of wasabi subtly infuses into the dressing, offering depth of flavor.
What's intriguing is how the wasabi's heat gently dissipates, leaving a pleasant, lingering taste behind. This lets you indulge in the dressing's rich flavors without worrying about overwhelming spiciness. In my opinion, this delicate balance of bold and mild truly sets this dressing apart.
Ingredients & Substitution Ideas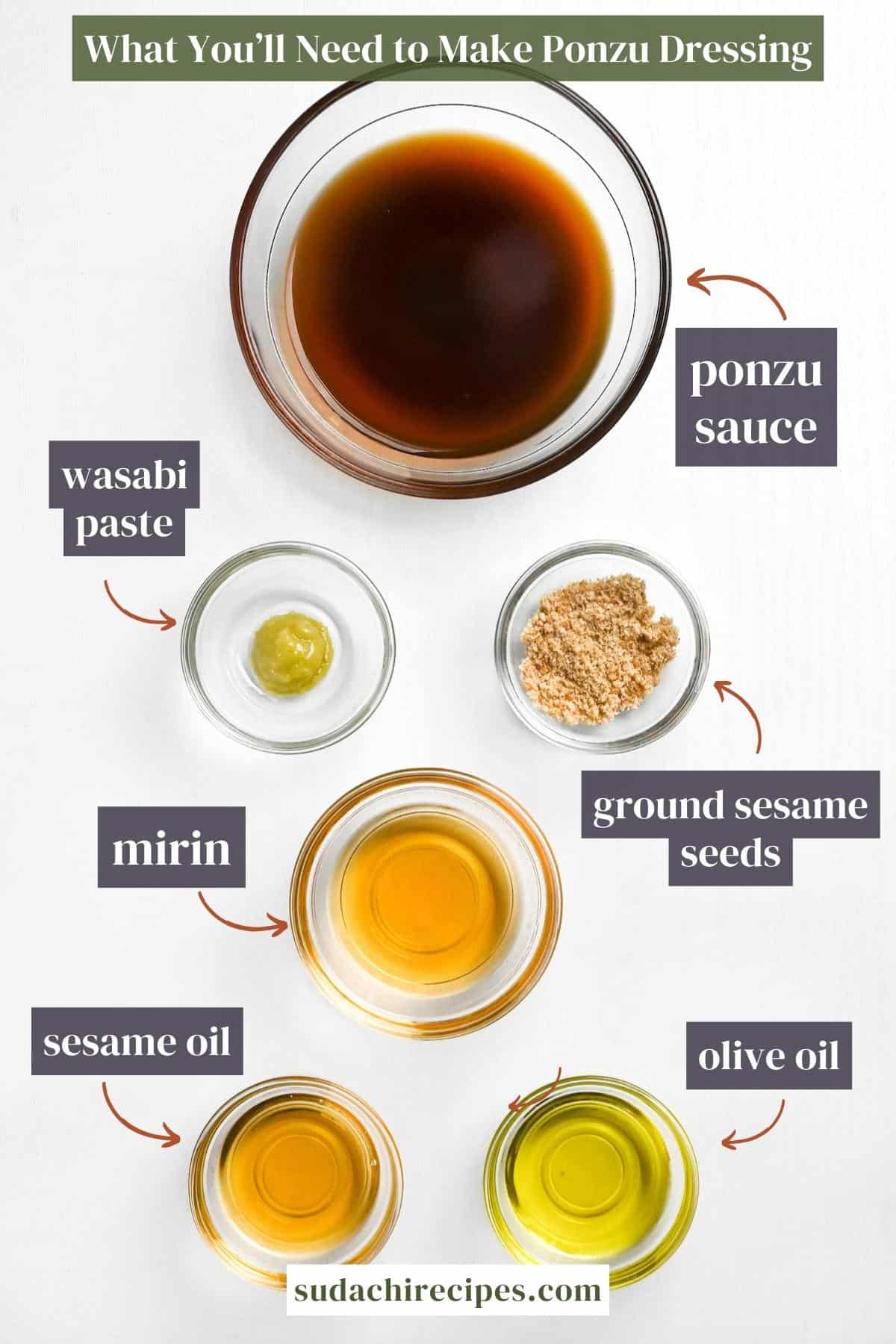 Ponzu Sauce: A staple for this dressing. You can pick up a bottle at the store or try making it yourself. Either way, it's a game-changer in the kitchen. Note: Many ponzu sauces contain dashi elements that are not suitable for vegetarians, you can make your own plant-based ponzu using my recipe here.
Olive Oil: Your regular olive oil works great here. I always keep a bottle handy for my general cooking needs.
Sesame Oil: This is my secret to adding a subtle yet distinct flavor. Kadoya's sesame oil is my go-to brand.
Ground Sesame: If your sesame seeds aren't already ground, give them a quick grind yourself. You can use a pestle and mortar, or for an extra fine result a pepper grinder or mini food processor works great.
Mirin: For an authentic taste, I suggest looking for "hon mirin" (本みりん). Hinode Hon Mirin is both high-quality and budget-friendly. For more on my favorite Japanese condiments, check out my 20 Most Useful Condiments and Seasonings on the blog. If you can't get mirin, substitute each tbsp for 1 tsp sugar dissolved in 1 tbsp of water to achieve a similar amount of sweetness.
Wasabi Paste: Essential for that unique zing in this dressing. I personally used S&B's Hon Nama Wasabi Paste, but I'd steer clear of using fresh wasabi root in this recipe as the cost will be a lot higher.
I have listed my recommended Japanese condiments, tools, and ingredients on the Sudachi Amazon Storefront. If you want to keep making various Japanese foods at home, please check it out!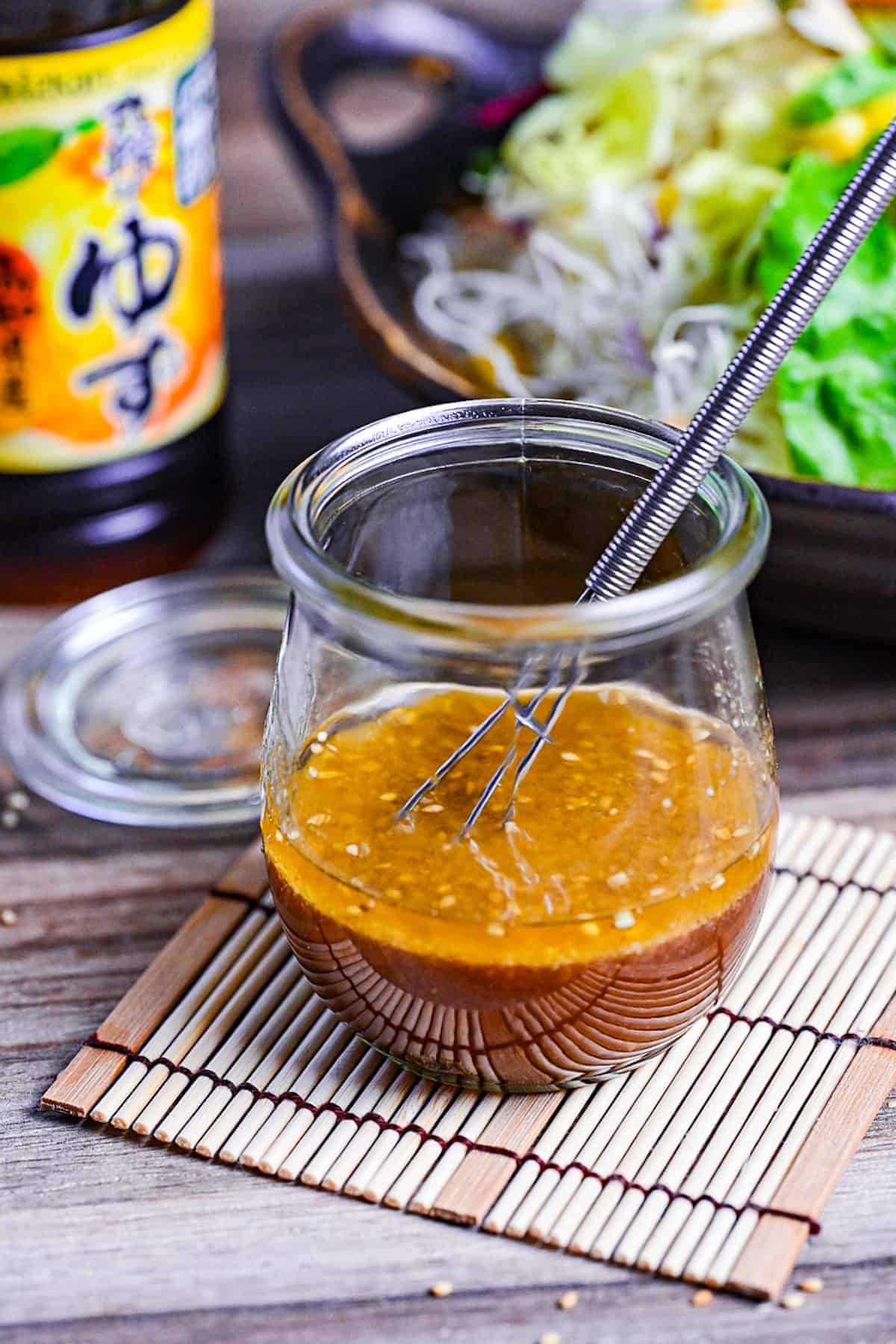 Visual Walkthrough & Tips
Here are my step-by-step instructions for how to make quick & easy Ponzu Dressing at home. For ingredient quantities and simplified instructions, scroll down for the printable recipe card below.
Remove the alcohol from the mirin
Even though the quantity of mirin in this recipe is small, I like to heat and remove the alcohol to ensure it doesn't alter the taste of my dressing.
Here's how I do it: I pour the mirin into a microwave-safe cup and heat it for 50 seconds at 500W. Make sure not to cover it since we want the alcohol to evaporate.
If you don't have a microwave, boiling it in a saucepan for a short while does the trick too. This step helps eliminate the alcohol smell, making the seasoning just right.
Once the mirin cools down slightly, it's time to mix it with the rest of the ingredients.
Whisking thoroughly is crucial to avoid lumpy wasabi in this dressing. But a dressing shaker is a great alternative if you're looking for a fun twist.
Both methods will give you a smooth and well-blended mixture, perfect for your dish.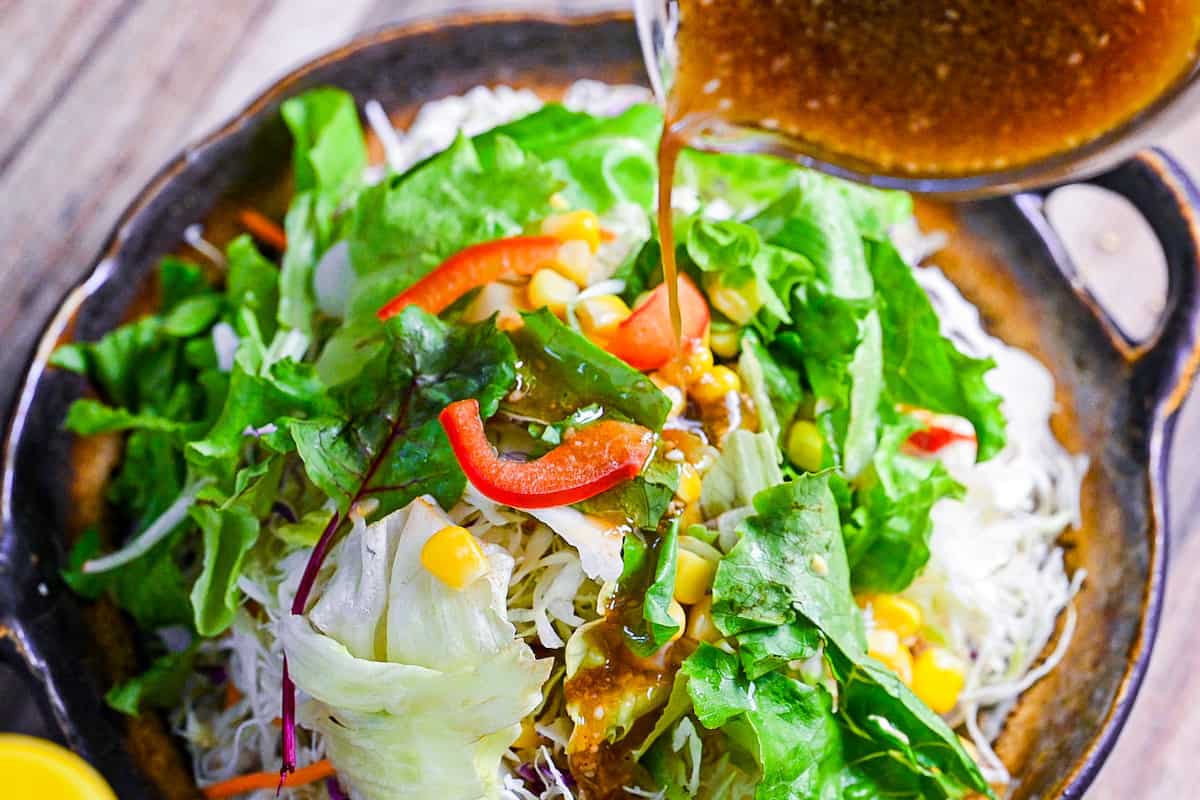 How to Store
The estimated shelf life of this homemade Ponzu Dressing will last up to two weeks in refrigerator storage.
Be sure to store in an airtight container in the refrigerator. It is not suitable for storing at room temperature or freezing.
Room temperature – Not recommended.
Refrigerated – 2 weeks.
Frozen – Not recommended.
What does Ponzu Dressing taste like?
Ponzu is a sauce made with citrus, vinegar, soy sauce, mirin and dashi elements. Its main flavor is zesty and sour, but these flavors are balanced with the saltiness of the soy sauce, sweetness of the mirin and umami from the dashi. My dressing combines these flavors with sesame seeds and wasabi, creating a flavor that is full of depth.
What kind of salads go well with Ponzu Dressing?
I recommend using Ponzu Dressing on shredded cabbage, mixed leaf salads or crunchy summer vegetables such as cucumber or bell peppers.
What kind of dishes go well with a salad dressed with Ponzu Dressing?
Salads dressed with Ponzu Dressing boast a refreshingly sour and zesty flavor which pair perfectly with fish or chicken dishes.
I hope you enjoy this zesty ponzu dressing recipe! If you try it out, I'd really appreciate it if you could spare a moment to let me know what you thought by giving a review and star rating in the comments below. It's also helpful to share any adjustments you made to the recipe with our other readers. Thank you!
More Japanese Dressing Recipes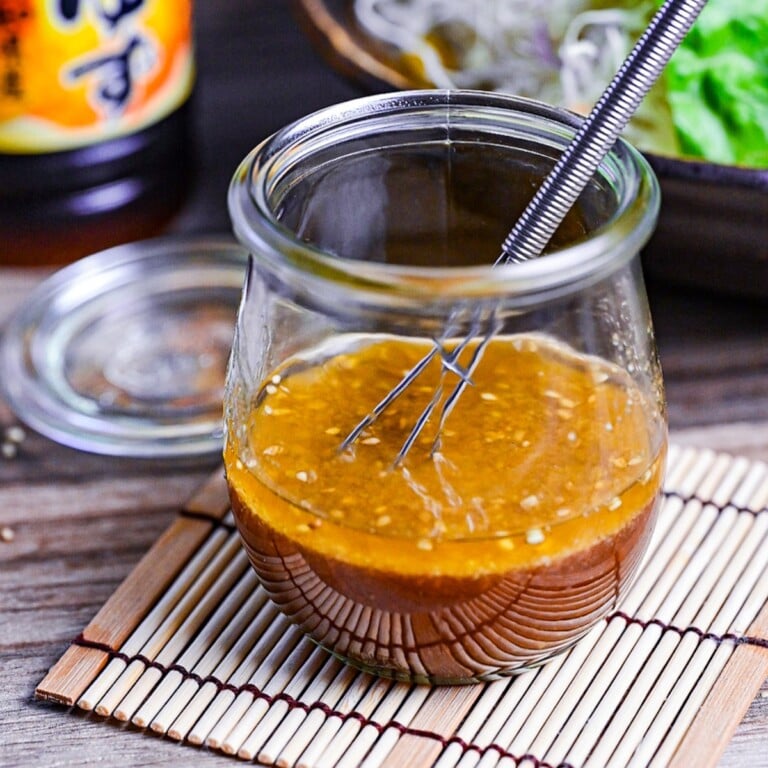 Ponzu Salad Dressing (with Sesame and Wasabi)
---
This zesty and refreshing salad dressing made with citrus-based ponzu is full of complex flavors. It only requires 6 ingredients and only takes 5 minutes to make!
---
---
---
---
Instructions
Measure out

1 tbsp mirin

in a heatproof bowl and microwave uncovered for 50 seconds at 500W. (If you increase the recipe, the time will need to be increased.)

Transfer the mirin to a larger container along with

4 tbsp ponzu sauce

,

½ tbsp olive oil

,

½ tbsp sesame oil

,

1 tsp ground sesame seeds

and

1 tsp wasabi paste

. Whisk until combined, or alternatively shake it in a sealed jar.

The oil and liquid will separate after a short while, so whisk or shake right before pouring. Enjoy!
Notes
Suitable for refrigeration for up to 2 weeks.