Dorayaki is a golden honey flavoured pancake held together with a thick layer of sweet red bean paste. This iconic treat is loved by children and adults alike. With just a handful of easily accessible ingredients, you can make this popular Japanese sweet snack at home!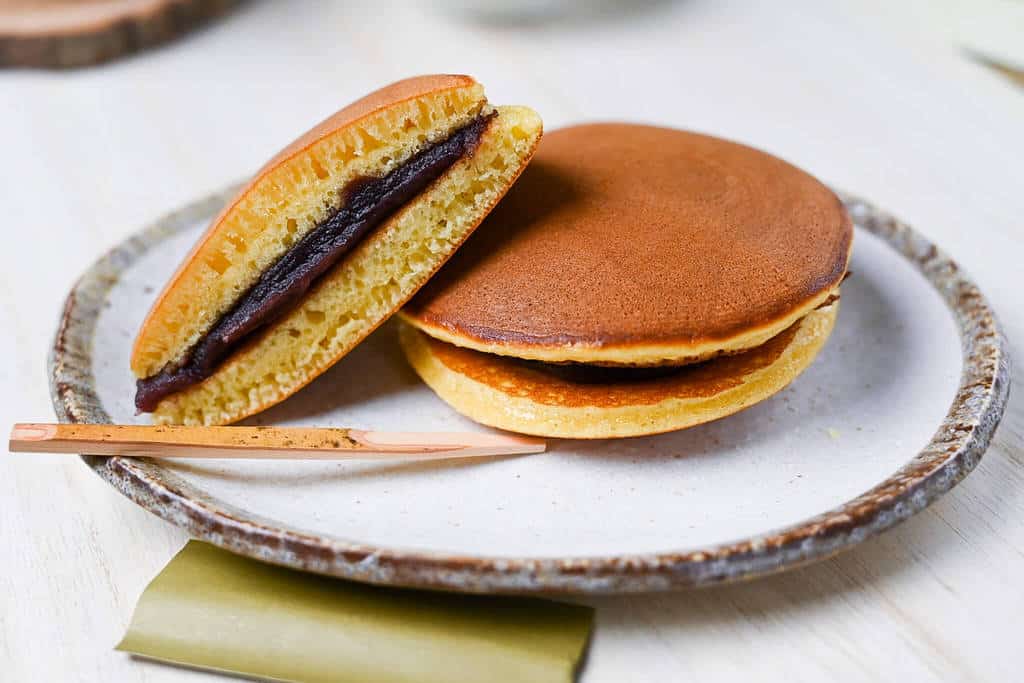 Disclaimer: This post contains Amazon affiliate links. Sudachi Recipes earn a small percentage from qualifying purchases at no extra cost to you. See disclaimer for more info.
Jump to:
Dorayaki
What is Dorayaki?
Dorayaki is a delicious sweet snack made up of two honey castella pancakes held together with a thick helping of anko (red bean paste).
Dora (どら) means "gong" and yaki (焼き) means fry. I guess the gong part comes from it's round shape and smooth golden surface.
This classic Japanese sweet is loved by children and adults alike!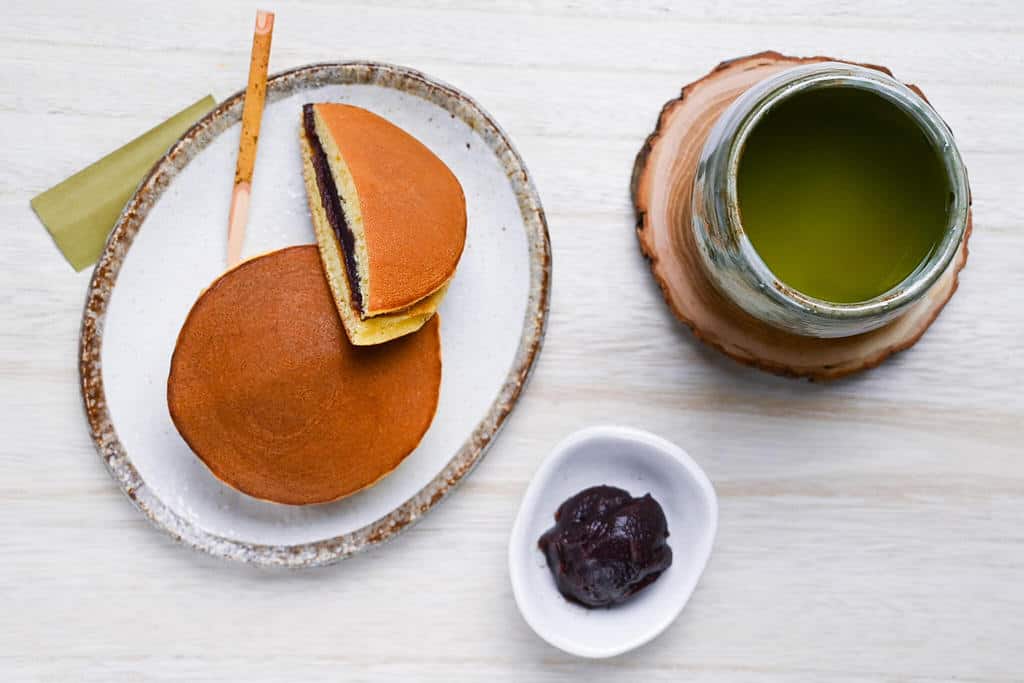 This recipe is pretty simple and uses basic pantry items that you most probably already have in your cupboard (except the red bean paste, but that's optional really).
It's also based on my mum's recipe (thanks mum!), so you can enjoy this delicious dorayaki that has been enjoyed by my family for many years!
Doraemon
Anyone who knows about Japanese pop culture has probably seen (or heard of) Doraemon.
Doraemon is a popular anime and manga character in Japan. He's a blue robot cat that absolutely loves dorayaki. In fact, he'll pretty much fall for any trap or trick if there's a chance of getting his paws on some dorayaki. I'd say he has pretty good taste!
Doraemon is one of the most loved characters in Japan, and he's addicted to one of the most loved snacks!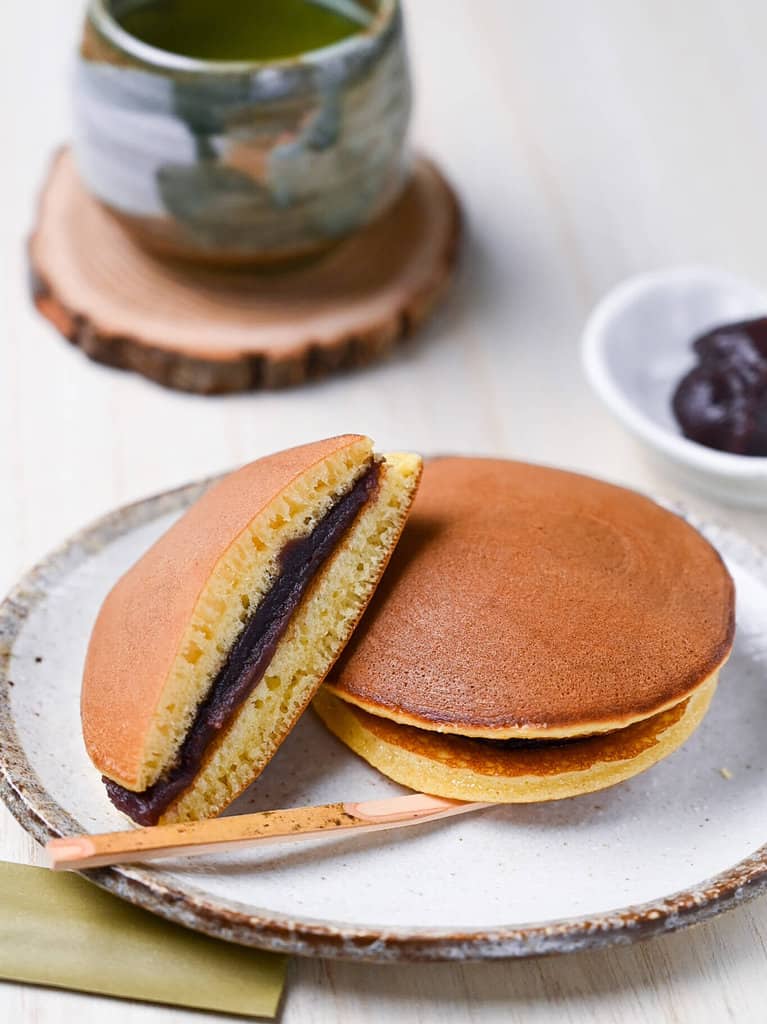 Dorayaki Fillings
Dorayaki is traditionally filled with red bean paste made from adzuki beans, also known as anko. There are two types of anko and either can be used according to your preference.
Tsubuan is a chunky red bean paste with whole beans and skins still intact. It has a great texture and you can find it on Amazon here.
Koshian is a smooth red bean paste with no bits. I used koshian when I made the dorayaki pictured above, but that's only because I had it leftover after making Ichigo Daifuku. You can buy koshian smooth red bean paste on Amazon here.
Dorayaki can also be enjoyed with other fillings too! Here are a few ideas:
Custard Cream
Matcha Cream
Chestnut Filling
Nutella Chocolate Spread
Cream Cheese
These are just a few ideas, but anything thick and pasty would be a great filling for dorayaki! Make it your own!
This recipe makes 6 complete dorayaki (12 pancakes in total). I hope you enjoy my family's classic dorayaki recipe!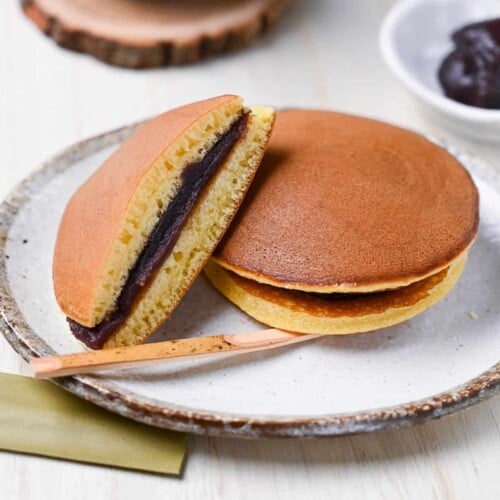 Dorayaki (Japanese Red Bean Pancake)
How to make Dorayaki, sweet and delicious red bean paste sandwiched between two golden honey flavored Japanese pancakes.
Ingredients
2

medium egg(s)

80

g

sugar

1

tbsp

honey

120

g

cake flour

½

tsp

baking soda

50

ml

water

cooking oil

-

for frying - flavorless oil like vegetable or canola works best

300

g

red bean paste

-

about 2 tbsp per pancake
Instructions
Dorayaki Batter
Add 

2 medium egg(s)

, 

80 g sugar

, and 

1 tbsp honey

 to a mixing bowl and whisk until well combined.

Sift

120 g cake flour

and

½ tsp baking soda

into the bowl and whisk until smooth.

Add

50 ml water

and mix again.

Transfer the mixture into a jug or bottle and store in the refrigerator for 30 minutes.
Frying
Start heating the pan on a low heat for about 10 minutes before you plan to start. This will make the heat even on the pan.

Add a small amount of

cooking oil

to the pan and use kitchen paper to spread it all over the pan and remove any excess. This will give the dorayaki a clean, smooth surface without any spots.

Take the jug from the refrigerator and pour the batter into the pan. When pouring, pour the batter in one spot and allow it to spread out, the size should be about 8cm (about 3 inches) in diameter.

Cook however many will fit but make sure there's space in between them, you don't want them to stick together. I recommend about 3 at a time. (Add more oil and remove excess with a kitchen paper when necessary).

Cook for about 1 ½ to 2 minutes or until you see bubbles forming on the top.

Use a spatula to carefully flip each pancake. (If you're not confident in your flipping skills, try using two spatulas, one on each side so that they keep their shape!)

Once flipped, cook on the other side for about 1 minute and remove from the pan.

Repeat until you've used all of the batter.
Assembly
Measure out

300 g red bean paste

and add about 2 tbsp to half of the pancakes. Try and spread it so that it's thicker in the middle, this will help make the dorayaki's classic dome shape.

Place a plain pancake on top of each one that has red bean paste. Lightly press around the edges to close the dorayaki.

Enjoy!
Notes
Dorayaki is also delicious with other fillings such as custard, cream, chestnuts etc.
Wrap leftovers in plastic wrap and store in the refrigerator for up to 2 days.