Impress your friends with this refreshing and vibrant, cafe-style iced matcha latte. Made with sweetened milk topped with a rich, homemade green tea syrup and served over ice, not only does it taste great, but it looks stunning. It's quick and easy to make too!
Disclaimer: This post contains Amazon affiliate links. Sudachi Recipes earn a small percentage from qualifying purchases at no extra cost to you. See disclaimer for more info.
Jump to:
What is Matcha?
Matcha is a type of powdered tea made by finely grinding the first leaves of the Camellia Sinensis plant, more commonly known as "tea tree" or "cha no ki" in Japanese. The leaves are covered with a shade to protect them from direct sunlight about 3-4 weeks before harvest, and this process is what gives the matcha its rich, umami-packed flavor, as well as its high caffeine content.
The youngest leaves of the first harvest are used to make ceremonial matcha, the highest grade of matcha available, while the bigger (older) leaves taken during the second harvest are used to make cheaper matcha such as culinary grade.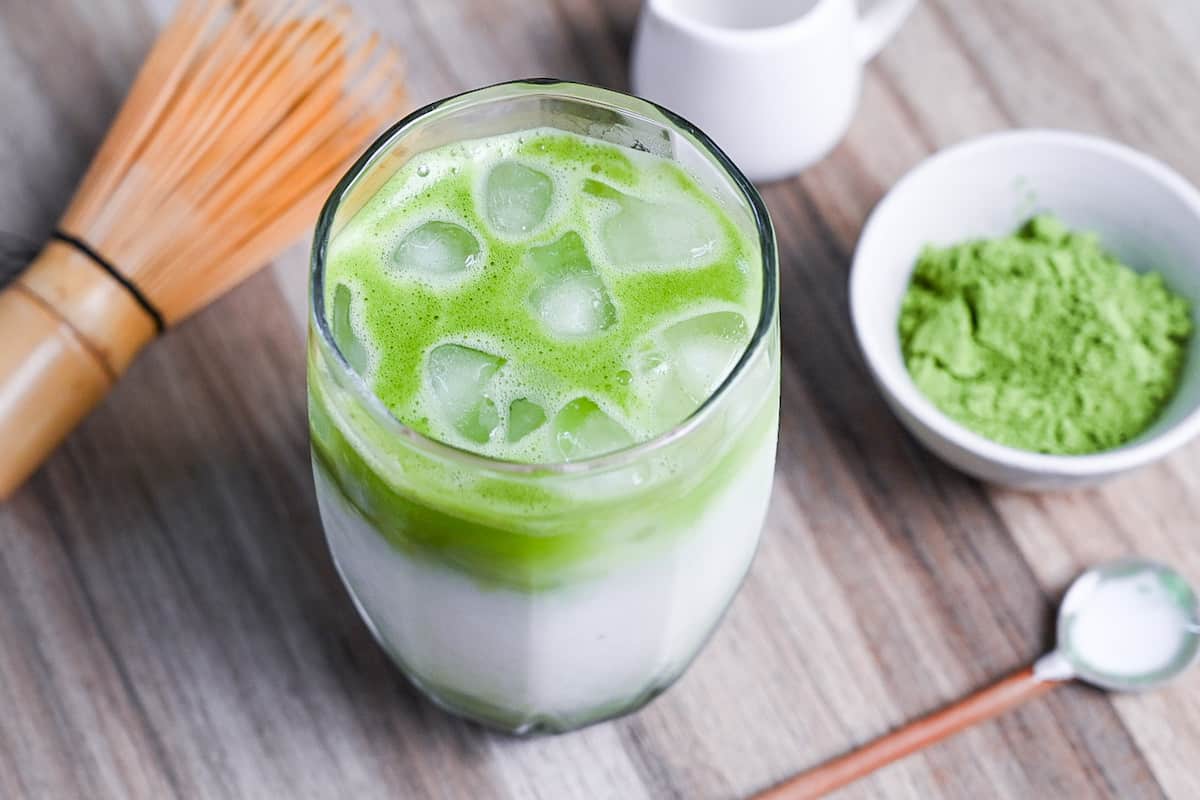 What Does Matcha Taste Like?
Generally, matcha is characterized by its earthy and slightly bitter taste. However, similar to coffee, there are hundreds of matcha powders out there that have a different flavor profile depending on where they were grown, how they were grown and when they were harvested.
What is the Difference Between Ceremonial and Culinary Grade Matcha?
To generalize, there are two main types of matcha powder.
Ceremonial grade - Made with the youngest leaves from the first harvest, ceremonial matcha has a refreshing taste with mild sweetness and very little astringency. It is bright green in color and the most expensive kind of matcha. It is best for drinking and simply whisked with hot water to appreciate its flavor to the full.
Culinary grade - Made with older leaves from the second harvest, culinary grade matcha is more earthy and bitter but the quality is still good. It's best used in drinks (like lattes and smoothies) and in baked goods, where the bitterness is complimented by the sweetness from other ingredients.
There is no need to buy the most expensive ceremonial-grade matcha for this recipe. For best results, I recommend purchasing a good quality culinary-grade matcha powder.
How to Choose Matcha Powder
Choosing matcha powder can be a little overwhelming, there are many different brands and the price can vary wildly. My best advice is to read product reviews and buy small quantities at a time so that you can find your "go-to matcha powder".
Good quality matcha powder should have the following qualities:
Color - green and vibrant indicates freshness (dull or yellow/brown usually means the matcha is old and not good).
Smell - it should have a fresh and pleasant aroma.
Taste - it should an earthy yet refreshing flavor with a pleasant bitterness.
How to Store Matcha
Once matcha is opened, it doesn't keep indefinitely and there are steps you can take to prolong its shelf life.
Store in an airtight container - this prevents oxidization which is one of the top causes of loss of flavor and color.
Store in a dark place - light is another contributor to loss of color and flavor so store it in a container that keeps the light out.
Keep away from strong smells - since matcha tends to absorb the smells and this will alter its taste.
Freeze - Unopened matcha can be frozen for about 2 months, but should be slowly brought to room temperature before using.
Refrigerate - once opened, it's is okay to store matcha in the refrigerator as long as the container is properly sealed. Matcha can be refrigerated for about 3 weeks after opening.
Avoid sudden changes in temperature - It is also advised to let frozen or refrigerated matcha reach room temperature before opening. Sudden temperature changes will cause the matcha to absorb the moisture in the air and hard lumps will form.
Sift before use - even in the best conditions, matcha is prone to clumping. No matter whether you are using it for drinking or baking, make sure to sift it before use.
Divide large batches - opening and closing containers repeatedly leaves more chance for oxidisation or moisture to get in. If you purchase a large amount of matcha, it is recommended to divide it into smaller containers to prolong the shelf life.
Ingredients You Will Need
To make my recipe, you will need the following ingredients:
Matcha powder - the key ingredient for this recipe! A good quality culinary-grade matcha is perfect for this. No need to purchase expensive ceremonial grade.
Sugar - To make the "matcha syrup" use your preferred type of sugar. White or light brown works best. Feel free to omit if you want to cut down on the sweetness too.
Hot water - 80°C (176°F) is best for matcha. If the water is freshly boiled, let it cool down before use since using water that is too hot can burn the matcha and create too much bitterness.
Milk - use your preferred milk or plant-based alternative. This recipe works well with any kind!
Honey - not only to sweeten the milk, but also help give it a slightly thicker consistency that helps the matcha syrup sit on top. If you don't want to use honey, feel free to use other syrup sweeteners such as maple syrup, sugar syrup or even flavored syrups such as vanilla works great!
Ice - it wouldn't be iced matcha latte without ice! If you hate watering down your drinks, feel free to use frozen cubes of milk or even frozen cubes of plain matcha tea!
You can adjust the sweetness to your liking, but bare in mind that reducing the honey or syrup element can prevent you from creating a layered effect.
I have listed my recommended Japanese condiments, tools, and ingredients in the Sudachi Recipes Amazon shop. If you want to keep making various Japanese foods at home, please check it out!
Step-by-Step Process
Here are my step by step instructions for how to make delicious cafe-style iced matcha latte at home. For ingredient quantities and simplified instructions, scroll down for the printable recipe card.
First, boil your water and then let it cool to about 80°C (176°F). While you're waiting for it to cool, sift the matcha into a small bowl. I recommend a wide bowl with a pourable spout, but it's not essential.
For iced latte, I recommend 2 tsp of matcha per serving.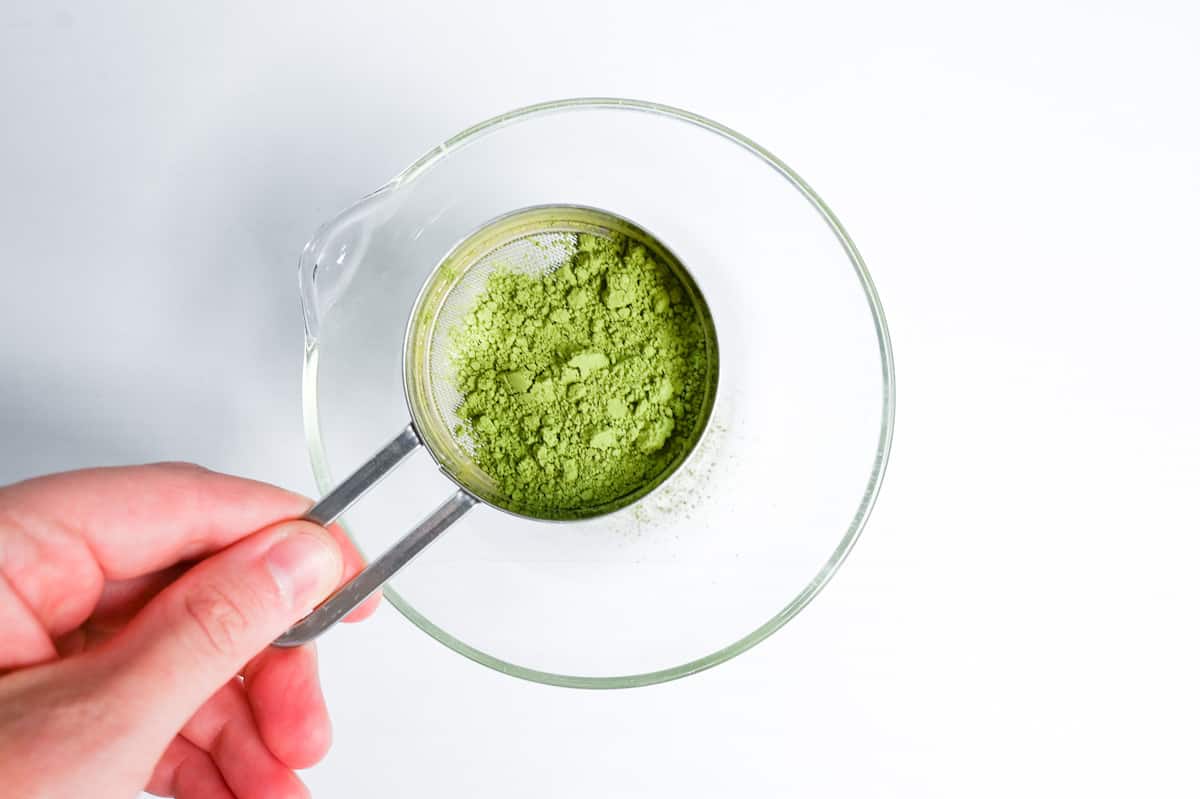 Matcha tends to absorb moisture easily and it's common for it to have lumps. It's very important to sift it before use!
Add sugar to the bowl. The sugar helps elevate the flavor of the matcha, but if you want to reduce the sweetness, you can omit here.
Once the water has reached 80°C (176°F), pour it into the bowl.
Whisk thoroughly using a matcha whisk (chasen).
Whisk back and forth until the matcha and sugar have dissolved and a foam has formed on top.
Do I have to buy a matcha whisk?
Matcha whisk (chasen in Japanese) is designed especially to aerate and break down lumps of matcha. This results in a smooth and lump-free consistency with a delicious foam on top. For best results, I recommend using a chasen for any drinks made with matcha. In a pinch, an electric milk frother is a good alternative. A regular whisk won't achieve the best results.
In a separate measuring jug, add the milk and honey (or syrup of your choice).
Whisk until well incorporated.
Fill a glass with ice one-third of the way up.
Pour the milk over the top.
Carefully pour the matcha mixture on top. I use a spoon to slow the flow and create a matcha layer on top.
Admire your creation for a few seconds, then mix well and enjoy!
I hope you enjoy this iced matcha latte recipe! If you try it out, I'd love if you could spare a moment to let me know what you thought by giving a review and star rating in the comments below. It's also helpful to share any adjustments you made to the recipe with other readers. Thank you!
Iced Matcha Latte (Iced Green Tea Latte)
How to make cafe-style iced matcha latte with sweetened milk topped with a rich layer of homemade green tea syrup.
Ingredients
2

tsp

matcha powder

1

tsp

sugar

50

ml

hot water

-

heated to around 80°C (176°F)

2

tsp

honey

-

or maple syrup, sugar syrup, etc

180

ml

milk

-

of your choice

ice cubes
Instructions
First, boil your water and then allow it to cool to about 80°C (176°F).

Sift

2 tsp matcha powder

into a small bowl.

Pour

50 ml hot water

into the bowl.

Whisk until the matcha and sugar have dissolved and foam has formed on top. I recommend using a "chasen" (bamboo matcha whisk) for best results.

In a separate jug, measure out

180 ml milk

and add

2 tsp honey

.

Whisk until the honey is incorporated into the milk.

Fill a glass with

ice cubes

about one-third of the way up.

Pour the sweetened milk over the ice.

Carefully pour the matcha mixture over the top, use a spoon to slow the pour. This will create a layered effect.

Mix well before drinking and enjoy!
Notes
I recommend using a syrup sweetener to sweeten the milk, this helps the matcha sit on top to create the layered effect.
Feel free to reduce or increase the sweetness to your liking, but be aware that altering the recipe might alter the layered effect.
FAQ
What does matcha taste like?
The taste of matcha can vary depending on its grade, where it's grown and the brand. In general, matcha is known for its refreshing, earthy and mildly bitter taste.
Does matcha contain coffee?
Yes, it does. The amount of caffeine in a cup of matcha is similar to a cup of coffee.
How can I make matcha latte taste better?
Make sure your matcha is fresh (not old) and properly stored (in a cool, dry and dark environment in a sealed container). There is no way to revive matcha that has already lost its flavor or color, so proper storage is important.
Should I use ceremonial grade or culinary grade to make matcha latte?
I recommend using culinary-grade matcha for matcha latte. Ceremonial-grade matcha should be drunk and appreciated on its own.