Enjoy the naturally sweet and toasty flavor of Japanese roasted green tea in this delicious and refreshing iced hojicha latte. In this recipe, I will show you how to make your own ice hojicha latte at home using tea bags. If you're a hojicha fan, this will be your new go-to drink for the summer!
Disclaimer: This post contains Amazon affiliate links. Sudachi Recipes earn a small percentage from qualifying purchases at no extra cost to you. See disclaimer for more info.
Jump to:
What is Hojicha?
Hojicha (ほうじ茶) is a variant of green tea. Initially derived from bancha or sencha (two types of green tea), hojicha takes on a distinct flavor profile and appearance through high-temperature roasting in a porcelain pot.
This meticulous technique produces a delightful reddish brown tea with a remarkably pleasant and almost nutty taste, complemented by subtle hints of caramel. Like matcha, it can also be ground into a powder and is commonly used to flavor lattes and desserts.
There are generally two main types of hojicha, one made with leaves (ha-hojicha) and another made with stems (bō-hojicha or kuki hojicha). Leaf hojicha is known for its refreshing taste, where as stem hojicha is richer and stronger. If possible, stem hojicha is recommended for cold drinks.
A Brief History
Although no official records exist, it is believed that Hojicha was invented around the Showa Era (1926-1989) when tea merchants in Kyoto were struggling to sell enough tea during the Showa Depression. At the time, there were no tea preservation methods in place, and unsold tea would deteriorate quickly and have to be thrown away.
To tackle this problem, one tea merchant took his tea leaves to Kyoto University to consult with a professor. He left with the idea of drying and roasting the leaves and hojicha was born! Not only was it a hit with other tea merchants as a way to save their produce, but it became well loved amongst tea drinkers across Japan for its unique taste and comforting aroma.
Some people say that it actually existed in Japan earlier than this, but since there are no records, the true origin of hojicha remains a mystery.
What is the difference between hojicha and green tea
Hojicha is actually categorised into the green tea group. This is because it starts its life as green tea, and changes color and flavor during the roasting process. Because of the high temperatures in which it is roasted, the tannins that contribute to green tea's bitterness are reduced and the amino acids and sugars in the leaves react to the heat, creating the fragrant aroma of hojicha. Additionally, hojicha is lower in caffeine, making it suitable for an evening beverage.
Here is a chart to show the key differences between hojicha and other green teas:
| | | |
| --- | --- | --- |
| | Hojicha | Green Tea |
| Color when brewed | Amber / brown | Yellow / green |
| Flavor | Smooth, nutty, smokey | Refreshing, bitter |
| Smell | Fragrant, soothing | Bright, grassy |
| Production technique | Steamed, dried, roasted | Steamed and dried |
| Caffeine content | Low | High |
Five common types of green tea in Japan are:
Matcha (抹茶): Young green tea leaves slowly ground with stone mill to create a powder.
Gyokuro (玉露): A high grade tea made by shielding the leaves from the sun for about 20 days before picking.
Sencha(煎茶): Green tea made from the first leaves of the harvest. The most common green tea (ryokucha) in Japan.
Bancha (番茶): Green tea made from the leaves of the second, third and fourth harvest. The cheapest form of green tea with quite a strong bitterness.
Hojicha (ほうじ茶): Generally a roasted version of Sencha or Bancha.
There are actually around 20 different types of green tea in Japan and vary based on age of the leaves, production method and location in which it was grown. Hojicha is most commonly made with bancha, since it's the lowest grade of tea, however hojicha made with sencha also exists.
Ingredients You Will Need
To make my iced hojicha latte, recipe you will need:
Hojicha - the key ingredient of course! I personally use teabags for convenience, but loose tea and powder also work if you prefer. For the best flavor, I also recommend using double the amount you'd use for a hot drink.
Milk of your choice - I find that the subtle flavor of hojicha is best highlighted when combined with cow's milk, almond milk or oat milk. But of course, feel free to use your favorite kind of milk!
Hot water - Boiled to about 80-90°C (176-194°F), the ideal temperature for steeping hojicha.
Sweetener of choice - I like to use a mixture of honey and light brown sugar.
Ice - if you hate watering down your drinks, try freezing a tray of brewed hojicha instead!
Iced hojicha latte tastes great on its own, but if you want to take it up a level, maybe you can try one of these additions:
I have listed my recommended Japanese condiments, tools, and ingredients in the Sudachi Recipes Amazon shop. If you want to keep making various Japanese foods at home, please check it out!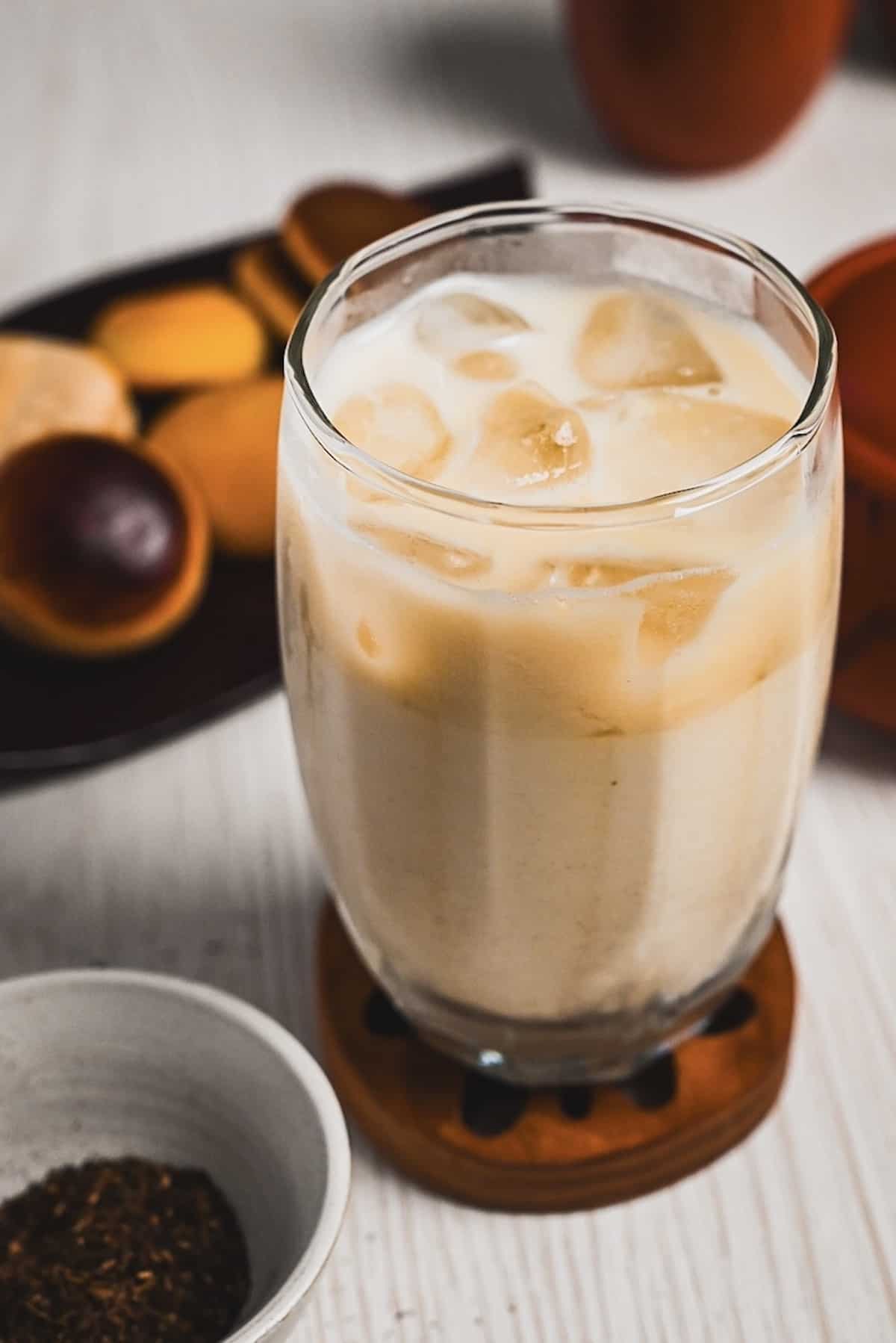 Step-by-Step Process
Here are my step-by-step instructions on how to make iced hojicha latte. For the full ingredients list and simplified instructions, see the printable recipe card below.
Heat your water to around 90°C (194°F) and pour it over the hojicha tea bags. If using loose leaf tea, add it to the bowl loose and strain later for maximum flavor (using a tea strainer early will make it difficult to submerge the tea since only a small amount of water is used.)
Add the sweetener of your choice to the bowl.
Stir until the sweetener has fully dissolved into the mixture.
Cover the bowl with plastic wrap (or a small plate if you don't want to waste plastic) and leave the tea to steep for 10 minutes.
Remove the tea bags and squeeze thoroughly to ensure the tea is as concentrated as possible. If using loose tea, pour it through a tea strainer.
Fill a glass with ice one-third of the way up and pour the concentrated hojicha over the top.
Top with your choice of milk.
Mix well before drinking and enjoy!
If using loose leaf tea, brew it loose and strain before adding it to the glass.
Cover while steeping to keep the water hotter for longer.
For a more intense hojicha flavor, mix the tea, water and sweetner in a jug, steep for 10 minutes and then add the milk. Continue to brew in the fridge for 1-2 hours, then remove the tea bags and pour over ice right before serving.
If you don't want the latte to be watered down, fry freezing cubes of milk or straight hojicha to add to your drink.
Storage
If you decide to make a large batch, you can keep the concentrated hojicha mixture in an airtight container in the fridge for 1-2 days. I recommend leaving the teabag in so it can become stronger over time.
Once mixed with milk, it should be kept refrigerated and consumed within 24 hours.
I hope you enjoy this refreshing iced hojicha latte recipe! If you try it out, I'd love if you could spare a moment to let me know what you thought by giving a review and star rating in the comments below. It's also helpful to share any adjustments you made to the recipe with other readers. Thank you!
Refreshing Iced Hojicha Latte (Roasted Green Tea Latte)
How to make refreshing cafe-style hojicha latte made with naturally sweet and nutty roasted green tea, milk and sweetener served over ice.
Ingredients
2

hojicha tea bags

-

3g loose tea per bag

60

ml

hot water

-

90°C / 195°F

2

tsp

sweetener of your choice

120

ml

milk of your choice

ice cubes
Instructions
First, boil your water and then allow it to cool to about 90°C or 195°F. In a small measuring jug, add

2 hojicha tea bags

and pour

60 ml hot water

over them.

Next

2 tsp sweetener of your choice

and mix until dissolved.

Cover and steep for 10 minutes.

After 10 minutes, squeeze the tea bags thoroughly. (If using loose tea, strain using a tea strainer and press the leaves to save as much liquid as possible).

Add

ice cubes

to a glass about one-third of the way up and pour the concentrated hojicha over the top.

Top with

120 ml milk of your choice

and stir well.

Enjoy!
Notes
For a stronger brew, add the concentrated hojicha (with the tea bags) and milk to a jug and brew altogether in the fridge for 1-2 hours. Remove the teabags right before serving and pour over ice.
If making a large batch, store in the refrigerator and consume within 24 hours.
This recipe works best with cows milk, almond milk or oat milk.