Basque Cheesecake is a trendy cheesecake that breaks all the rules! Although it originates from Spain, it's made its way around the world and can now be found in a variety of flavours in cafes and convenience stores across Japan. This delicious caramel basque-style cheesecake is inspired by Lawson's popular "Baschee". It's smooth, creamy and one of my favourite cheesecake recipes of all time!
Disclaimer: This post contains Amazon affiliate links. Sudachi Recipes earn a small percentage from qualifying purchases at no extra cost to you. See disclaimer for more info.
Jump to:
What is Lawson's "Baschee"?
"Baschee" (バスチー) is a delicious dessert created by "Uchi Cafe", a brand of original sweets launched by the Japanese chain convenience store "Lawson". This creamy miniature cheesecake is inspired by the popular burnt "basque" cheesecake which originated from Spain. Even the name "baschee" (バスチー) is a Japanese abbreviation of basque cheesecake.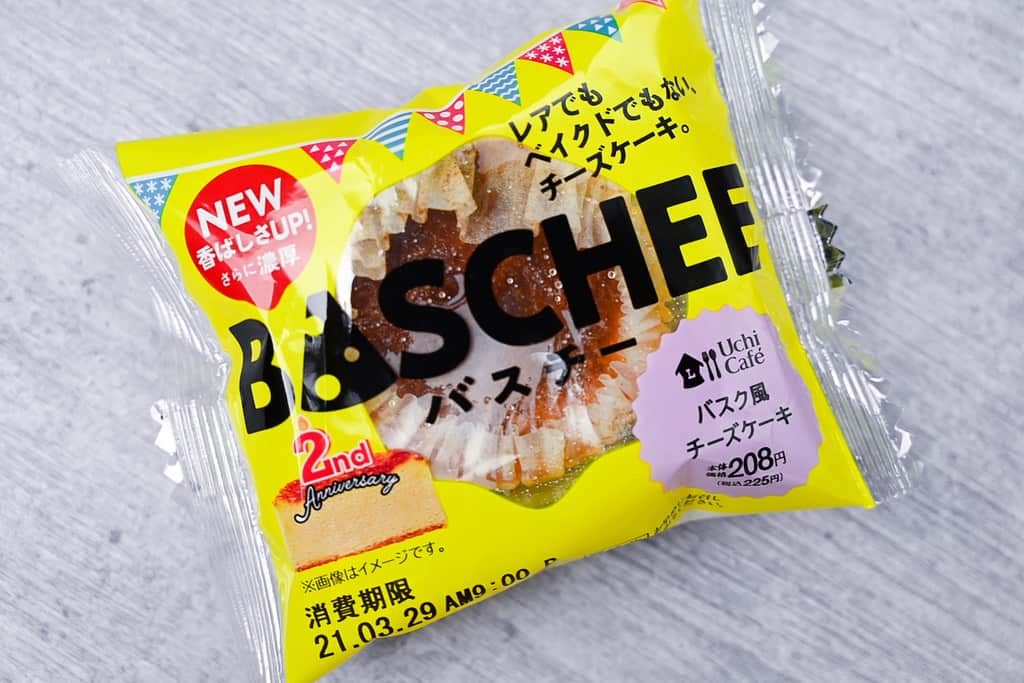 Lawson's Baschee is made with Hokkaido cheddar cheese and contains a higher egg yolk ratio than regular basque cheesecake making it smooth, thick and cheesy. It is also brushed with caramel which sinks into the cheesecake, whilst adding a touch of burnt caramel flavour to the top.
Baschee was released in 2018 and sold 1 million over just three days. Following its success, other flavours of baschee such as matcha, chocolate and hojicha were also released.
In Japan it's common for products to be constantly changing, replacing older items with seasonal goods and new trends. Unfortunately, even successful combini desserts are not safe from the never ending rotation and baschee was discontinued on September 23rd 2022 to make way for new products. I have to say, that since learning this news, I'm so relieved I made this recipe so I can still enjoy the decadent taste of baschee! (If you want to check out Lawson's current dessert lineup, you can see the list here.)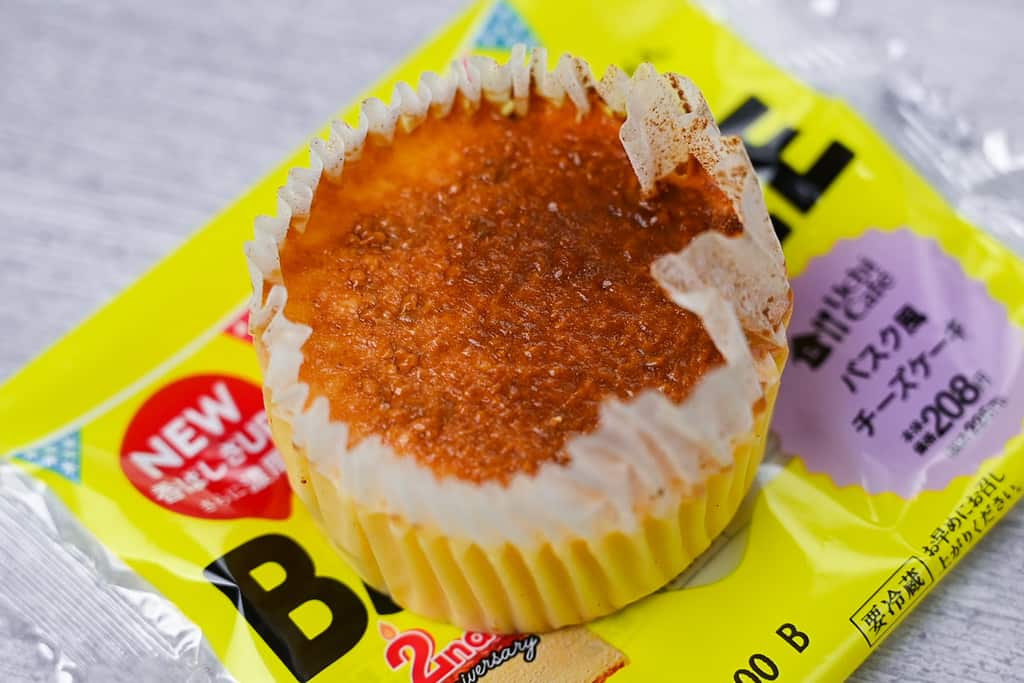 What is Basque Cheesecake?
Basque cheesecake is a famous crustless cheesecake that was created in San Sebastian, Spain in 1990. This unusual cheesecake is not like other baked cheesecakes. Rather than long bakes at lower temperatures, basque cheesecake is baked for a short time at a high temperature, creating a rustic looking cheesecake with a dark burnt-looking surface, cracks around the edges and a soft and smooth center.
Basque Cheesecake is particularly popular in Japan and is considered a "high end" dessert, with many specialist bakeries having queues lining up out of the door.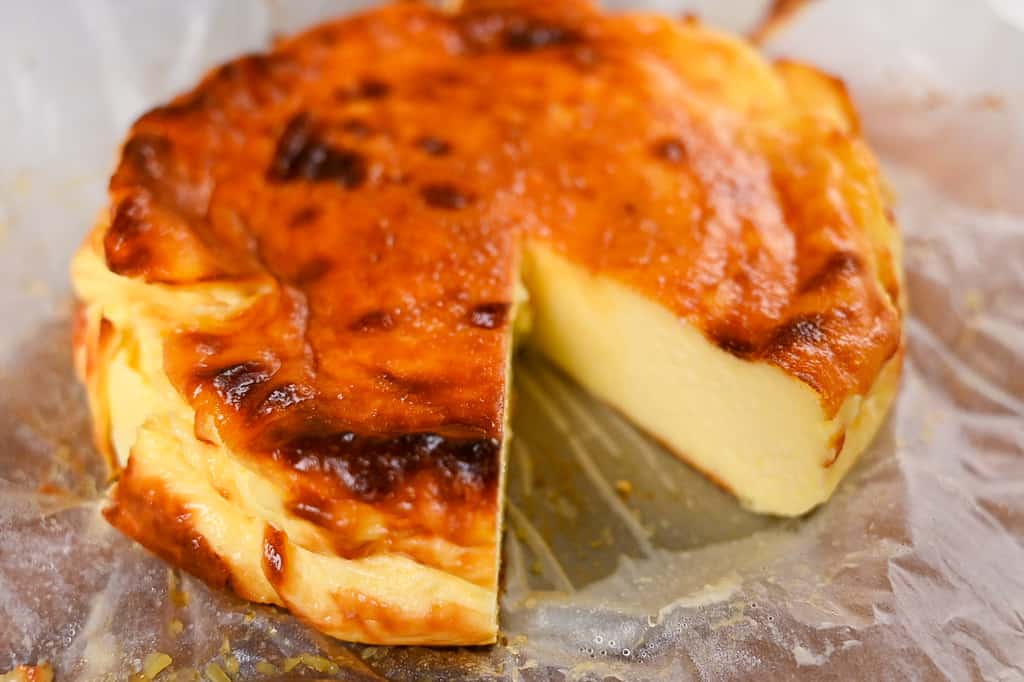 Not only is basque cheesecake extremely delicious, but it's easy to make at home and you don't need any special tools. Because of it's rustic look, it's very forgiving so you don't need to stress about it looking perfect. In fact, a bit of sinking and a few cracks around the edges is a good thing. It's a delicious dessert with great character.
Ingredients
To make this basque style cheesecake inspired by lawson's baschee, I use the following ingredients:
Cream Cheese - I usually use Philadelphia or Yukijirushi's Hokkaido cream cheese
Whole milk
Processed cheese sliced - I use Meiji brand, use your favourite trusted brand
Sugar - regular white caster or granulated sugar
Unsalted butter
Honey - runny honey works best, I used Acacia honey
Eggs - 2 yolks for every egg white
Heavy cream - at least 36% fat
Cake flour or all purpose flour
I wanted to try and replicate the taste of Lawson's Baschee, so I've included steps for to make caramel sauce with sugar and water in the recipe.
You might wonder why I use processed cheese slices in the recipe, after all, they're not an ingredient you often see in cheesecake recipes. Well, maybe it sounds strange, but I actually found many Japanese recipes using processed cheese slices and milk to make cheesecake! I got curious, so I had to try!
I don't know the reason for sure, but my assumption is that because dairy products are very expensive here in Japan, using cheese slices helps bring down the cost of making a homemade cheesecake. It also adds more of a cheesy flavour since cream cheese is usually very mild.
If you don't like the sound of it, you can just take out the cheese slices and milk and double the cream cheese , but I highly recommend trying out the cheese slices. You'll be surprised how good it is, I know I was!
Equipment
So! For this recipe you will need:
15cm (6") cake tin with a removable base or a 6 cup muffin tin (you can also use 6 ramekins)
A silicone spatula or wooden spoon
A whisk
A microwavable mixing bowl
Baking paper / 6 muffin cases
Aluminium foil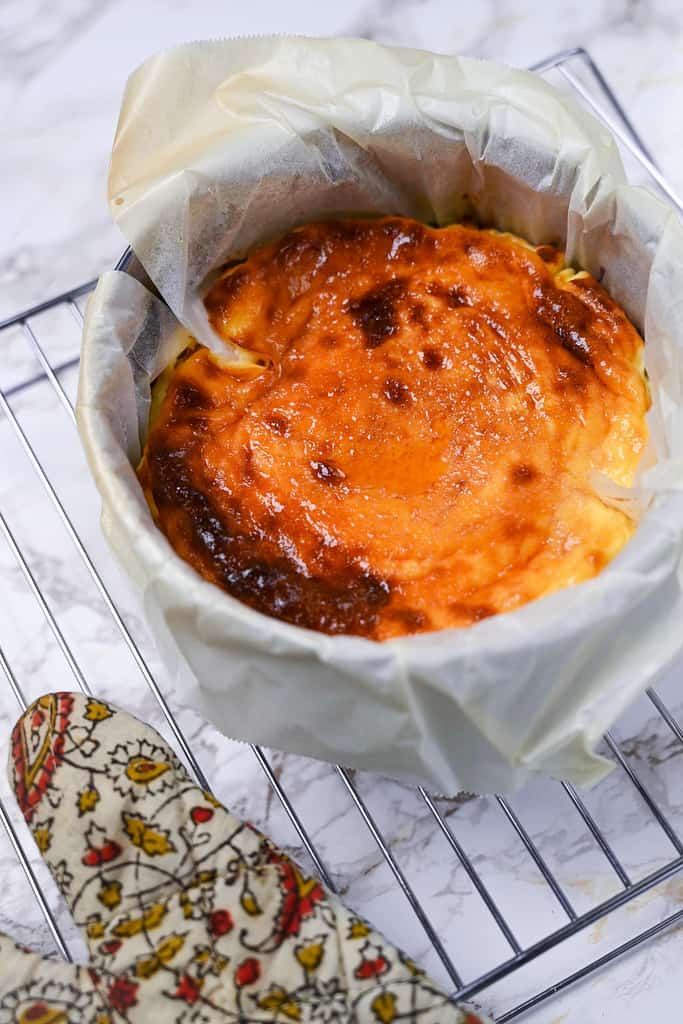 Instructions how to make Japanese basque-style cheesecake
Not only does this basque-style cheesecake taste amazing, but it's also easy to make! If it's your first time making cheesecake, I seriously recommend this recipe! (See the recipe card at the bottom of the page for the ingredient quantities.)
Measure ingredients
I recommend measuring out all of the ingredients in advance and bringing them to room temperature. This will help them blend together easily, resulting in a smoother mixture. About 20-30 minutes is usually enough.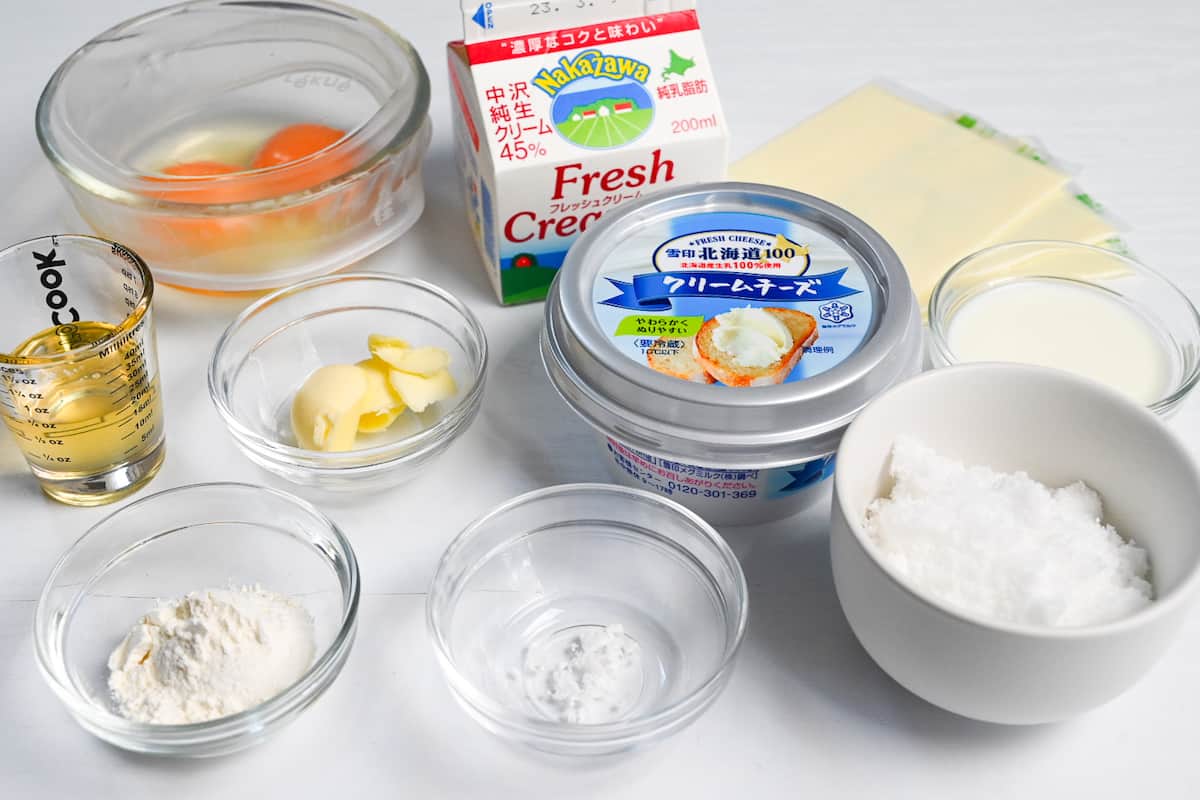 Since you will need 2 egg yolks and 1 egg white, I recommend separating them while they're still cold and then covering them to prevent them from drying out while you wait for them to come to room temperature. Eggs separate more easily and are less likely to break when they're still cold.
Make the caramel
While you wait for the ingredients to come to room temperature, this is the perfect time to make the caramel! Start by mixing the sugar and water in a small saucepan and then place it on the stove over a medium heat.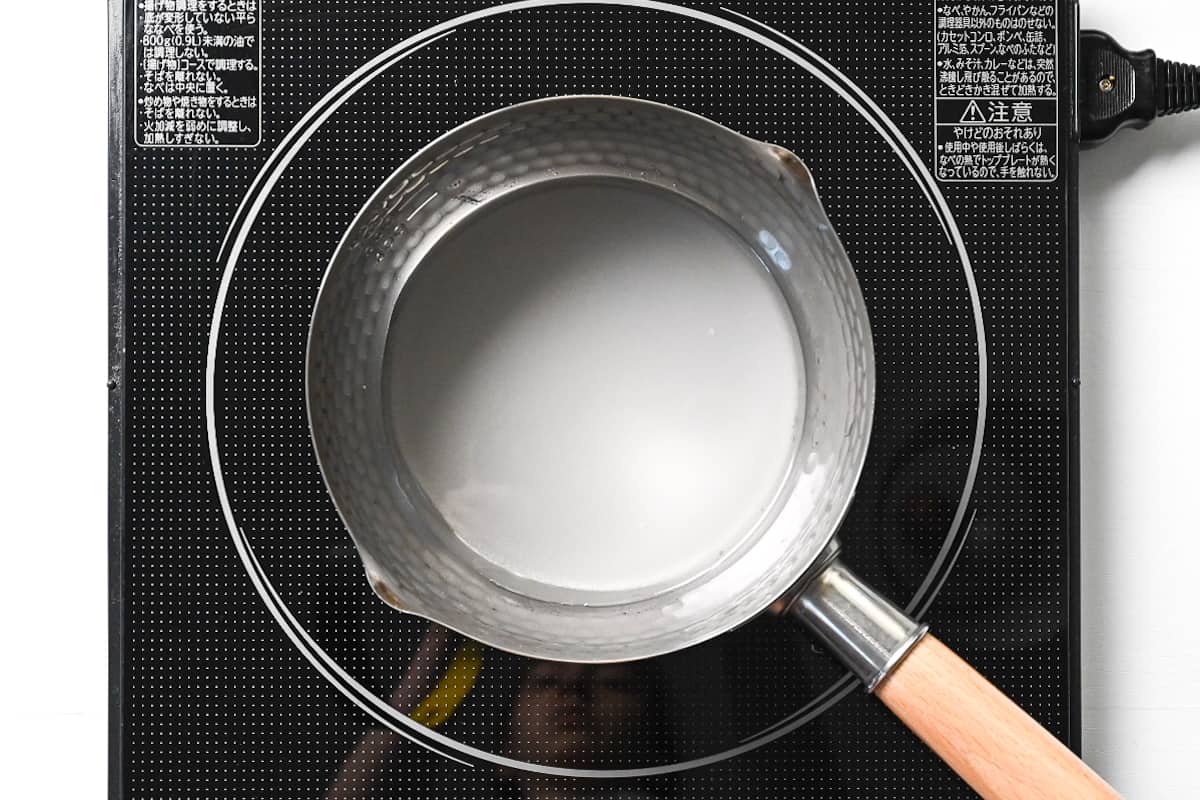 Once the sugar starts to turn golden, add a little more water, swirl the pan and lower the heat. Be sure not to mix or interfere with the caramel as this can cause it to crystallise.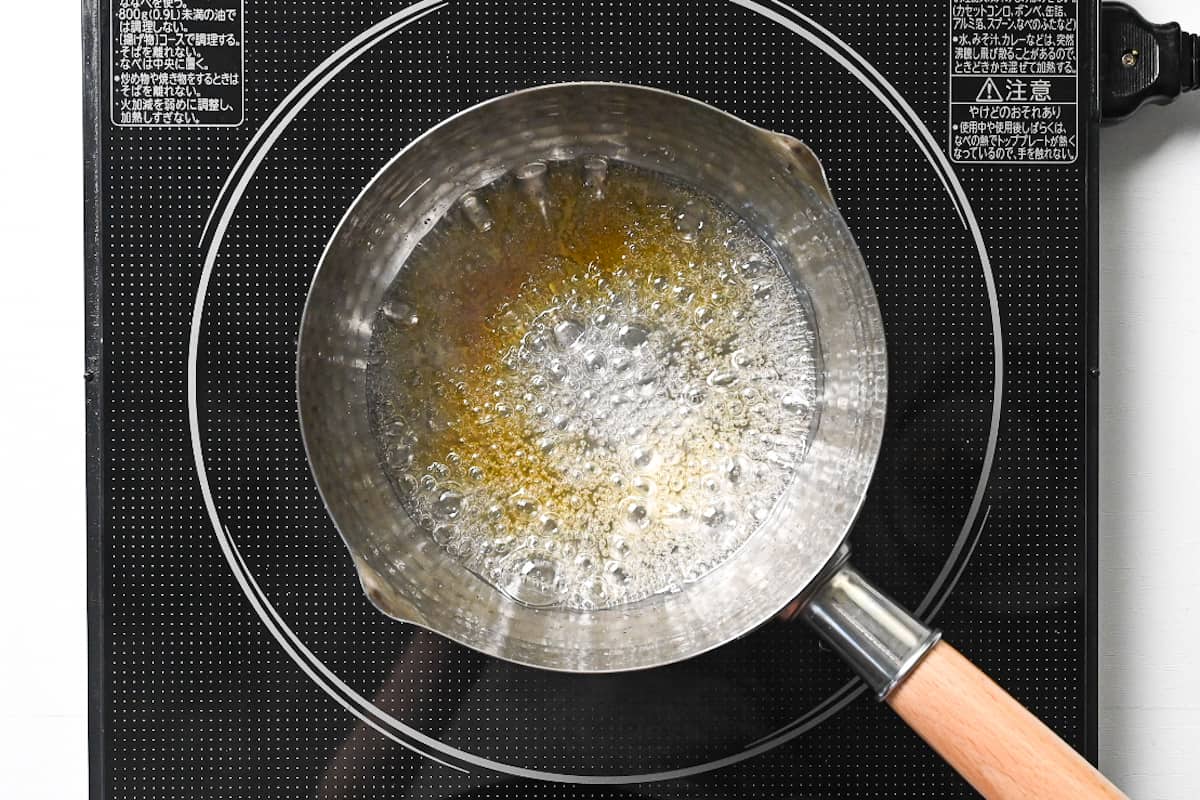 When it starts to turn amber, add a little more water, swirl the pan and turn off the heat.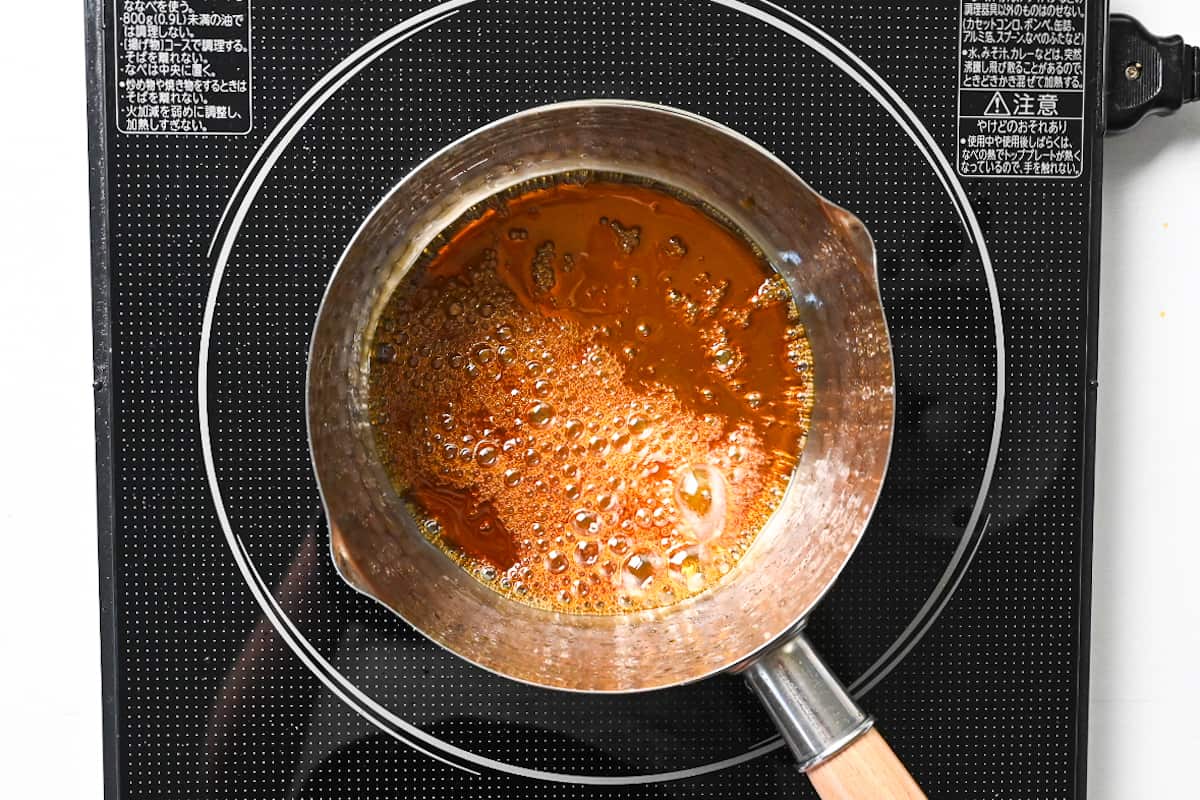 The caramel will thicken as it cools so be careful not to overcook. Set the pan aside for later.
Melt the cheese
Once all of your ingredients have reached room temperature, start preheating your oven to 220°C (430°F) for one large cheesecake, or 210°C (410°F) for mini cheesecakes.
Take a microwavable mixing bowl and add the milk and processed cheese ripped into sliced.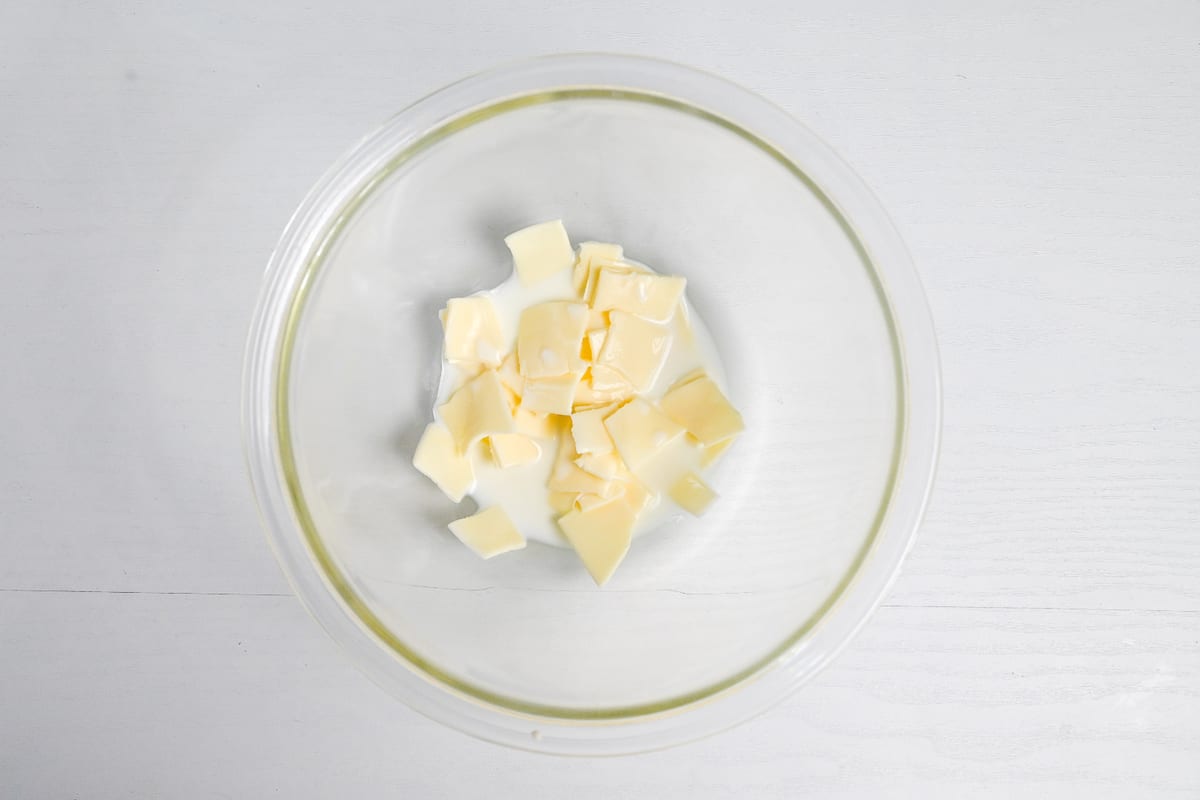 Microwave at 600W for 20 second intervals, mixing each time. Do this until the cheese has fully melted and combined with the milk.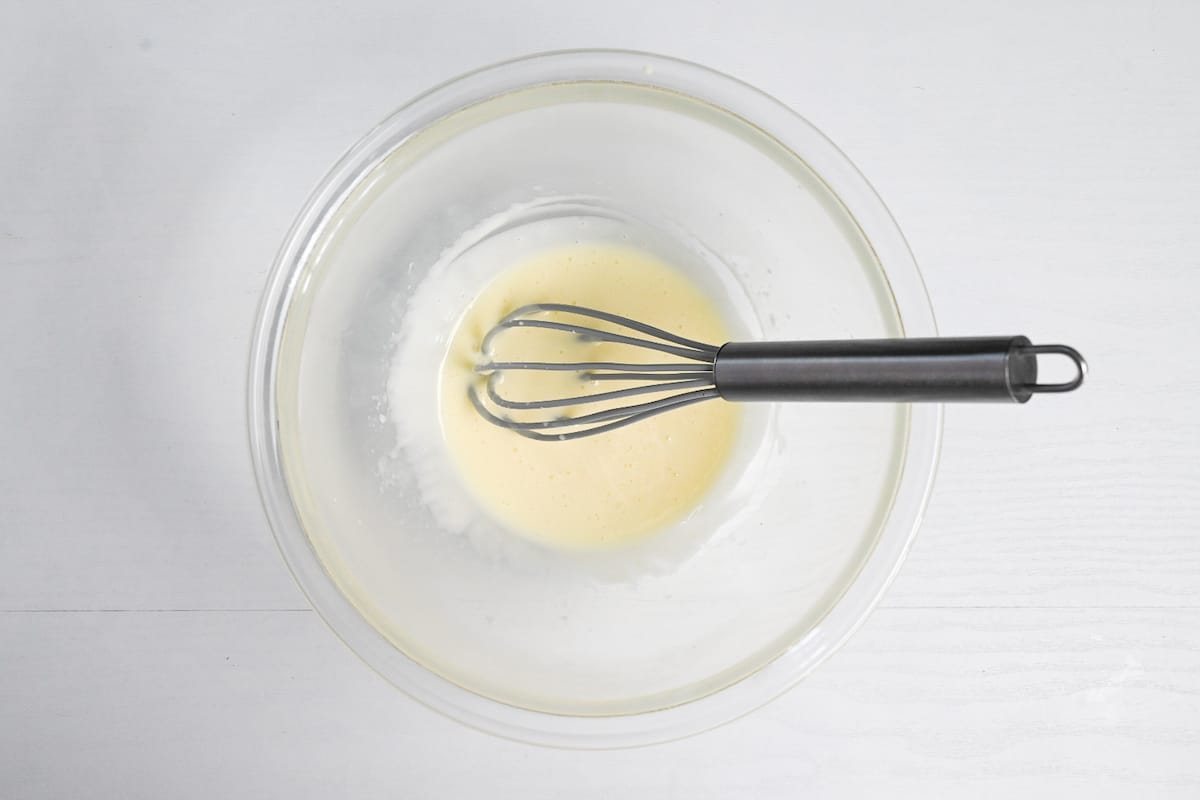 Make the cheesecake batter
Next, add each of the ingredients in the following order and whisk each time to make sure they're fully incorporated into the mixture.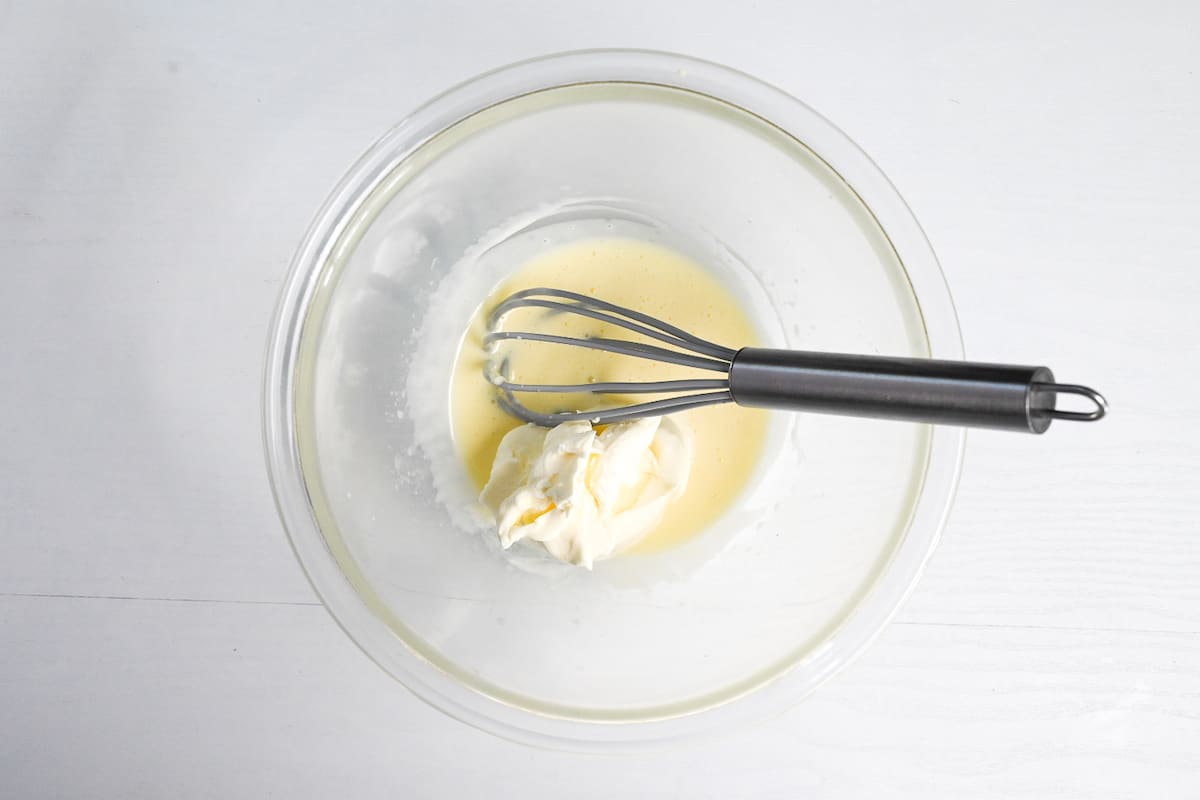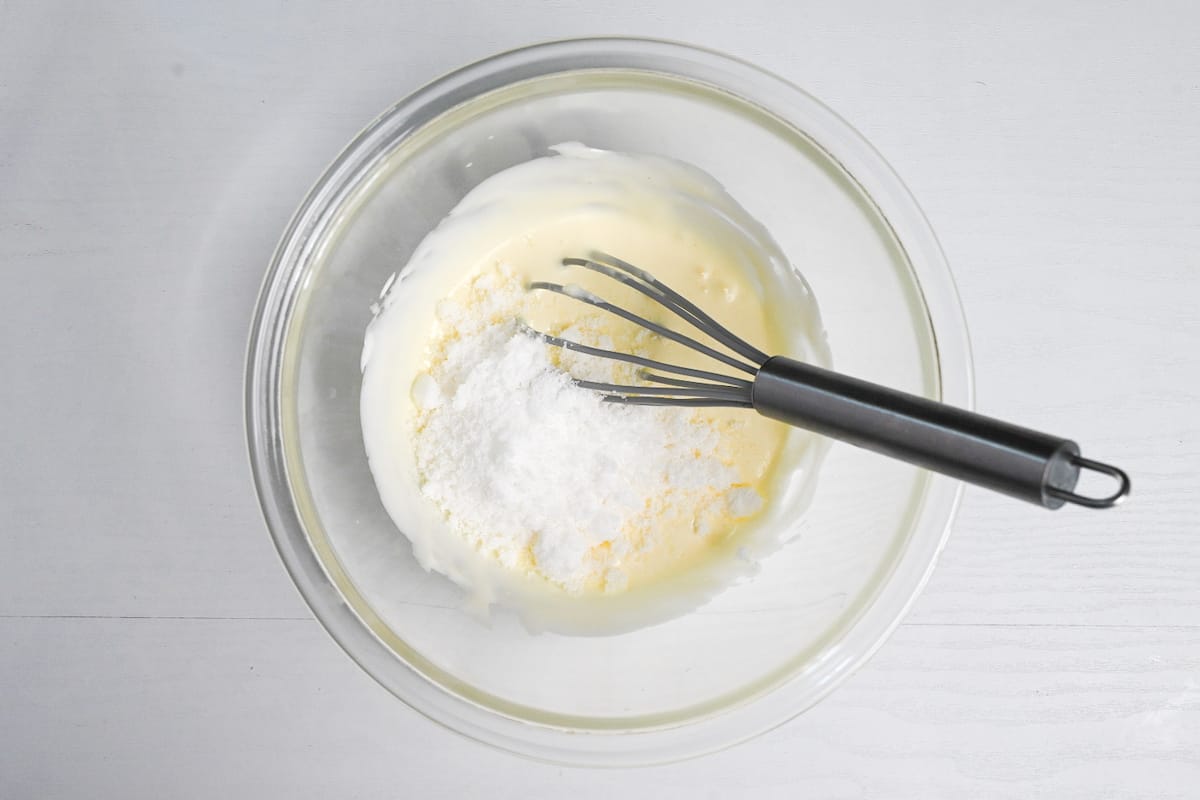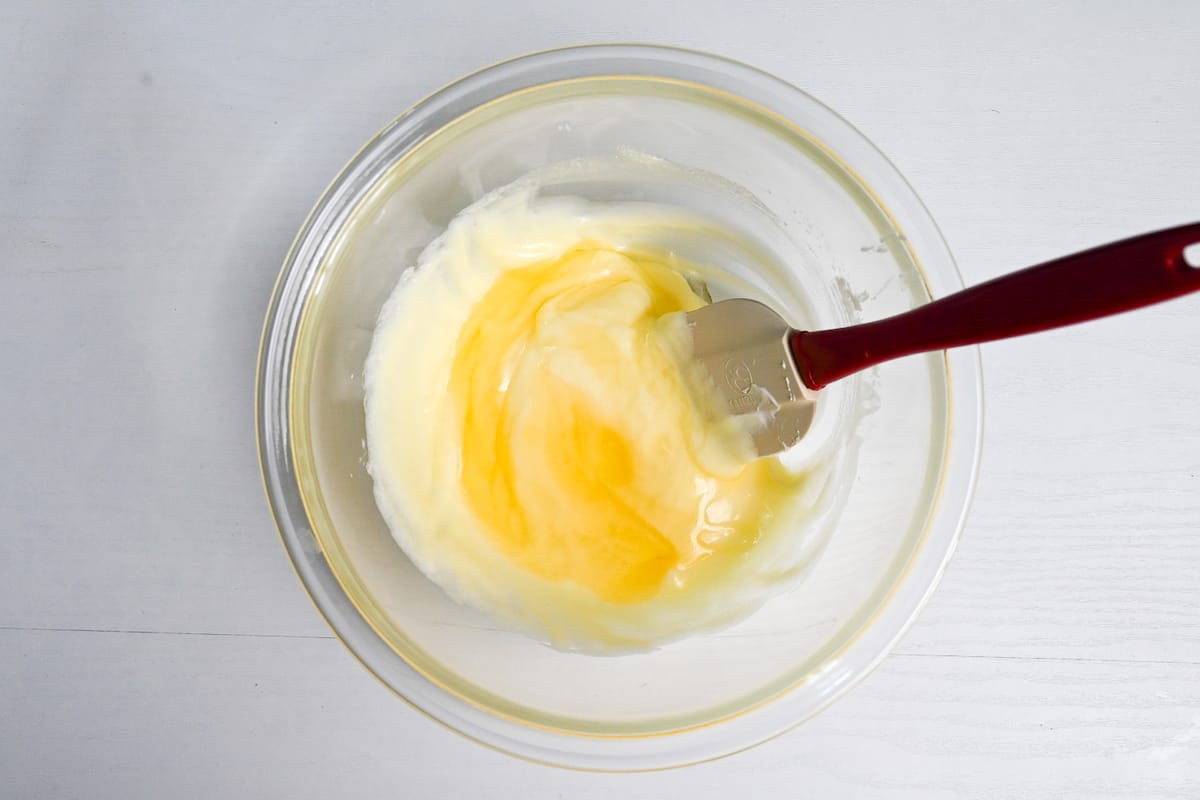 Tip: If the cream cheese is still a bit firm, you can add it to the bowl and microwave again for 20-40 seconds to soften it. (This will also help melt the butter and sugar if necessary.)
Add the eggs
The key to making this cheesecake extra smooth and silky is to mix gently once the eggs are added. Eggs tend to become airy and create bubbles in the mixture if mixed too roughly.
First, gently whisk the egg yolks and whites in a separate bowl until combined. I use a fork to do this.
Add the egg to the cheesecake batter one third at a time and mix it gently with a silicone spatula or wooden spoon to avoid creating too many air bubbles.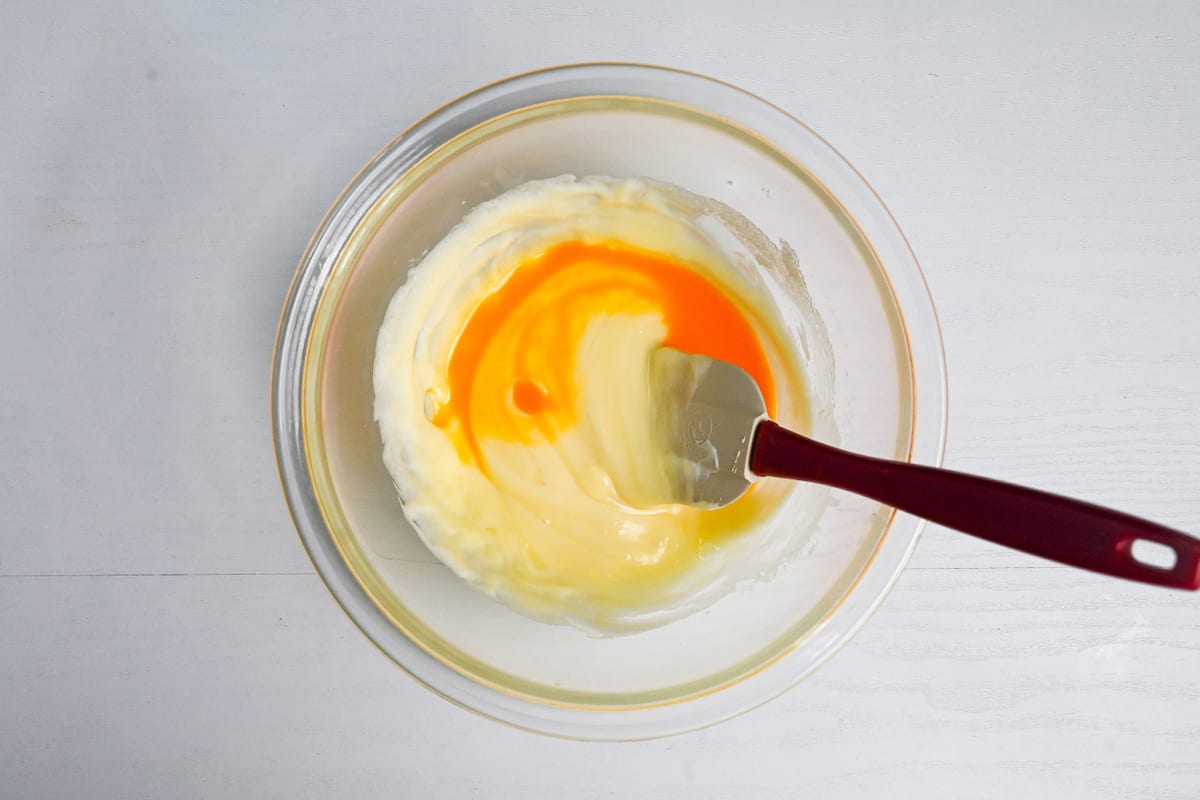 Add flour and cream
Next, sift in the flour. Flour helps make the cheesecake more stable and prevents too much cracking. It also makes the texture a little lighter.
Finally, add the heavy cream. Cream is another ingredient that becomes airy when whisked, which is why I continue to stir with the spatula. Just like the eggs, add it one third at a time and mix gently to avoid creating air bubbles as much as possible.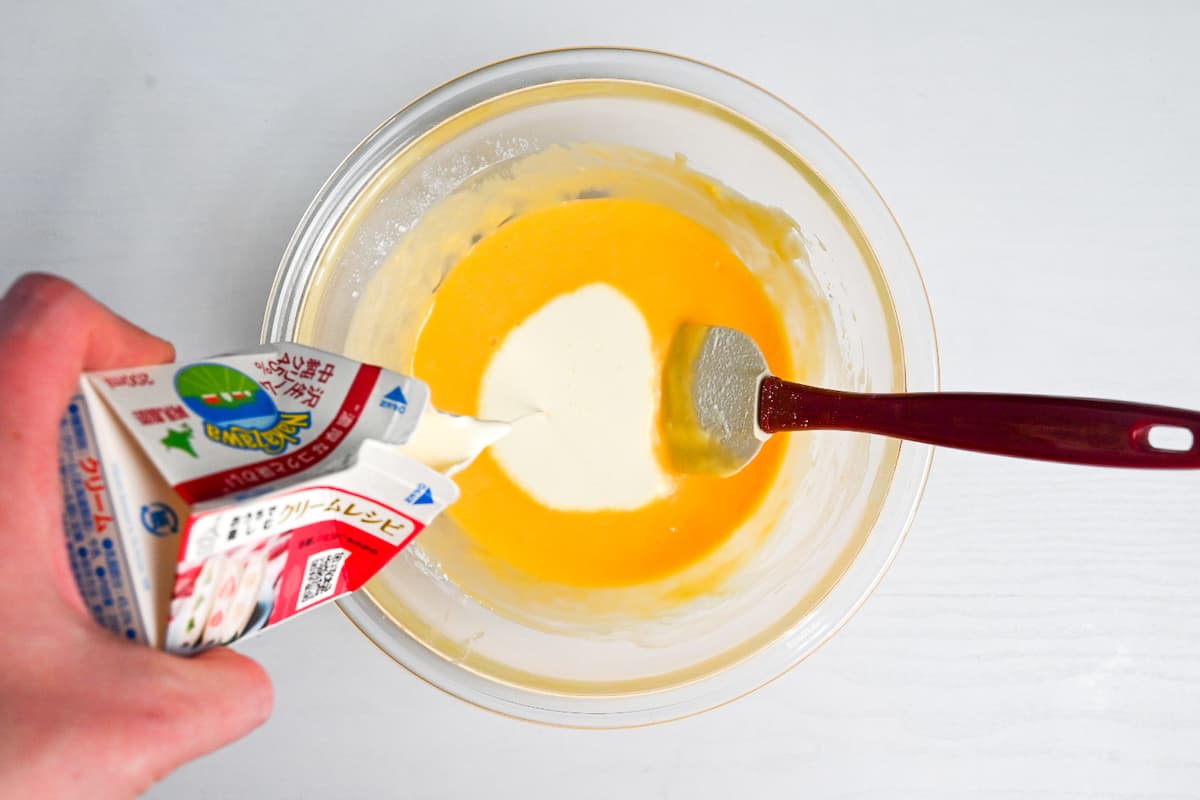 Strain
To ensure your mixture is smooth, pour it through a fine mesh sieve into another bowl. This will catch any bits that didn't mix in properly, especially during the steps with gentle mixing.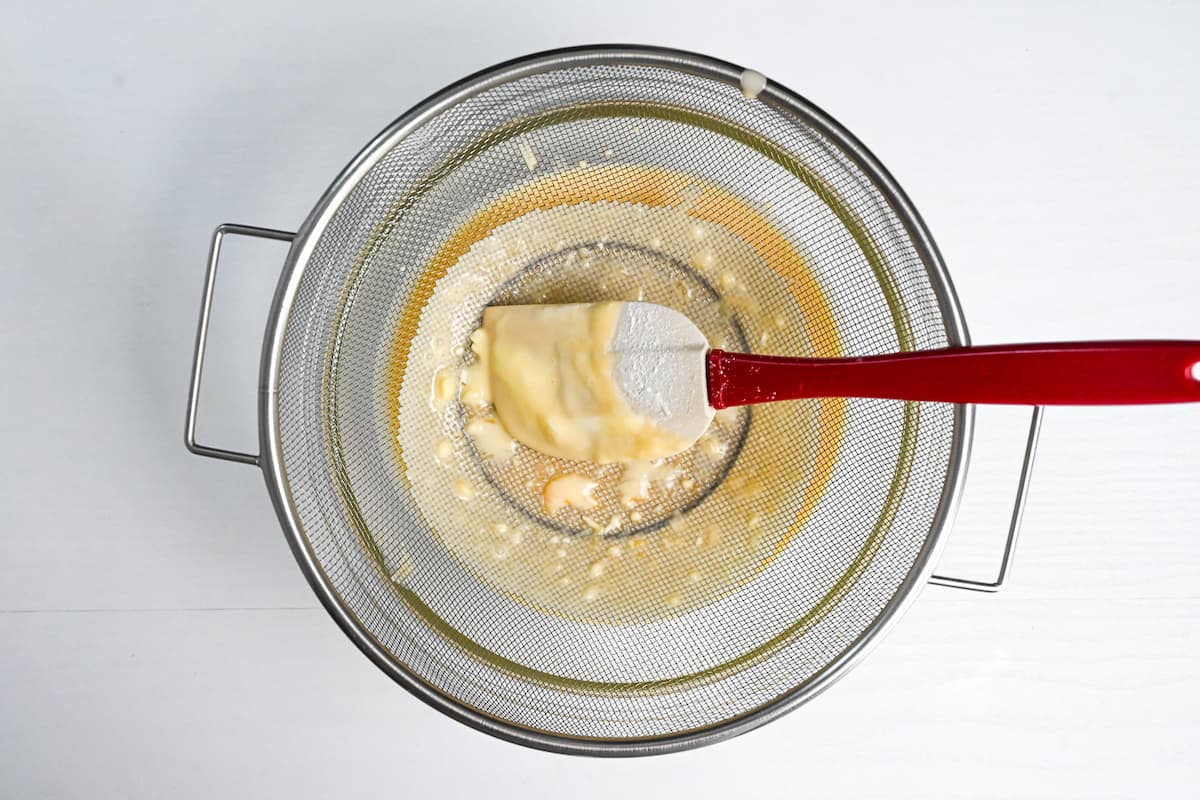 Line the cake pan
Basque cheesecake is supposed to have a rustic appearance, so break off a large piece of baking paper/parchment and roughly line your cake pan. If you're making mini basque cheesecakes, you can use muffin cases in a muffin pan instead.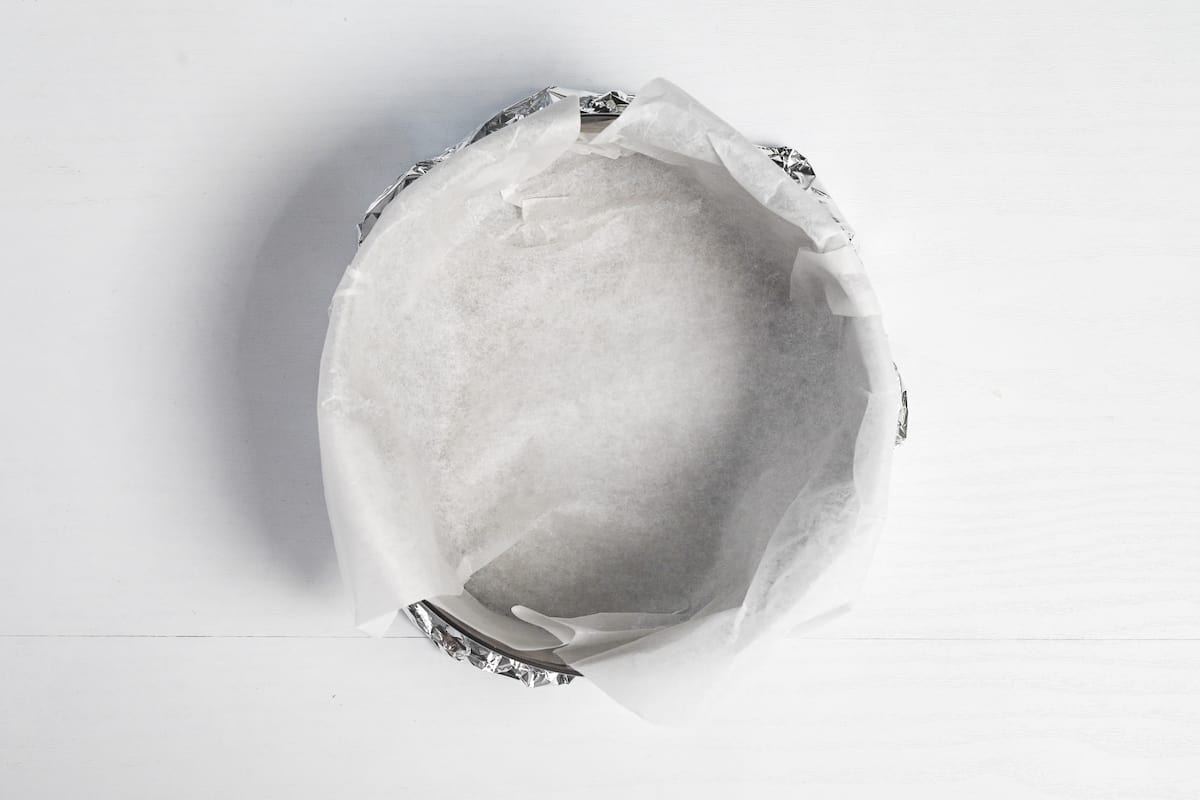 I used a cake pan with a removable base to make it easier to take the cheesecake out later. Since the mixture is quite runny, I wrapped foil around the base and edges to ensure it doesn't leak.
Add the caramel and cheesecake mixture to the pan
Take your caramel and brush half of it over the baking paper so that it will coat the base of the cheesecake. Save the other half of the caramel to brush over the top later.
Next, pour the cheesecake mixture over the caramel. Tap the cake tin on the counter a few times and pop any stubborn air bubbles on the surface with a tooth pick.
Bake
Place the cheesecake on the top shelf and bake for approximately 15-25 minutes or until the top starts to brown. (For miniature size, reduce this to 12-15 minutes.)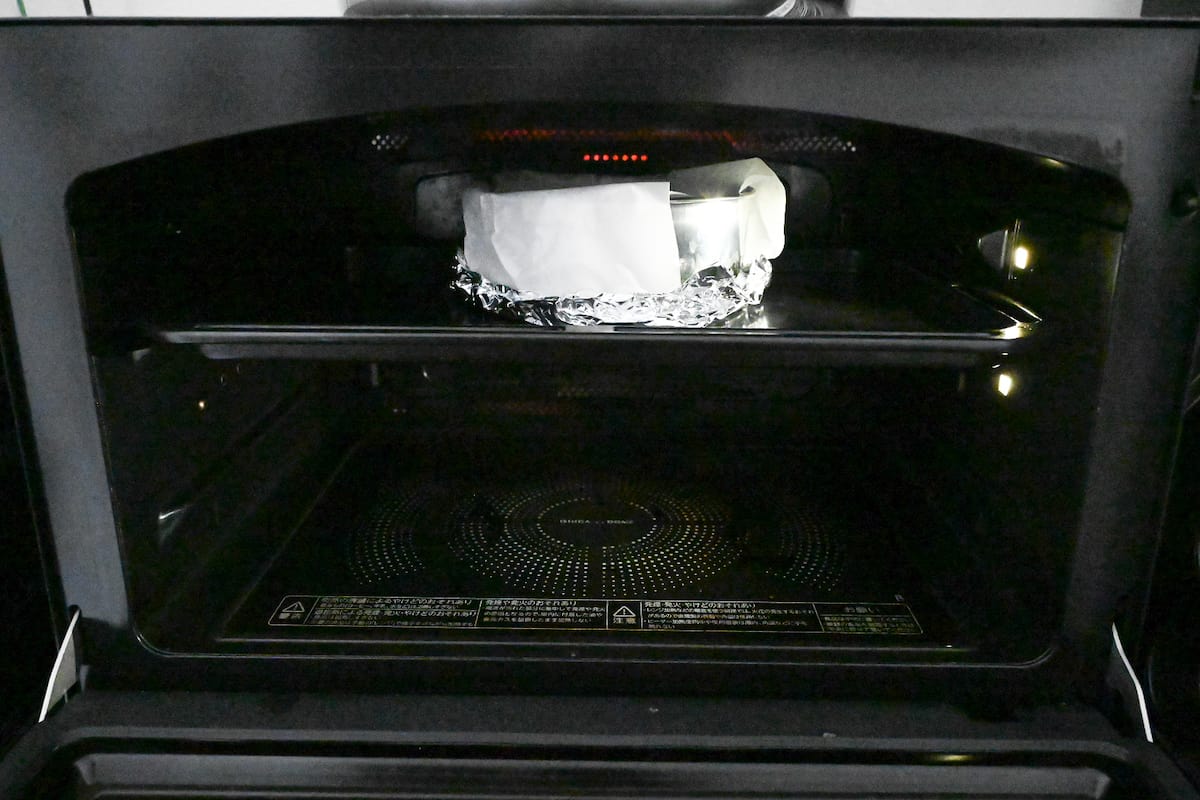 Brush with caramel
Once the cheesecake is slightly brown and firm on top, take it from the oven and gently brush the leftover caramel on top. If the caramel has become thick, heat it on the stove for a 30 seconds to soften it up again. (This will make it easier to spread on the cheesecake without breaking the surface.)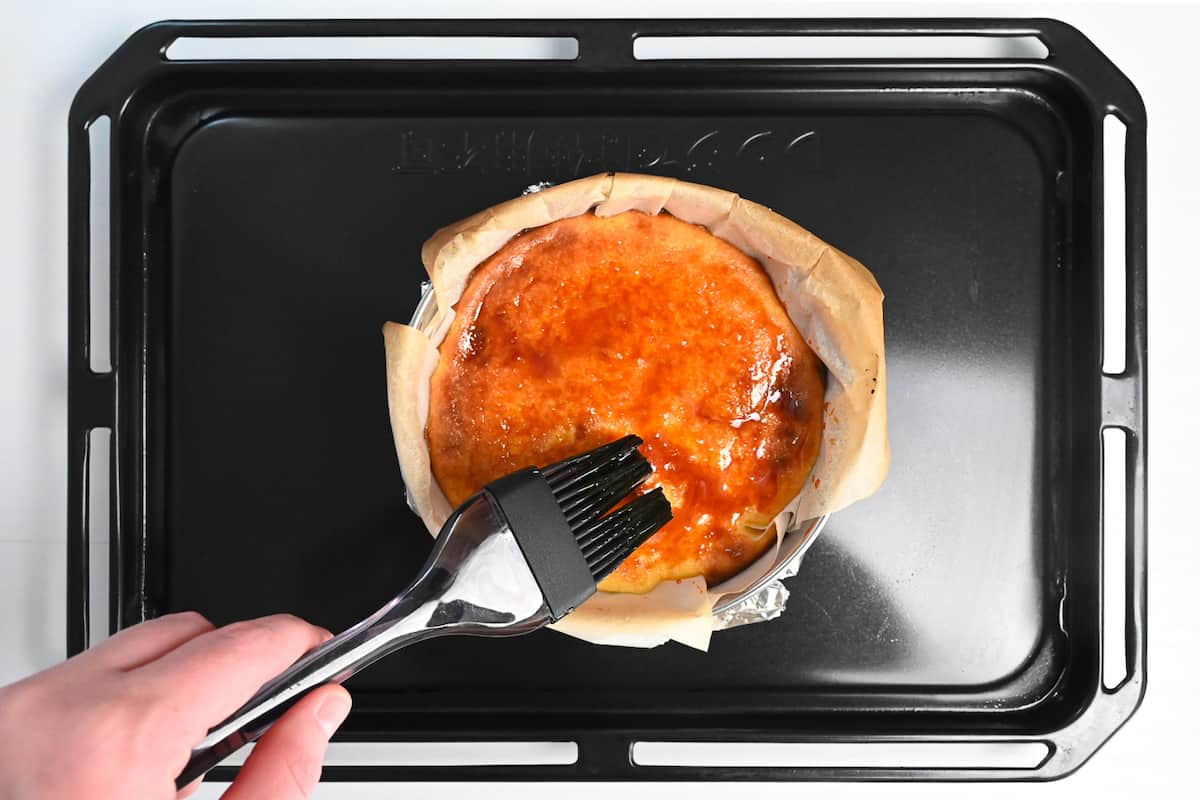 Reduce the heat of the oven by 20°C (approx 70°F) and transfer the cheesecake back to the oven, this time on the middle or lower shelf. Continue to bake for 5-10 minutes to create the burnt caramel flavour.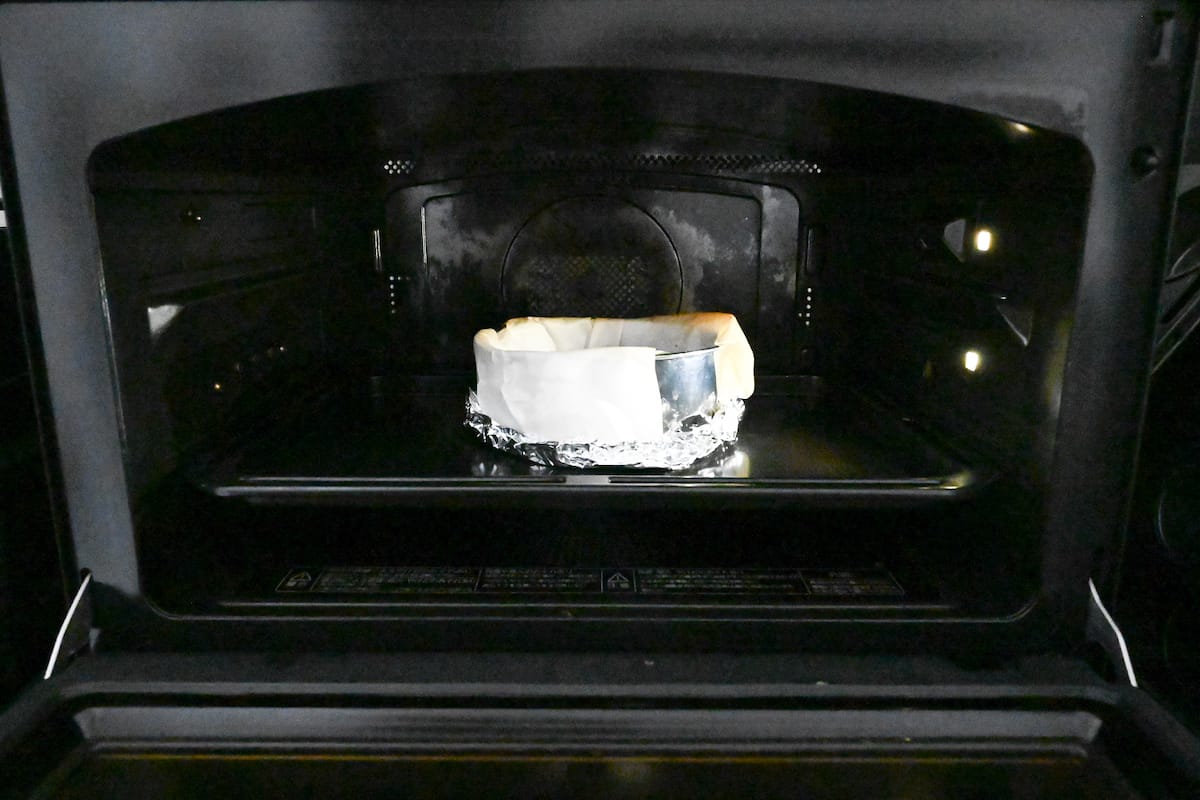 Cool and chill
Once the time is up, remove the cheesecake from the oven and leave it to cool in the pan. It should still have a wobble when it comes out, but the cheesecake will continue to cook in the residual heat even after coming out of the oven. It will firm up further once chilled so please don't be tempted to carry on cooking. It's important not to overcook!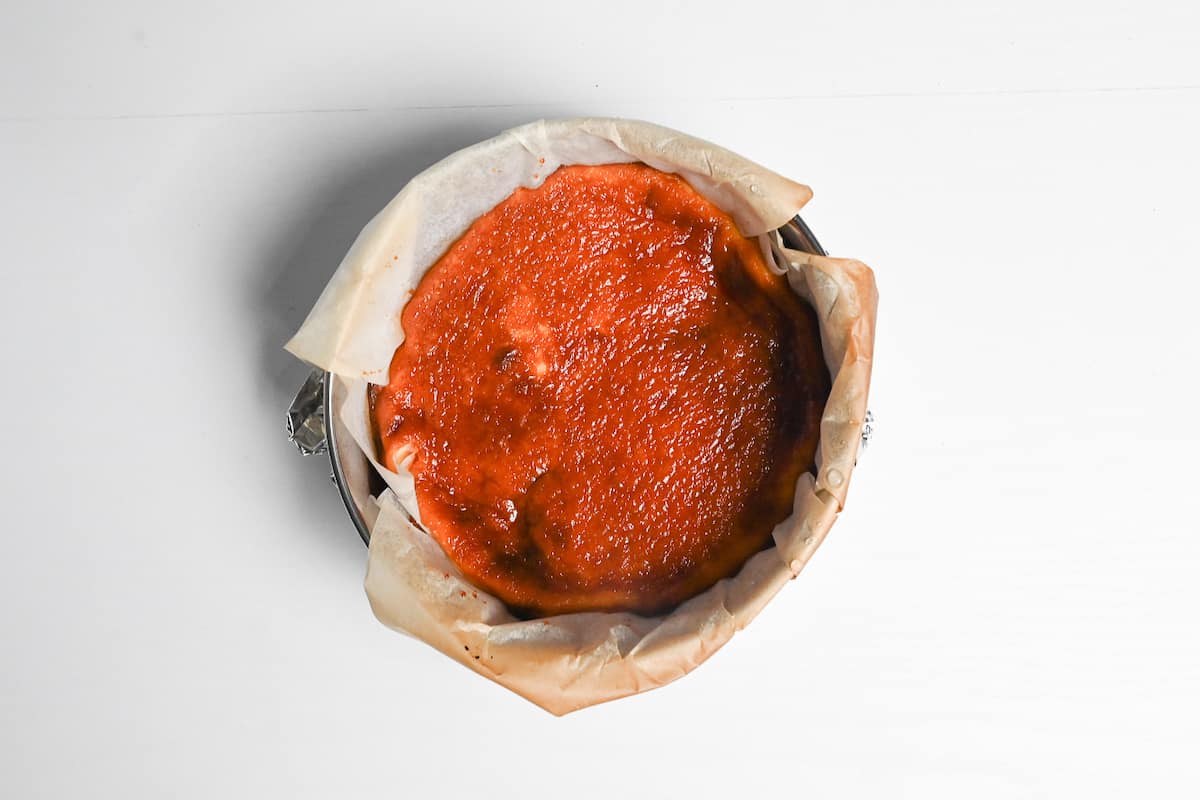 Once cool to the touch, wrap or place in an airtight container and refrigerate for at least 3-4 hours before eating. I recommend overnight if possible!
How to make mini basque-style cheesecakes (Lawson Style)
Basque Cheesecake is usually made as one large cheesecake that you can cut into slices, whereas Lawson's baschee is mini and probably about the size of a cupcake.
The great thing about my recipe, is that you can use it for either size, you just need to adjust the cooking times.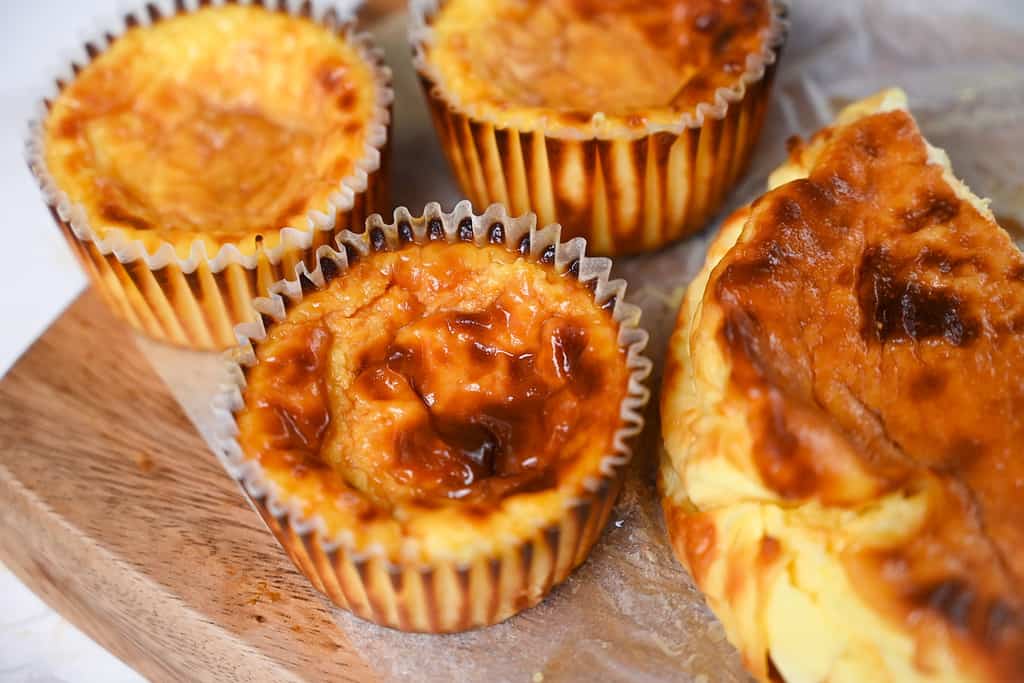 Temperature and timings can vary from oven to oven, so the instructions here are guides based on my own oven and might need to be adjusted. Whether you're making a large basque cheesecake or mini ones, you will need to start with a high oven temperature and then lower it slightly towards the end of baking.
Always make sure the oven is fully preheated and then place the cheesecakes on the top shelf first to help them brown thoroughly on top.
Once the tops are browned, take them out and brush with caramel. Before I put them back in, I lower the oven temperature by about 20-30°C (70-80°F) and turn the cake tin around so that it cooks more evenly. I also move the cheesecake to a lower shelf to avoid burning the caramel too much.
Once you take it out of the oven, it should still have a wobble. It will continue to cook with the residual heat when cooling and then set fully once refrigerated. Be careful not to overbake.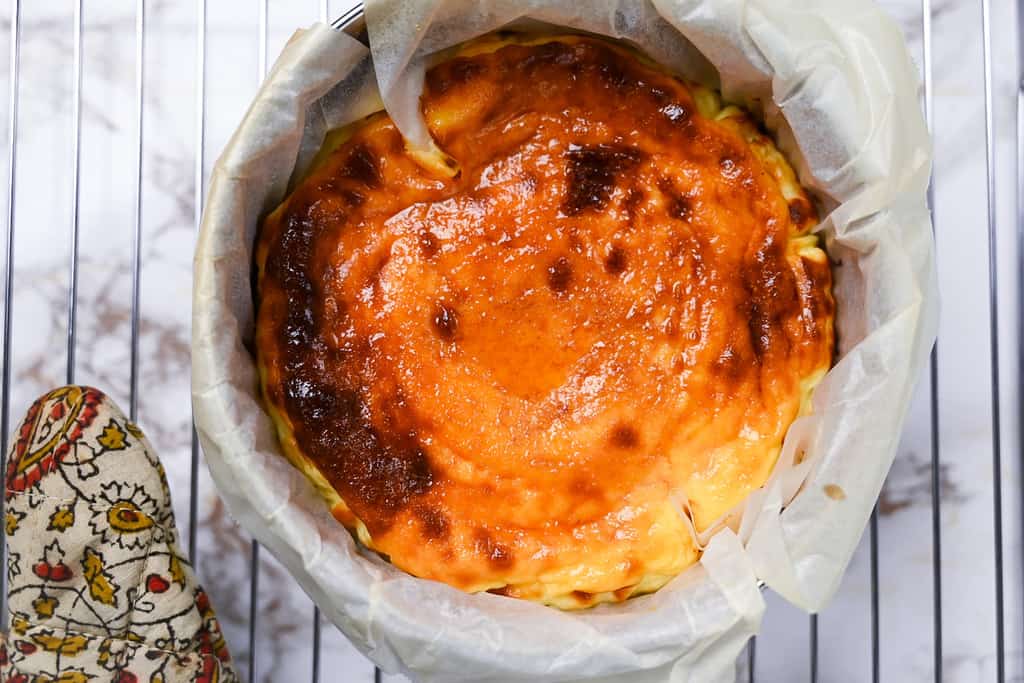 Here are the approximate oven times and temperatures based on the size of your cheesecakes.
15cm (6inch) Cake Tin (approx total time 30 mins)
First 15-25 mins: 220-230°C (430-450°F)
Last 10 mins: 190-200°C (375-390°F)
6 x Muffin cases (approx total time 17 mins)
First 12-15 mins: 210-220°C (410-430°F)
Last 5 mins: 180-190°C (350-375°F)
As I mentioned before, this is just an approximate time based on my own oven and texture preference. I like a soft cheesecake that is not too burnt on top, you can cook for more or less time depending on your personal preference!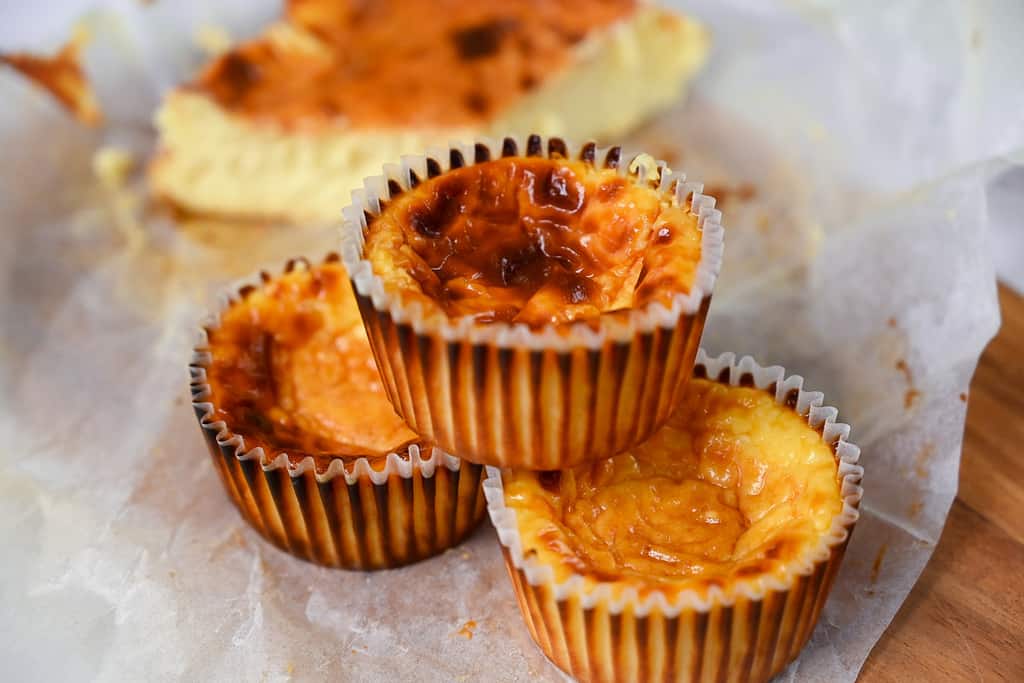 Storage
I know it's almost impossible to resist, but basque cheesecake definitely has a better taste and texture after being in the fridge over night. It needs about 30 minutes to cool down and about 3 hours in the fridge at least before you can peel off the baking parchment without breaking it.
Whenever I make this recipe, I try to make it in the evening. That way, I can let it cool, put it in the fridge and go to sleep... that's my way of removing the temptation of eating it sooner. If you're making this for a guests or as a present, I definitely recommend making it the night before!
For storage, keep it in an airtight container or plastic wrap in the fridge for about 5 days or the freezer for 2-3 months. Thaw in the fridge overnight to defrost.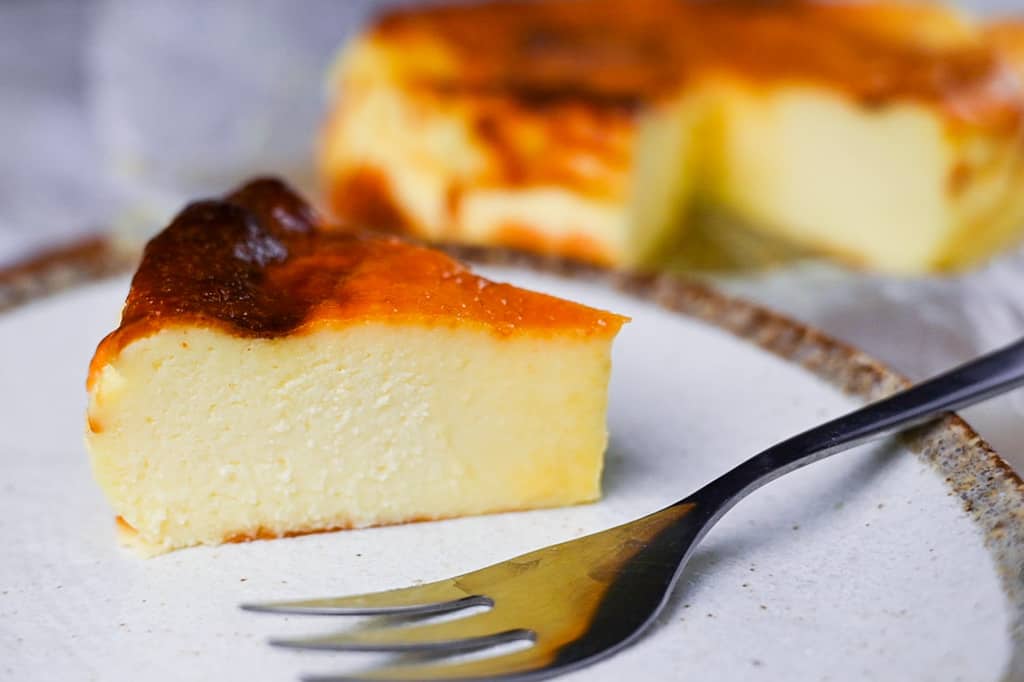 I hope you enjoy this extra cheesy, Japanese Basque-style cheesecake inspired by Lawson's baschee! If you try the recipe, be sure to let me know what you thought in the comments below! Happy baking!
Japanese Basque Style Cheesecake (Lawson's Baschee Recreation Recipe)
How to make rich, smooth and decadent Japanese basque style cheesecake flavoured with caramel and inspired by Lawson's popular "baschee".
Ingredients
Caramel sauce
25

g

white sugar

-

caster or granulated

30

ml

water
Baschee
3

slices

processed cheese

30

ml

whole milk

100

g

cream cheese

-

I use Philadelphia or Yukijirushi

2

tsp

unsalted butter

50

g

white sugar

-

caster or granulated

1

tbsp

honey

1

egg white

2

pasteurized egg yolk

1

tbsp

cake flour

1

pinch

salt

200

ml

heavy cream
Instructions
Measure out all of the cheesecake ingredients and bring them to room temperature (about 20 minutes).

Line the cake pan with one large scrunched piece of baking parchment, big enough to come up the sides. If you're using a pan with a removable base, wrap the bottom with foil to prevent leaks. (For mini baschee, use a muffin pan and place 6 muffin cups inside.)
Caramel
In the meantime, make the caramel. Measure out

30 ml water

, add one third of it to a small saucepan along with

25 g white sugar

and mix.

Place the sauce pan on the stove and bring to a boil over a medium heat.

When the sugar starts to turn golden, add another third of the water and swirl the pan around (do not mix). Be careful of splashing.

Return the pan straight to the heat and once it starts to turn amber, add the remaining water.

Take it off the heat and swirl the caramel around in a circular motion. This will get some air into the caramel and allow it to cool down slightly.

Pour half of the caramel onto the base of the parchment paper and save the other half for later.
Basque Cheesecake
Preheat your oven to

220

°C

-

230

°C

. (If you're making mini baschee then preheat to a slightly lower heat of

210

°C

)

Rip

3 slices processed cheese

into small pieces and place them in a microwavable bowl with

30 ml whole milk

. Microwave at 600W in 20-second intervals, whisking between each time. Repeat until the cheese has melted and combined with the milk.

Next, add

100 g cream cheese

and whisk until smooth. (You can microwave for 20-40 seconds if it's still too firm to mix.)

Add the

2 tsp unsalted butter

,

50 g white sugar

and

1 tbsp honey

, whisking between each ingredient.

In a small separate bowl, mix

1 egg white

and

2 pasteurized egg yolk

together using a fork. Mix thoroughly enough to combine, but gently to avoid creating too many air bubbles.

Add the egg mixture to the cheesecake batter one third at a time and stir gently with a wooden spoon or silicone spatula.

Sift in

1 tbsp cake flour

and add

1 pinch salt

, mix until smooth.

Pour in

200 ml heavy cream

one third at a time and mix well. The batter should be a smooth and quite thin consistency. 

Pour the mixture through a mesh strainer to remove any stubborn lumps of egg or flour.

Pour it into the lined cake pan. Tap the tin on the counter a couple of times and use a toothpick to pierce any air bubbles on the top.

Place the cheesecake on the top shelf of the preheated over. For the large size, bake for 15-25 mins. For muffin size bake for  12-15 mins.

Once the top starts to firm up and turn brown, take the cheesecake from the oven and gently brush the surface with the other half of the caramel sauce. (If the caramel sauce has become too thick, you can heat it on the stove for a minute to melt it.)

Lower the oven heat by

20

°C

-

30

°C

. For the large size, this will be

190

°C

. For the muffin size, lower to

180

°C

. Return the cheesecake to the oven on a lower shelf and bake for another 5-10 minutes.

Once the cheesecake is beautifully browned on top, remove from the oven and leave to cool in the pan for 30 mins to 1 hour. (It will still be wobbly when you take it out, this is fine! It will continue to cook in the residual heat.)

Transfer to an airtight container and chill in the fridge for at least 3-4 hours (preferably overnight).

Enjoy!
Notes
If you don't want to use processed cheese, you can switch out the cheese slices and milk and double the cream cheese instead.
If you don't have a muffin tin, you can also place muffin cases in ramekins. (Nice for presentation too.)
If doubling or tripling the recipe, I recommend making multiple cheesecakes rather than one in a larger cake tin. (Larger size cake tins require longer cooking times and potentially different temperatures to ensure it's cooked properly. Since I haven't tried this myself, I can't recommend it.)
Nutrition
Serving:
100
g
Calories:
315
kcal
Carbohydrates:
19.4
g
Protein:
5.9
g
Fat:
25.4
g
Saturated Fat:
14.12
g
Polyunsaturated Fat:
0.93
g
Cholesterol:
117
mg
Sodium:
251
mg