If you love anything pumpkin-spiced, you're going to love this spiced kabocha loaf cake! It's the perfect autumn treat, made with fresh kabocha and seasoned with cinnamon and ginger. Enjoy it straight out of the oven or even toasted!
Disclaimer: This post contains Amazon affiliate links. Sudachi Recipes earn a small percentage from qualifying purchases at no extra cost to you. See disclaimer for more info.
Jump to:
What is Kabocha?
Kabocha (かぼちゃ), also commonly known as "Japanese pumpkin", is a type of winter squash with dark green edible skin and sweet, smooth orange flesh. Its flavor is sometimes compared to butternut squash, but in reality, the deep sweetness is more like a cross between a pumpkin and a sweet potato.
In Japan, kabocha is planted in the spring and harvested late summer to early autumn. Once harvested, it can be stored for several months and is considered a valuable source of nutrition during the winter. There is even a Japanese custom of eating kabocha on the day of the winter solstice, where it is believed to bring good health during the chilly winter months.
Thanks to kabocha's naturally sweet and complex flavor, it is a versatile ingredient that is commonly used in both sweet and savory dishes.
In this recipe I will show you how to fully utilise Japanese kabocha to make a deliciously comforting spiced kabocha loaf cake!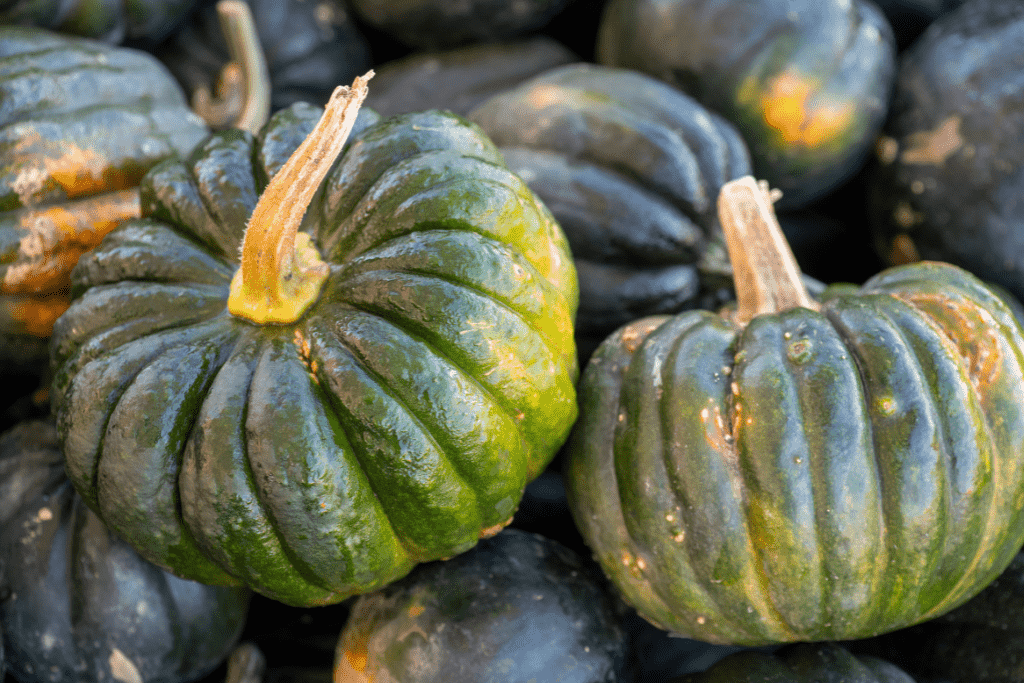 What is Kabocha Loaf Cake?
Kabocha loaf cake is a delicious cake flavored with pureed kabocha and spices, baked in a rectangular loaf pan. The recipe was inspired by pumpkin bread, however, since regular pumpkins are not so easy to find in Japan, I decided to try and create my own pumpkin loaf using the more common kabocha.
I must say that the natural sweetness of kabocha really shines through in this loaf, and the addition of warming spices gives it a comforting feeling that makes it perfect for autumn. I also love to add some coarse sugar and pumpkin seeds to the top to give a bonus crunchy texture.
I make kabocha loaf cake every autumn and enjoy it toasted with a thin layer of butter and honey. It makes the perfect snack, afternoon tea cake or breakfast treat!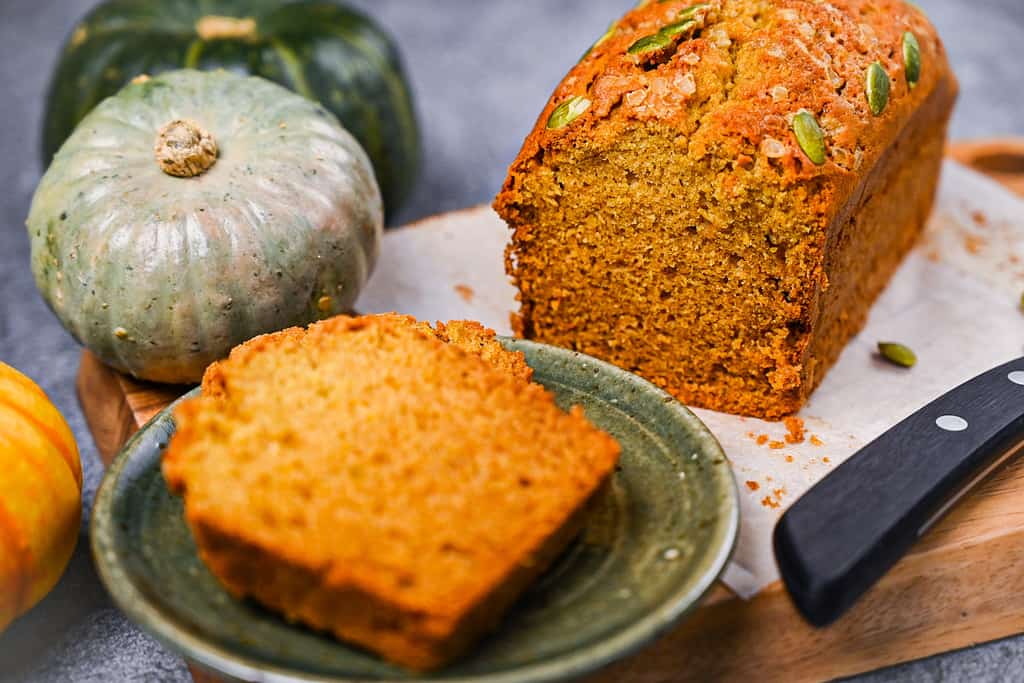 Ingredients and Substitutions
To make kabocha loaf cake, you will need the following ingredients:
Kabocha - The smooth texture and sweet taste of kabocha makes it the star of this dish! However, this recipe also works with pumpkin puree if you can't get hold of kabocha. If using pumpkin puree, I would use half a 15oz can (425g) per loaf.
All-purpose flour - Although this loaf cake might be considered a type of "quick bread" (like pumpkin or banana bread), it is important not to use bread flour since it will make the texture too heavy. A light flour with less gluten works best, so I recommend all-purpose flour or cake flour.
Baking soda - Reacts with the brown sugar to help the loaf rise.
Cinnamon and ground ginger - These spices add flavor and warmth to the loaf. Feel free to add other spices commonly associated with pumpkin such as nutmeg, allspice or cloves (be sparing though, too many spices will overpower the kabocha!).
Salt - a small amount of regular sea salt helps enhance the sweetness and flavors of the other ingredients.
Light brown sugar - it is important to use light brown sugar in this recipe, not only for sweetness and a moist texture but also because the acidity in light brown sugar reacts with the baking soda creating the perfect rise and slightly cracked top.
Egg - Plays an essential role in the structure and texture of the loaf.
Melted butter - Adds moisture and a rich buttery flavor. I recommend unsalted to have more control over the salt content.
Coarse sugar - I sprinkle the top of the loaf with turbinado sugar (known in Japanese as "zarame") to create a crunchy texture.
Green pumpkin seeds - add to the top before baking for decoration and extra crunch.
Step-by-Step Process
Here are my step by step instructions for how to make delicious spiced kabocha loaf. For ingredient quantities and simplified instructions, scroll down for the printable recipe card.
How to make Kabocha Purée
Cut the kabocha in half, then scoop out the pulp and seeds. You can roast the seeds and make them into a snack. Otherwise, discard them.
In this recipe, I recommend using between 170-240g of kabocha, which is about 350-400g before peeling and scooping out the pulp. This is equal to approximately one quarter of a medium (regular sized) kabocha.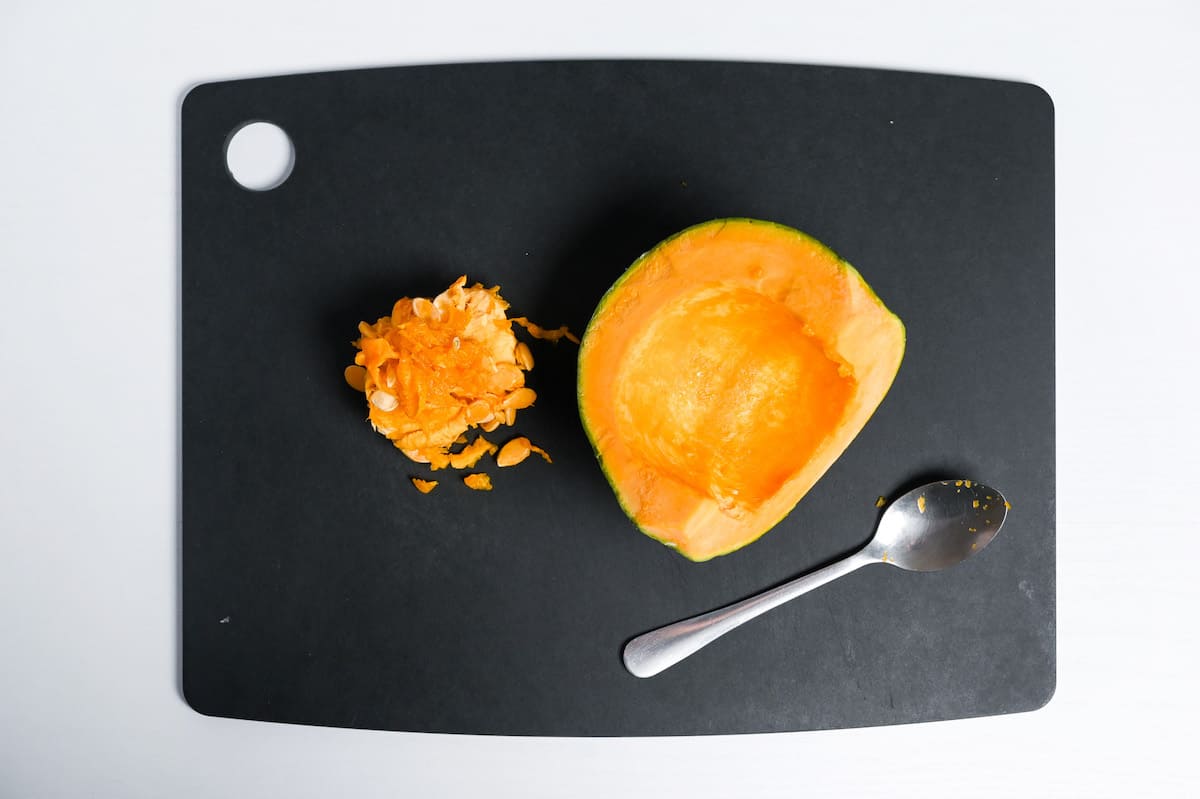 Although the skin is edible, I prefer to peel it off for a smoother texture in the loaf. This is optional, but highly recommended. I use a heavy duty potato peeler to remove the skin.
To speed up the cooking process, cut the kabocha into small cubes. Smaller cubes cook faster, and will be easier to mash later. Try and cut them so that they are uniform, this will ensure even cooking.
In order to mash the kabocha, we must first cook it. There are a number of ways to do this (boiling, steaming, baking) but I find the most efficient method is to microwave them. Simply place the kabocha in a heatproof bowl with a splash of water, cover with plastic wrap and microwave for 4 minutes at 600W.
The kabocha should be soft enough to easily pierce with a fork.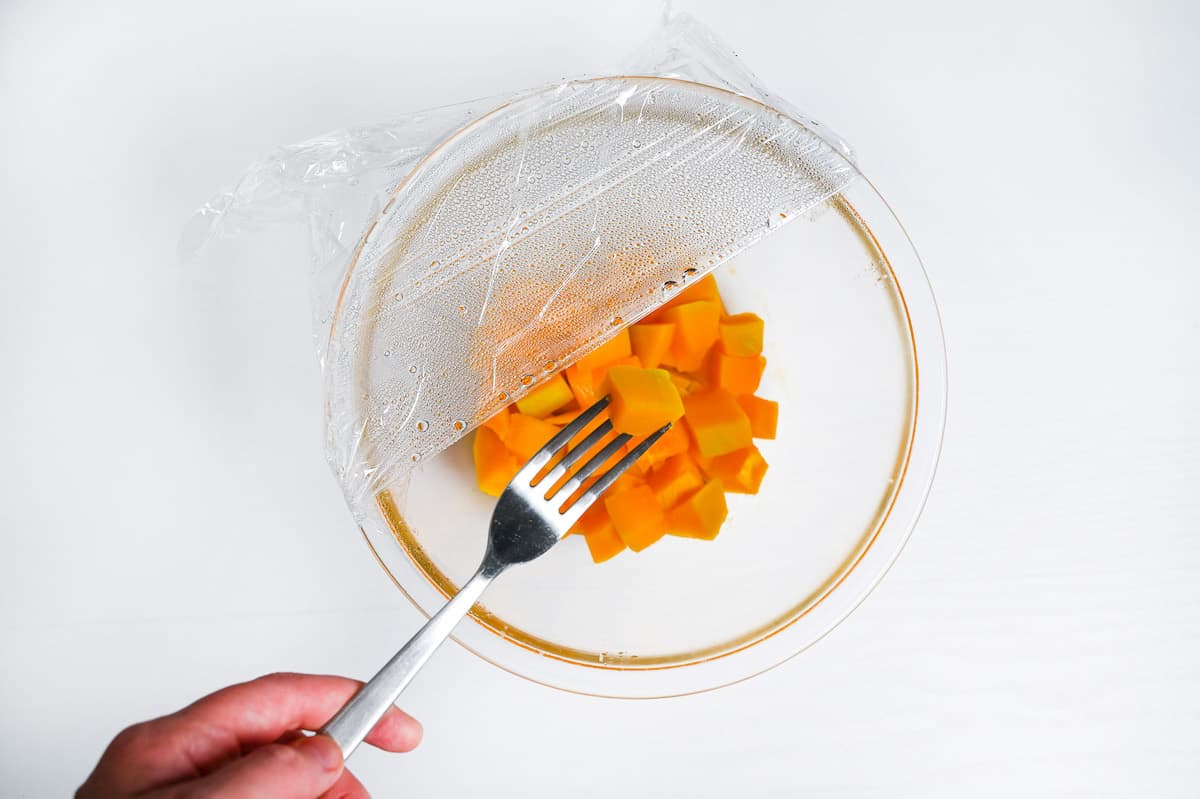 Carefully peel back the plastic wrap (steam will fly out so be careful!) and test. If the kabocha is still hard, cover once more and continue to heat in 20-30 second intervals until soft enough to pierce.
Doubling or tripling the recipe?
Using more kabocha will increase the microwaving time. If you double or triple the recipe, microwave for 2-3 minutes at a time and mix each time to ensure the kabocha is evenly cooked.
Mash the kabocha until smooth. I used a potato masher for this.
If you want to ensure the kabocha purée is perfectly smooth and combines seamlessly with the batter, I recommend taking one extra step to smooth it. I used a fine mesh sieve and worked the kabocha through by scraping it with a spatula. If you're looking for a quicker and less labor-intensive method, an immersion blender or food processor will work perfectly.
Once you're happy with the consistency of your kabocha, cover it and leave it to cool. It should be cool to the touch before adding it to the cake mixture.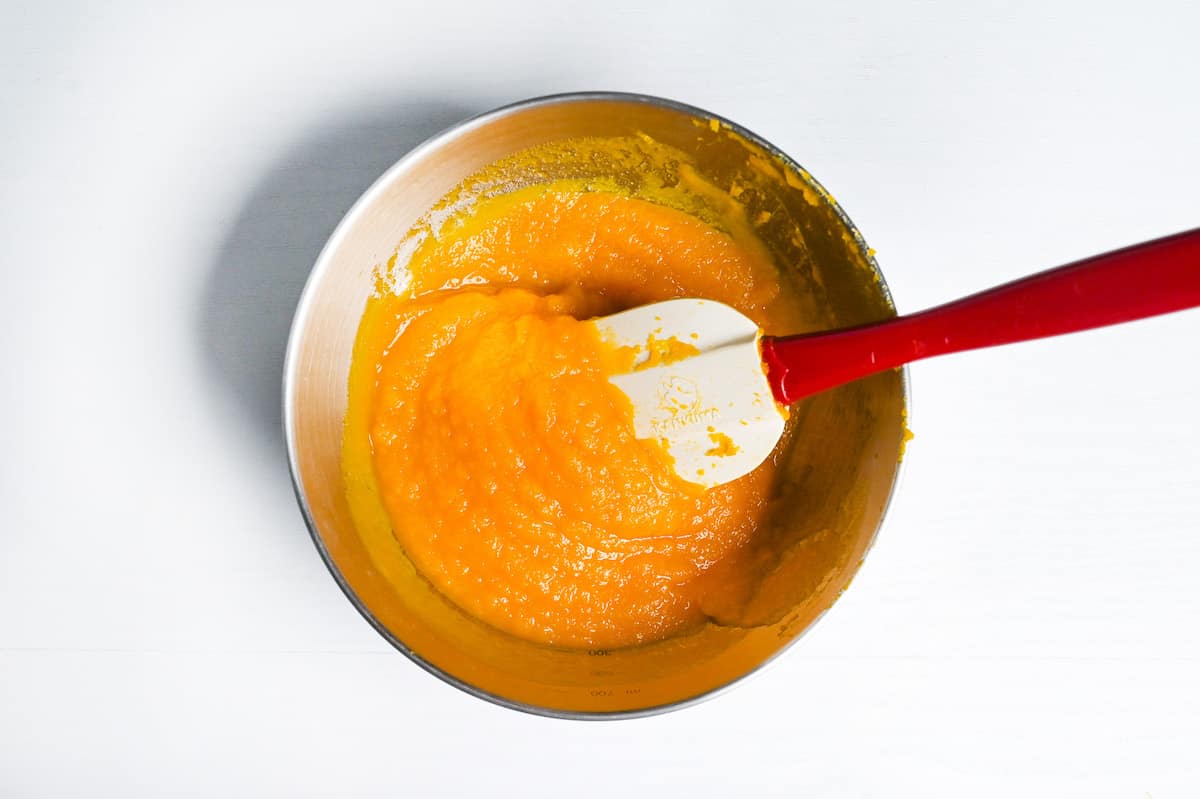 How to Make Kabocha Loaf Cake
Start by preheating your oven to 170°C/338°F (160°C/320°F fan) and line a loaf pan with parchment paper.
Sift the flour into a bowl and add the baking soda, cinnamon, ground ginger and pinch of salt. Mix until evenly distributed and set aside.
In a separate bowl, add the light brown sugar and egg, then whisk together until pale and smooth.
Then add the kabocha purée from earlier.
Whisk until evenly distributed.
Combine wet and dry ingredients
Pour the dry ingredients into the wet ingredients, and fold together using a spatula or spoon. Be careful not to mix too vigorously or for too long; overmixing will produce a dense and chewy cake.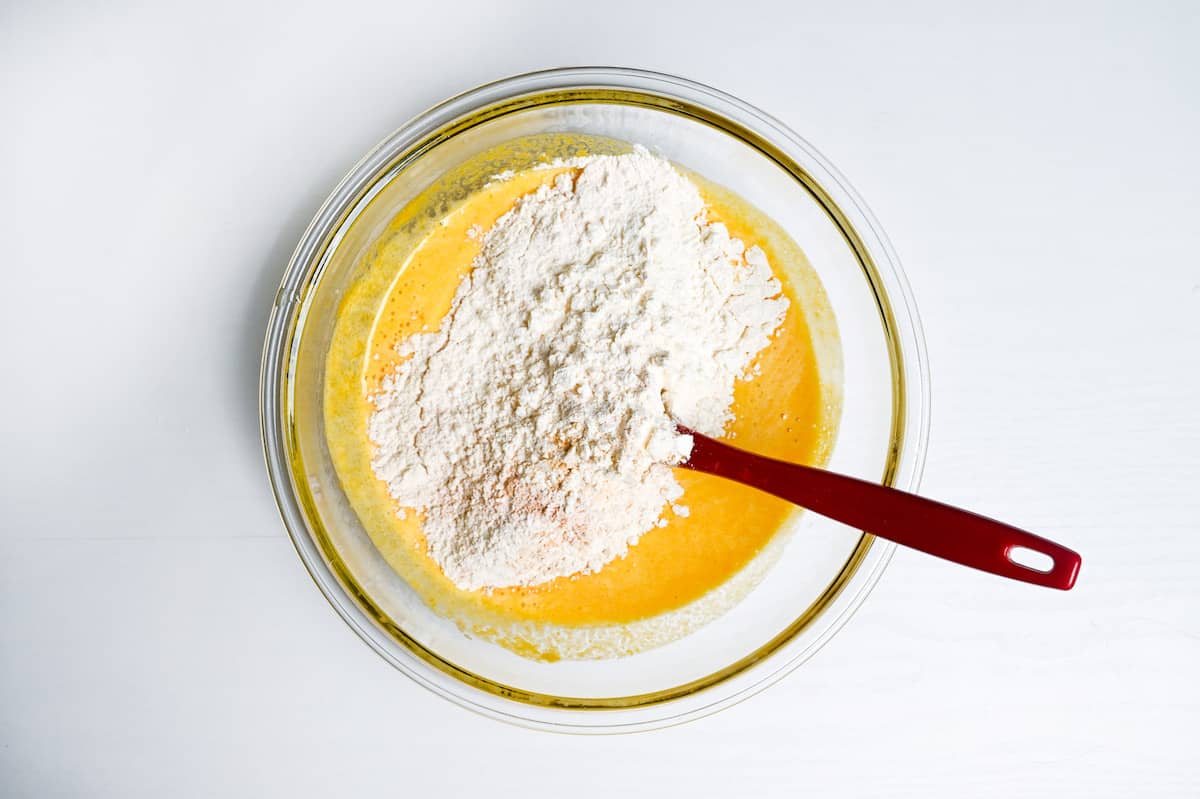 Pour the melted butter into the batter and continue to fold until fully incorporated.
The final batter should look something like this:
Pour the batter into the lined loaf pan and sprinkle the top with coarse sugar (I used turbinado) and green pumpkin seeds. The toppings are optional but they add a wonderful crunchy texture to the top!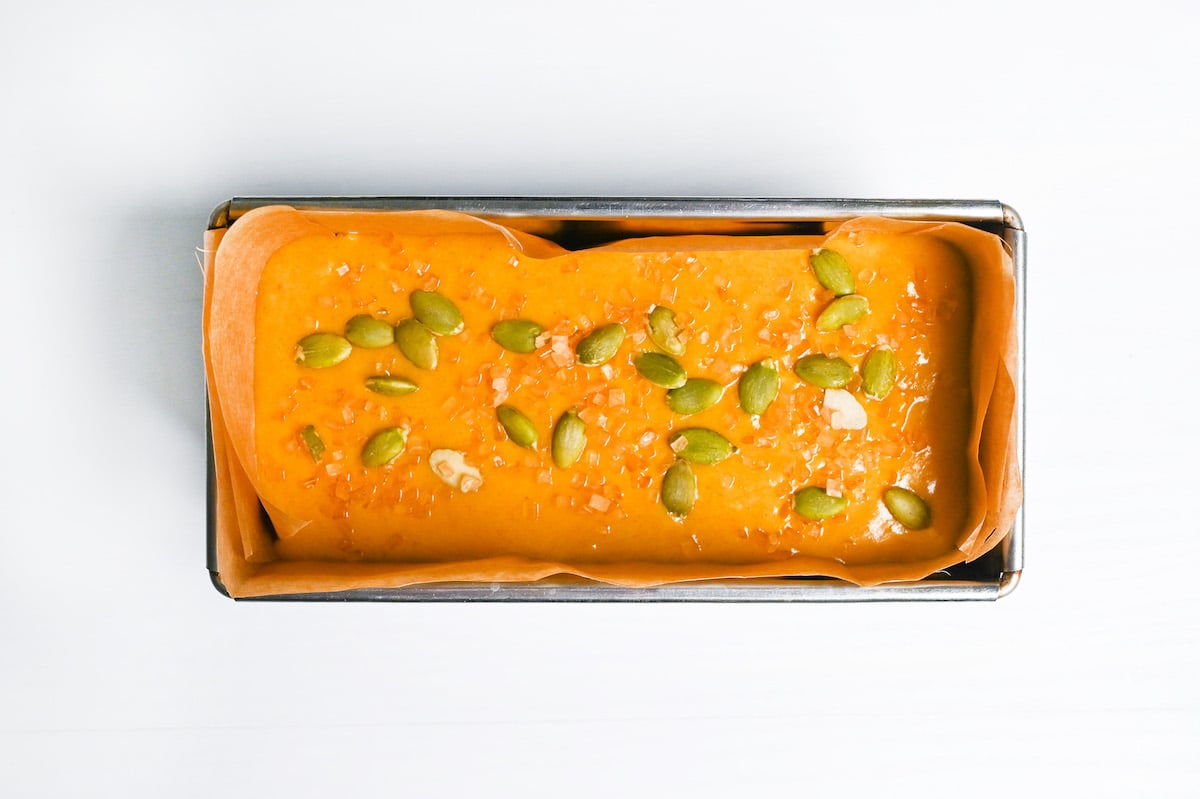 Bake for 45 minutes or until a toothpick comes out clean with a few moist crumbs.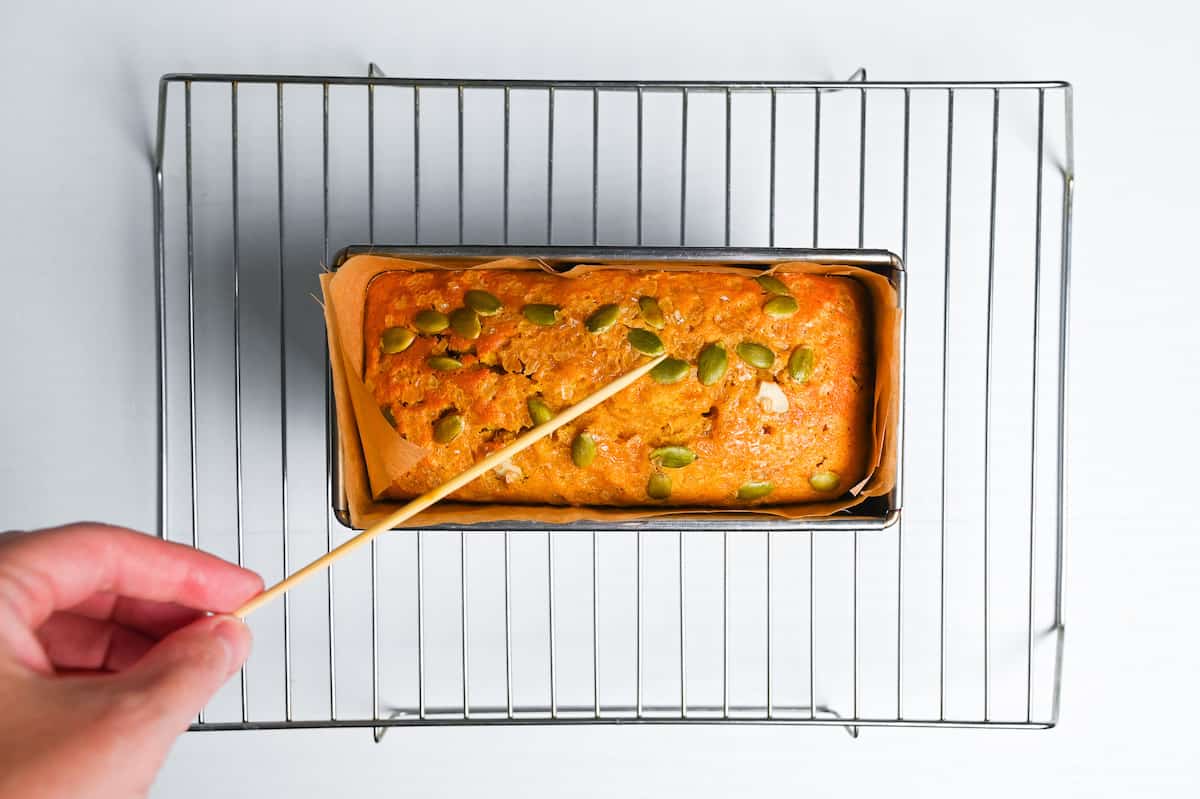 Leave to cool slightly before removing it from the pan, then transfer it to a wire rack to cool completely before storing.
Feel free to cut a slice while it's still warm, and enjoy!
Tips and Tricks
Kabocha loaf cake is easy to make, but I have a few tips and tricks to ensure it is perfect every time!
Tips & Tricks for Perfect Kabocha Loaf Cake
Remove the kabocha skin - this might be more down to personal preference, but I find the skin adds a strange texture to the cake.
Use a sharp knife to cut - kabocha is very firm so make sure your knife is properly sharpened. You're more likely to get injured with a blunt knife.
Cut into small cubes - they cook faster and this saves time.
Adjust the kabocha flavor to your taste - this recipe is pretty forgiving and the amount of kabocha doesn't need to be exact. You can add more or less depending on how strong you want the kabocha taste to be. For each loaf, I recommend between 170-240g after peeling/scooping. Be aware that adding more pumpkin will add more moisture to the batter and it might take longer to bake.
Add toppings - although this is optional, it really improves the texture of the loaf! The crunchy top is one of my favorite things about this recipe.
Don't overbake - overbaking will cause the loaf to be dry. When it's nearly done, check with a toothpick or bamboo skewer regularly. It shouldn't have any wet batter on it, but it also shouldn't come out completely clean. A few moist crumbs means it is perfectly cooked!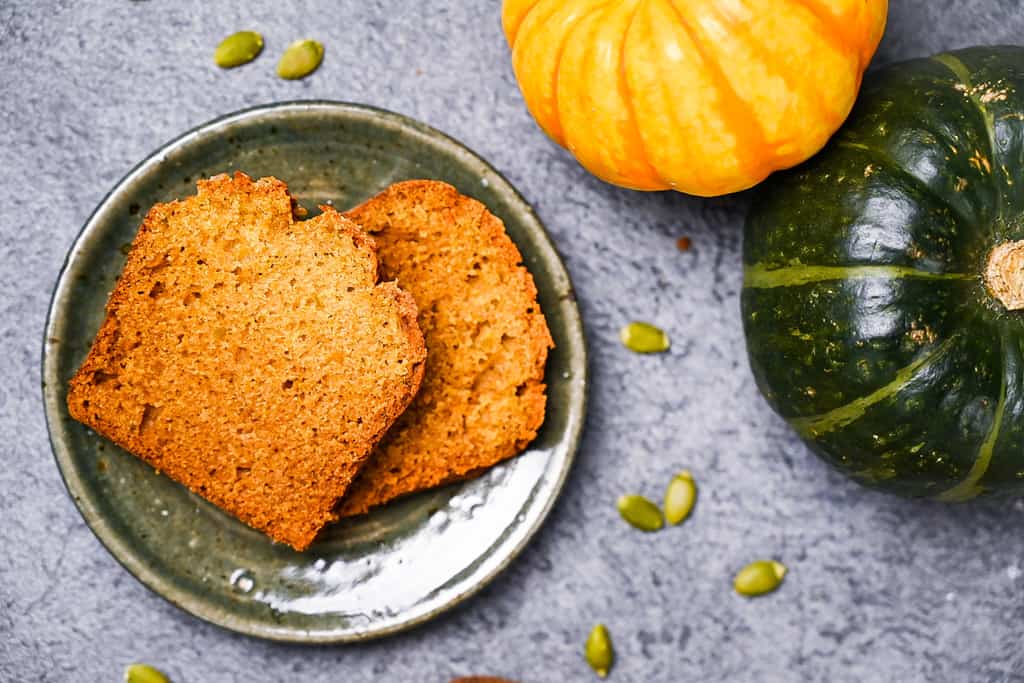 What Pan Size to Use
This recipe makes enough batter for one small loaf tin. My loaf tin is 18x8x6cm (7x3x2.3inches), which fits about 2 cups (500ml) worth of loaf mixture.
Originally, I recommended increasing the recipe if you are using a standard American loaf pan (9x5) but actually, after some feedback from one of our readers, it turns out there is no need to increase it. The loaf rises a lot in the oven, so it's actually enough batter even for pans larger than the one I used.
Just be aware that the baking time might change depending on the size of your pan. (Deeper will take longer, wider will bake quicker.)
If increasing the recipe, I recommend using multiple pans rather than bigger pans. This will make it easier for you, since you won't need to adjust the baking time. (You might need to rotate the pans to ensure even cooking though.)
How to Store
I recommend eating a few warm slices straight from the oven to fully appreciate the freshly made kabocha pumpkin bread but if you don't finish the loaf, you can store it in an airtight container. It will keep at room temperature for about 2 days (although, I don't recommend this in summer as it tends to get very sticky), about 5 days in the fridge and up to 3 months in the freezer.
Kabocha loaf can be thawed at room temperature or defrosted in the microwave. If the loaf has dried out, you can revive it by microwaving for 10-20 seconds. Toasting will give it that freshly baked feeling and I highly recommend it!
Room temperature - 2 days in an airtight container. (Not recommended in summer.)
Refrigerated - 5 days.
Frozen - 3 months.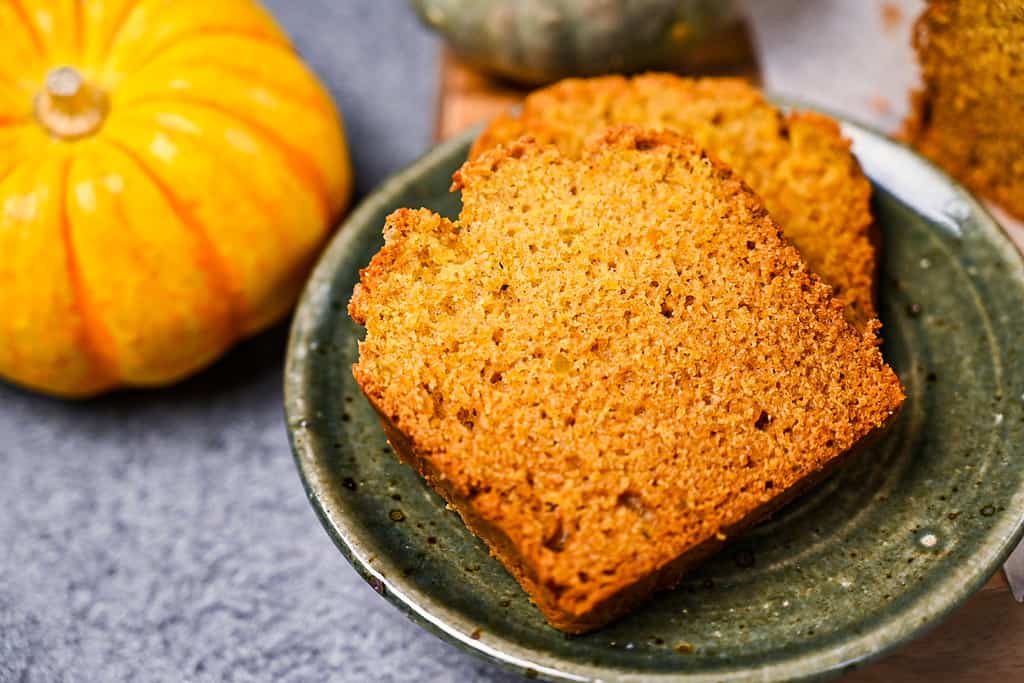 I seriously love this loaf straight out the oven, it's also great toasted and then topped with a bit of butter and honey. Delicious!
I hope you enjoy this spiced kabocha loaf recipe! If you try it out, I'd really appreciate it if you could spare a moment to let me know what you thought by giving a review and star rating in the comments below. It's also helpful to share any adjustments you made to the recipe with our other readers. Thank you!
More Kabocha Recipes
Kabocha Fans will Love These Recipes:
Spiced Kabocha Loaf Cake (pumpkin bread)
How to make delicious Spiced Kabocha Loaf Cake (pumpkin bread). Fits 7"x3" or 9"x5" loaf pan.
Ingredients
170-240

g

kabocha squash

-

(after peeling) OR canned pumpkin puree

½

tbsp

water

140

g

all-purpose flour

½

tsp

baking soda

½

tsp

cinnamon

½

tsp

ground ginger

1

pinch

salt

135

g

light brown sugar

1

medium egg(s)

70

g

melted butter

-

unsalted

1

tsp

coarse sugar

-

(turbinado/zarame or similar) optional

green pumpkin seeds

-

optional
Instructions
How to Make Kabocha Puree
Cut

170-240 g kabocha squash

into small pieces and place them in a microwavable bowl.

Sprinkle with

½ tbsp water

and cover the bowl with plastic wrap. Microwave the kabocha for 4 minutes at 600W. (If doubling or tripling the recipe, it will need longer.)

Remove the bowl from the microwave and peel back the plastic wrap, be careful of the steam. Pierce a larger piece with a fork to check it's soft enough. If it's not, return to the microwave and heat at 20-30 seconds intervals until soft.

Mash the kabocha with a potato masher until smooth.

Optional step: make your kabocha puree extra smooth by either blitzing it in a food processor, immersion blender or worked through a fine mesh sieve.

Leave to cool. (It should be cool to the touch before use.)
Making the Kabocha Loaf
Preheat the oven to

170

°C

(

160

°C

fan-assisted) and line a loaf tin with baking paper.

Sift

140 g all-purpose flour

into a large bowl and add

½ tsp baking soda

,

½ tsp cinnamon

,

½ tsp ground ginger

and

1 pinch salt

. Mix well.

Take a separate bowl and whisk

135 g light brown sugar

and

1 medium egg(s)

until pale and smooth.

Add the cooled kabocha to the egg and sugar mixture, and mix until evenly distributed.

Fold the dry ingredients into the wet ingredients with a spatula and be careful not to overmix.

Pour

70 g melted butter

into the batter and mix until all the ingredients are well combined.

Pour the batter into the loaf tin and sprinkle with

1 tsp coarse sugar

and

green pumpkin seeds

(optional).

Place in the oven on the middle shelf and bake for 45 minutes.

Check the loaf with a toothpick, if it comes out clean it's done. If it needs longer, put it back in the oven in 3-5 minute intervals and keep checking until the toothpick comes out clean. (A few moist crumbs means it's done. If the toothpick has any wet batter it needs more time.)

Allow to cool slightly before removing it from the loaf tin and transfering to a wire rack to cool completely.

Cut into slices and enjoy!
Notes
Keep in an airtight container at room temperature for 2 days OR the fridge for up to one week.
Freeze for up to 3 months and defrost at room temperature before serving.
Perfect for toasting.