Gotcha Pork Roast is a creative dish made with creamy, seasoned mashed potato wrapped in delicious bacon and drizzled with a rich, red wine sauce. This recipe is my take on the dish made famous by popular anime "Shokugeki no Soma". Enjoy!
Disclaimer: This post contains Amazon affiliate links. Sudachi Recipes earn a small percentage from qualifying purchases at no extra cost to you. See disclaimer for more info.
Jump to:
What is Gotcha Pork Roast?
Gotcha roast pork (なんちゃってローストポーク) is a made up dish featured in the anime/manga "Food Wars!" (Shokugeki no Soma). It appeared in 1st episode of the TV series. It's basically an improvised dish that tries to mimic the delicious taste of roast pork using limited ingredients.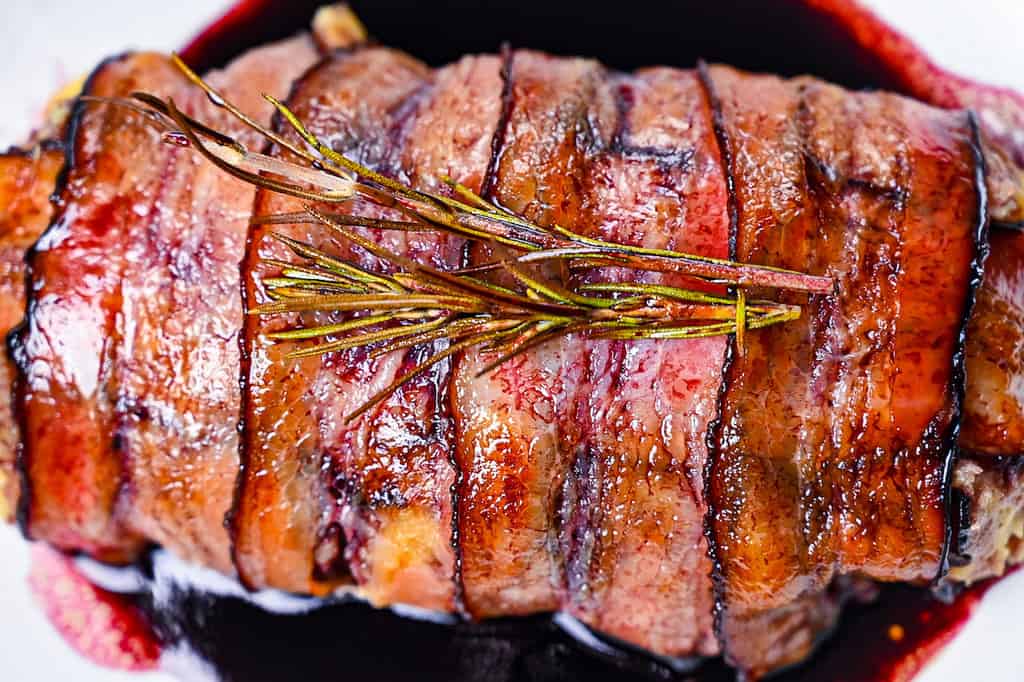 Creamy mashed potatoes are mixed with things like onions and mushrooms which add depth and umami, then it's shaped into a cylinder and wrapped in bacon. Finally, the gotcha pork roast is oven baked so that the fat from the bacon penetrates the potato and adds a meaty flavour.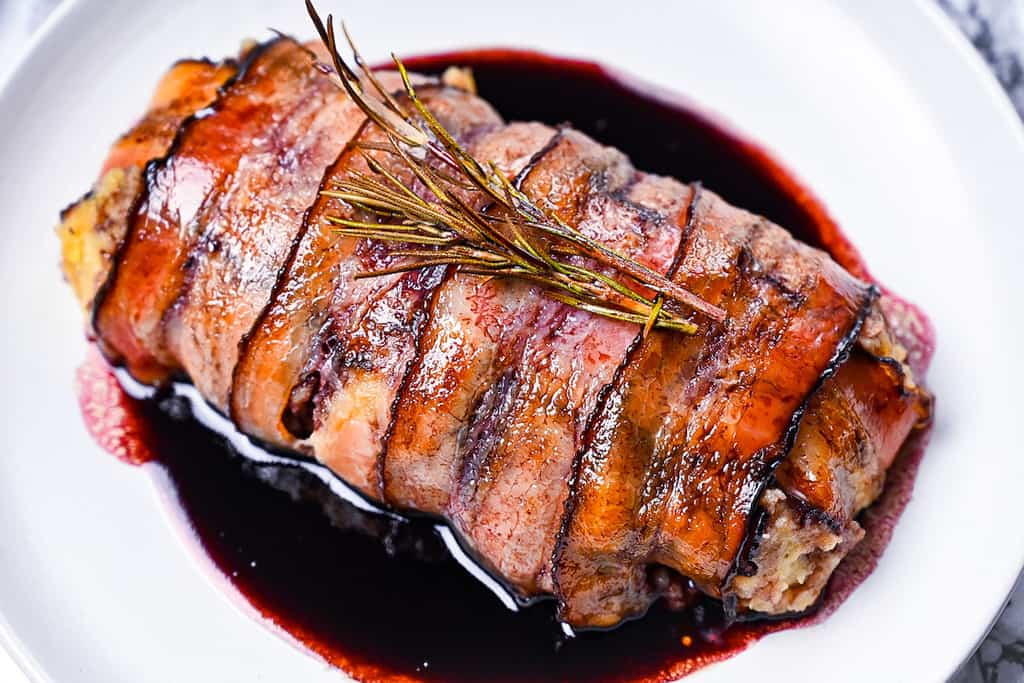 Food Wars! Shokugeki no Soma
Food Wars! (Shokugeki no Soma) is a popular Japanese manga and anime that tells the story of Soma Yukihara, a young aspiring chef who attends an elite culinary school and participates in food competitions called "shokugeki".
Sometimes the recipes are twists on classic dishes, other times they are completely made up. Either way, each episode introduces a different dish and despite the fact that the food is illustrated, they always look mouthwateringly delicious!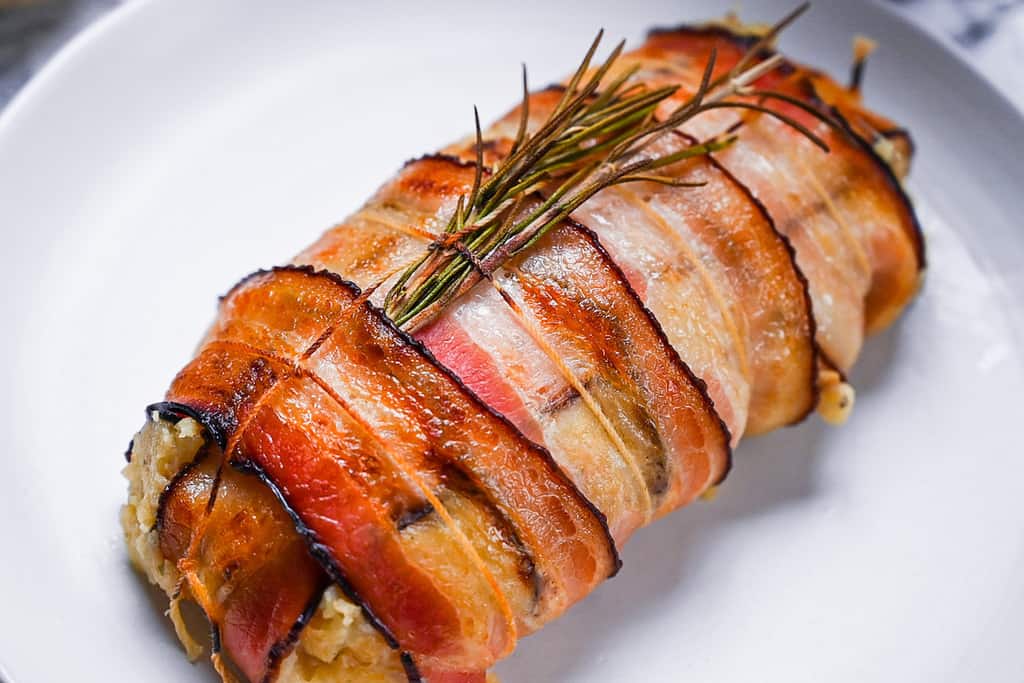 Ingredients for Gotcha Pork Roast
Usually the manga comics briefly introduce recipes for dishes that appear in the book, but there is actually no recipe for Gotcha Roast Pork.
The only clues they provide are the ingredients used:
Bacon
Potato
Mushrooms
Onion
Rosemary
Red wine and soy sauce based sauce
Well, challenge accepted.
So I decided to make a gotcha roast pork based on the series, but I will include my own twists. I mean that's basically the core message from the series right?
My own tips and twists for making Gotcha Pork Roast
I have to say that, I tried to follow the recipe precisely first but it turned out to be a bit too bland.
So here are some tips, tricks and twists I used to make the Gotcha Roast Pork my own and make it even better than Soma Yukihara's version!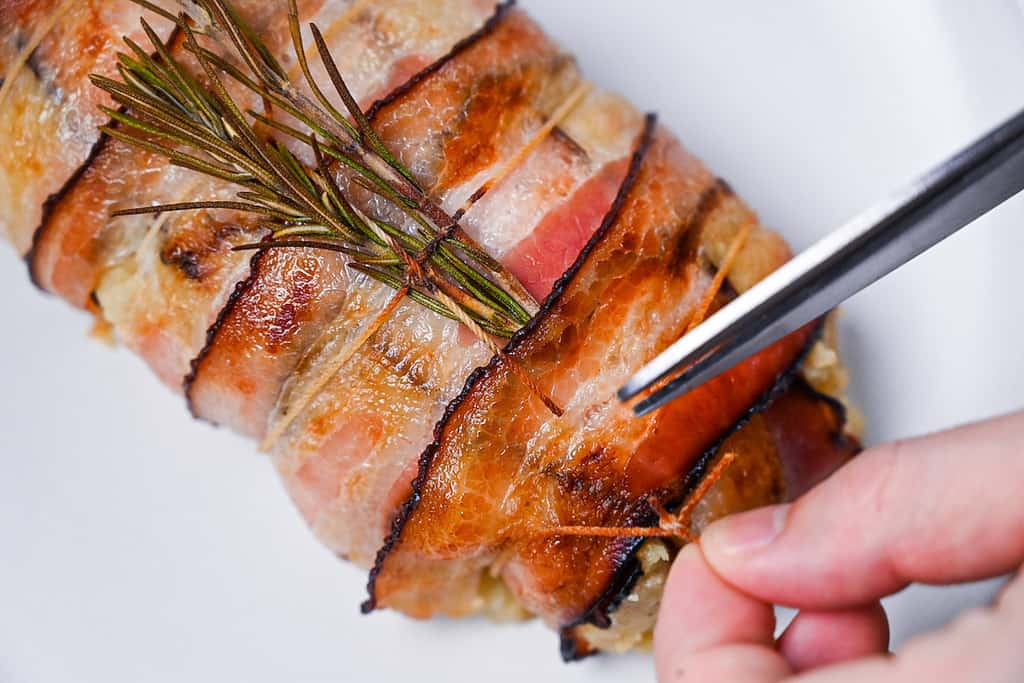 Perfectly Cooked Potatoes
There are a few simple tricks you can use to boil the perfect potato for mashing.
Use starchy potatoes like Russet potatoes (they break down more easily).
Cut the potato into smaller pieces (preferably quarters) to ensure even cooking.
Start with cold water so that the outside doesn't cook faster than the middle.
Boil until a knife can easily slide into the centre (usually takes 10-15 minutes).
After draining the potatoes, let them rest for a few minutes to release the excess steam and moisture.
If you follow these tips you will definitely have perfect potatoes!
Make mashed potato more flavourful
The first time I tried making gotcha pork roast, the mashed potatoes were a little lacking in flavour in the centre as these parts were not in contact with the bacon.
To improve the flavour, first I add some ingredients when boiling the potatoes. You should always add salt to the water when boiling potatoes anyway, but I also like to add a sprig of rosemary and a garlic clove. The flavours are gently released into the boiling water which in turn, subtly flavour the potatoes. It also doesn't hurt to add a pinch of black pepper too.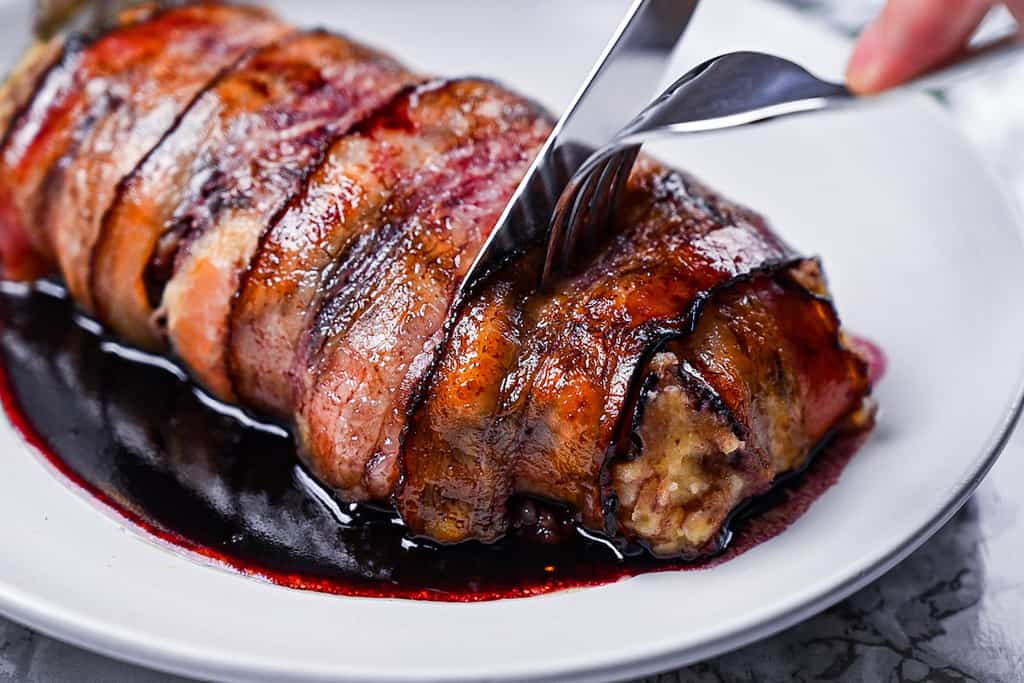 Next, I add a small amount of chicken bouillon powder when I add the milk and butter. This adds a bit of saltiness and meatiness to the potatoes which I feel is very important for a dish that is supposed to be a "pork roast"!
Just like Soma, I fry the onions, mushrooms and garlic in butter. However I also add Worcestershire sauce which adds a little sweetness, sourness and depth of flavour.
Finally, I like to add parmesan cheese and a sprinkle of parsley. Who doesn't love slightly cheesy and herby potatoes?!
The Bacon
It's not specified in the book, but I think it's extremely important to use streaky bacon with plenty of fat.
When baked, the fat will melt and be absorbed into the potato which helps create that meaty taste. It will also become crispier which creates a better texture on the outside.
I also recommend trying to find the longest rashers you can, this will make it easier to wrap the potato and have a nicer presentation.
Whether you use smoked or unsmoked is up to preference!
I hope you enjoy bringing this creative anime dish to life with my recipe! Happy cooking!
Gotcha Pork Roast (Food Wars! Shokugeki no Soma recreation recipe)
How to make delicious Gotcha Pork Roast (Shokugeki no Soma Recreation Recipe).
Ingredients
Gotcha Pork Roast
300

g

potato(s)

-

peeled and cut in quarters

water

-

for boiling

1

tsp

salt

1

pinch

pepper

1

clove

garlic

1

sprig

fresh rosemary

-

for potatoes

1

sprig

fresh rosemary

-

for oven baking

50

ml

whole milk

1

tbsp

unsalted butter

-

for potatoes

1

tbsp

unsalted butter

-

for frying

1

tsp

Chinese-style chicken bouillon powder

½

tbsp

Worcestershire sauce

100

g

yellow onion(s) -

finely diced

50

g

king oyster mushroom

-

finely diced

3

cloves

garlic

-

finely diced

1

tsp

parmesan cheese

-

powdered or finely grated

1

pinch

dry parsley

8

slices

streaky bacon

-

long pieces are best
Red wine sauce
150

ml

red wine

1

tbsp

soy sauce

1

tbsp

mirin

1

tsp

sugar

1

tbsp

unsalted butter
Instructions
Gotcha Pork Roast
Place

300 g potato(s)

inside a large pot and fill with cold water until the potatoes are fully submerged.

Add

1 tsp salt

,

1 pinch pepper

,

1 sprig fresh rosemary

and

1 clove garlic

to the pot and place it on the stove. 

Bring the water to a rolling boil and cook until the potatoes are soft to the core. (This should take about 10-15 minutes depending on the size.)

Pour the potatoes into a colander to drain the water, give them a shake and discard the rosemary and garlic clove. Let the potatoes sit for 1-2 minutes to let out the excess steam.

Transfer the potatoes to a large mixing bowl and mash until smooth.

Add

50 ml whole milk

and

1 tbsp unsalted butter

to a small microwavable bowl. Cover the bowl and microwave for 40 seconds at 500W or in intervals until the butter has melted.

Add

1 tsp Chinese-style chicken bouillon powder

to the warm milk and butter and mix until dissolved. 

Pour the mixture into the potatoes and mix until smooth. Cover the bowl and set aside for later.

Heat a frying pan on medium and add

1 tbsp unsalted butter

and

½ tbsp Worcestershire sauce

.

Once the butter is melted, add

100 g yellow onion(s)

and fry until slightly softened.

Add

3 cloves garlic

and

50 g king oyster mushroom

and fry everything together until the onions start to turn translucent. 

Remove the pan from the heat and allow to cool for a few minutes.

Transfer the contents of the pan to the bowl of mashed potato along with

1 tsp parmesan cheese

and a sprinkle of

1 pinch dry parsley

.

Mix until all the ingredients are evenly distributed, cover the bowl so the mixture doesn't dry out and then leave to cool to room temperature.

Take a sheet of plastic wrap and place the mixture in the middle. Shape into a thick cylinder and firmly wrap.

Chill in the fridge for about 30 minutes.
Baking
Preheat your oven to

180

°C

.

Remove your mashed potato from the fridge and wrap each end with 1-2 rashers of bacon. Wrap the rest of the bacon (4 long rashers) around the cylinder of mashed potato and try to make sure there aren't any gaps.

Wrap the bacon with butchers twine to keep it secure and place

1 sprig fresh rosemary

on the top.

Transfer the gotcha pork roast to a roasting tin and place it in the oven on the top shelf. Bake for 20 minutes or until the bacon is golden.
Red Wine Sauce
Heat a small saucepan on medium and add

1 tbsp unsalted butter

.

Once the butter is melted, add

150 ml red wine

, 

1 tbsp soy sauce

,

1 tbsp mirin

and

1 tsp sugar

.

Bring to a boil and allow it to bubble for a few minutes to burn off the alcohol in the wine and mirin.

Remove from the heat.
Serving
Take the gotcha pork roast out from the oven and allow to rest for a few minutes.

Cut off the butchers twine and transfer it to a serving plate. (Use a spatula to help you lift it.)

Drizzle with the red wine sauce.

Enjoy!
Notes
Gotcha Pork Roast can be eaten on its own (1 serving) or with salad/vegetables (2 servings).