Christmas in Japan wouldn't be complete without Japanese strawberry shortcake, a light and delicious sponge cake made with freshly whipped cream and vibrant strawberries. This iconic celebration dessert can do no wrong and is loved by children and adults alike, so why not wow your family and friends with a stunning Japanese Christmas Cake this holiday season?
Disclaimer: This post contains Amazon affiliate links. Sudachi Recipes earn a small percentage from qualifying purchases at no extra cost to you. See disclaimer for more info.
Jump to:
What is Japanese Christmas Cake?
As with every big holiday, food plays a huge part and Japan has its own unique traditions when it comes to Christmas. In fact, it might surprise you to learn that Christmas is typically celebrated by eating Kentucky Fried Chicken and Strawberry Shortcake, Japan's own iconic Christmas cake!
Strawberry shortcake is a light and delicate cake made with layers of fluffy Genoise sponge topped with whipped cream and fresh strawberries. Although strawberries are not in season in December, due to the popularity of strawberry shortcake, strawberries grown in greenhouses appear in abundance at pretty much every supermarket across Japan.
While many European Christmas cakes are packed with dried fruits and flavoured with spices, Japanese Christmas cake is simple and sweet making it a family favourite across generations.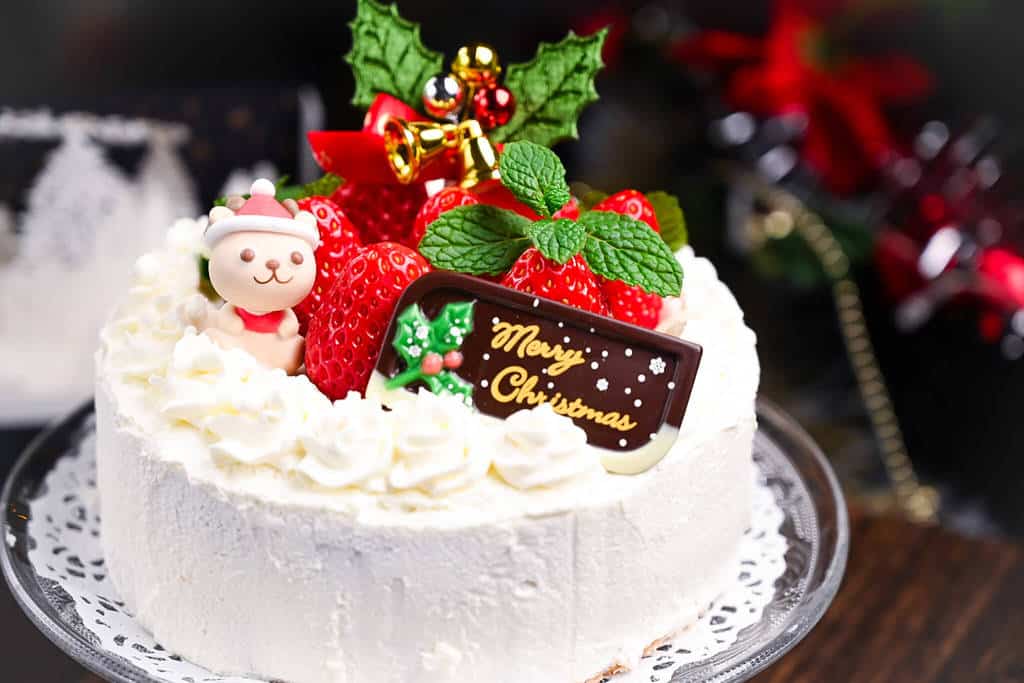 Why strawberry shortcake?
Strawberry Shortcake or "Ichigo Shōtokēki" (苺ショートケーキ) in Japanese, is the most popular celebration cake in Japan. It's not only considered a Christmas cake, but an all-occasions cake and is typically enjoyed during happy events such as birthdays and other celebrations.
Japanese strawberry shortcake is a delicious combination of fluffy and moist sponge, sweet whipped cream and slightly tart strawberries coming together to create the perfect balance in both flavour and texture. In a country that favours cakes with a light a fluffy texture that are not overly sweet, strawberry shortcake ticks all the boxes so it's no wonder that it's Japan's number one cake.
The first strawberry shortcake appeared in Japan around 1922 and was created by the founder of Fujiya, a famous Japanese cake company. It is believed that it was inspired by a Western style cake that he saw in an American confectionary market made with layers of crumbly scone-like cake, cream and strawberries. He replaced the cake with a light sponge and adjusted the sweetness to suit Japanese tastes.
It wasn't until the 1970's that it became a popular cake to eat on Christmas when Fujiya started to sell strawberry shortcakes decorated with icing trees and Santa Claus decorations made from sugar.
From then on, the popularity of strawberry shortcake as a Christmas cake boomed and you can now find an array of beautiful and festive designs filling cake shops, supermarkets and even convenience stores all over Japan every December.
Do Japanese people celebrate Christmas?
Despite it not being an official holiday here, Japan has fully embraced the Christmas spirit and if you ever visit towards the end of the year, you will find most big cities have an impressive display of Christmas decorations, breathtaking illuminations and even Christmas markets (depending on where you go).
Christmas in Japan is usually celebrated on December 24th (not 25th) and doesn't carry any religious meaning. Instead, it is considered a time to spread happiness, have parties with friends, go on dates with significant others and give gifts to children.
The most commonly eaten foods on Christmas are KFC's fried chicken and strawberry shortcake. In fact, you will need to reserve your order well in advance if you want a chance of getting KFC on Christmas in Japan!
Ingredients
Japanese Christmas cake is made with simple ingredients and is surprisingly inexpensive to make at home! For this recipe you will need:
Eggs - the essential ingredient to make a meringue and help the cake rise, there's no baking powder used in this recipe!
Caster sugar - to sweeten the cake and cream as well as stabilise the meringue.
Lemon juice - an acidic ingredient that helps aerate the meringue and improves stability.
Cake flour - a type of flour with a low gluten content. Sifted 2-3 times makes the sponge extra light and airy.
Unsalted butter - adds moisture and rich flavour to the sponge.
Milk - adds extra moisture and flavour to the sponge.
Liqueur (optional) - to make a syrup to lightly soak the sponge and add a hint of extra Christmassy flavour! I use Grand Marnier or Cointreau orange liqueur but you can swap out for your personal favourite. Brandy or rum also work great. Feel free to omit if you prefer not to use alcohol.
Heavy cream - between 36-45% milk fat to ensure a rich and creamy topping that whips well and holds its shape.
Powdered sugar - to sweeten the cream.
Vanilla essence - or extract, just a few drops to flavour the cream.
Strawberries - fresh and ripe strawberries that are uniform in size are best for decorating, save any misshapen ones to slice up and place in the center of the cake!
Mint leaves (optional) - great for decoration.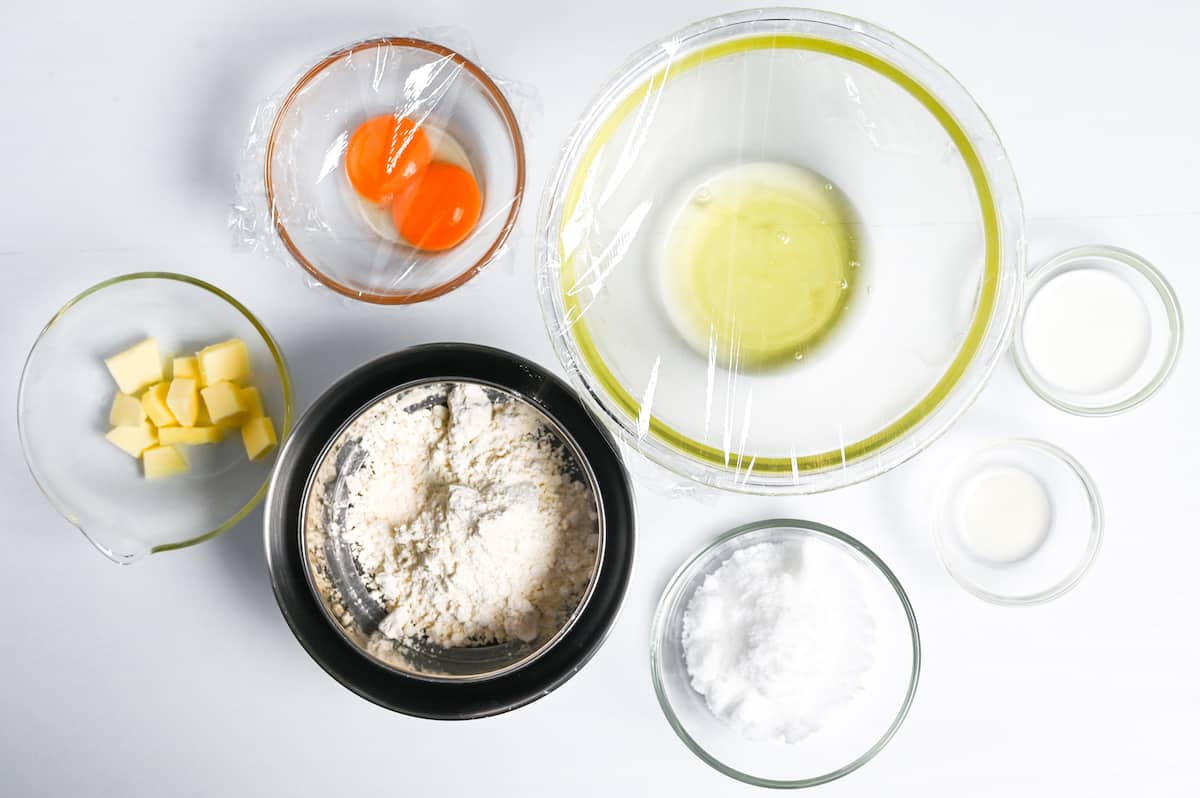 I recommend measuring the sponge ingredients in advance and letting them sit at room temperature for 20-30 minutes before you start, this will help them combine more easily. Since eggs tend to separate more easily when they're cold, separate the yolks and whites and cover to stop them from drying out.
The opposite is true for the cream, heavy cream should be thoroughly chilled before whipping. I recommend keeping your mixing bowl in the fridge too!
Equipment
Here is a list of equipment that I recommend for this recipe: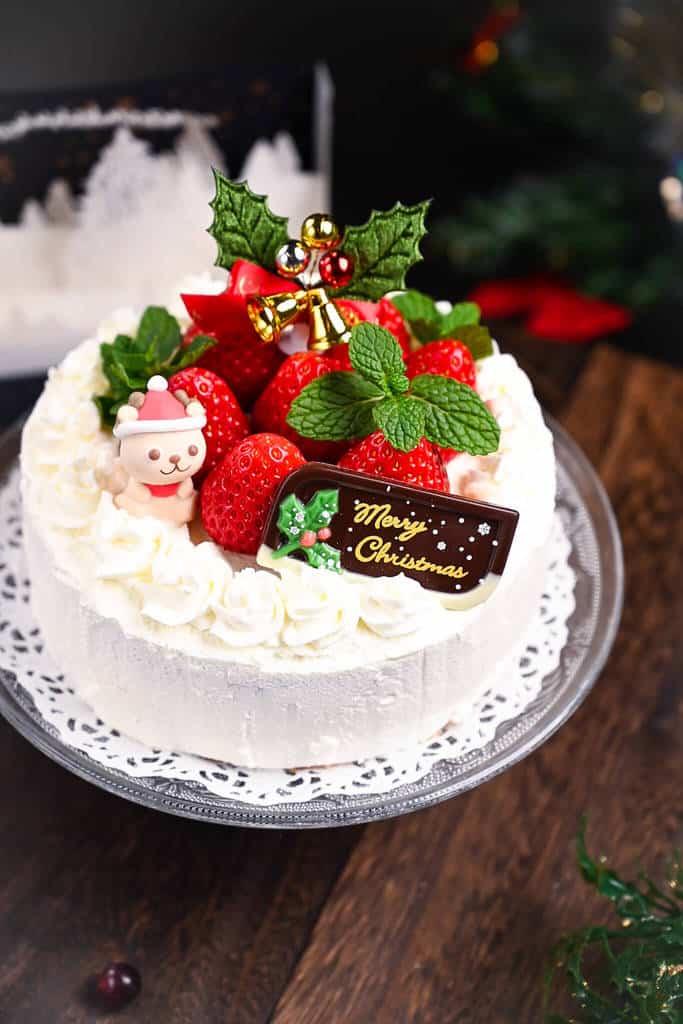 How to make Japanese Christmas Cake from scratch
Japanese Christmas cake is made up of two main elements, a Genoise sponge and whipped cream. Here I will explain step by step how to make the sponge, whip the cream and assemble the cake from start to finish. There are a lot of steps, but I promise it will be worth it!
How to make Genoise sponge
Genoise sponge is light and fluffy, but also rich and moist. What sets it aside from a regular sponge cake is the use of butter to make it richer and more flavourful. It also uses eggs as the only rising agent, no need for baking soda or baking powder in this recipe.
Before you begin, start preheating your oven to 180°C (356°F) or 170°C (338°F) for fan assisted.
Pour lemon juice into the egg whites
The acidity in lemon juice helps aerate the egg whites and make them more stable when whipping. Use an electric mixer on a medium setting to whip the egg whites and lemon juice until foamy and doubled in size.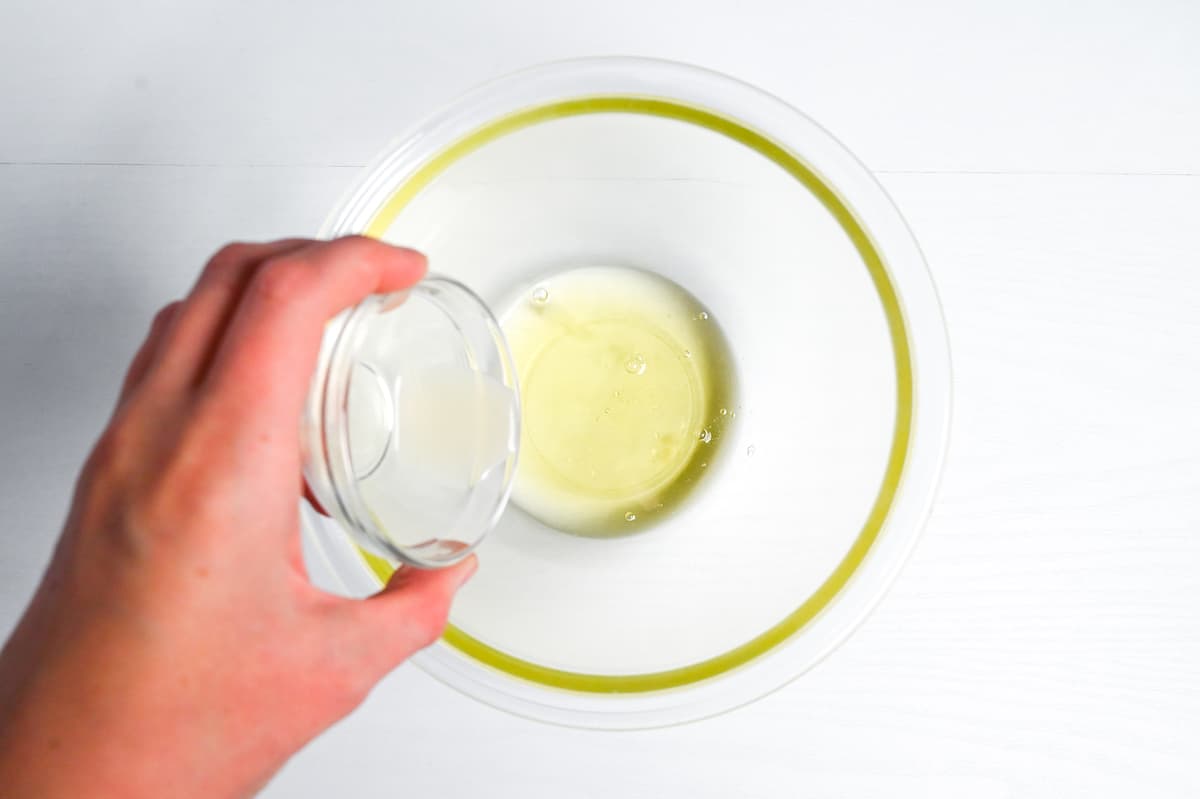 Add the sugar one third at a time
Adding sugar stabilises the egg whites and helps turn it into a beautiful, glossy meringue. By adding the sugar slowly one third at a time, the sugar crystals can dissolve slowly without crushing the air out of the mixture.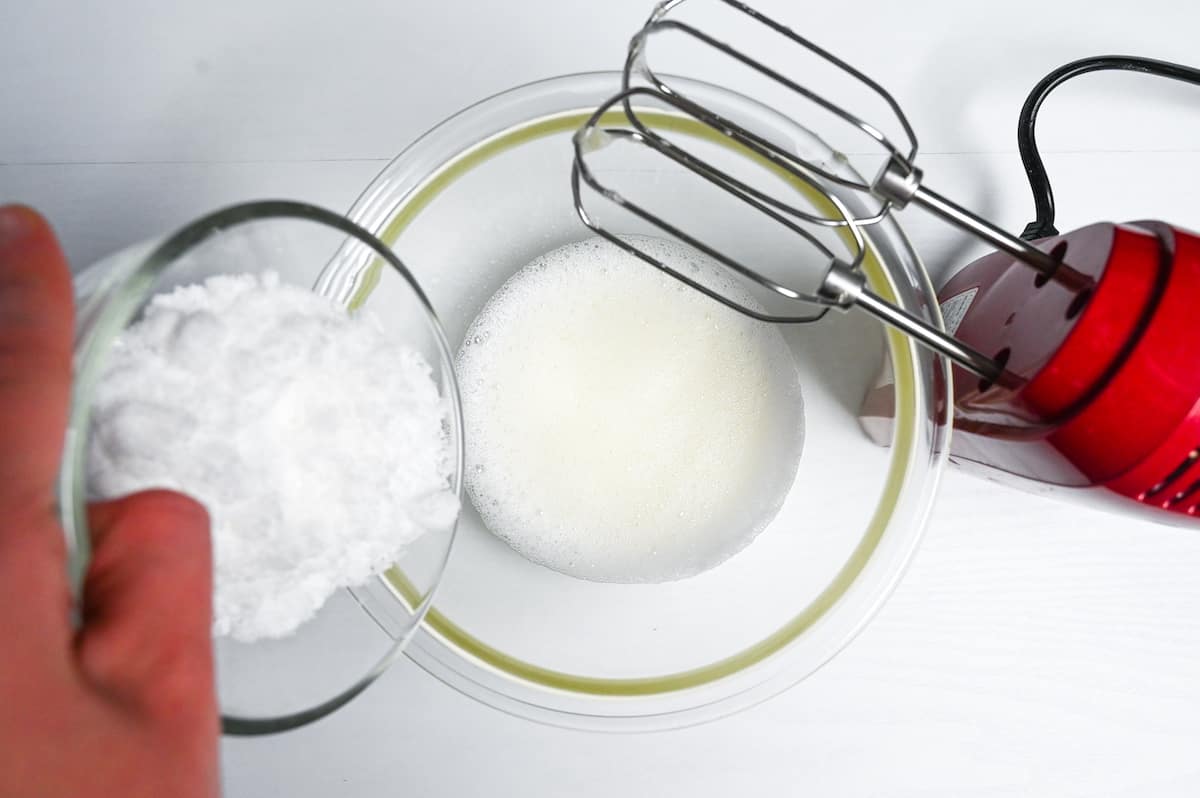 Whip until the meringue has stiff peaks
The peaks should be pointy and stable. This consistency is vital for a good rise.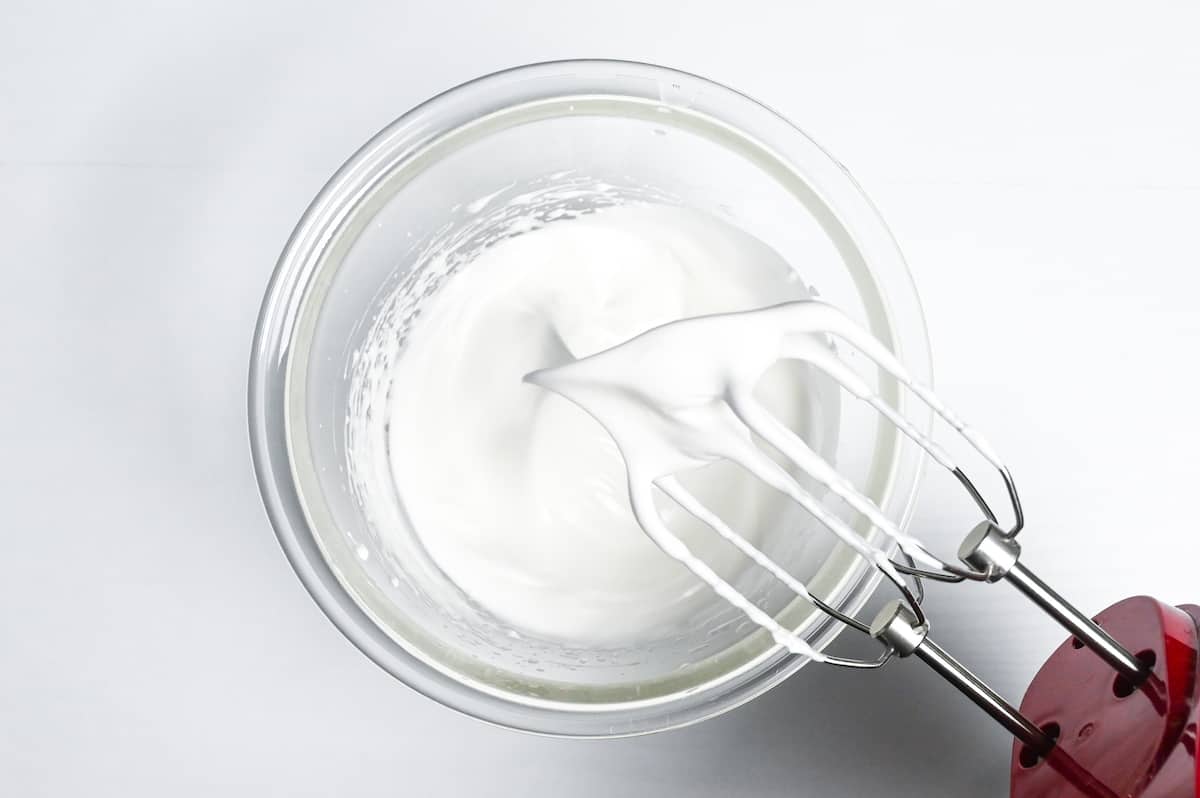 Add the egg yolks one by one, and whisk with the electric mixer for a short time until combined. (About 10-20 seconds for each yolk.) Be careful not to whisk for too long otherwise you risk beating the air out of the meringue.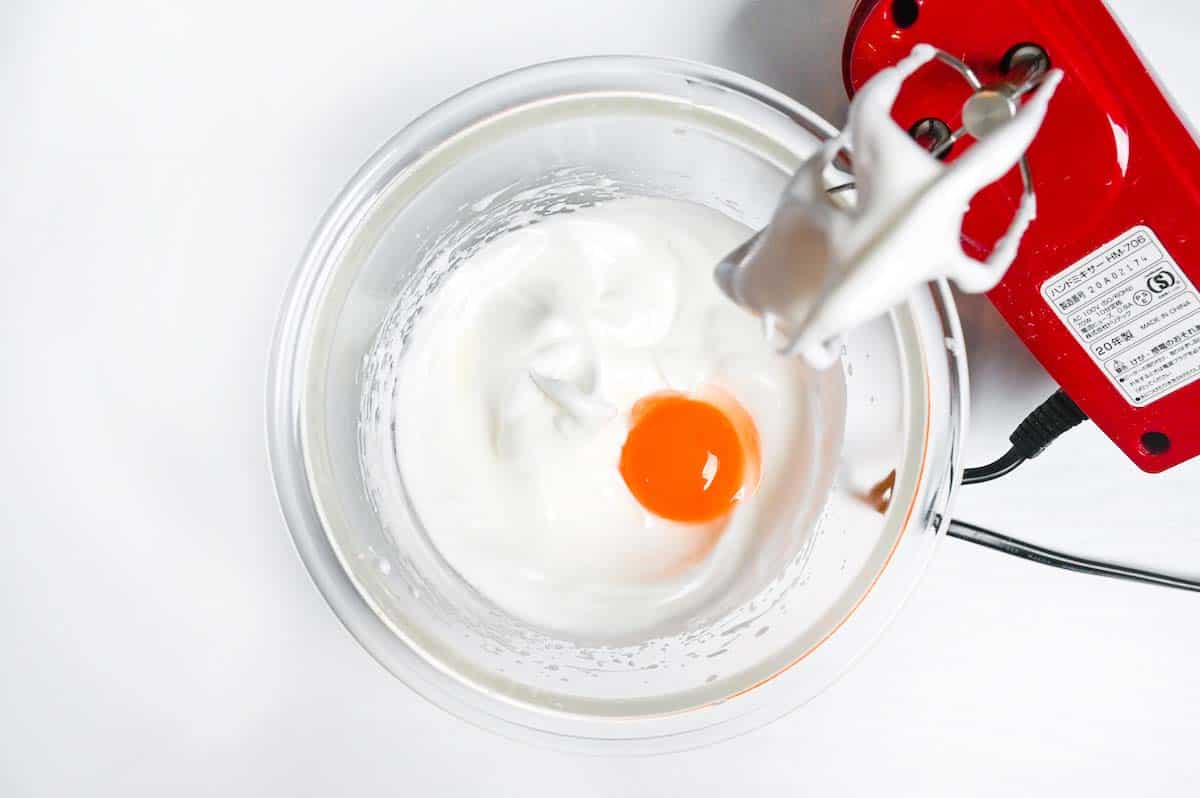 As soon as the egg yolks are combined with the whites, stop whisking.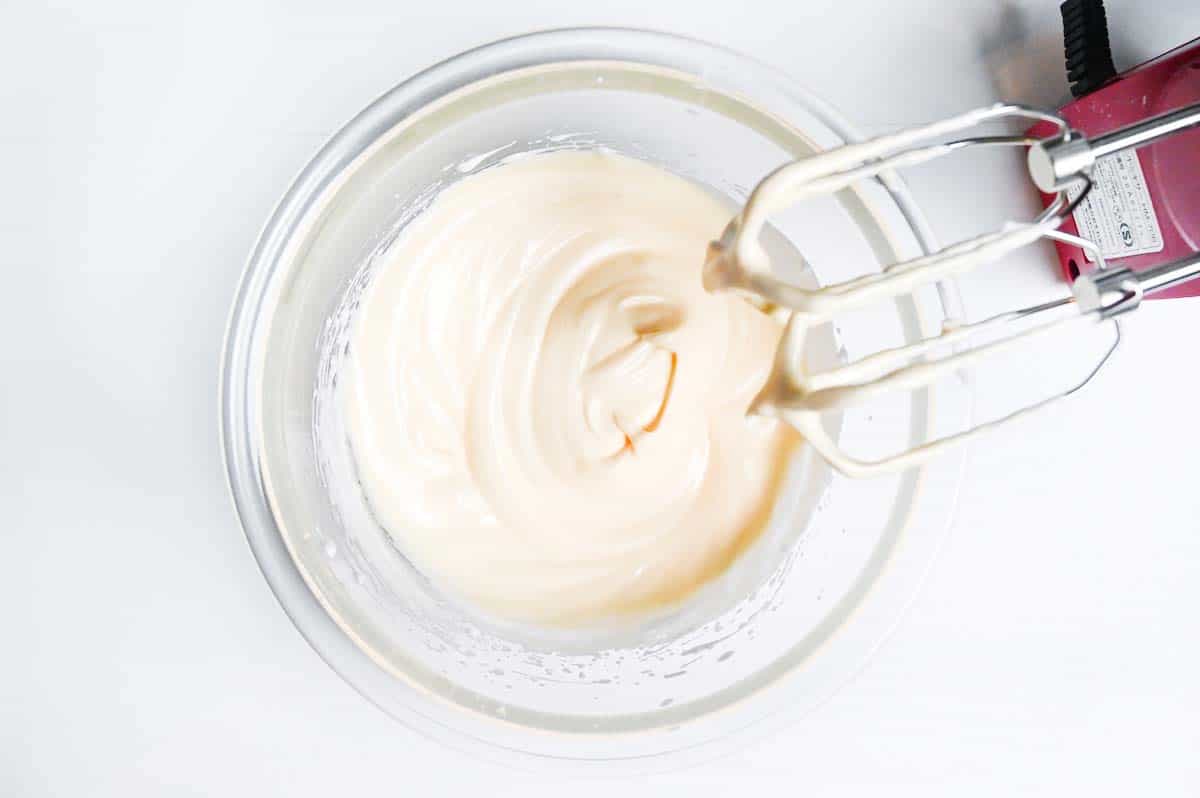 Sift the flour 2-3 times in a separate bowl to ensure it's airy and lump free.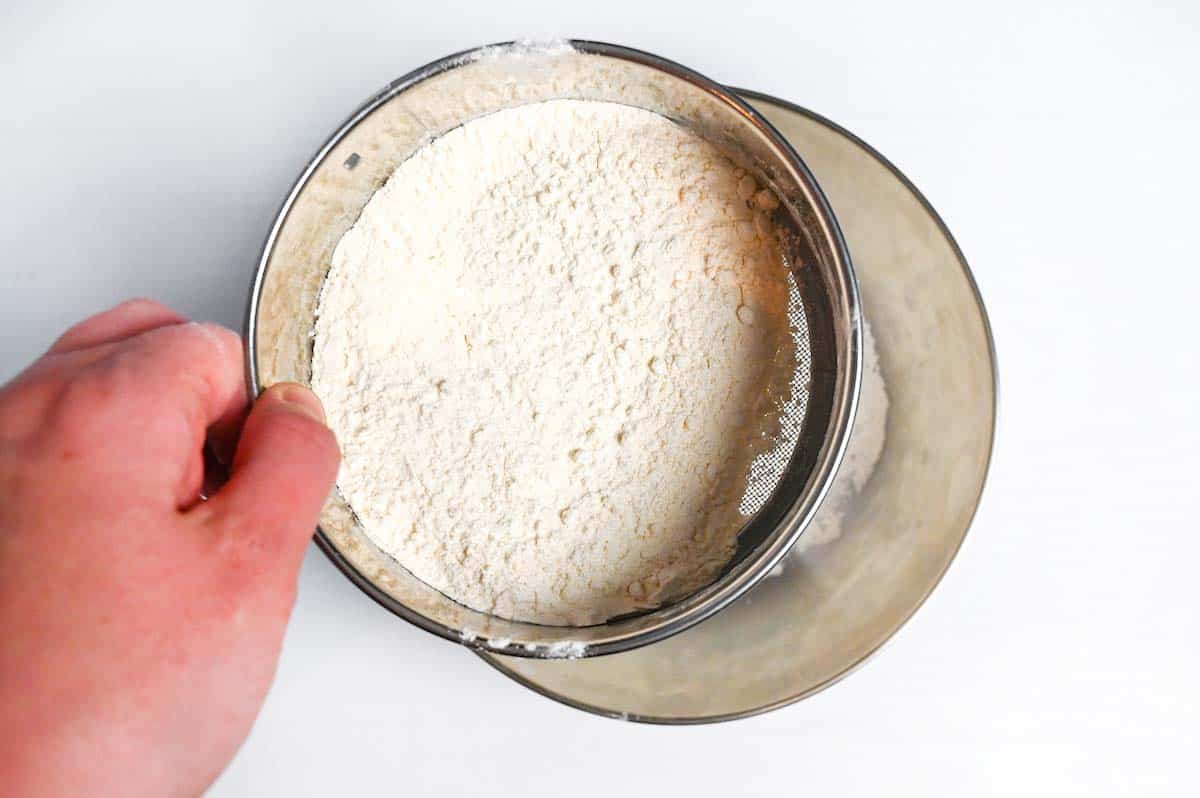 Add the flour to the batter
Sift the flour into the egg mixture one third at a time and mix gently using a silicone spatula. This will prevent losing air in the mixture.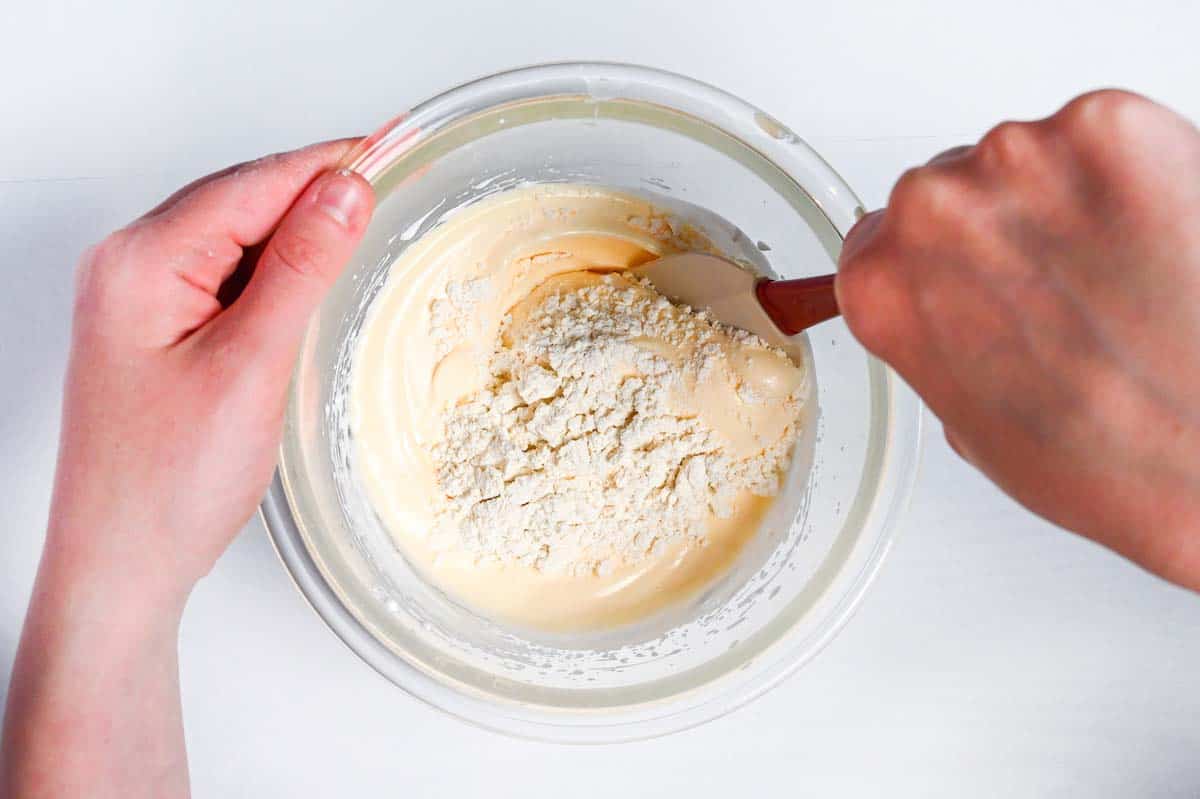 As soon as the flour is incorporated, stop mixing. Again, this is to prevent losing any air.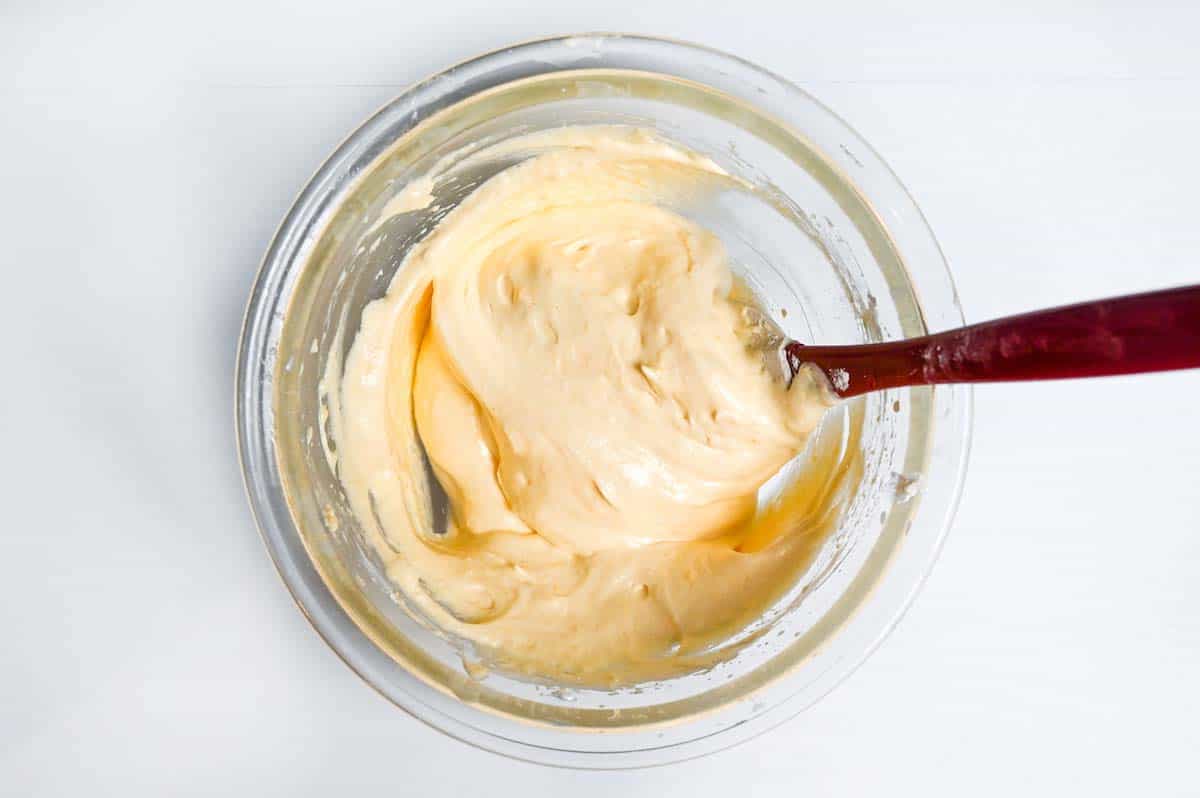 Temper the butter and milk
Melt the butter in a small bowl, add the milk and whisk thoroughly. Add 1-2 tbsp of the sponge batter.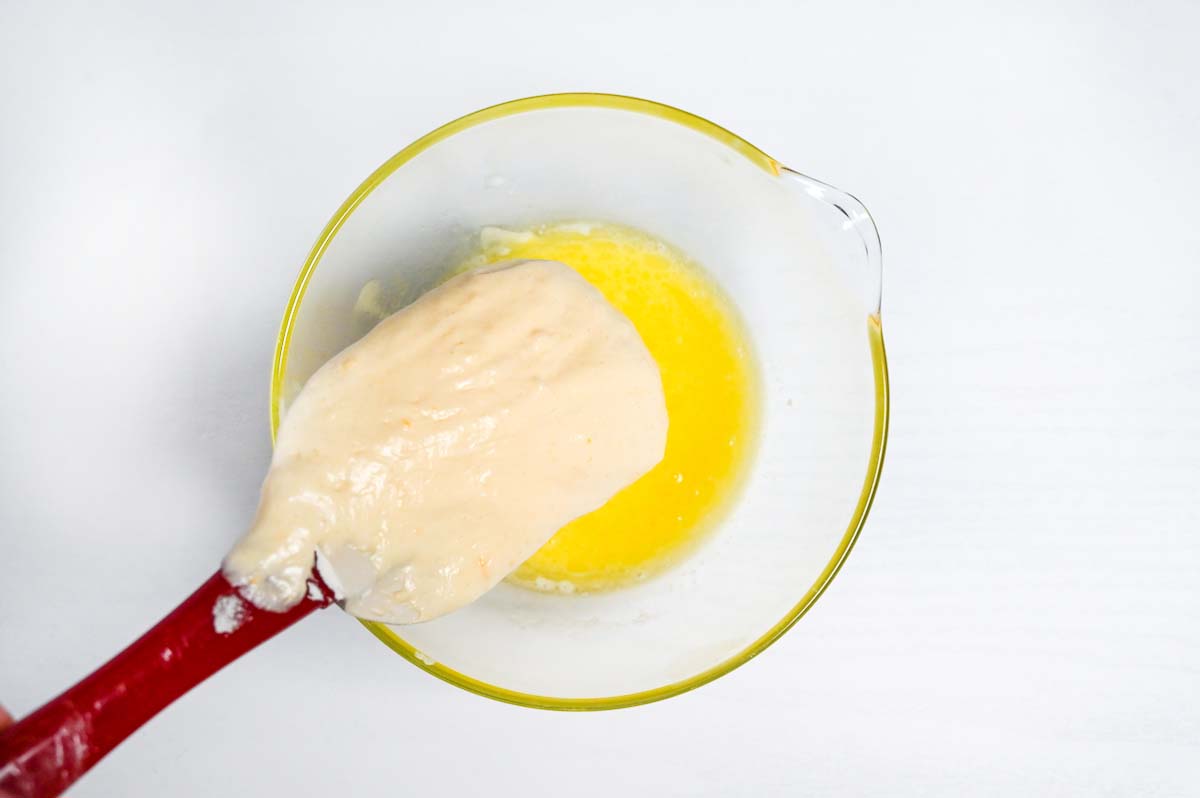 Whisk thoroughly until combined. This will help make the consistency similar to the cake batter, making it easier to combine without over-mixing.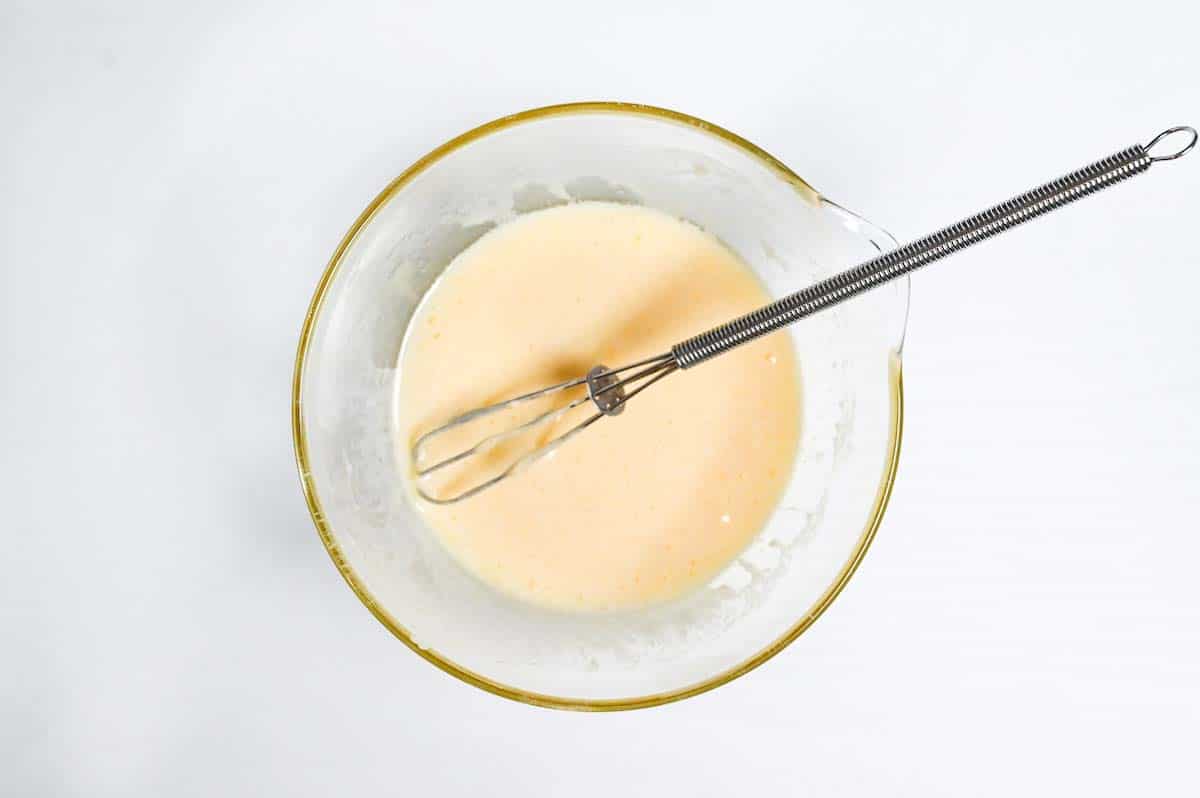 Pour the tempered mixture into the rest of the batter
Mix them together gently with a silicone spatula until combined.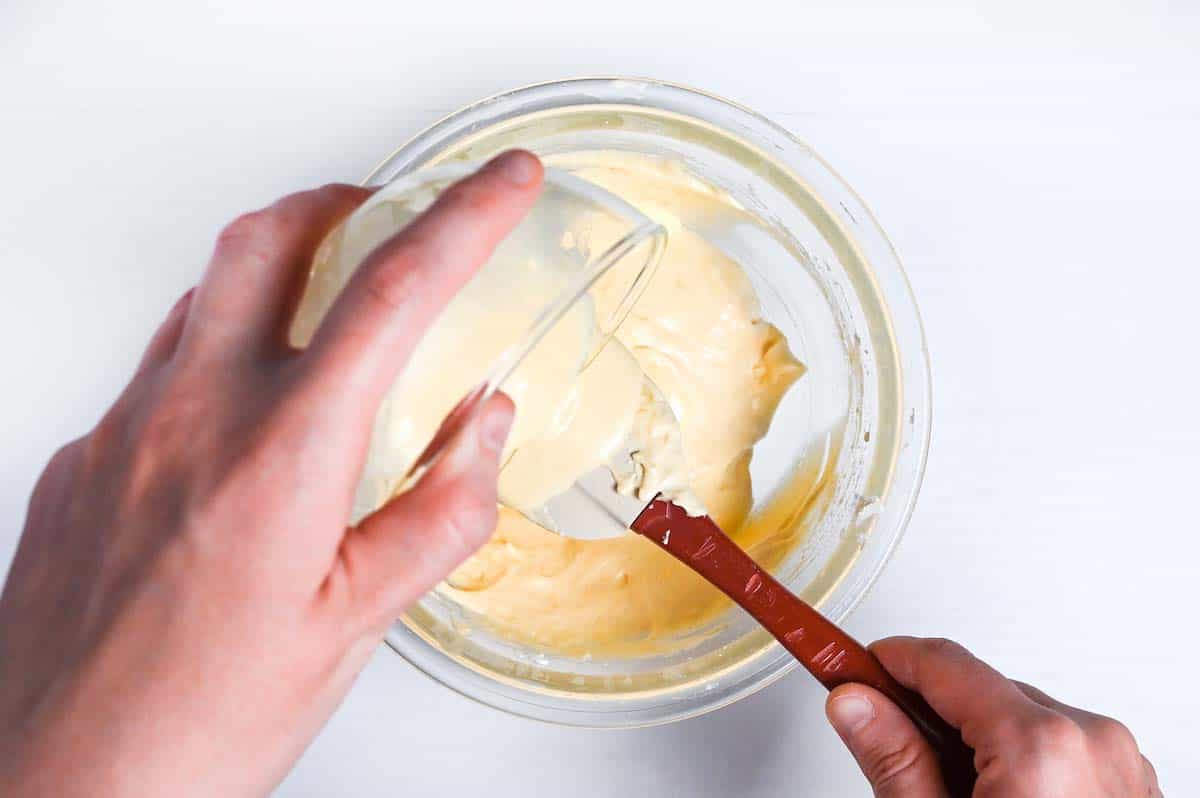 Pour the batter into a lined cake tin
Line the base and sides of your cake tin with baking parchment. You can use a little butter to help them stick to the surface of the tin.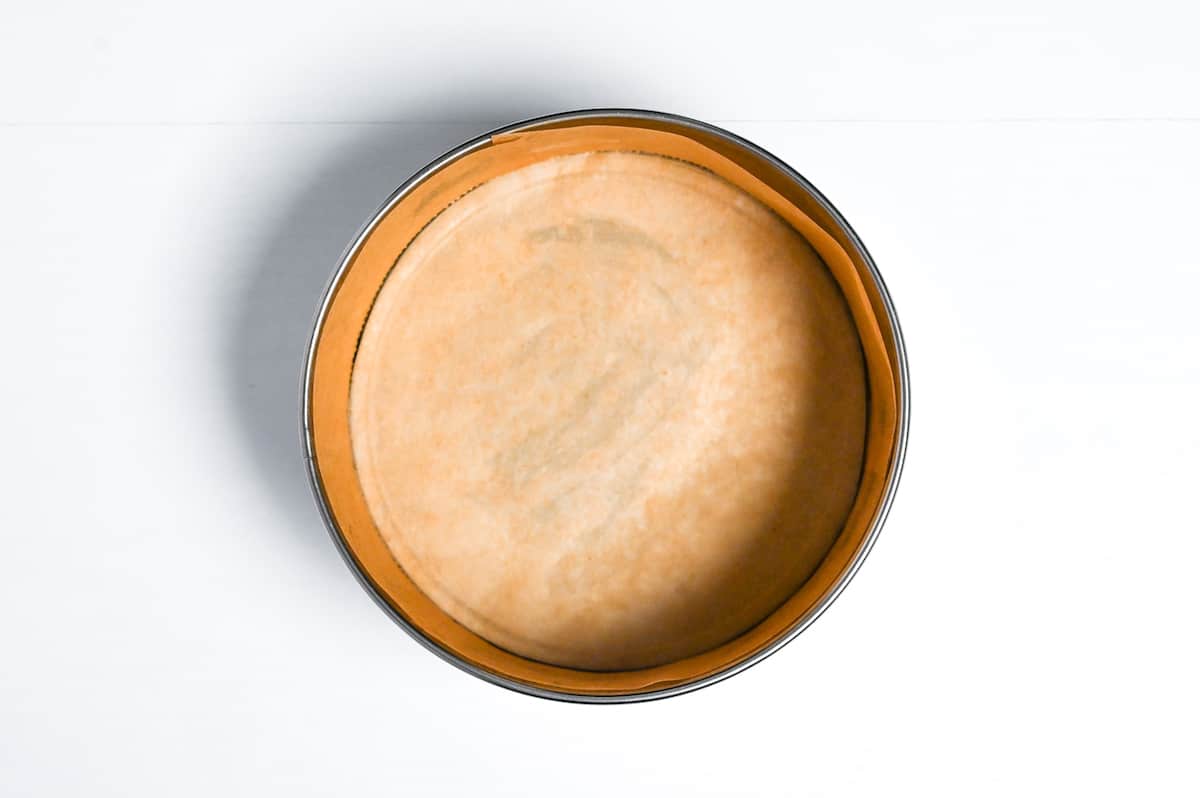 Pour the batter into the tin and smooth out the top. Drop the tin onto a hard surface a couple of times to push any large air bubbles to the top and then immediately place in the preheated oven on the middle shelf.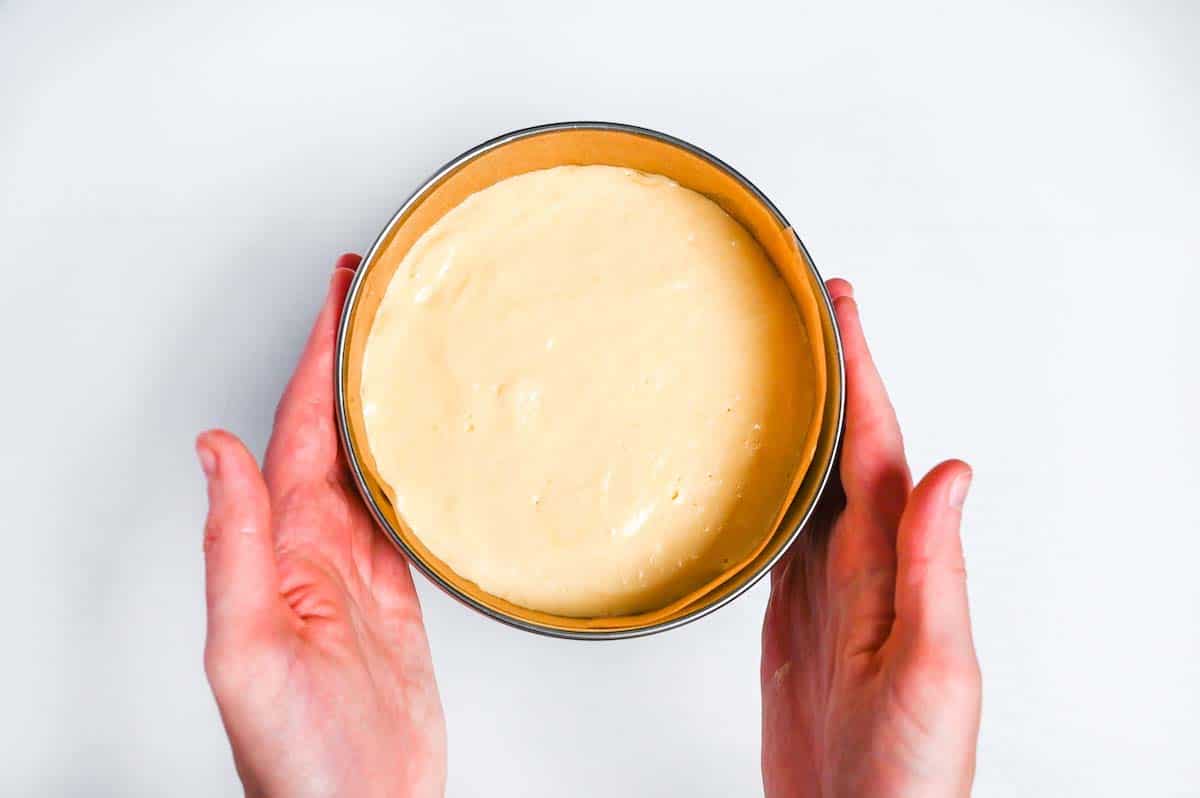 Bake for 22-25 minutes or until golden and springy to the touch.
Be careful not to open the oven before it's baked
Opening the oven will allow the hot air to escape and cause the cake to deflate and shrink, so don't be tempted to open it until the end of the bake!
Once it's baked, remove the sponge from the oven and drop on to the counter from a high of about 20cm (8inches). This helps prevent shrinking.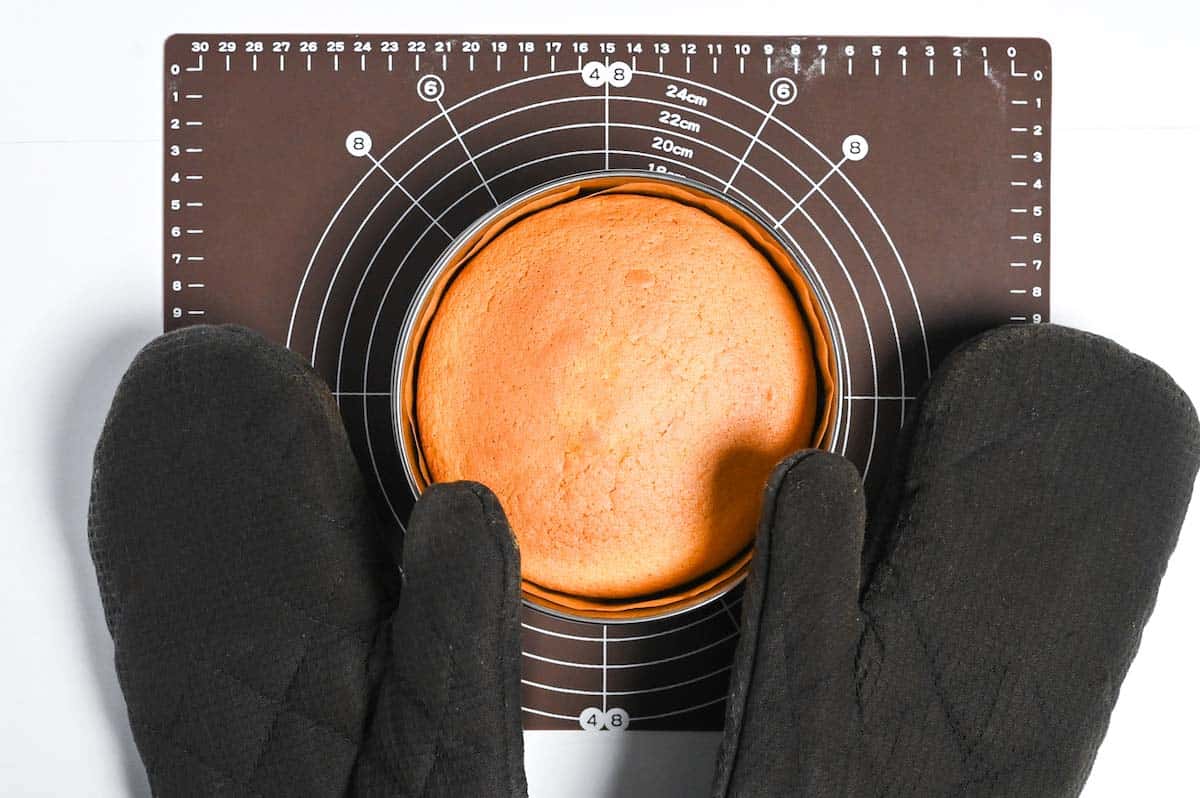 Carefully remove it from the cake tin (wear oven mitts and be careful not to burn yourself!) and then leave it to cool on a wire rack.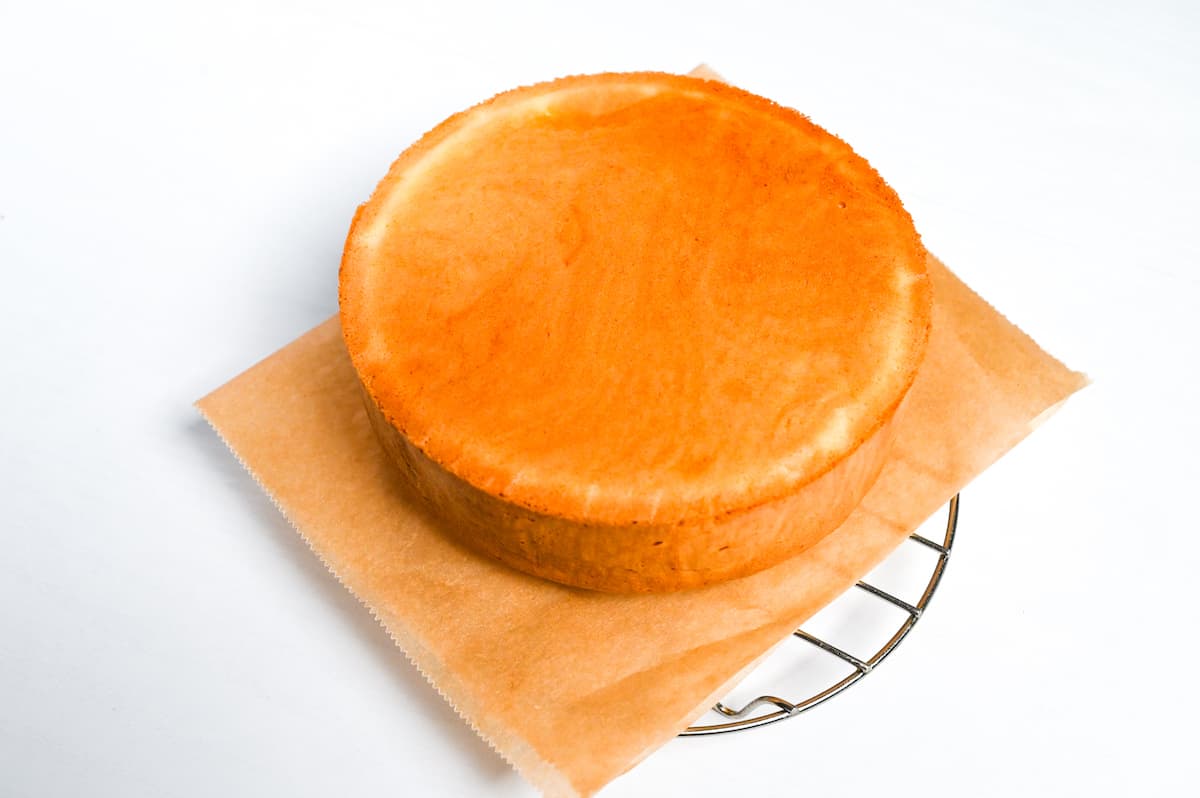 Once cool to the touch, carefully peel off the baking parchment.
Make the syrup
The sponge is also typically brushed with a sugar syrup flavoured with a small amount of liqueur. (The liqueur is optional.) This adds extra moisture and flavour to the cake.
Mix the caster sugar, water and liqueur (optional) in a small pan.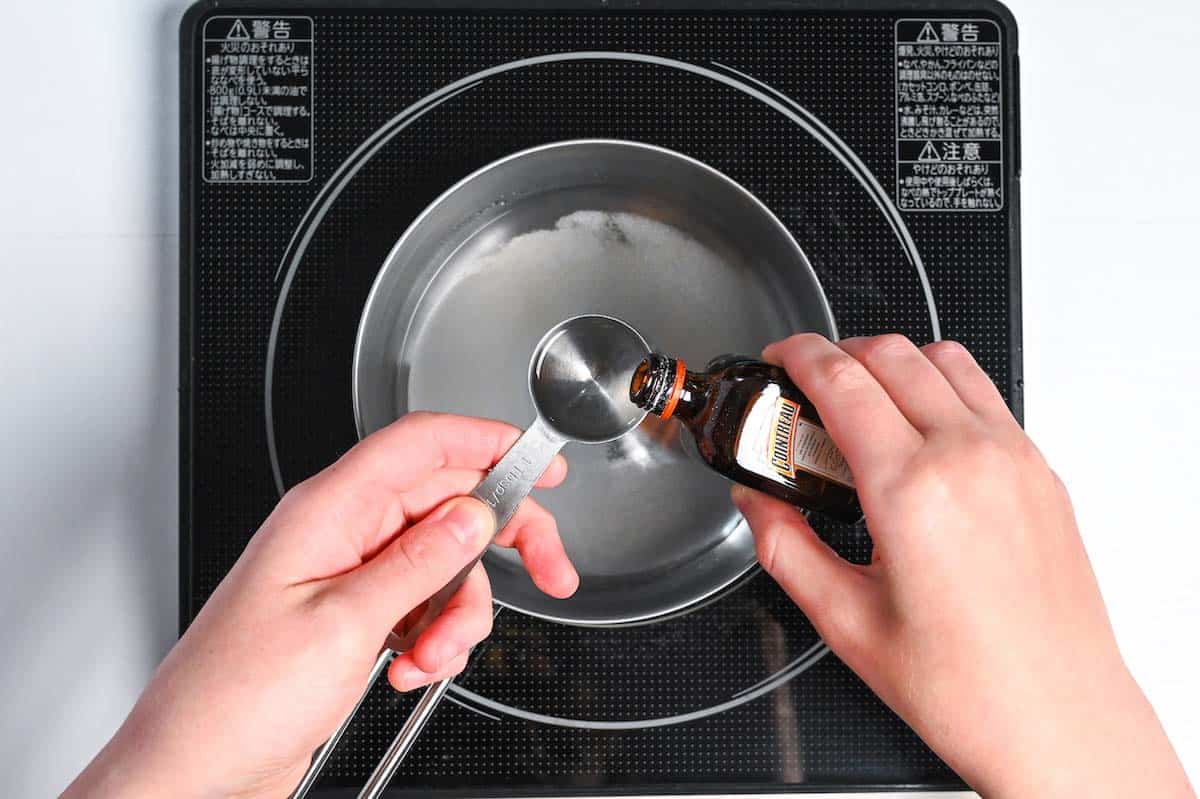 Bring to a boil over a medium heat while stirring continuously. Once it starts bubbling, stop mixing and allow it to boil for about 1 minute. (This will burn off the alcohol).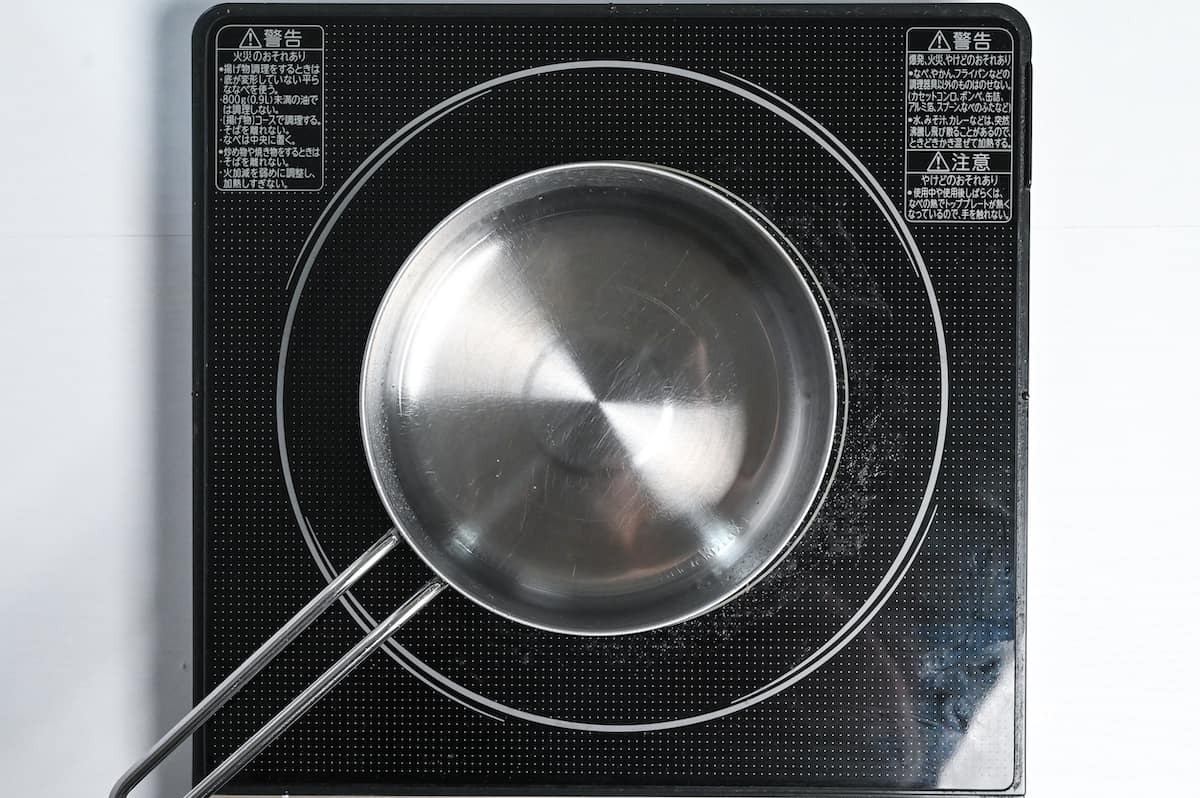 Remove from the heat and set aside.
Once the cake has cooled, cut off the top "dome" to make it flat and level. Then cut the cake in half. I recommend using some kind of level to keep it perfectly even. (I used two clean pieces of wood, but a thick chopping board or even a couple of books could work.)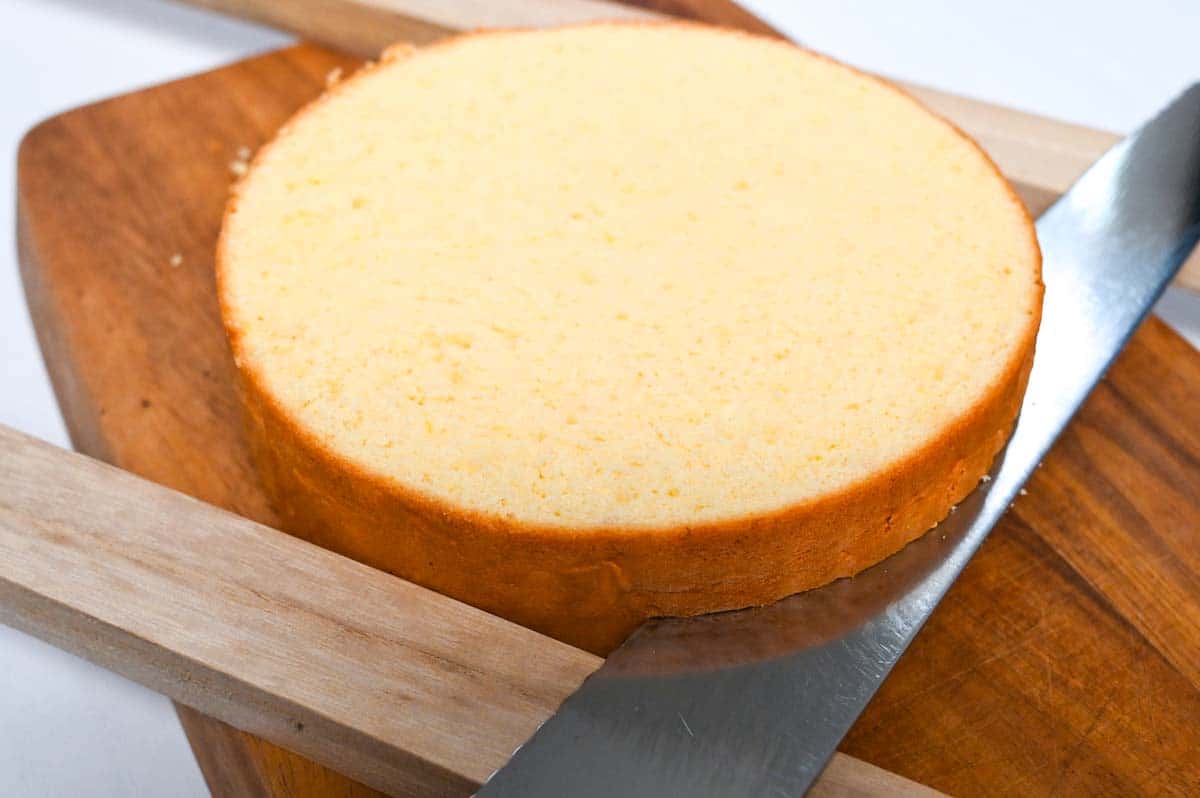 Tip: If you prefer a thinner sponge, you could even cut it into three! Just be careful when handling as thinner sponges are more delicate and easy to break.
Generously brush the tops of the sponge with syrup. If you have some leftover, you can use it on the top of the cake later.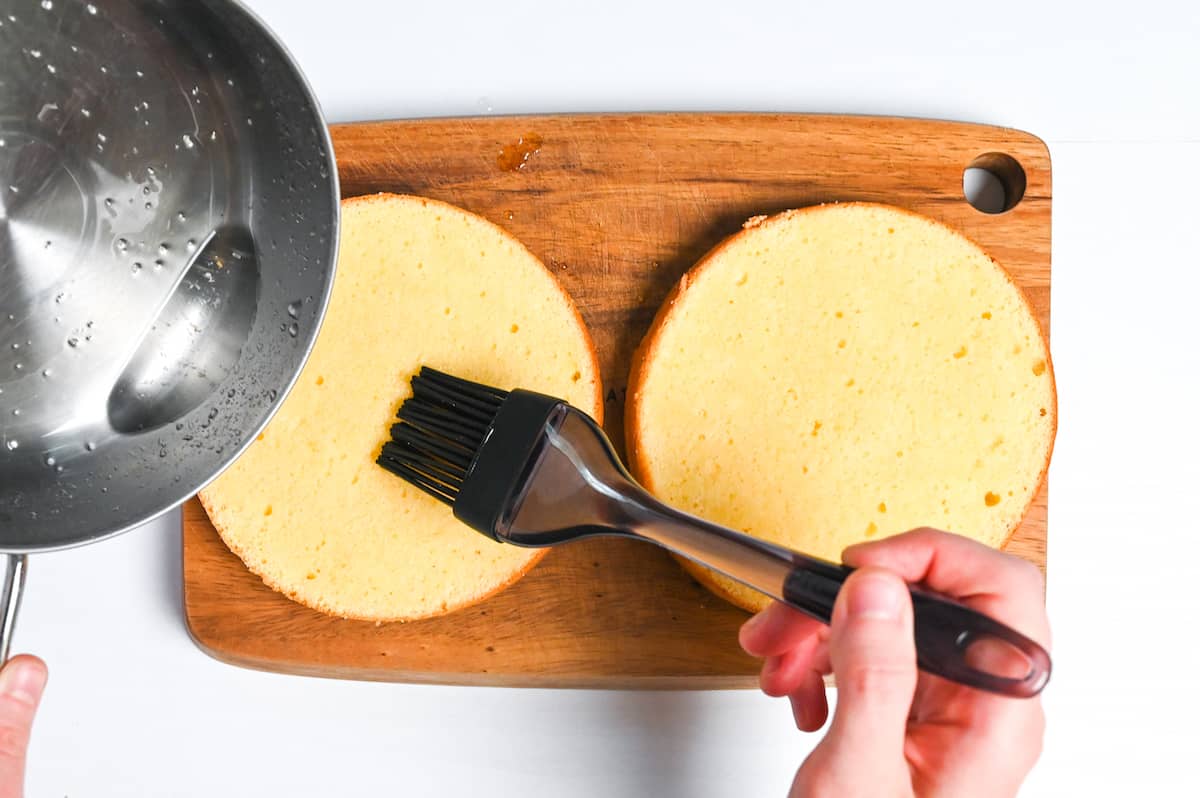 Prepare the strawberries and cream
In this section I will show you how to prepare the strawberries for the top and filling, and how to whip the cream to fill and decorate your strawberry shortcake. The cream should be straight from the fridge (chilled) and I also recommend chilling the bowl. (If you forgot, then place the bowl in the freezer for 5-10 minutes while you prepare the strawberries.)
Wash the strawberries and dry them thoroughly using kitchen paper to avoid droplets of water ruining the cream. Select 8 beautiful and uniform strawberries and remove the stems, then place them on kitchen paper to absorb the excess moisture. These will be for the top.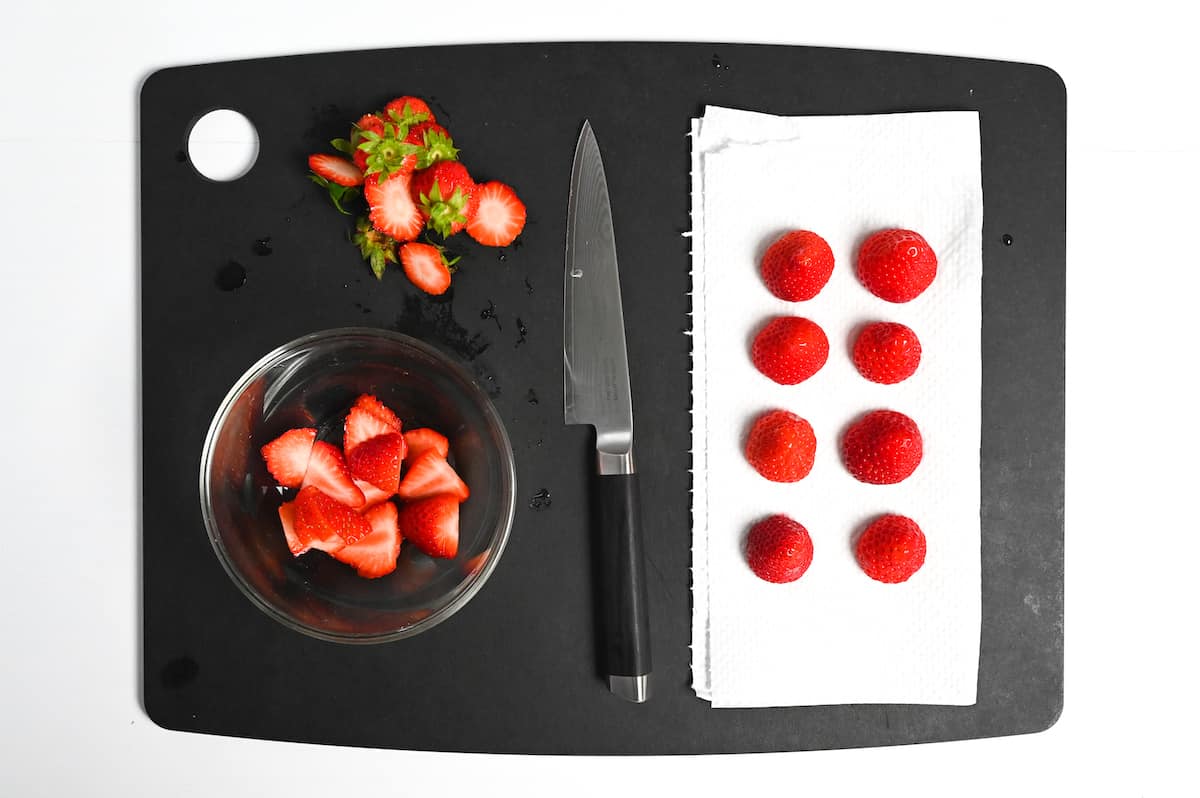 Cut the rest into slices, these will be for the filling in the middle of the sponge.
Take a chilled mixing bowl (glass or steel) and place it in a larger bowl filled with ice. Pour the cream into the bowl and add the powdered sugar and a few drops of vanilla.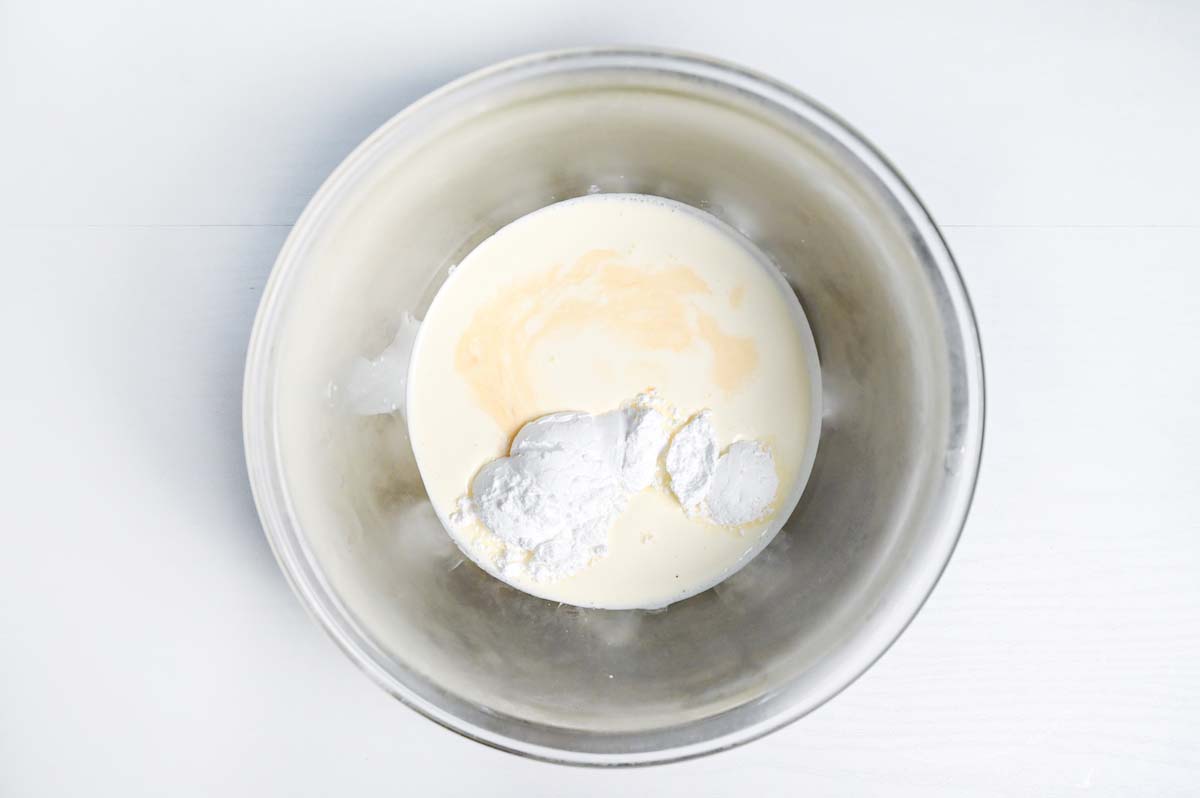 Whip the cream using an electric whisk until it reaches stiff peaks.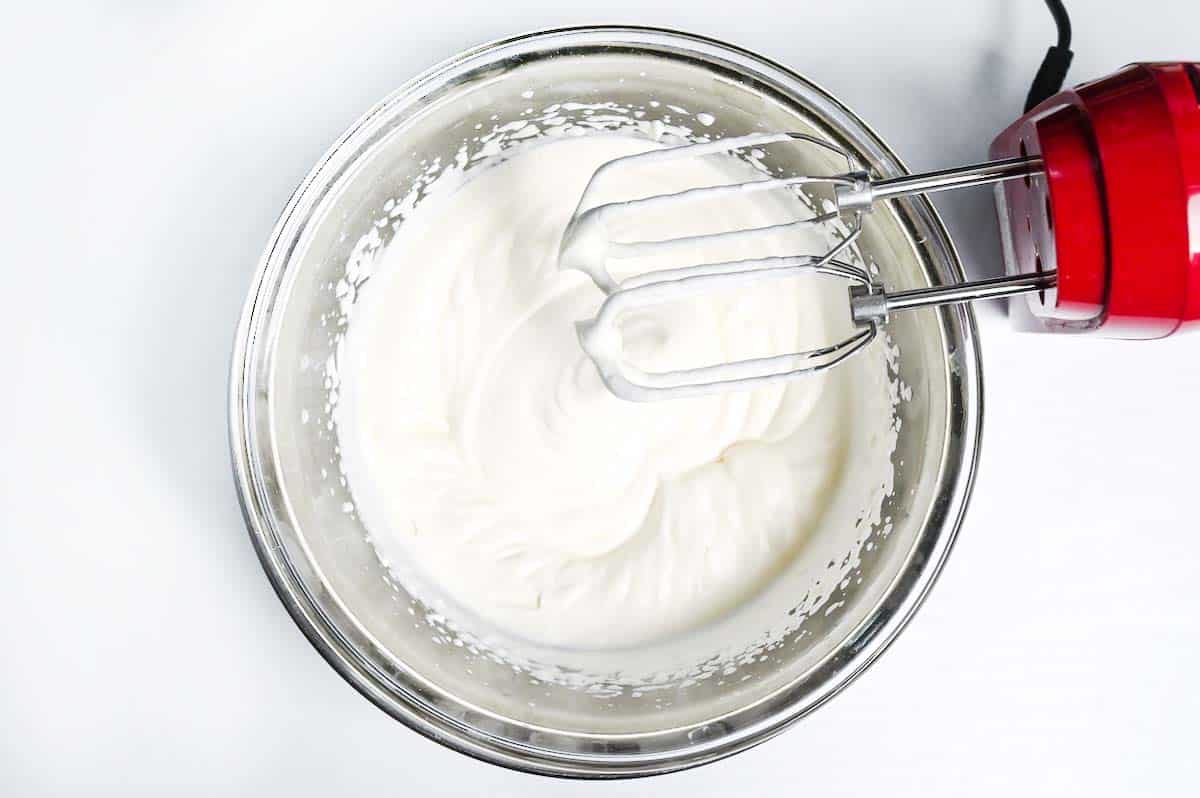 Use the cream immediately
The reason for making the whipped cream last is so that you can use it straight away. If the cream is hanging around, it will start to soften so its best to start assembling straight away!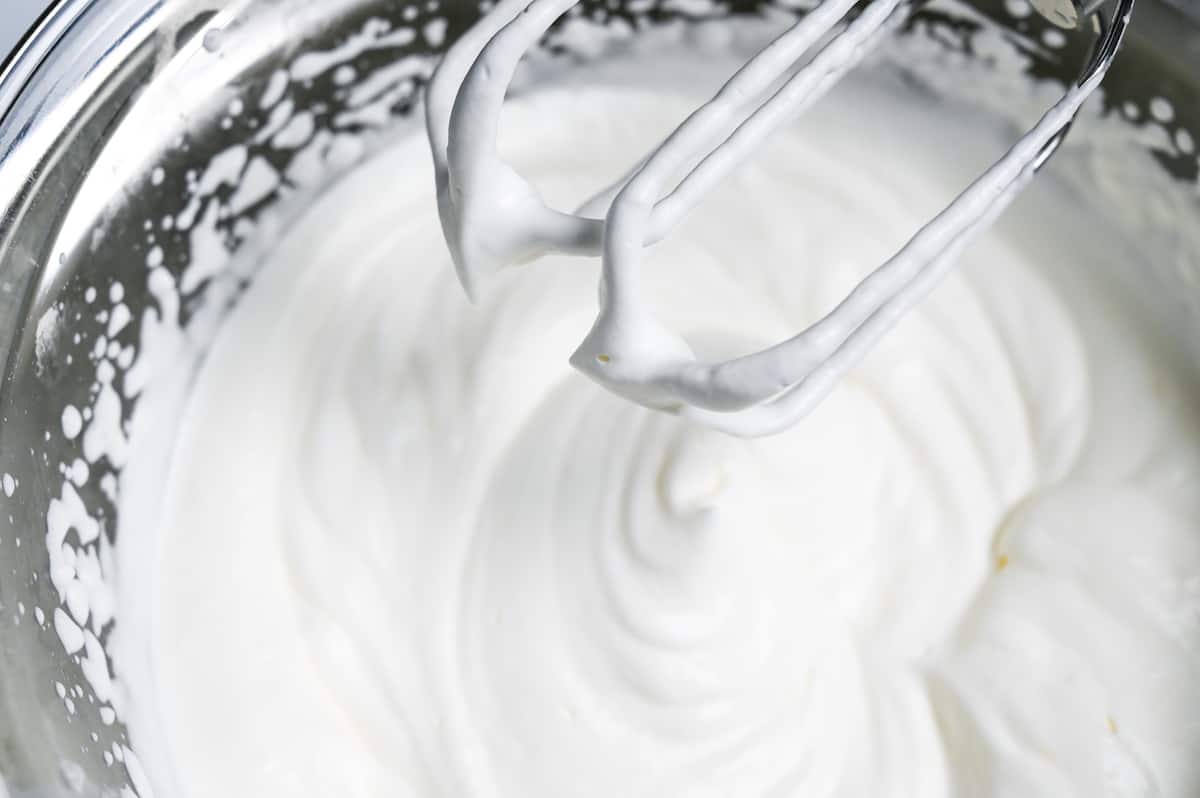 How to assemble Japanese Christmas Cake
You're almost there, just a few more steps to go!
Apply a generous layer of whipped cream on the tops of both pieces of the cake, then top one piece with sliced strawberries.
Flip the cream-only piece onto the strawberry piece to make a sandwich. If you have leftover syrup, you can brush it over the top of the cake.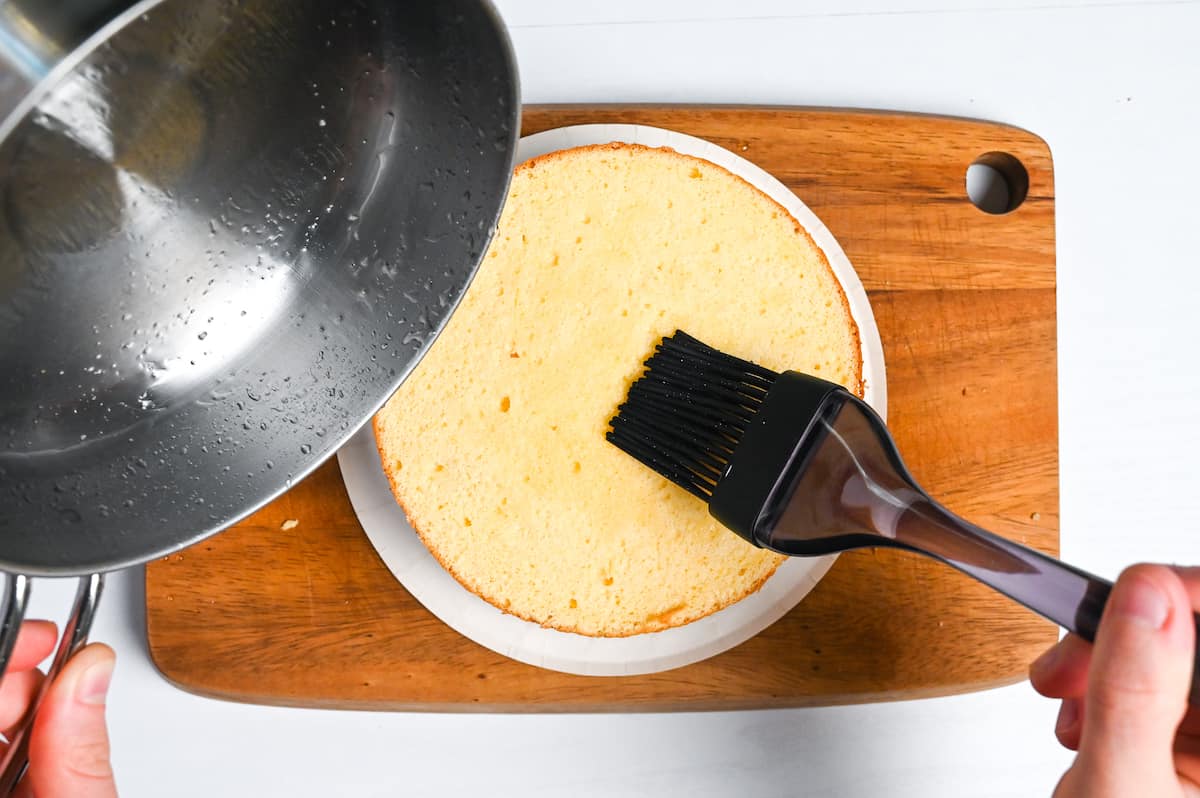 Add a thin layer of cream to smooth down any crumbs (it should probably be a bit thinner than what I did). It's okay if the sponge is still showing through at this point.
If you find the cream starts to soften/loosen, whip again to make it thicker. Just be careful not to over-mix. Place about 1 quarter to 1 third of the cream in a piping bag ready for decorating later.
Add another layer of cream to the sponge, this time make it thick and smooth. Make sure to coat the edges too.
Pipe cream around the edges or in any design you like, then add the strawberries.
You can add additional decorations such as mint, Christmas figures or even a sprinkling of powdered sugar to give the strawberries a snowy appearance!
Enjoy your delicious homemade Japanese Christmas cake with family and friends!
Tips and tricks
Making strawberry shortcake from scratch can be difficult, and it also took me many attempts to perfect the recipe so I have plenty of advice to share from my experience. Here are some tips and tricks to help you make the perfect fluffy sponge that will surely impress your friends and family!
Bring the sponge ingredients to room temperature - if all the ingredients are at room temperature, they mix together more easily. Less mixing = less air lost. This results in a fluffier and more even sponge. Room temperature eggs also tend to whip better when they're at room temperature, but...
Separate the eggs while cold - typically it's easier to separate the eggs while they're cold, so separate them first and then let them come to room temperature. I also recommend covering them so they don't dry out or form a film!
Use cake flour - cake flour is a "weak flour" meaning it has a low gluten content (but not gluten free) and therefore creates a lighter cake.
Sift the flour multiple times - this will make the flour well-aerated, lump free and light! I sift twice before starting and then once more when adding it to the batter.
Make a stable meringue - whip the eggs using a medium speed and add the sugar gradually to ensure your meringue is stable. Whip until it reaches stiff peaks, they should point upwards and hold their shape without folding over! This is key to getting the perfect rise.
Temper the melted butter and milk - pouring the butter and milk straight into the batter is sure to break some precious air bubbles, not to mention be difficult to mix in. To temper them, add a couple of spoonfuls of sponge batter and whisk them together. The consistency will be a little more similar and easy to combine.
Drop the cake on the counter - do this before and after baking. Before baking helps push the air bubbles to the top and prevents sinking. Dropping after baking "shocks" the cake and also prevents sinking and shrinking.
Remove the baking parchment after the sponge has cooled - removing it too early can cause shrinking.
Oven tips
All ovens are different and sponge cake recipes tend to recommend between 160°C and 180°C (320°F - 356°F). It might take a few tries to get it perfect as many ovens run at slightly different temperatures. My fan oven runs hot, so I preheat to 170°C and bake for 23 minutes. I recommend checking the cake after 20 minutes (without opening the oven door) and then every 1-2 minutes after that.
Making a larger sponge
If you're doubling or tripling the recipe for a larger cake tin, you will need to increase the cooking time. You might also need to bring down the temperature slightly to ensure it's cooked through without browning too quickly on top.
Doubling the recipe will make a considerably larger cake (20cm or 8 inches), so if you want the middle ground you can multiply the recipe by 1.5 (for 18cm or 7inch cake).
Here is a handy list of ingredients and baking times when increasing the size based on an oven temperature of 170-180°C (338-356°F) in an electric fan oven.
Troubleshooting
Unfortunately, strawberry shortcake is difficult to perfect and there's a number of things that can go wrong. Here is a list of common problems, the cause and how to fix them.
Why is my sponge dense?
This is often to do with the meringue. Since we rely on the eggs for the rise instead of baking powder and other rising agents, it's vital that the meringue is the right consistency. If you don't whisk it enough then there won't be enough air to make it rise. That said, if you over-whisk it you also start losing the air you've created. It's quite a delicate process. For best results, whisk until the meringue reaches firm and stable peaks that point up, rather than folding over.
Dense sponge could also be down to mixing the batter too much after adding the flour and butter. Stop using a whisk after the eggs are mixed and switch to a silicone spatula to mix in the flour, butter and milk.
Why did it shrink/sink?
Shrinkage can happen if your oven temperature is too high or cooked for too long. If you see the cake shrinking in the oven and its already golden brown, take it out.
It can also be because it's undercooked. When the top is golden but the middle is raw, opening the oven door will cause it to sink, so do not be tempted to open the oven while it's cooking.
Also, don't forget to drop the cake tin on a hard surface before and after putting it in the oven! The first time moves the air bubbles to the top and the drop after baking shocks the cake. It shouldn't shrink too much after that.
The top is cracked
The surface being cracked usually means that the temperature is too high so the top cooked too quickly and then ripped when the middle expanded. I bake my sponge at 170°C (338°F) but if it doesn't work for you, try lowering the temperature.
The top is "domed"
Firstly, it's natural for the sponge to have a slight dome on top from the rise and cooling it upside down should help flatten it out. Furthermore, I recommend trimming off the top for a more even surface. (You can eat this part as a taste test!)
Storage
Once the cake is complete and decorated, it is best eaten the same day. Leftovers can be stored in the fridge and should be consumed within 2 days.
The sponge itself (without cream or fruits) can be wrapped and kept in an airtight container or sealable freezer bag at room temperature for up to 3 days (2 days in humid conditions) or frozen for up to 1 month. Some people say it can be frozen for up to 3 months, but the texture will deteriorate over time so I recommend 1 month.
In fact, if you want to make this cake for a special occasion then I actually recommend making the sponge the day before. The texture and taste is improved the next day, you can decorate on the day of serving.
I hope this recipe helps you to create the perfect light and fluffy Japanese Christmas cake! If you tried the recipe, I would love to hear what you thought! Feel free to review and rate it in the comments below! Merry Christmas!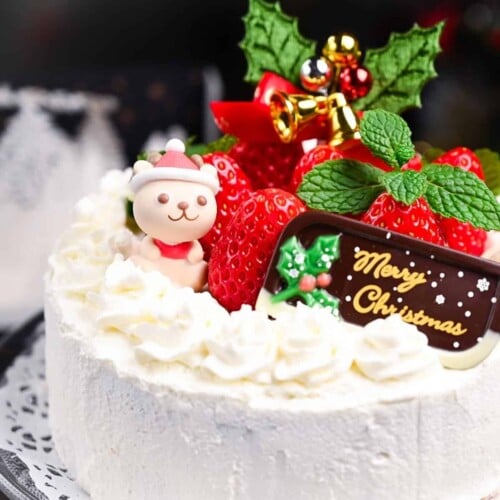 Fluffy Japanese Christmas Cake (Strawberry Shortcake)
How to make Japanese Christmas Cake made up of a light and fluffy genoise sponge topped with homemade whipped cream and fresh strawberries.
Ingredients
Sponge Cake
2

egg white

2

pasteurized egg yolk

60

g

caster sugar

½

tsp

lemon juice

60

g

cake flour

-

sifted

20

g

unsalted butter

-

melted + extra to grease the cake tin

1

tbsp

milk
Syrup
20

g

caster sugar

40

ml

water

1

tbsp

your chosen liqueur

-

(optional) I used Grand Marnier or Contreau
Topping / Filling
300

g

heavy cream

-

at least 36% milk fat - thoroughly chilled

3

tbsp

powdered sugar

2-3

drops

vanilla essence

-

of half the amount of vanilla extract

12

medium strawberries

mint leaves

-

optional

Christmas decorations

-

optional
Instructions
Measure out the sponge ingredients, separate the eggs and leave everything out to reach room temperature for about 20-30 minutes. (Cover the eggs to stop them from drying out).

Grease the cake tin with a thin layer of butter over the base and sides and line it with parchment paper.

Preheat the oven to

180

°C

or

170

°C

for fan assisted.

In a clean, dry glass mixing bowl, add

2 egg white

and

½ tsp lemon juice

. Mix using an electric mixer and whisk until foamy and doubled in size.

Add

60 g caster sugar

one-third at a time, making sure it's fully incorporated before adding the next third.

Continue to whisk until the meringue is smooth and glossy with stiff peaks.

Add

2 pasteurized egg yolk

one at a time, whip using the electric mixer for about 10-15 seconds for each yolk and stop as soon as they're incorporated into the meringue.

Sift

60 g cake flour

twice into a separate bowl. On the third time, sift one-third of it into the egg mixture and fold gently with a silicone spatula. Repeat until all of the flour is incorporated into the mixture, being careful not to over-mix.

Mix

20 g unsalted butter

(melted) and

1 tbsp milk

in a small bowl. Add about 2 tbsp of the sponge batter and whisk them together to temper.

Pour the tempered mixture into the cake batter and fold in gently with the spatula.

Once combined, pour the mixture into the lined cake tin and smooth the top.

Drop the cake tin onto a hard surface from about 10cm (4 inches) high. Repeat once more and then place straight into the oven for 20-30 minutes. (Check the cake after 20 minutes and remove once it's golden brown. I personally take the cake out at 23-24 minutes.)

Once the sponge is fully cooked, take it out from the oven and drop it on a hard surface from about 20cm high (8 inches). This will help prevent sinking and shrinking.

Turn upside down onto a wire rack and remove the cake tin. (Be careful not to burn yourself.) Leave to cool for about 1 hour.
Syrup
In a small pan, add

20 g caster sugar

,

40 ml water

and

1 tbsp your chosen liqueur

.

Bring to a boil over a medium heat while stirring continuously. Once it starts bubbling, stop stirring and boil for 1 minute before removing it from the heat.

Once the cake has cooled, cut off the top (as thinly as possible to not waste too much) and then cut in half horizontally. 

Brush the top of each half generously with syrup and save any leftovers for later.
Prepare the Strawberries
Wash

12 medium strawberries

, dry them thoroughly with kitchen paper and remove the stems.

Divide your strawberries so that the most beautiful ones will go on top. I recommend 7-9 for decorating the top. Place them on a plate lined with kitchen paper to absorb the excess moisture.

Slice the remaining strawberries for the filling.
Whipping Cream
Take a large bowl and add a few handfuls of ice, then take a smaller glass or steel bowl (preferably chilled) and place it on top of the ice.

Pour in

300 g heavy cream

and add

3 tbsp powdered sugar

and

2-3 drops vanilla essence

.

Use an electric whisk (or balloon whisk if you're whisking by hand) and whip until the cream has peaks and becomes spreadable.
Assembling
Place 2-3 spoonfuls of whipped cream in the center of each half of the sponge. Spread it out to the edges until even and arrange the strawberries on one half.

Flip one half onto the other so that the strawberries are sandwiched between two layers of cream. Brush any leftover syrup on the top of the cake and place it on a easy-to-turn surface (e.g. cake board, paper plate etc.)

Add about 4-5 scoops of whipped cream to the middle and spread it out thinly over the edges. This is a crumb coat (to smooth down crumbs) so scrape off any excess into a separate bowl so that crumbs don't mix in with the rest of the cream.

Whip up the cream a little bit more to make it a bit thicker and then add ¾ of it to the top of the sponge and the other ¼ to a piping bag. Place the piping bag in the fridge for a few minutes.

Spread out the cream using an icing spatula, making sure the whole cake is evenly covered on the top and sides.

Finish the cake by piping swirls around the edge and placing the strawberries in the center. Decorate with 

mint leaves

 and any 

Christmas decorations

 you might have!

Enjoy!
Notes
The liqueur in the syrup is optional, you can omit it completely. I used Grand Marnier orange liqueur or

Contreau.
All ovens are different and sponge cake recipes usually recommend a temperature between 160°C and 180°C (320°F - 356°F).
You can freeze this cake for up to one month or just the sponge for up to 3 months. I recommend freezing the sponge and making the whipped cream fresh.