Pickles are so versatile and the perfect pallet cleanser or snack. None are more refreshing than these Japanese cucumber tsukemono flavoured with ginger and a sprinkling a chili for a mild kick! They're seriously addictive!
Disclaimer: This post contains Amazon and Dokodemo affiliate links. Sudachi Recipes earn a small percentage from qualifying purchases at no extra cost to you. See disclaimer for more info.
Jump to:
What is Tsukemono (Japanese pickles)?
Tsukemono is the Japanese word for "pickles". They come in all shapes, colours and flavours, and are considered an essential side to many Japanese meals along with miso soup and rice.
Not only are they packed with complex flavour that helps cleanse the pallet, but they are also known to be nutritious and aid digestion.
In fact, Japanese people love pickles so much that there are are supposedly over 4000 different types of tsukemono!
Amongst the thousands of different kinds of Japanese pickles, there are a few select vegetables that are most common for making tsukemono. Here are a few of them:
Cucumber
Daikon radish
Eggplant
Ume (Japanese plum/apricot)
Cabbage
Chinese leaf / Napa cabbage
Lotus root (Renkon)
Carrot
How long does it take to make Tsukemono?
The length of time it takes to make tsukemono depends purely on the type you are making. There are two main types:
Asazuke (quick pickles)
Asazuke (浅漬け) are fast pickles often made with salt, sugar and/or vinegar. They have a lighter, more refreshing flavour and take anywhere from a few hours to about 2 days to make. Asazuke have a shorter shelf life, they should be refrigerated and eaten within about 1 week.
Today's recipe is a type of asazuke!
Nukazuke (fermented pickles)
Nukazuke (ぬか漬け) take longer and are usually coated with rice bran and then fermented for a while. The rice bran and other ingredients are washed off before serving.
They are often fermented with things like salt, kombu (kelp), miso, ginger or beer. They take longer than asazuke and have a deep and complex taste. They can take anywhere between a few days and up to several months, some even claim that you can ferment them for up to a year.
Cucumber to use for Japanese cucumber pickles
If possible, I recommend Japanese (or Persian) cucumbers for making pickles. They're less watery, don't contain many seeds and are perfectly crunchy. You might also know them as mini cucumbers or baby cucumbers.
If you can only access English cucumbers, I've included how to prepare them in the recipe (just one extra step). English cucumbers are quite a lot bigger than Japanese cucumbers, so for my recipe I recommend 3 Japanese cucumbers or 1 English cucumber.
One other thing, I like to smash the cucumbers a little so that they absorb more flavour. It's a great stress release too! (Just don't break them too much!)
"Kyuri" (きゅうり) is the Japanese word for cucumber. Cucumber pickles are one of the most popular kinds of pickles and there's so many different flavours!
In my recipe, I flavour my cucumber with fresh ginger and chili to give it a refreshing kick. To pickle the cucumber itself I use salt, sugar, sushi vinegar (or rice vinegar), soy sauce and sesame oil. Not only do these help preserve it, but also improve the taste.
Despite being ready to eat after one hour, I find they taste best after 1 day of marinating. I also recommend to try and eat them within 3 days. (They don't tend to last long in my house anyway, they're so addictive!)
By the way, if you love spicy cucumber pickles, you'll also love my Wasabi Pickled Cucumber Recipe!
Enjoy making this easy, simple and delicious Japanese cucumber pickle with ginger and chili!
Ingredients to make Japanese Cucumber Pickles
For my Japanese cucumber pickle recipe I use the following:
Fresh ginger - one of the key flavours for this recipe!
Dried chili pepper - for a spicy kick, omit if you prefer a non-spicy version.
Cucumbers - preferably Japanese or Persian cucumbers
Salt - I recommend coarse salt for rubbing on the skin and regular sea salt for pickling.
Sugar - adds sweetness and helps preserve the pickles.
Rice vinegar - adds a gentle sourness and helps preserve the pickles.
Soy sauce - for a hint of umami.
Sesame oil - adds a nutty hint.
White sesame seeds - to decorate when serving!
How to make Japanese pickled cucumbers step by step
Making Japanese pickled cucumbers is so easy! Just follow these simple steps.
Start by peeling the ginger and cutting it julienne style (long thin strips).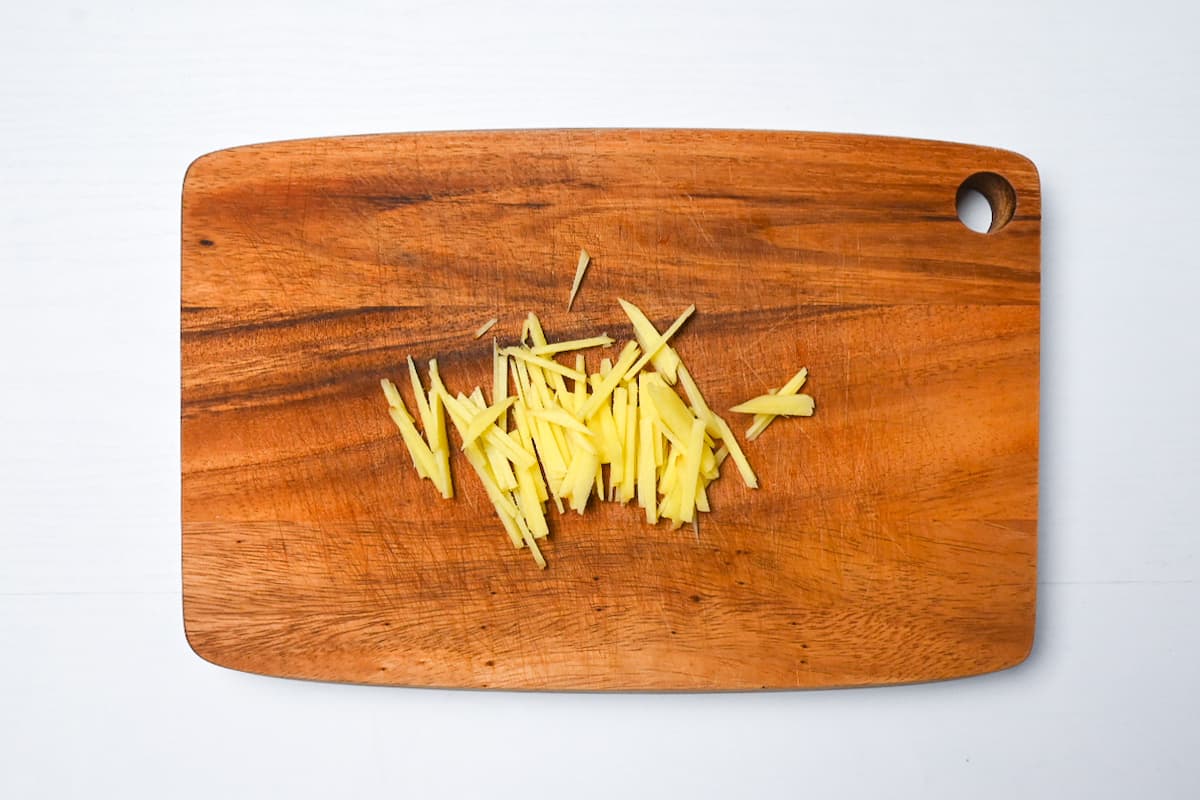 Deseed and thinly slice the chili, then set aside for later.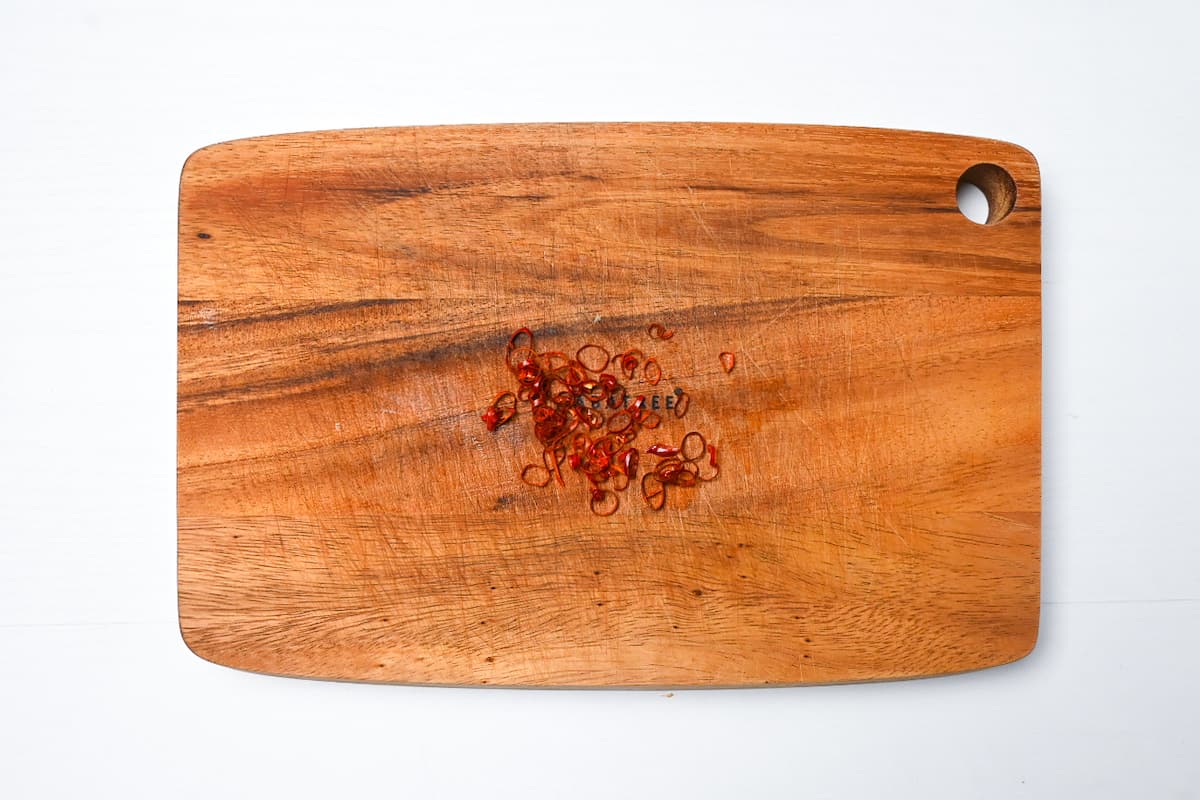 Wash the cucumbers and dry them thoroughly. Then sprinkle salt generously over a chopping board and roll the cucumber over the salt to make scratches on the skin. (I recommend using coarse salt for this.)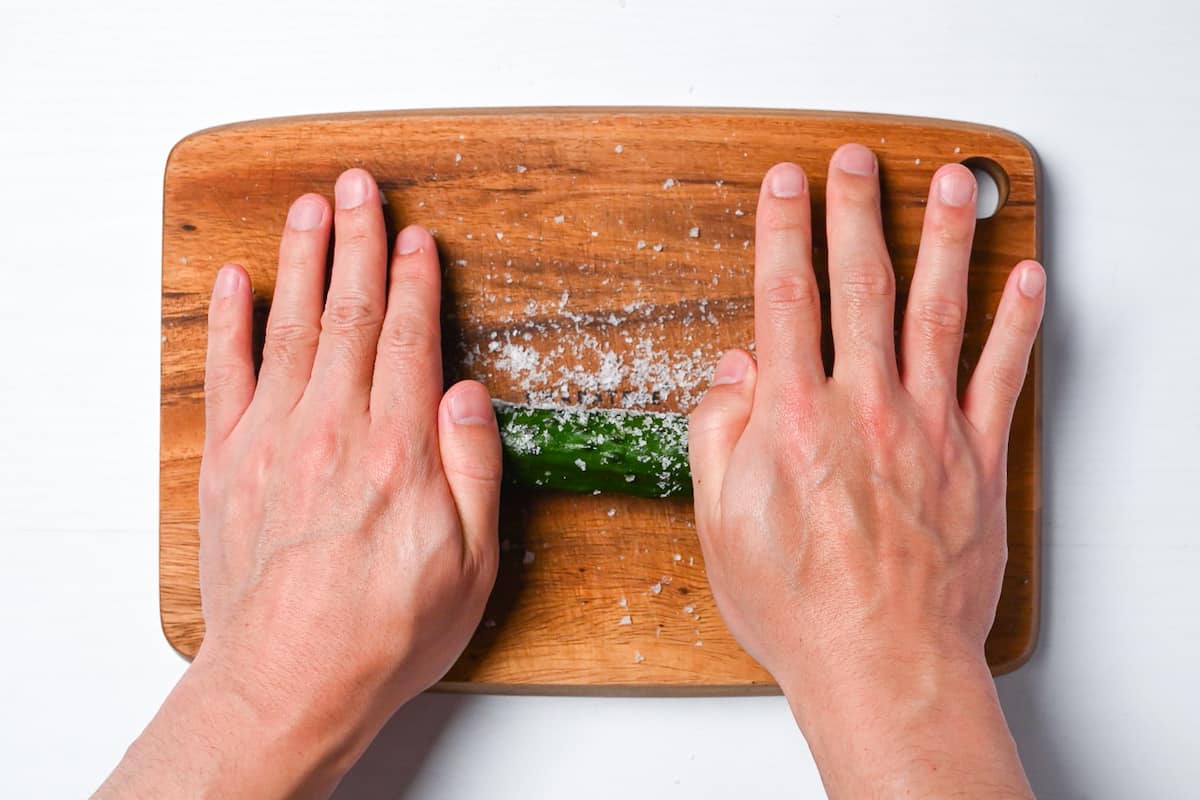 Wash the salt off and dry the cucumber using kitchen paper.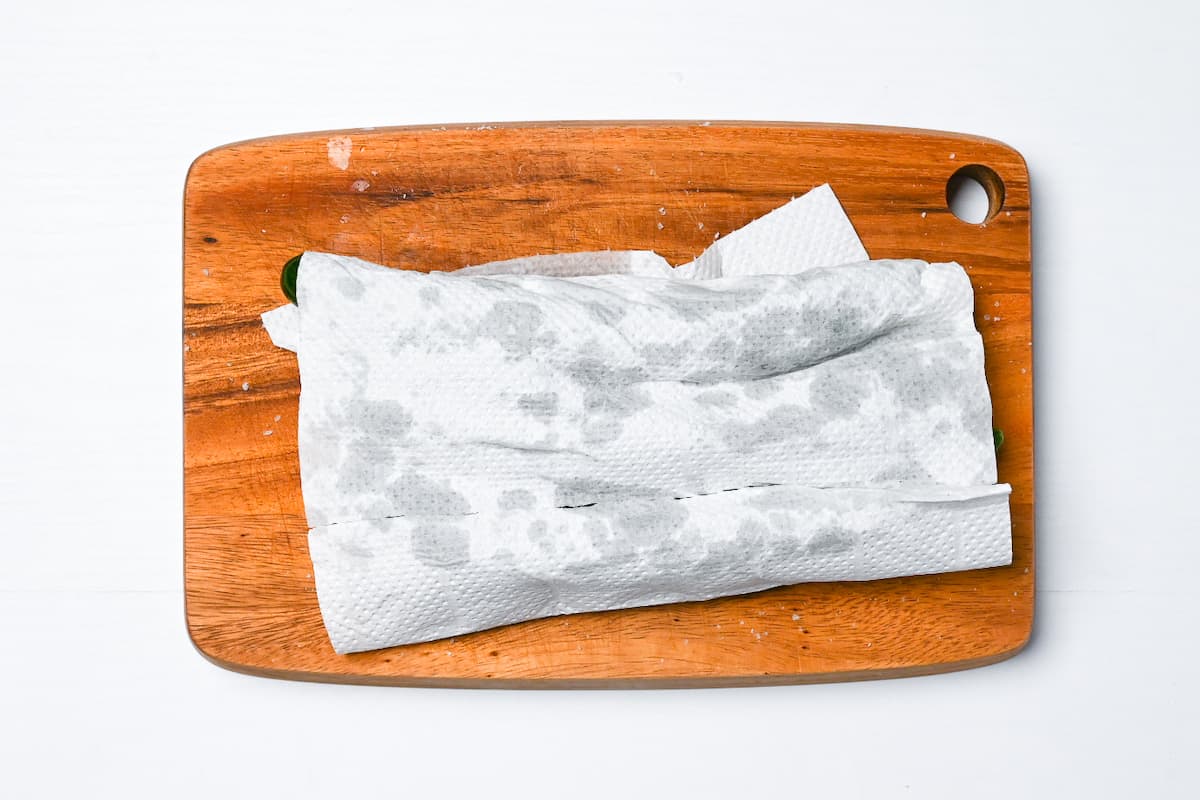 Use a rolling pin or thick based glass to smash the cucumber. You don't want to smash it too much, just enough to break the surface in some areas.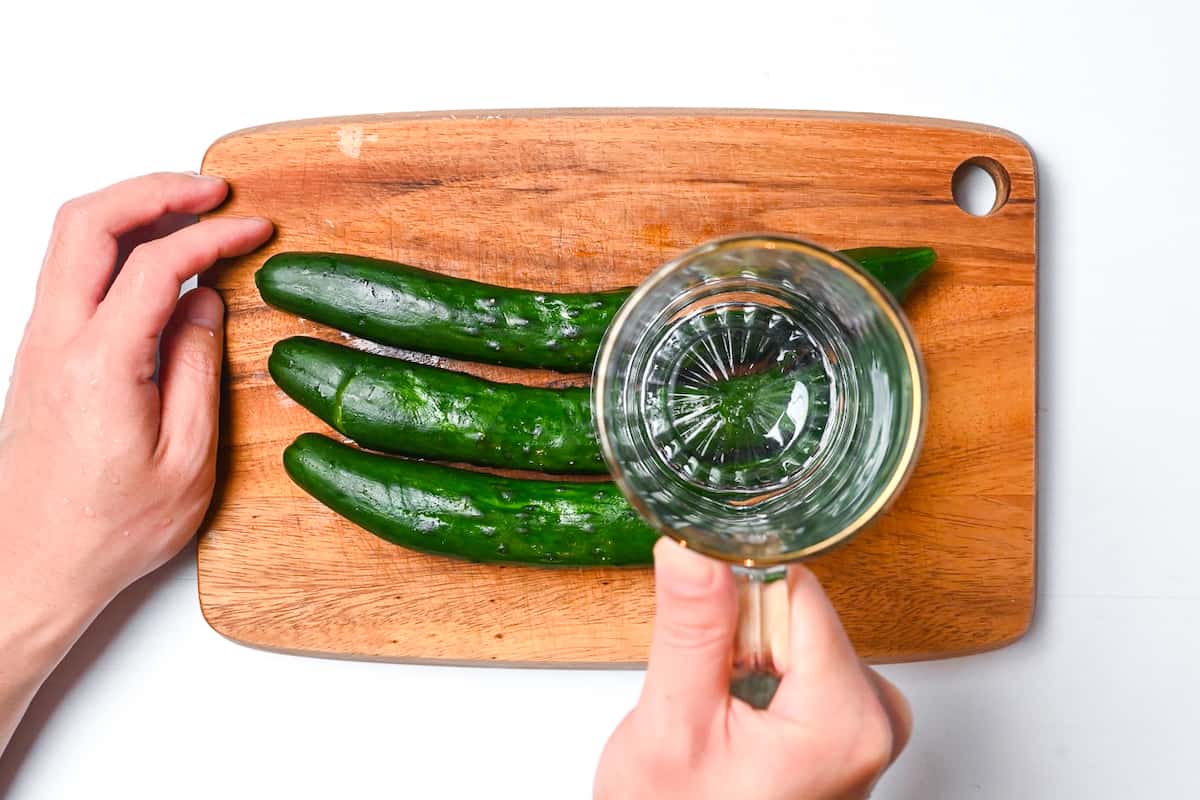 Cut the cucumbers into rough bitesize chunks. I use a Japanese cutting method called "rangiri" where the cucumber is turned a quarter-turn between each cut.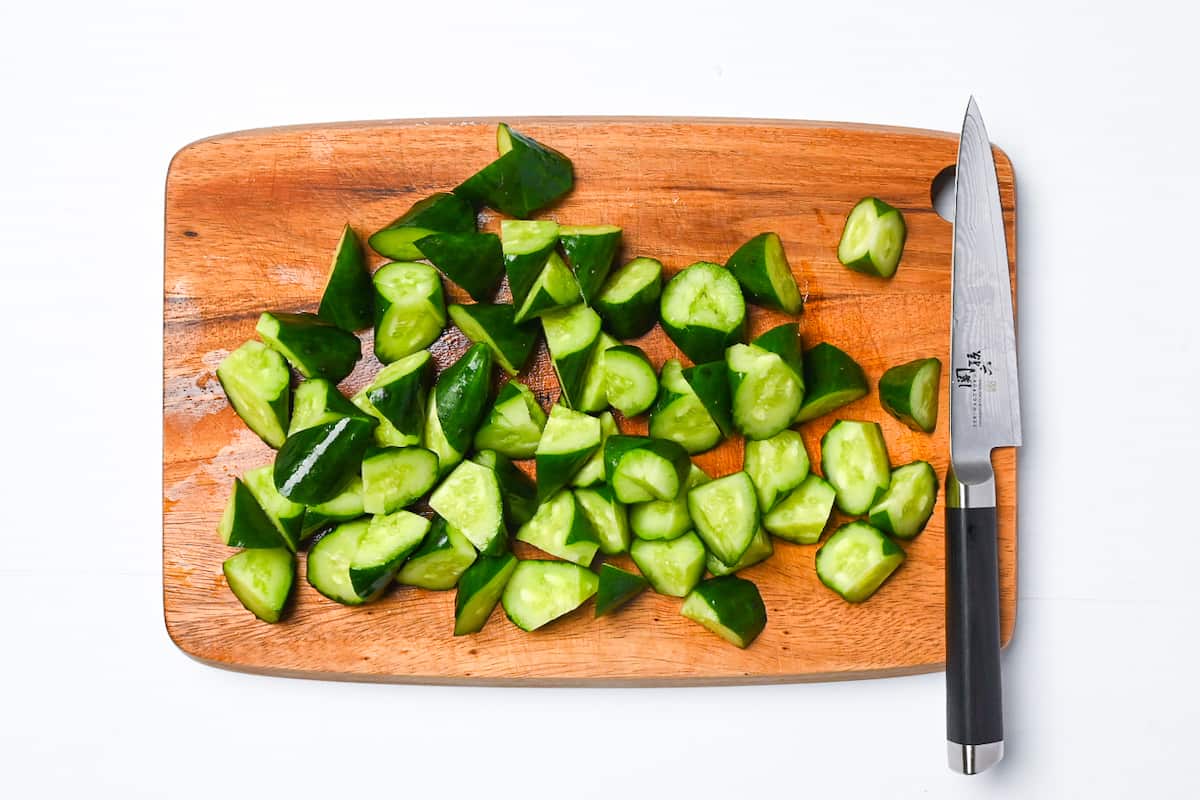 Tip for using English cucumbers
English cucumbers contain more water and seeds than Japanese cucumbers. Cut them in half lengthways and scoop out the centre before cutting if you're using English cucumbers or similar.
Combine everything in a sealable bag
Add the cucumber, ginger and chili in a sealable bag with the salt, sugar, rice vinegar, soy sauce and sesame oil.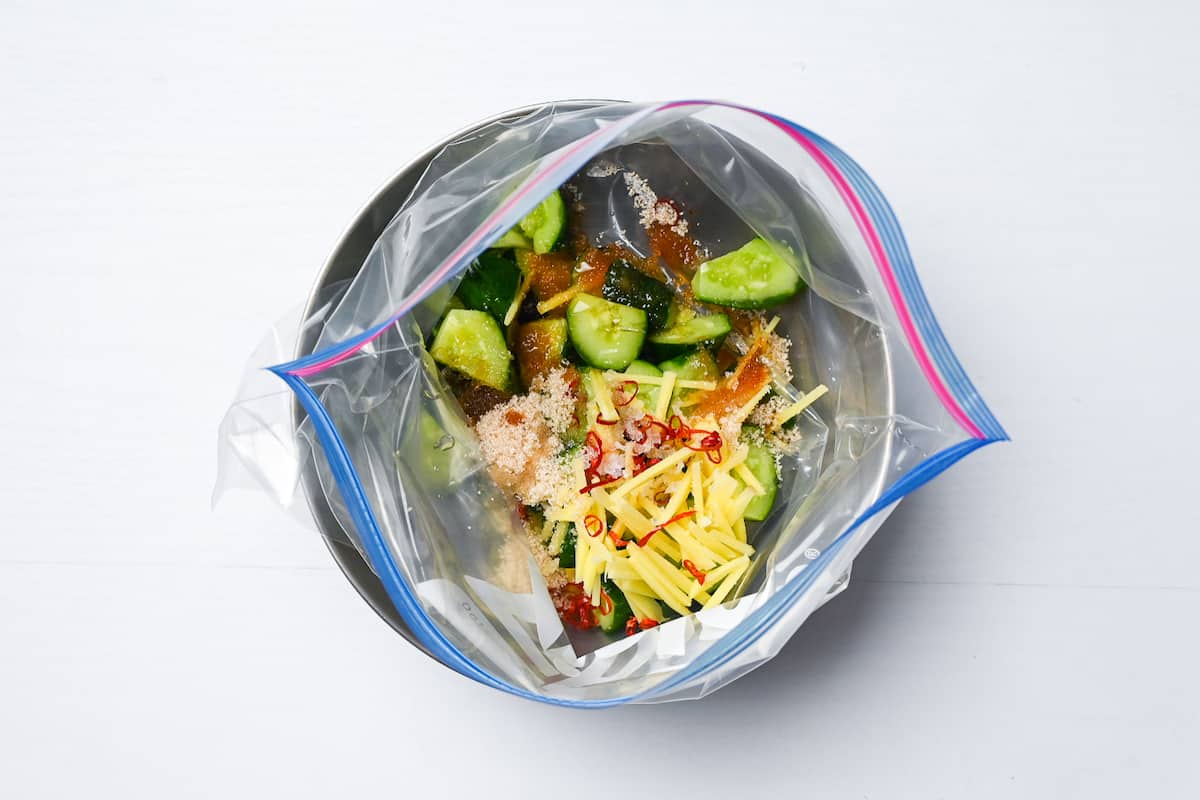 Massage the bag to help mix and distribute the ingredients evenly.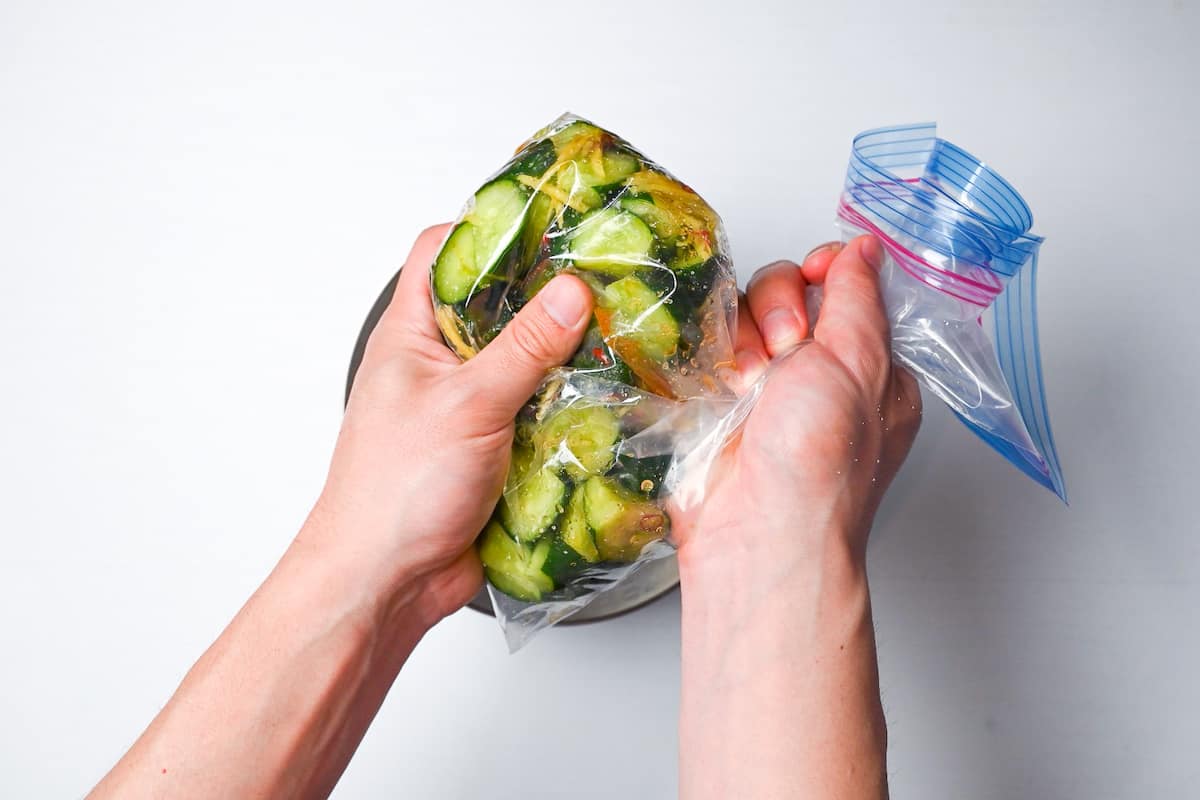 Push the air out, seal the bag and store it in the refrigerator for at least 1 hour. (Preferably 24 hours).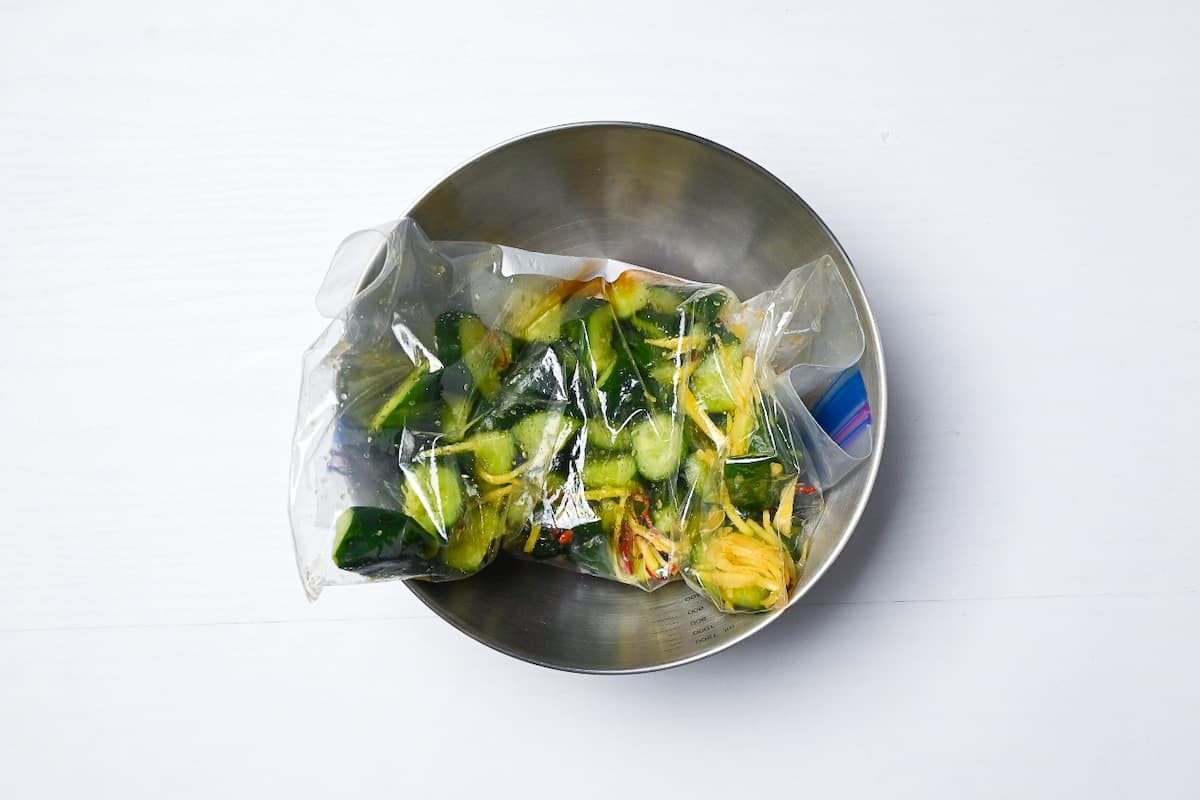 Transfer the pickles to a serving dish and sprinkle with sesame seeds.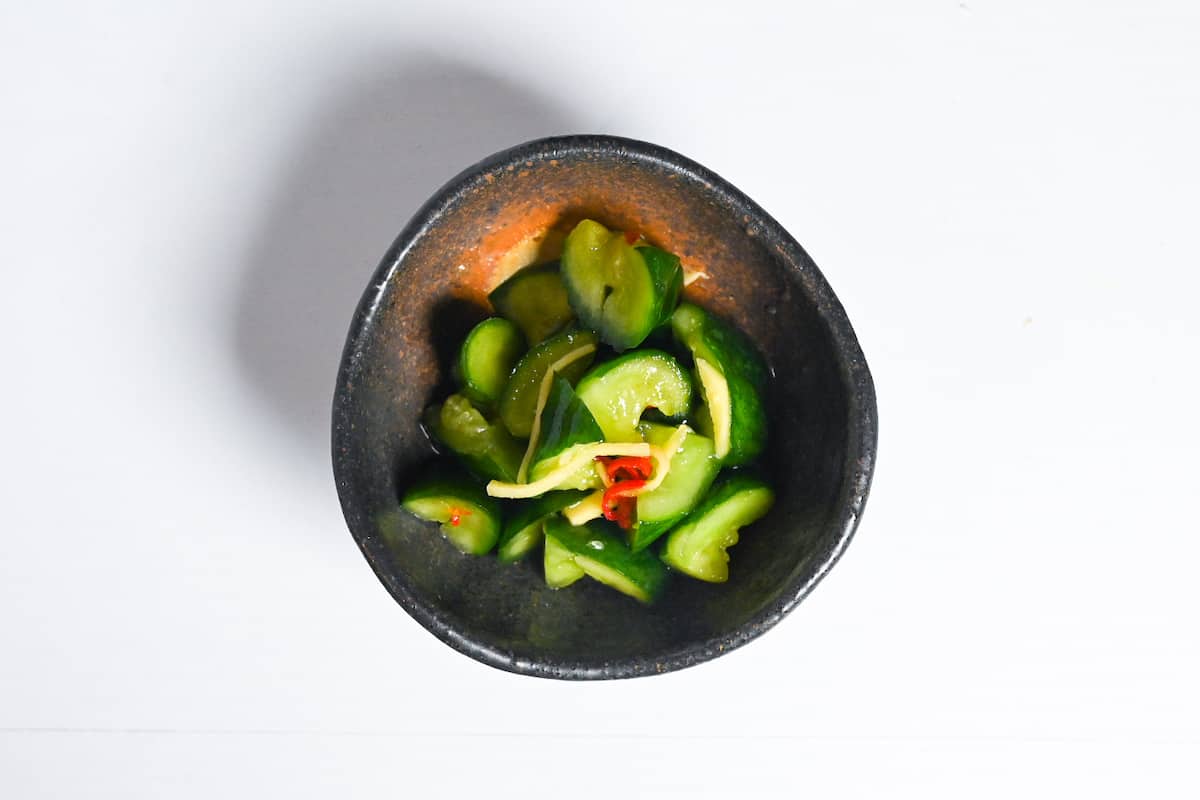 Enjoy!
Tips and Tricks
Japanese cucumber pickles are quick and easy to make, but here are a few tips to make them even better!
Use coarse salt for rolling - this will make more cuts on the skin of the cucumber helping it absorb more flavour.
Use finer salt for pickling - coarse salt doesn't absorb well and your cucumber might be lacking saltiness if you use it for pickling. Use regular sea salt or a fine salt for the best results.
Smash the cucumber - the act of smashing helps damage the cucumber enough that it absorbs more flavour and also adds a more interesting texture. Just don't break it too much!
Remove excess seeds and soft flesh - it's not so necessary for Japanese or Persian cucumbers, but if you're using a larger variety of cucumber such as "English cucumber" then cut it lengthways and scoop out the seeds to prevent soft, watery pickles.
Don't cut the cucumber too thin - thick bitesize pieces give the best crunch!
Use a sealable bag - It might be tempting to use a lunchbox or glass container to make pickles (I know it's better for the environment) but using a bag ensures all of the ingredients are properly mixed and fully covered. Alternatively, you could also use a special pickling container with a weight like this.
Let them pickle overnight - this recipe is ready to eat in 1 hour, but I recommend waiting the next day for the best flavour!
Pairing/Serving Suggestions For Japanese pickled cucumber
Pickles make a great side dish, and they pair well with many Japanese dishes, don't they? That's right! Cucumber pickles are an excellent companion for most Japanese meals.
But in this section, I want to share five Japanese dishes that I think taste especially amazing with pickled cucumbers.
Freshly cooked Japanese rice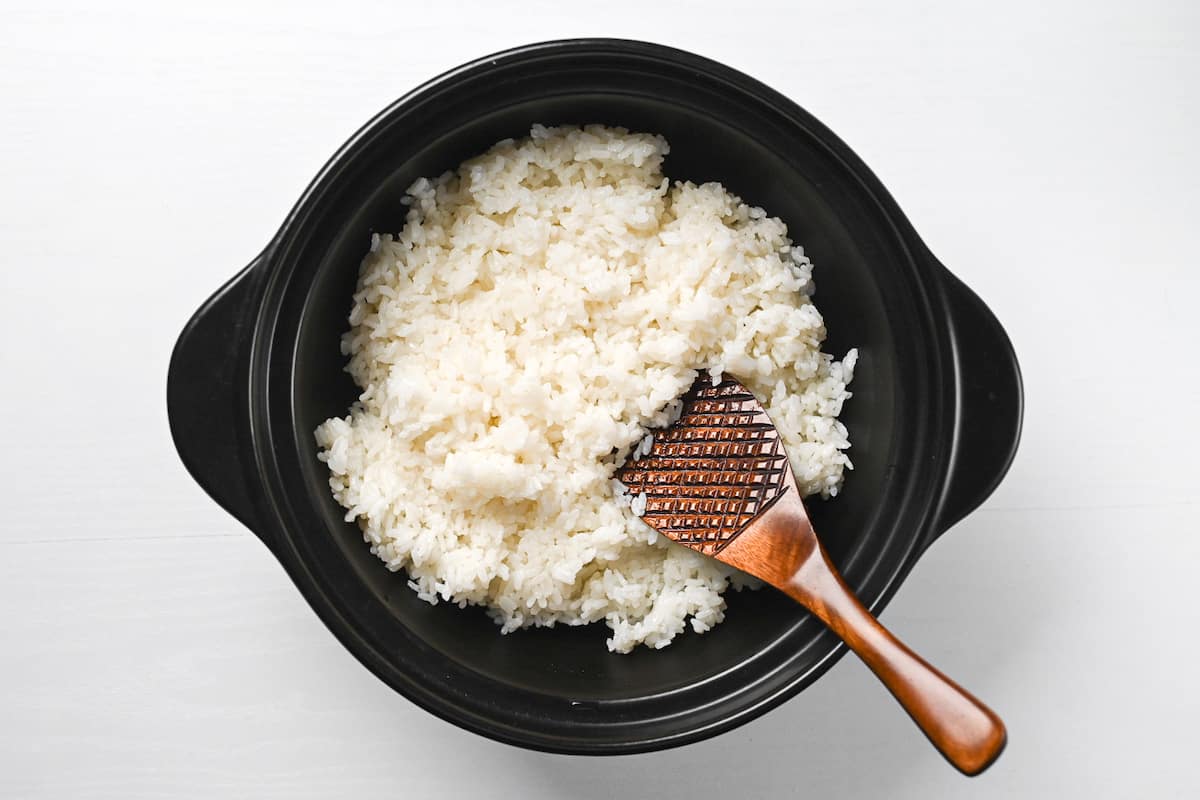 Of course, pickled cucumber and freshly cooked Japanese rice make an unbeatable combo. They may not be the stars of a traditional Japanese teishoku meal, but they're the unsung heroes that complete it.
Don't miss my article on how to cook Japanese rice without a rice cooker if you don't have one!
Miso soup
Just like rice, hot miso soup and cold pickled cucumbers create a fantastic combo with white rice! As a Japanese person, I'm satisfied with these three dishes, even without a main course.
The beauty of miso soup lies in its variety; you can mix up the ingredients and miso types for endless possibilities. Explore my miso soup recipe for all the delicious variations, as well as a vegan version recipe!
Saba no shioyaki (Japanese style grilled mackerel)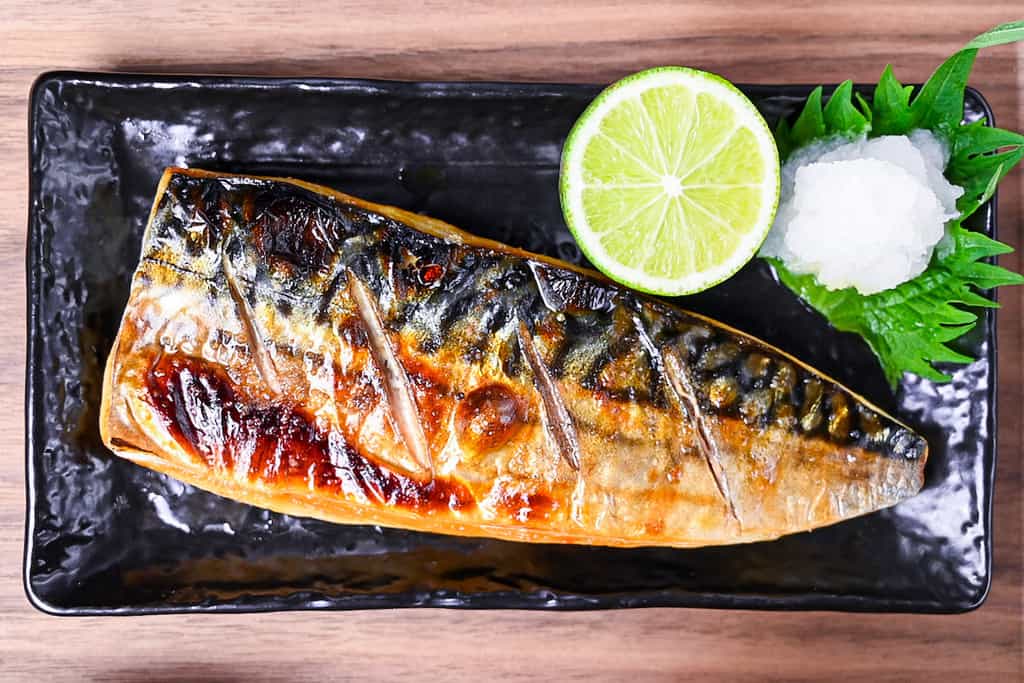 When you've got white rice, miso soup, and pickled cucumbers, what's the perfect main course? I recommend grilled salted mackerel as the ultimate Japanesey dish. With these four items, you can enjoy a meal just like a Japanese person living in Japan.
If mackerel isn't your favorite, try grilled salted salmon or miso salmon. And if you can find pacific saury in your area, I highly recommend grilled saury too!
Karaage (Japanese fried chicken)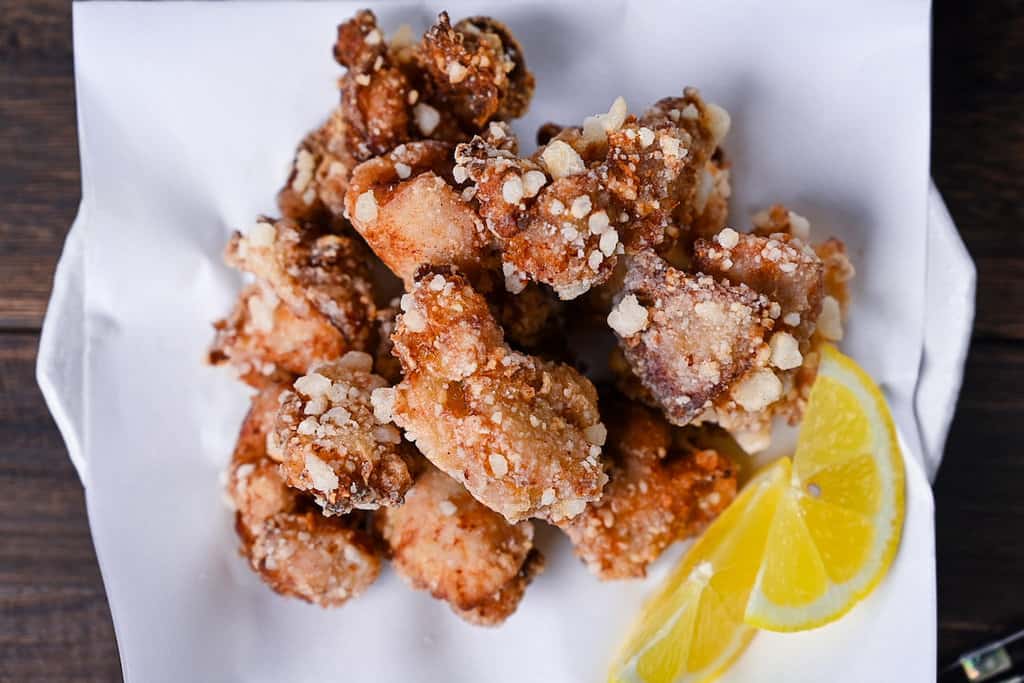 Want something a little more meaty than grilled fish? Try chicken karaage (Japanese style fried chicken)! This classic Japanese meal is one of my all-time favorites.
If you're interested, I also have a recipe for a different version called "chicken tatsuta-age"!
Tonkatsu (Japanese deep fried pork cutlet)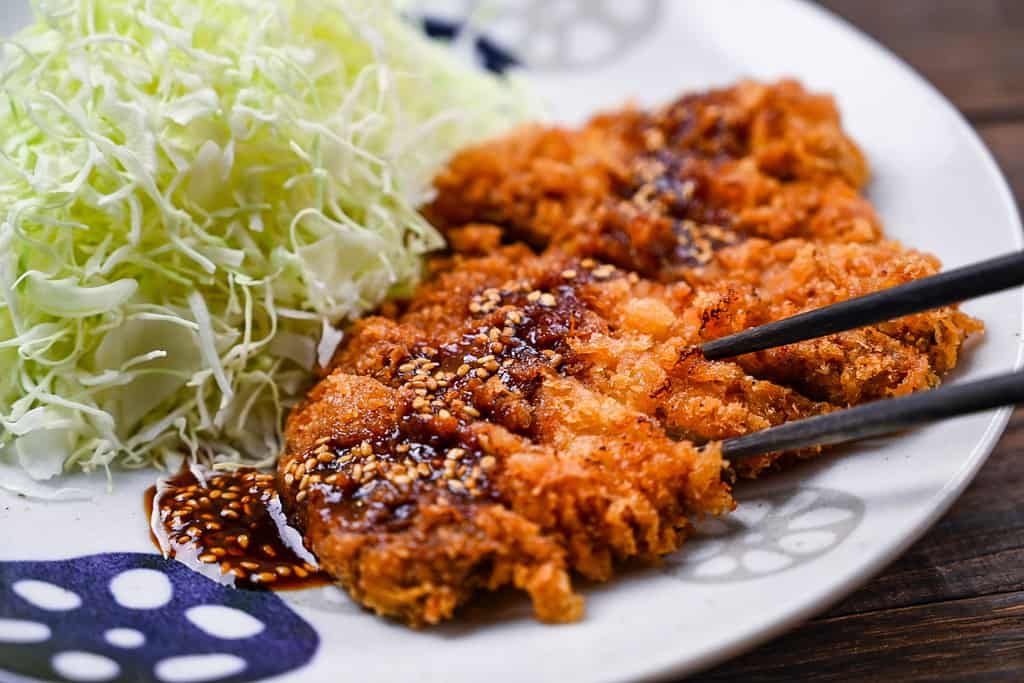 Looking for a more indulgent main dish than fried chicken? Tonkatsu is your answer! To me, it's the king of Japanese set meals!
On this website, you'll find not only tonkatsu made with pork but also gyukatsu (beef cutlet), chicken katsu (chicken cutlet), miso katsu (tonkatsu with miso sauce), three types of tonkatsu sauces, and many more recipes!
Watch the video
Printable recipe
Quick Japanese Pickled Cucumber with Ginger (Tsukemono)
How to make crunchy, refreshing Japanese cucumber pickles (tsukemono) with a ginger and chili kick. 
Ingredients
20

g

fresh ginger

-

approx 3cm, a little over 1 inch

1

dry red chili

-

deseeded

300

g

Japanese / Persian cucumbers

-

or English cucumber

1

tsp

coarse salt

1

tsp

sea salt

2

tbsp

sugar

1

tsp

rice vinegar

1

tsp

soy sauce

1

tsp

sesame oil

1

pinch

white sesame seeds

-

optional garnish
Instructions
First, peel the skin off

20 g fresh ginger

and cut it into thin strips (julienne). 

Cut

1 dry red chili

into thin slices. 

Wash

300 g Japanese / Persian cucumbers

and sprinkle a chopping board with

1 tsp coarse salt

. Roll each cucumber in the salt.

Wash off the salt and dry the cucumber. (If you're using English cucumber, cut it in half lengthways and scoop out the seeds with a spoon.)

Smash the cucumber with something sturdy like a heavy glass cup or rolling pin. Crush/break it slightly, but not too much.

Roughly cut the cucumber into bitesize pieces.

Place the cucumber in a sealable bag with the ginger and chili, then add the

1 tsp sea salt

,

2 tbsp sugar

,

1 tsp rice vinegar

,

1 tsp soy sauce

and

1 tsp sesame oil

.

Massage the ingredients into the cucumber to evenly distribute them.

Marinate in the refrigerator for at least one hour. (For best results, overnight.)

Sprinkle with

1 pinch white sesame seeds

upon serving.

Enjoy!
Video
Notes
Best eaten within 3 days.
Omit the chili for a non-spicy version of the dish.
This recipe is best made with Japanese or Persian cucumbers that contain less water. If you're using English cucumbers, it's better to scoop out the seeds and discard before cutting.
Nutrition
Calories:
41.3
kcal
Carbohydrates:
5.9
g
Protein:
0.8
g
Fat:
1
g
Saturated Fat:
0.1
g
Polyunsaturated Fat:
0.4
g
Sodium:
839.4
mg
Fiber:
0.82
g