Hey guys, Yuto here (@sudachi.recipes)
What is "Nabe"?
What does Nabe mean?
Nabe (鍋) can literally be translated as "Hot pot" in English. It's just a general term used to describe hot pot dishes in Japan and also means the cooking pot itself.
History of Hot pot in Japan
Before the modern period, a lot of Japanese houses had a Japanese style hearth called Irori (囲炉裏) as a cooking tool, light source or heating source in winter.
Like the one in the middle in the picture.
The oldest record of a hot pot dish goes all the way back to 17th century, but it's believed that cooking pot dishes using the hearth was common before that. Hot pot dishes not using a hearth started in the late 18th century.
Then hot pot became popular among normal families in 19th century because of gas stoves and electric hobs.
Popular Nabe dishes in Japan
There are so many popular hot pot dishes that I can't name all in Japan right now, but these are the very common ones:
Sukiyaki (すき焼き)
Motsu Nabe (もつ鍋)
Oden (おでん)
Chanko Nabe (ちゃんこ鍋)
Here are some "new wave" dishes where they use unusual sauces and ingredients:
Tonyu (Soy milk) Nabe (豆乳鍋)
Tomato Nabe (トマト鍋)
Mikan (Orange) Nabe (みかん鍋)
Literally, the possibilities of hot pot is endless!
What is Chanko Nabe?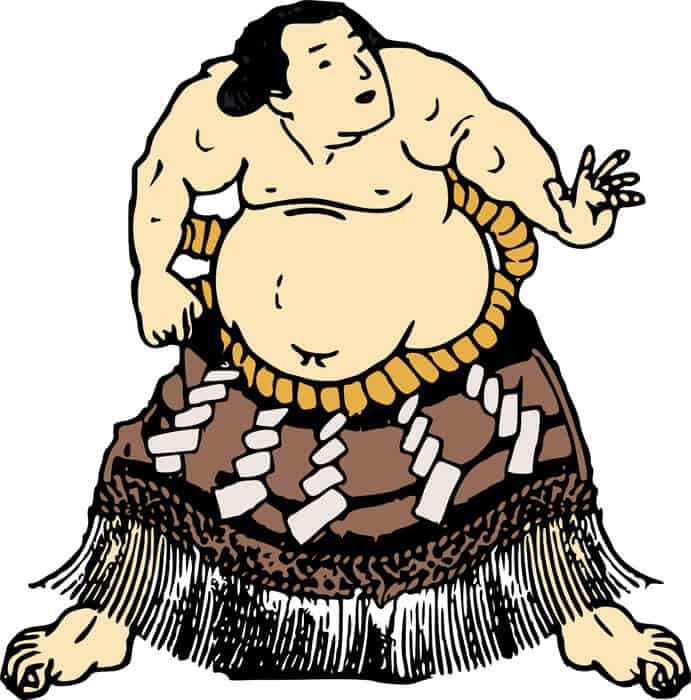 Some people might be wondering "What is Chanko Nabe?" "Sumo Stew?" "Is it something to do with sumo wrestlers?"
In fact, it is to do with sumo wrestlers!
Everyday dish for sumo wrestlers
The term "Chanko" comes from people who are in charge of cooking meals at sumo stables. Those cooks are called "Chanko ban" and the hot pot they make is called "Chanko nabe"
So it's technically more like an idea or concept rather than a specific dish. This basically means there is no set recipe for Chanko Nabe. Any hot pot that is made in sumo stable can be called Chanko nabe.
Every Chanko ban has their own style of making Chanko Nabe but the general rule is that it contains meat, vegetables and a broth.
Retired Sumo Wrestlers
Even though the term is an idea, retired sumo wrestlers started opening up their own restaurants and serving their own Chanko Nabe dishes. The first Chanko Nabe restaurant opened in 1937 in the Ryogoku district in Tokyo (where you can find many sumo stables and stadiums). Since then, normal people came to know about Chanko Nabe and it became a well known dish nationwide.
Some of you might think it has to be unhealthy or fatty because that's what sumo wrestlers eat on a daily basis, but it's actually the opposite. It's very nutritious and full of variety of vegetables.
Different flavours
As I said earlier, Chanko Nabe just means hot pot made in sumo stable, so there are so many flavours out there.
But most popular would be:
Soy sauce base
Miso base
Salt base
But again, there's no specific rules.
In this recipe, I will use soy sauce and a bit of miso which makes a great flavour!
Frequently Asked Questions
Here are some frequently asked questions about Chanko Nabe (Sumo Stew)
Is Chanko Nabe bad for you?
Not really, it's full of vegetables and definitely not as unhealthy as people might think. Sumos just eat huge amounts of it along with large portions of rice to build their bodies. It is said that sumo wrestlers eat about 4000 calories a day.
Why do sumo wrestlers eat Chanko Nabe?
You can make it in a giant batch. Especially because so many sumo wrestlers (including trainees) share the same dish in a stable, it's more convenient to cook a large pot for everyone.
You can consume a lot of vegetables to get strong!
To prevent food poisoning.
To save on utility bills.
Those are some of the answers!
Do they not get bored of Chanko Nabe?
They change flavour and ingredients every time so that they won't get bored easily.
That's also the beauty of Chanko Nabe! No rule!
Print
"Sumo Stew" Chanko Nabe with Homemade Chicken Meatballs (ちゃんこ鍋)
---
Author:

Prep Time:

15 mins

Cook Time:

20 mins

Total Time:

35 minutes

Yield:

2

-

3

servings

1

x
Description
How to make rich, warming and nutritious Sumo Wrester Hot Pot Chanko Nabe (ちゃんこ鍋)
---
Scale
Ingredients
FOR THE MEATBALLS
200g

Chicken Mince

1

egg

1/2 tbsp

miso paste

1/2 tsp

ginger paste

1/2 tsp

garlic paste

1/2 tbsp

corn starch
FOR THE BROTH
1

litre Cold Water

1 1/2 tbsp

Chicken Stock Powder

2

Dried Shiitake Mushrooms

1 tbsp

Soy Sauce

1 tbsp

Mirin

2 tbsp

Miso Paste

1/2 tbsp

Ginger Paste

1/2 tbsp

Garlic Paste

2 tbsp

Ground Sesame Seeds
FOR THE HOTPOT
1

Carrot

1/2

Large Spring Onion (

30g

)

100g

Enoki Mushrooms (or mushrooms of your choice, Shiitake etc)

1

Whole Pak Choi (

50g

)

250g

Hakusai Chinese Cabbage (around

1/8

of a whole)

150g

Firm Tofu
---
Instructions
MAKING THE MEATBALLS
First we will prepare the meatballs. Add 200g of ground chicken mince to a bowl along with 1/2 tbsp miso paste, 1/2 tsp ginger and 1/2 tsp garlic paste. Mix until the ingredients are well distributed (especially the miso, we don't want any lumps!).
In a small separate bowl, crack one egg and lightly whisk.
Add the egg and 1 tbsp of cornstarch to the chicken mince, mix until you have a slightly sticky mixture.
Get a large plate and using 2 spoons (or your hands if you don't mind getting a bit messy), form your chicken meat balls. You should use about 2 tbsp of mince per meatball.
MAKING THE BROTH
In a large pot that has a lid, add 1 litre (around 4 1/4 cups) of cold water with two dried shiitake mushrooms.
Peel your carrot and cut into large chunks, add it to the cold water and turn on the heat to medium.
Add 1 1/2 tbsp chicken stock powder, 1 tbsp soy sauce, 1 tbsp mirin, 2 tbsp miso paste, 1/2 tbsp garlic paste, 1/2 tbsp ginger paste and 2 tbsp of ground sesame seeds to the pot.
Mix up all the ingredients and bring it to the boil.
Once boiling, add your meat balls to the broth, put the lid on and cook for 3-4 mins.
ADDING THE OTHER INGREDIENTS
Cut the roots off of the enoki mushrooms and add them to the broth.
Chop your pak choi and Chinese cabbage into chunks and add them to the broth.
Take your 30g of spring onion (half a big one or 2-3 smaller ones) and with the knife held at a slant, cut it into diagonal pieces. Add them to the broth.
Cut the firm tofu into medium sized cubes and add them to the broth.
Put the lid on and simmer for 5-7 minutes.
Serve with a bowl of rice and enjoy!
Notes
If you want to make the most of the broth, you can cut up more vegetables and use it again!
If you have a portable stove, you can sit it on your table and continue to cook and more add ingredients. This means you can serve more people!
Category:

Mains

Method:

Boiling

Cuisine:

Japanese
Keywords: Japanese Sumo Wrester Hot Pot, Chanko nabe recipe, Sumo chanko nabe, Sumo Wrestler stew, what does chanko nabe mean, why do sumo wrestlers eat chanko nabe, what is the difference between nabe and shabushabu, Japanese one pot chicken stew